When planning a wedding in Virginia, it's important to consider the season in which the wedding will take place. Each season in Virginia offers unique opportunities for seasonal wedding ideas. For example, a spring wedding in Virginia can take advantage of the blooming flowers and mild temperatures. Couples can incorporate pastel colors and floral arrangements into their wedding decor. In the summer, outdoor weddings are popular in Virginia due to the warm weather. Couples can choose to have their ceremony at a picturesque vineyard or by the beach. Fall weddings in Virginia are known for their stunning foliage, making it the perfect time to incorporate rich earth tones and rustic elements into the wedding theme. Winter weddings in Virginia can be magical, especially if planned around the holiday season. Couples can incorporate cozy elements such as warm blankets, hot cocoa stations, and twinkling lights into their winter wedding decor.
Bridal gowns and accessory trends are reflecting Regency Era fashion inspiration. Wedding gowns featuring corset bodices with long, whimsical sleeves are popular while accessories such as bridal gloves and pearl jewelry add the perfect finishing touches. Other wedding attire features bold silhouettes and dynamic fabrics like sequins, satin and feathers, once again representing a return to extravagance. There are also many understated ways to add sentiment and personality to an outfit. For instance, a bold, personalized shirt can be down-played when covered by a formal jacket, or fun and flirty shoes can be hidden beneath layers of a floor-length gown.
Our beautiful state offers the perfect wedding location for any couple, whether they're looking for a traditional church, vineyard or anything in between. No matter what vision you have for your big day, Virginia delivers. Thinking of a vineyard wedding? The Blue Ridge makes a stunning backdrop for any ceremony, not to mention the countless vineyard venues in the Shenandoah Valley. Looking for a venue with rich history? Our region offers plenty of historic Virginia wedding venues, each more unique than the last. We know that finding your perfect venue doesn't just end at the ceremony—Virginia boasts some of the best reception venues as well. In line with having beautiful venues, Virginia Wine Country also has world-class wedding vendors, from photographers and videographers to farm-to-table caterers and award-winning wines.
In recent years, it has become increasingly popular to include pets in wedding ceremonies. This trend has spread across the nation, and Virginia is no exception. Couples are choosing to incorporate their furry friends into their special day, whether it be as ring bearers, flower girls, or simply as beloved guests. Pets bring a unique and heartwarming element to weddings, adding an extra touch of love and joy. However, it is important for couples to carefully consider the logistics and ensure that their pets are comfortable and well-behaved in a wedding setting. With proper planning and preparation, including pets in weddings can create unforgettable moments and cherished memories for all involved.
A real wedding in Virginia is a truly special and memorable occasion. Virginia offers a stunning backdrop for couples to exchange their vows and celebrate their love. From picturesque vineyards to historic estates, there are endless options for couples to choose from when planning their dream wedding in Virginia. The beauty of the state is complemented by the warm hospitality of its residents, making every guest feel welcome and cherished. Whether it's an intimate gathering or a grand affair, a real wedding in Virginia is sure to leave a lasting impression on all who attend.
A styled wedding photoshoot in Virginia can provide couples with endless inspiration for their own special day. With its picturesque landscapes and charming venues, Virginia offers the perfect backdrop for capturing beautiful and unforgettable wedding moments. From rustic barns to elegant vineyards, there are a variety of stunning locations to choose from. These styled shoots bring together talented wedding vendors who collaborate to create a cohesive and inspiring vision. The photos captured during these shoots not only serve as inspiration for brides-to-be but also showcase the creativity and expertise of the vendors involved. Whether it's a bohemian beach wedding or a glamorous black-tie affair, a styled wedding photoshoot in Virginia can provide couples with the inspiration they need to bring their dream wedding to life.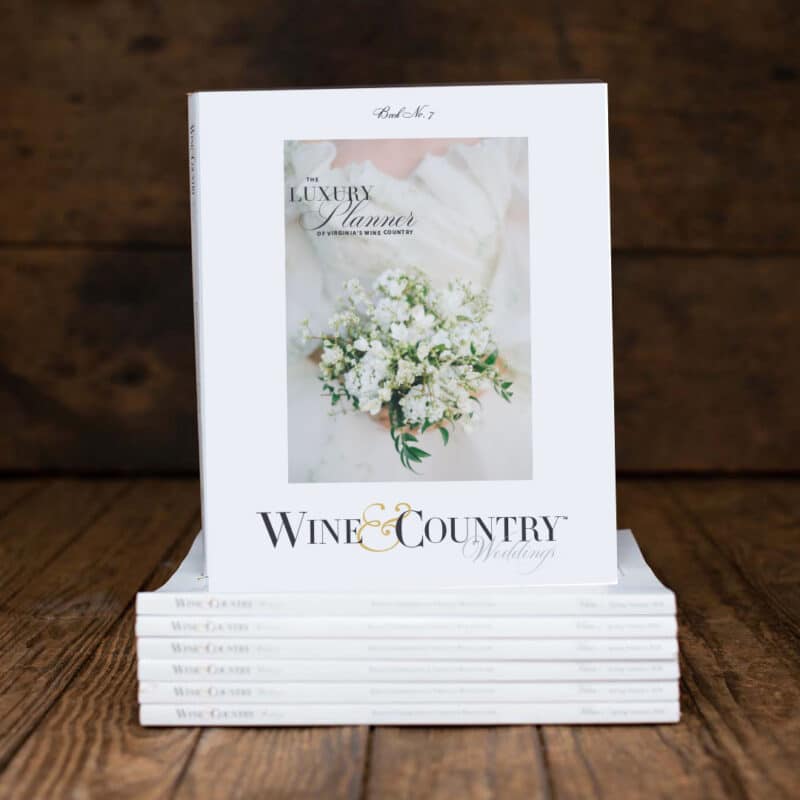 Read the Current Issue Here. Virginia Wine & Country invites you to step inside the most stunning wedding celebrations held in Virginia's Tasting Country. Our magazine is filled with ideas and inspiration to assist you along every step of your planning process as you prepare to make memories to last a lifetime. We also invite you to visit our sister publication Virginia Wine & Country Life. There you can cozy up and savor our stories about Virginia's vineyards, craft beverages, culinary artisans, inspiring homes & gardens, equestrian life and so much more. Subscribe to receive our luxury magazine, browse gifts for yourself and loved ones in our curated Shop and make plans to enjoy our W&C Experiences.
Breathe, Taste, Savor the Virginia Wine & Country life!