This lush styled photoshoot was a labor of love for all involved and is the winner of our annual Styled Wedding Competition held on social media each Valentine's season. From brightly-colored florals to vibrant decor, there are endless opportunities to make your outdoor wedding bold and beautiful. Don't forget to also check out the winners of this year's Real Wedding Competition!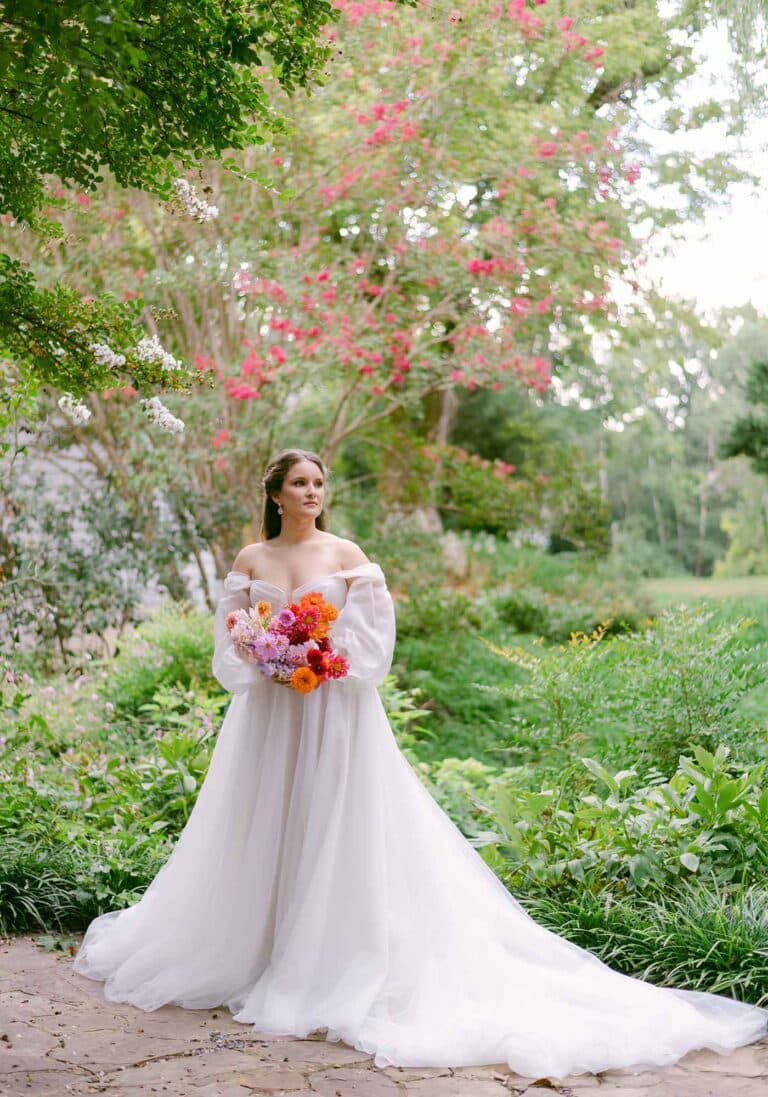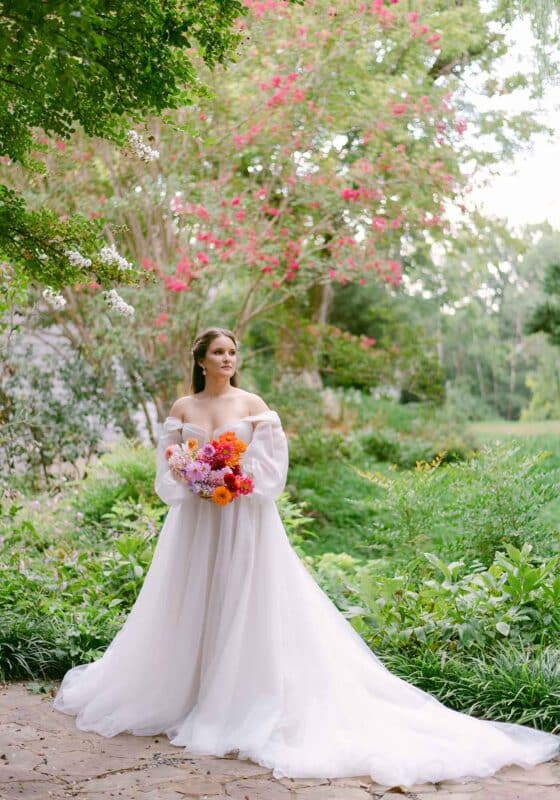 While choosing your wedding colors can be a difficult decision, brides looking to infuse their bold personalities into their special day should look no further than a colorful wedding palette. Choose a few bright colors to highlight and pair them with some complementary lighter shades for a cohesive look.
The Perfect White Wedding Gown for a Colorful Wedding
Among the glory of color surrounding her, the bride is an unexpected contrast wearing dresses of soft white. This styled wedding featured three lovely gowns, including a soft white Martina Liana gown (see below left) with a flowing skirt, structured bodice and sheer voluminous sleeves. This trendy, off-the-shoulder look is popular for its ability to give the bride a more dainty, delicate demeanor. Conversely, the transparency of her draped sleeves contribute a more seductive and romantic appeal.
The bride is in complete harmony with her surroundings as the simplicity of her dress shines amid the bold color pairings of the florals and the venue's stunning collection of ivy. Coupled with the dress' layered tulle, the bride holds an ethereal beauty usually only belonging to a fairytale princess.
How to Use Bright Wedding Colors
A local artist painted this trademark ivy, interspersed with colorful blooms and woodland creatures, onto custom wedding stationery. The stationary evokes a playful, whimsical aesthetic that embraces the bright color palette of the wedding. 
These bold and playful details are balanced out by the bride's simple, yet elegant, teardrop earrings and classic half-up half-down hairdo. With no necklace, the wedding gown shines without competition in a move that has become incredibly popular among brides. The dazzling engagement ring features a cushion-cut diamond wrapped in a sparkling halo and set in a white gold, pavé diamond band. 
Juxtaposing the decor, a grand, three-tier wedding cake takes center stage amidst a sea of color. A trail of 3-D fondant butterflies burst from the stark background, calling back to the theme's youthful innocence. Additionally, stunningly piped vines offer an understated elegance providing a satisfying contrast to the vibrant surroundings.
Design a Colorful Floral Arch
This styled wedding doesn't just follow the current trend of vibrant florals and bright colors in the bridal palette—it enlarges it. Gradients of colorful zinnias from lavender to sunset orange bloom in an asymmetrical rainbow up the bridal arch. Hydrangeas of any variety are also wonderful additions to any wedding day floral arrangement.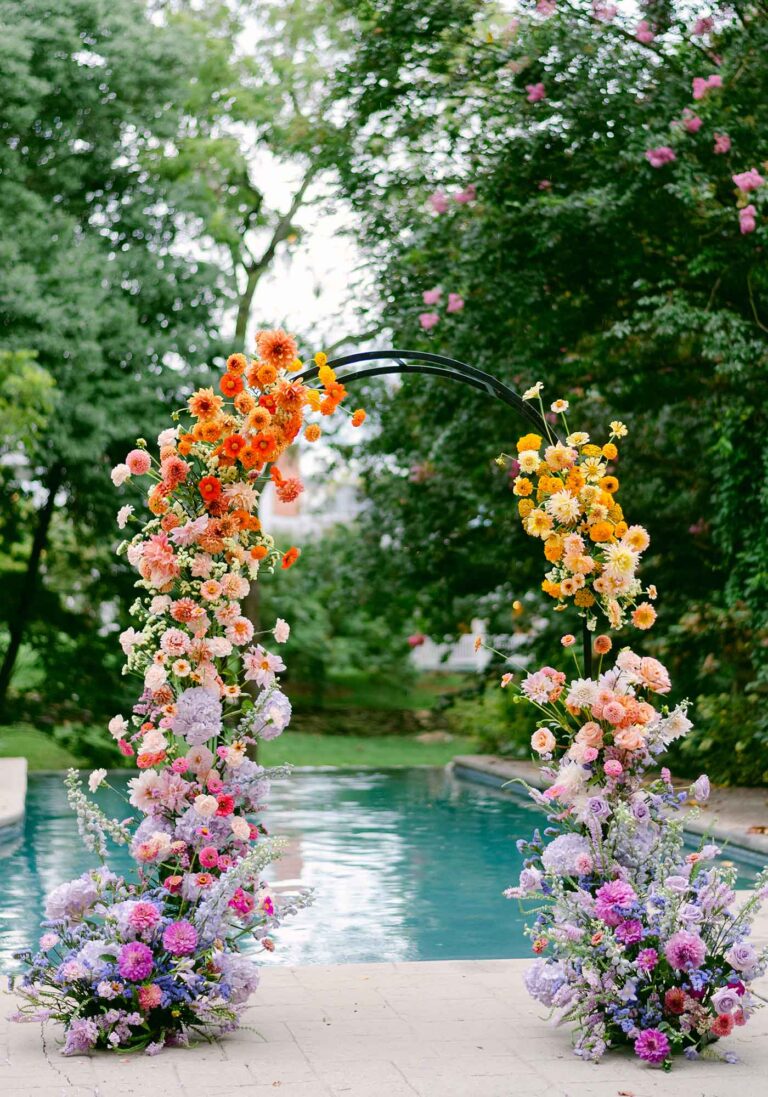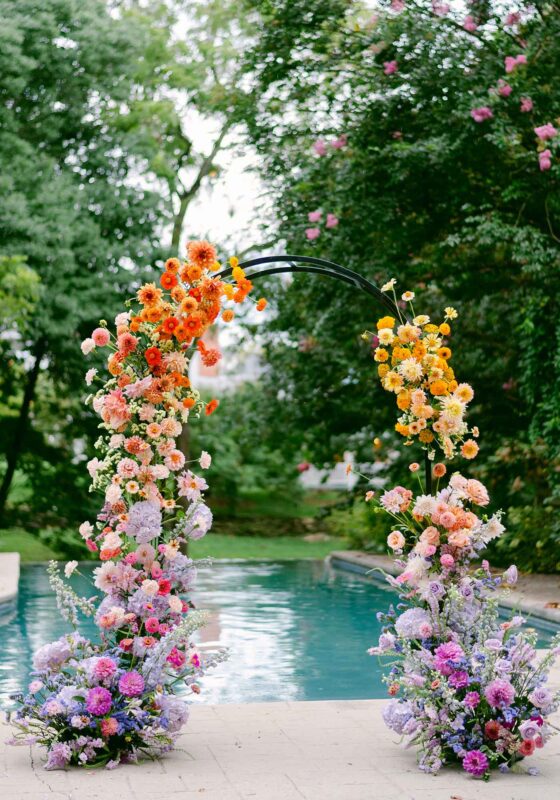 The same vibrant colors are repeated in the stunning bridal bouquet and the dynamic tablescapes surrounding the three-tiered wedding cake.
This eclectic mix of flowers sprinkled throughout the photoshoot's grand arrangements make the event appear far more fun and free than your usual wedding. Compared to regular floral décor, these whimsical arrangements inspire a call against tradition and set the tone for a bright future.
Bright Arrangements for a Floral Tablescape
Cottage-style wooden chairs and muted shades of green and coral in the place settings complement the stationery's floral design, featuring artwork which calls back to the wedding invitation's design. Meanwhile, equally colorful centerpieces burst against the rich verdant background of ivy climbing the venue's walls. This outdoor ambiance is made even more special by unfinished, French country-style chairs. Their rustic appearance makes the space feel more inviting and pair perfectly with the whimsical tablescape.
Tapered candles decorating the tablescapes create a comfortable, welcoming atmosphere for enjoying time with friends and family. This intimate setting is one that will undoubtedly encourage fun conversations into the night as the couple prepare for their final send-off, and will certainly provide for an unforgettable experience to look back on in the years to come. 
The beauty of an outdoor wedding in Virginia Wine Country is truly unparalleled and the rolling countryside provides the perfect backdrop for a colorful wedding complete with budding florals and vibrant accents. The effusion of bright colors at a wedding brings a tangible joy to anyone lucky enough to attend. ~
Photographer: Meredith Coe Photography
Venue: Clifton Inn
Planner: Kristin Ridge
Cake: Maliha Creations
Florist: Steel Cut Flower Co
Rentals: Argent Events & MS Events
Stationer: Abby Armistead Art
Hair Stylist: Sei Bella
Beauty Artist: Cagney Shifflett
Model: Macee Feeser
Bridal Boutique: Studio I DO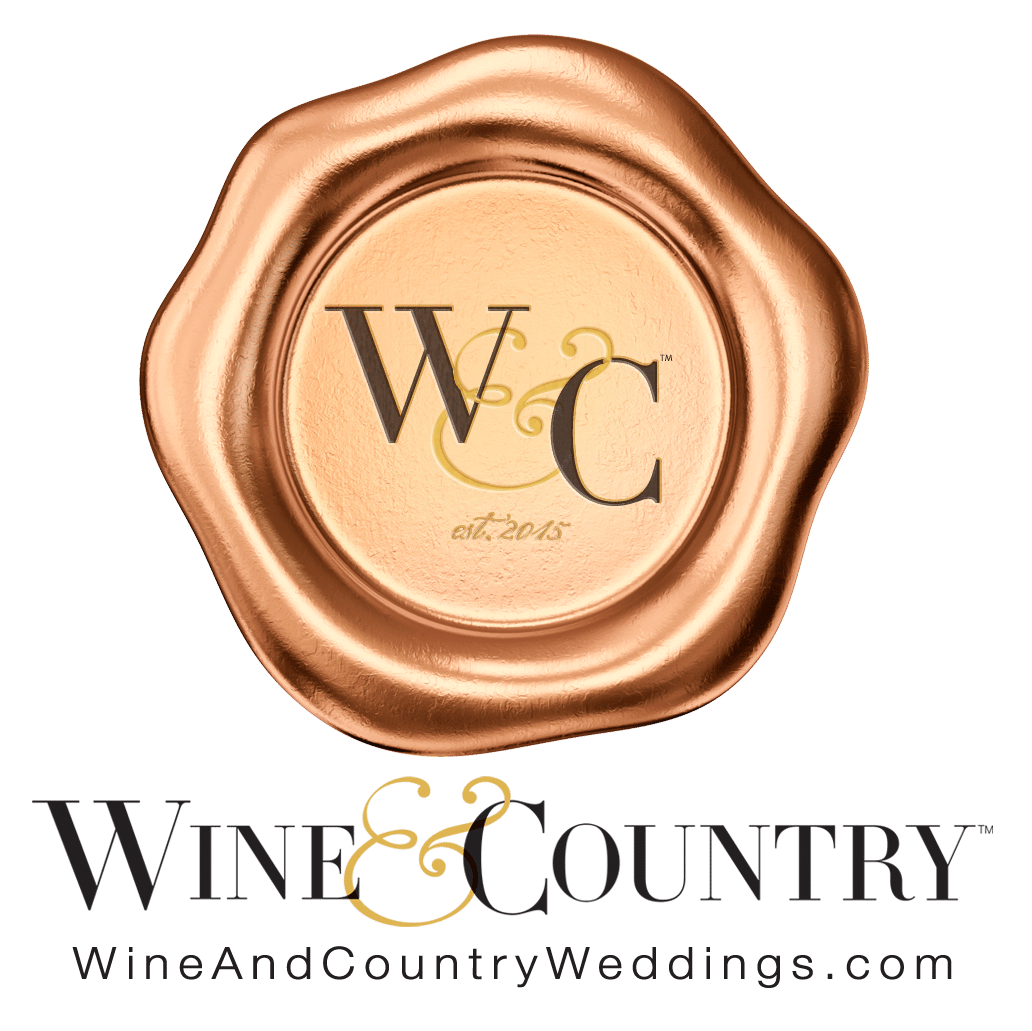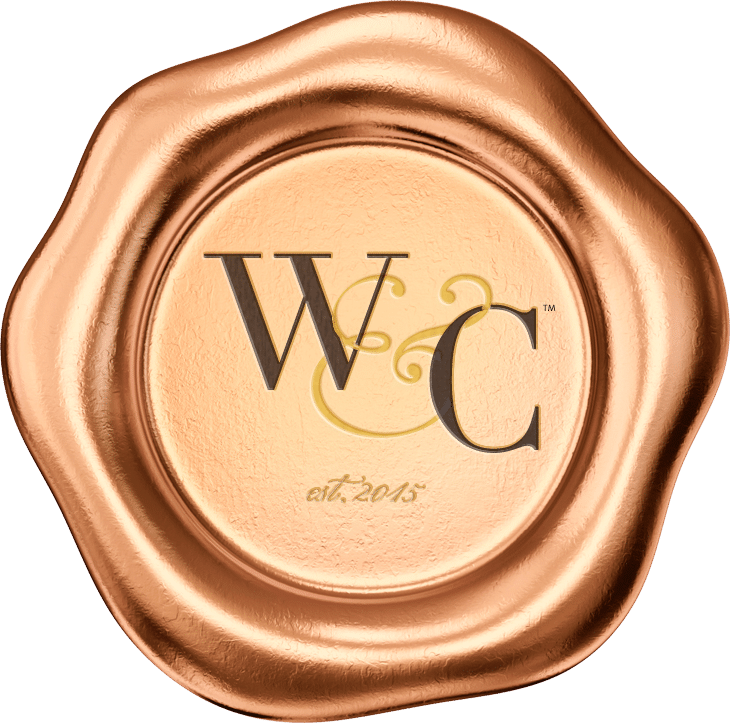 Virginia Wine & Country celebrates elevated living in Virginia Wine Country. Virginia Wine & Country Life is a semi-annual luxury print magazine with a full digital presence. The Virginia Wine & Country Gold Book is an annual guide to the top award-winning wines, wineries and experiences in Virginia Wine Country. The annual Virginia Wine & Country Wedding Planner is an art book of elegant Virginia weddings. The brand includes the Virginia Wine & Country Shop in Ivy, Va. It is a beautiful lifestyle boutique that brings the pages of the magazines to life. Virginia Wine & Country tells the stories of Virginia wineries, the farm-to-table movement, luxury travel, entertaining, art and the elegant country lifestyle. Ivy Life & Style Media also provides branding, web design and PR services for the wine industry.