Rachel May Photography | Cakes & Pastries by George
A staple wedding tradition for hundreds of years, wedding cakes have become an elaborate and beautiful way to add personal flair to your wedding reception. As your wedding planning progresses, you will arrive at one of the sweetest parts of the process: choosing your wedding cake. Cake trends are constantly evolving, but what's most important is that you both pick the one that best represents you as a couple. No matter whether you want a barely-decorated, rustic "naked" cake, one highly detailed with layers of piping or even a stunning architectural cake shaped like a favorite building, the options are endless. And, the aesthetic decisions are entirely up to you.
Before getting into the more fun details of your cake, though, be sure to choose a baker who can not only bring your vision to life but also make the entire experience as smooth as possible. To help you in your search for a Virginia baker, we've created a list of Questions to Ask Your Wedding Cake Baker to make this task sweeter than ever.
ARE THEY AVAILABLE FOR YOUR WEDDING DATE?
Some bakeries get booked out over a year in advance, so before looking into anything else, make sure the places you're considering are available on your date. Depending on the size of the business, some bakeries can book more than one wedding per day, so also inquire about how many other weddings are booked on your date and how they serve multiple weddings at once.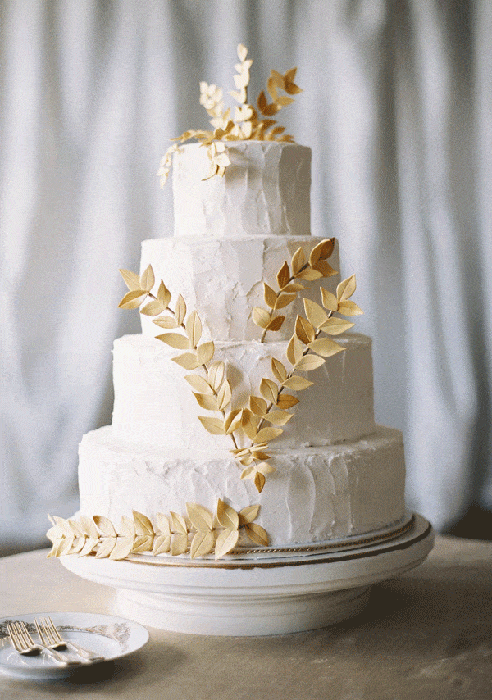 Favorite Cakes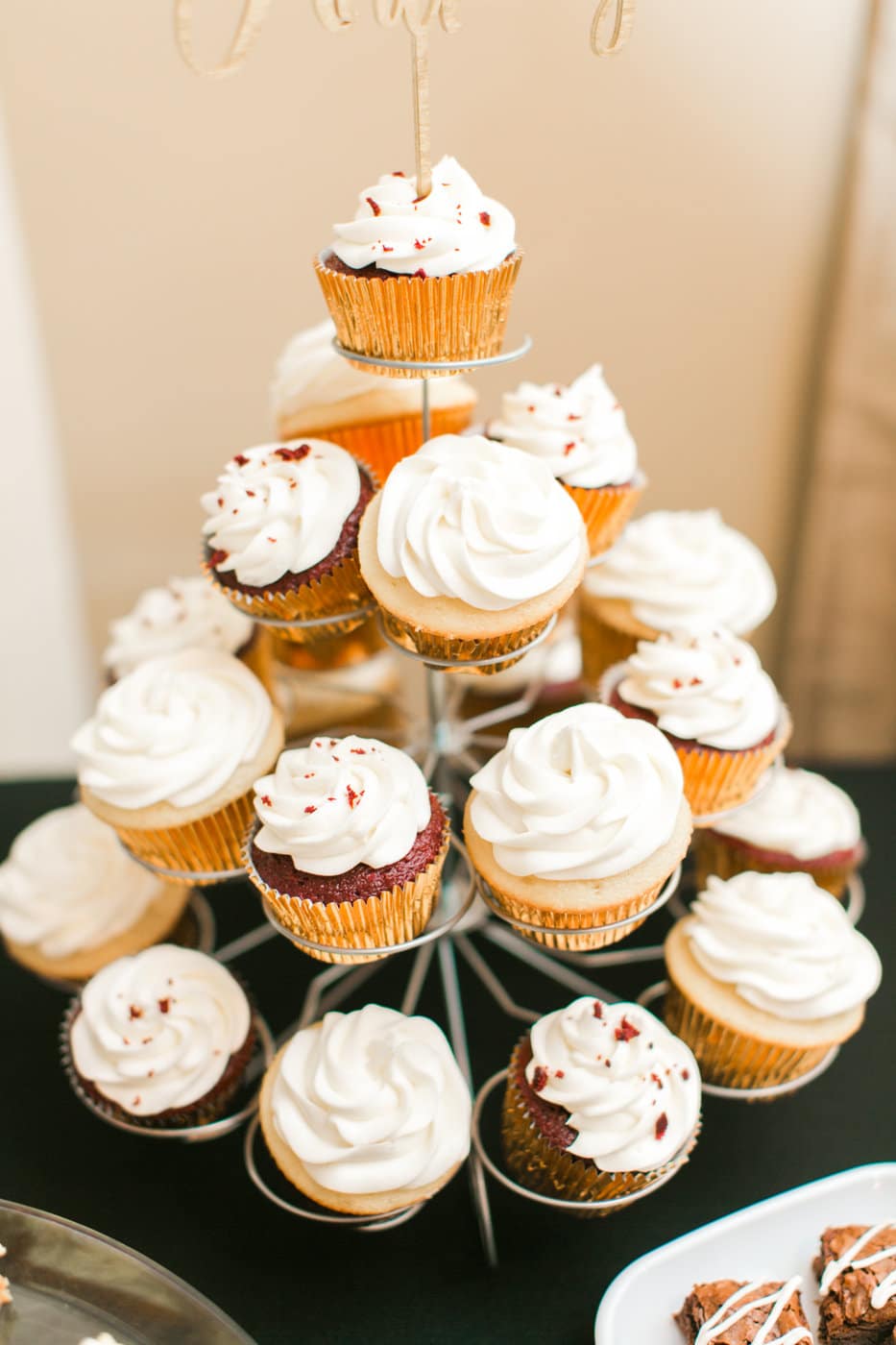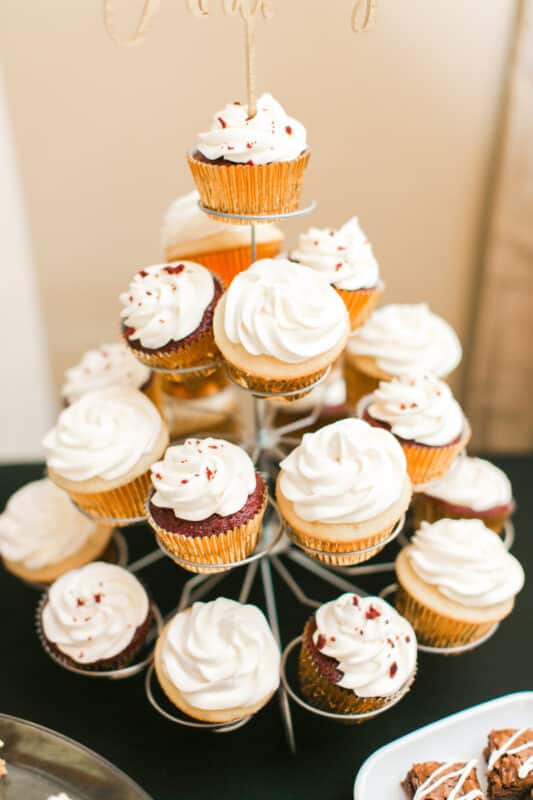 Megan Kelsey Photography
WHAT CAKE FLAVORS ARE AVAILABLE AND POPULAR?
Different bakeries offer different cake flavors and fillings. Depending on the bakery, flavor combinations can be set or you could have the option to mix-and-match. Take a look at the menu, and be sure to ask about any specialty flavors; the most unique flavor is often on the menu for a good reason and might end up being your unexpected favorite! Be sure to also ask about the ingredients that go into the flavors you're most interested in so you know what you're getting, as well as the baker's usual decorating techniques. For instance, whether a baker prefers using traditional buttercream or fondant will affect both the final look of the cake and the flavor, making this one of the very important Questions to Ask Your Wedding Cake Baker.
IS A TASTE TEST FREE OR EXTRA?
After you've decided you're interested enough in a bakery to seriously consider them for your big day, be sure to request a tasting before signing a contract. Depending on the business, this may be free, or it could cost a small fee. If you choose a bakery that charges for tastings, this cost is often factored in as part of the final cost of the cake. Tasting the cakes themselves is just as important as the way the cake ends up looking. No matter how beautiful your cake is, you (and your guests!) will remember if the cake itself wasn't top-notch.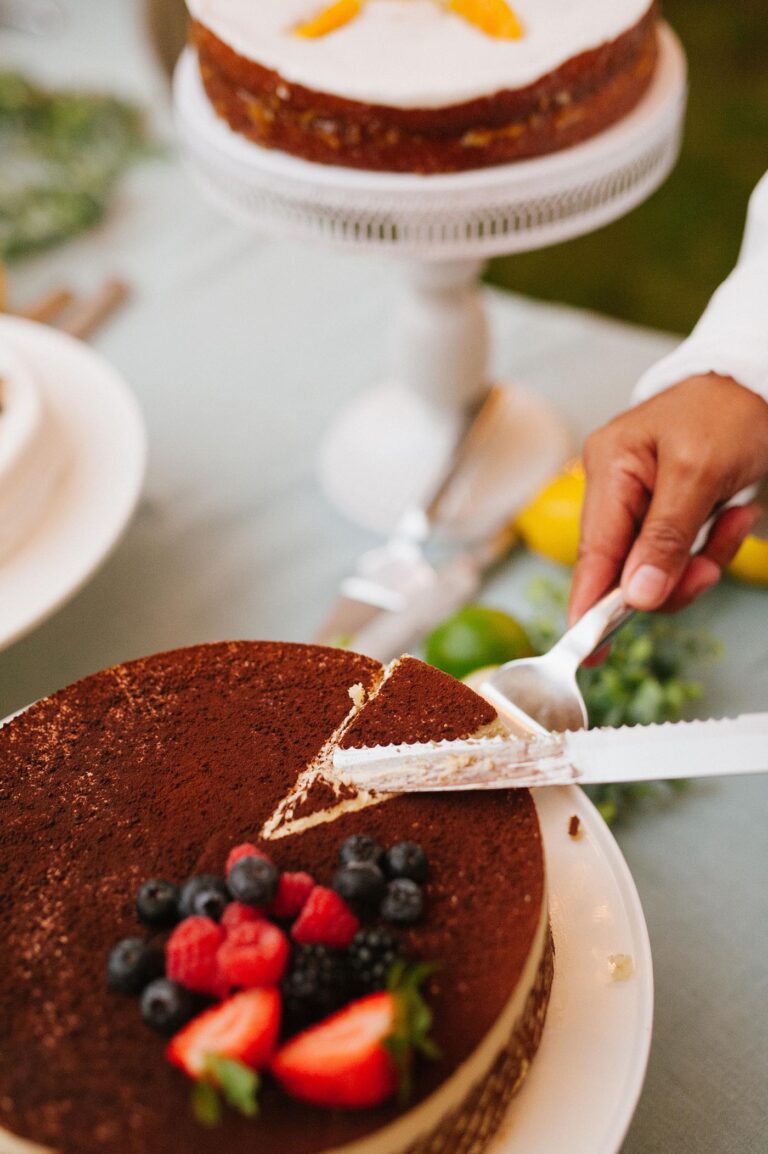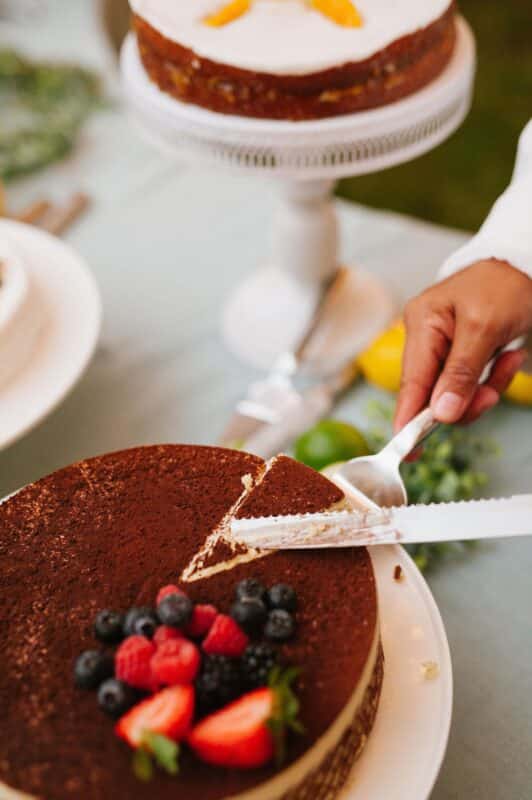 Jen Fariello Photography | Occasions Caterers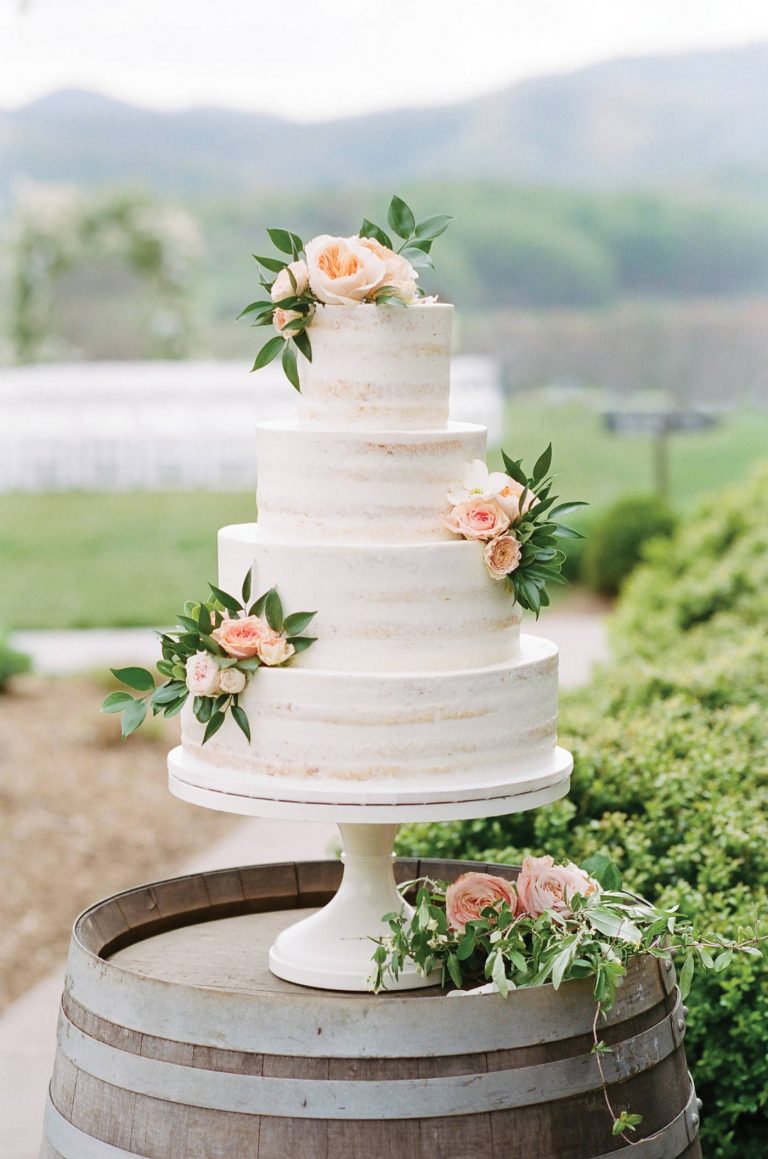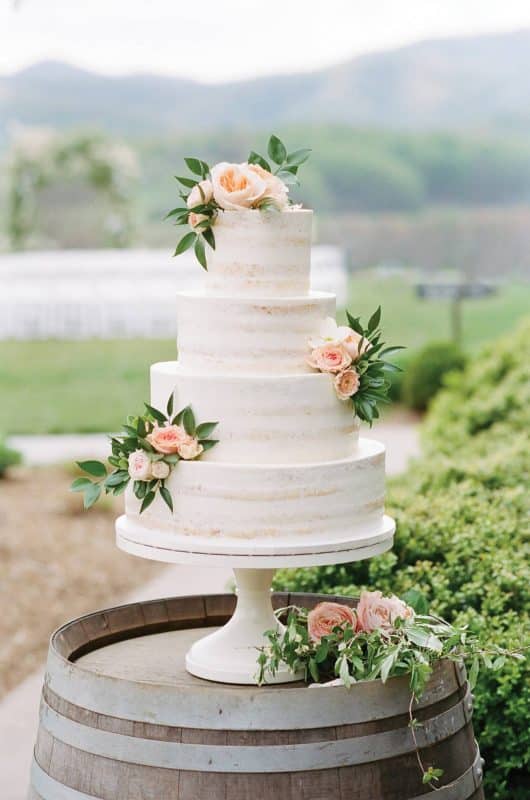 Jen Fariello Photography | Cakes by Rachel
WHAT IS THE BREAKDOWN ON PRICING?
Get a breakdown of what you'll be charged for, and why. Be sure to tell them about the size of your wedding and how many guests you expect to feed, so you can get their opinion on how much cake you'll need. Sometimes, in order to accommodate larger weddings and feed the entire guest list, additional "kitchen cakes" will need to be kept and brought out as needed. Once you've determined exactly how much cake you'll need, discuss the important fees in your contract: Will there be a delivery fee? How much will you need to deposit, and when? When should you have all of your money to the baker? What does the refund policy look like in case of an unexpected emergency? Having clarity on your contract upfront makes everything easier later.
CAN YOU SEE SOME OF THEIR PAST DESIGNS?
This allows you to get familiar with the baker's style and ability. Along with giving you an idea of what the baker is capable of, you may find inspiration for your own cake. Maybe you weren't considering putting sugar flowers on your cake at all until you saw what your baker did for another couple last year and got completely blown away! Seeing what the bakery and cake designers specialize in can help you make decisions about your own cake.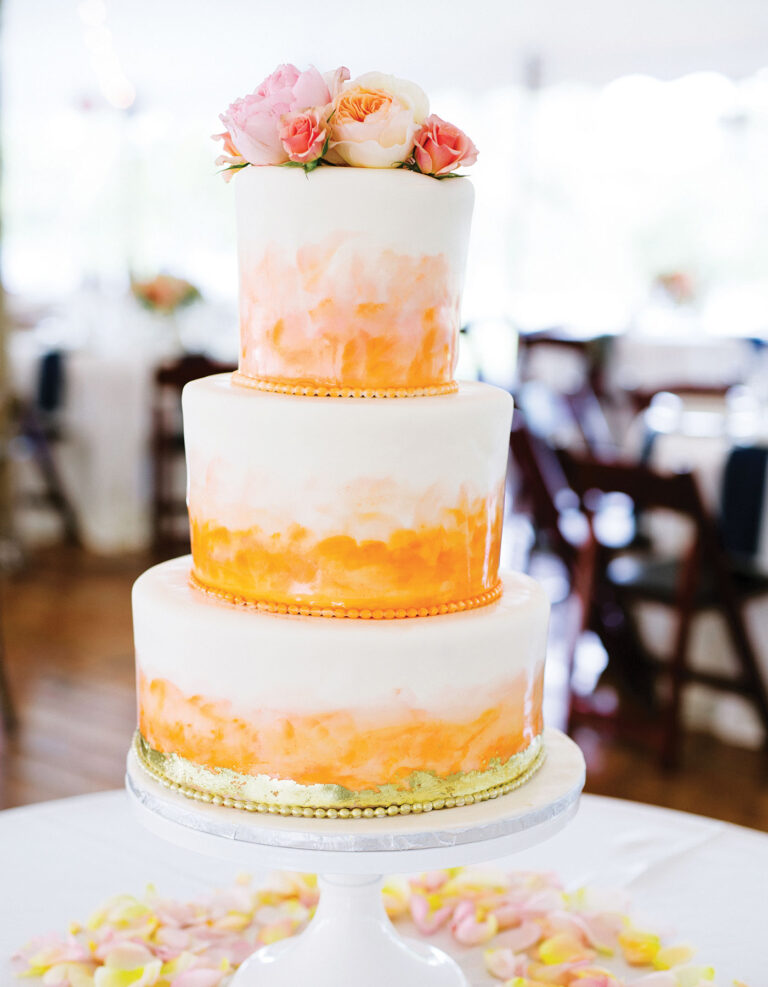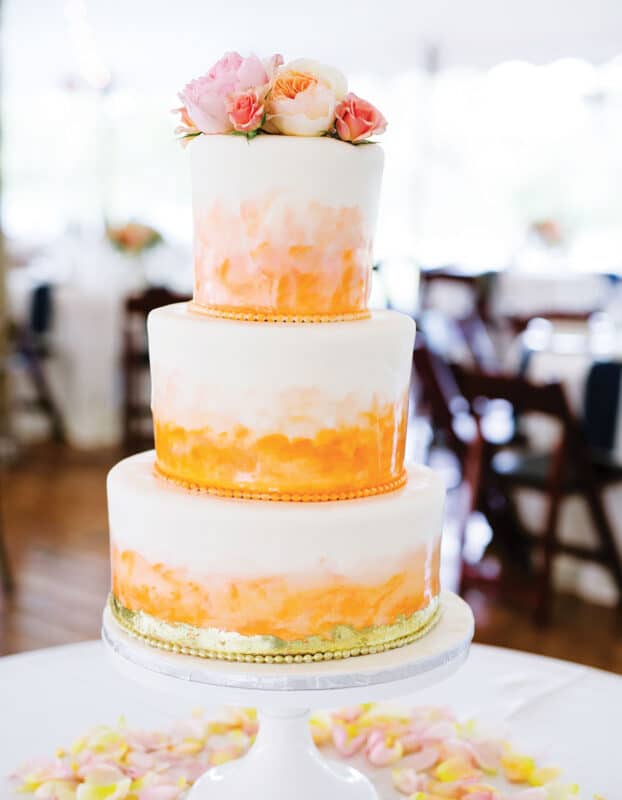 Robert Radifera Photography | Maliha Creations
WHAT IS THEIR TYPICAL TIMELINE FOR BAKING A WEDDING CAKE?
Wedding cakes aren't baked and decorated in a single day. Oftentimes, the cakes themselves are baked days in advance of your wedding date to give ample time for decoration. Discuss the baker's usual process and be familiar with how long it will take them to create the cake of your dreams. While informing you to how fresh your cake will be, it also helps you understand the bakery's pricing: a more elaborate, involved cake takes more time, and therefore more money.
WHAT WILL DAY-OF DELIVERY LOOK LIKE & INCLUDE?
Ensure you communicate with the bakery early in the process on what time you'll need the cake to arrive day-of, and get a clear picture of how they're getting the cake to your venue. Knowing how the final product is transported and set up will give you peace of mind on your wedding day, therefore it's important to have this conversation well in advance. Be sure to ask about small details as well, such as: Does the baker provide a cake stand or will you need to buy or rent one? Will they need anything from other vendors (florals, cake cutter, etc.)? Is there anything about the cake's construction that affects how it should be cut?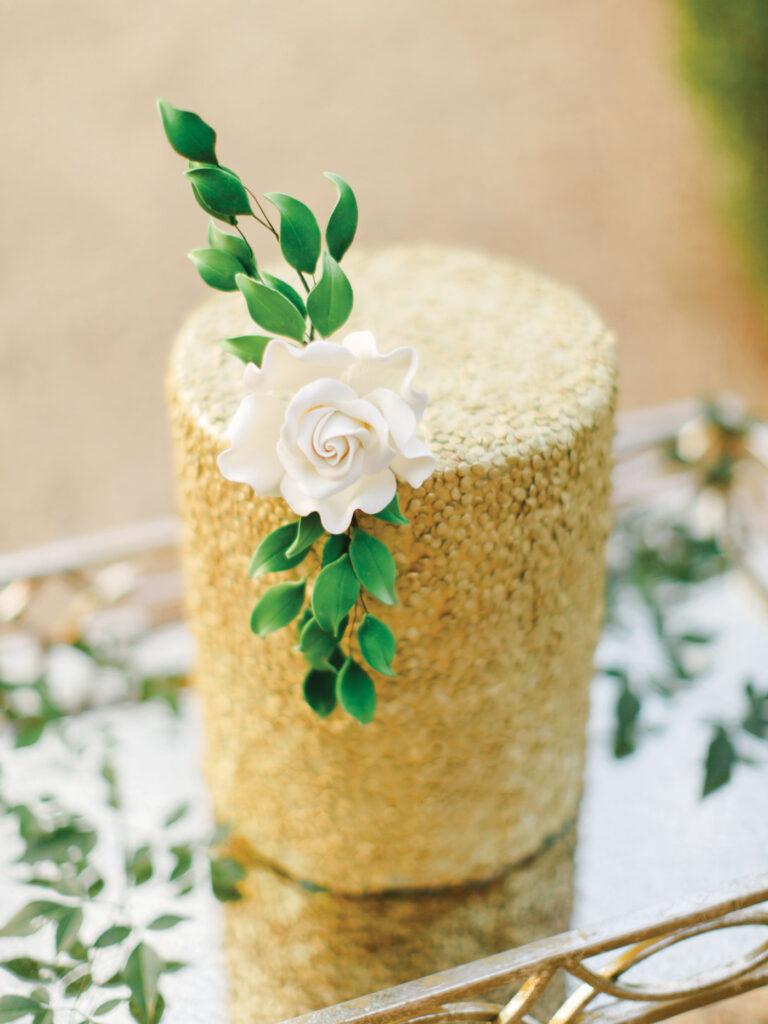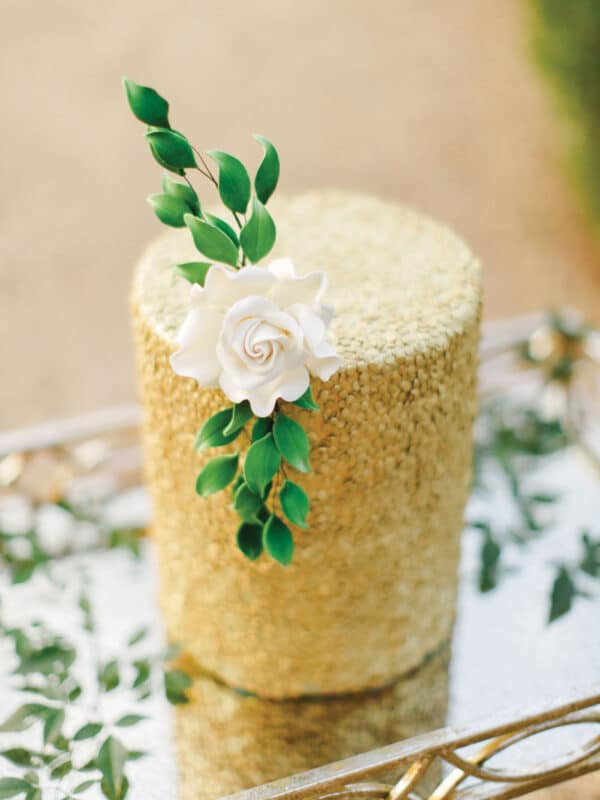 Rachel May Photography | Maliha Creations
1: Jen Fariello Photography | Maliha Creations; 2: Paradox Pastry
And, finally, if you're looking to save and freeze the top tier of your cake for your first anniversary, tell your baker. As this is a common request, your baker will likely have a procedure in place to help. Usually, the bakery will communicate with your caterer (or whoever is cutting the cake) when the cake is delivered. If they won't be on-site personally, they can give you instructions and tips for the best way to preserve your cake ahead of time so you can enjoy it on your first anniversary.
No matter if you want something subtle or over-the-top to capture the vibe of either a rustic barn venue, a glamorous vineyard event set before sweeping Blue Ridge Mountain Views or a historic Virginia estate, we're confident that with these Questions to Ask Your Wedding Cake Baker you are more ready than ever to start sampling and deciding the flavors and style of your cake. ~
MARY ALLEN TALLEY is a recent graduate of the University of Virginia and interned at Ivy Life & Style Media. In her free time, she enjoys reading, spending time with friends and exploring Charlottesville.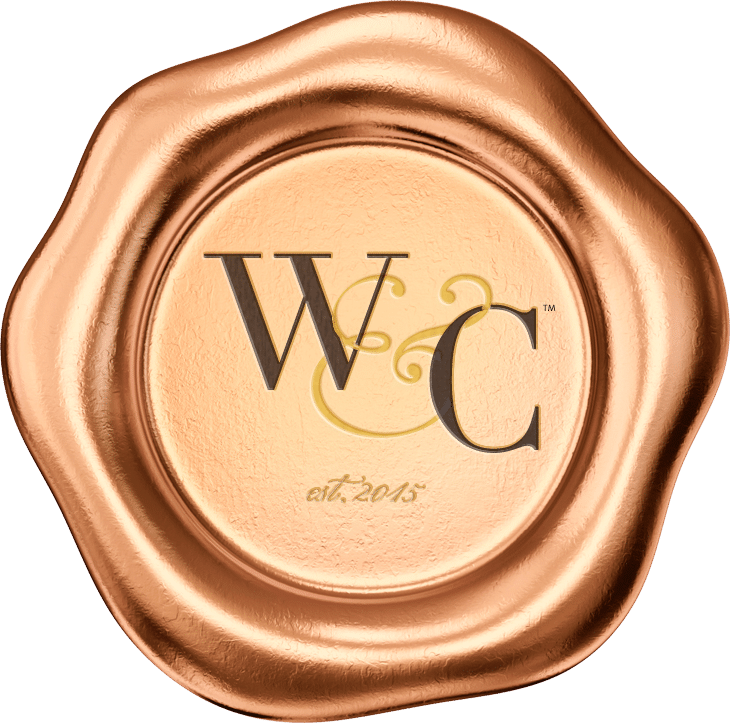 Wine & Country celebrates elevated living in Virginia Wine Country. Wine & Country Life, a semi-annual life & style magazine, and Wine & Country Weddings, an annual art book celebrating elegant Virginia weddings, are complemented by the Wine & Country Shop in Ivy, VA—a beautiful lifestyle boutique featuring over 40 Virginian artisans with everything from tailgating essentials and Dubarry attire, to locally made foods and award-winning Monticello AVA wines, as well as craft beverages for your next event. Sister publications under the publishers of Ivy Life & Style Media include the Charlottesville Welcome Book, a bi-annual publication guiding visitors and newcomers on all of the happenings and businesses in the region, and CharlottesvilleFamily's Bloom magazine, a bi-monthly parenting publication.
Wine & Country Experiences are now also available and include exclusive tours and hands-on classes with leading professionals in the local farm-to-table and vineyard scenes.