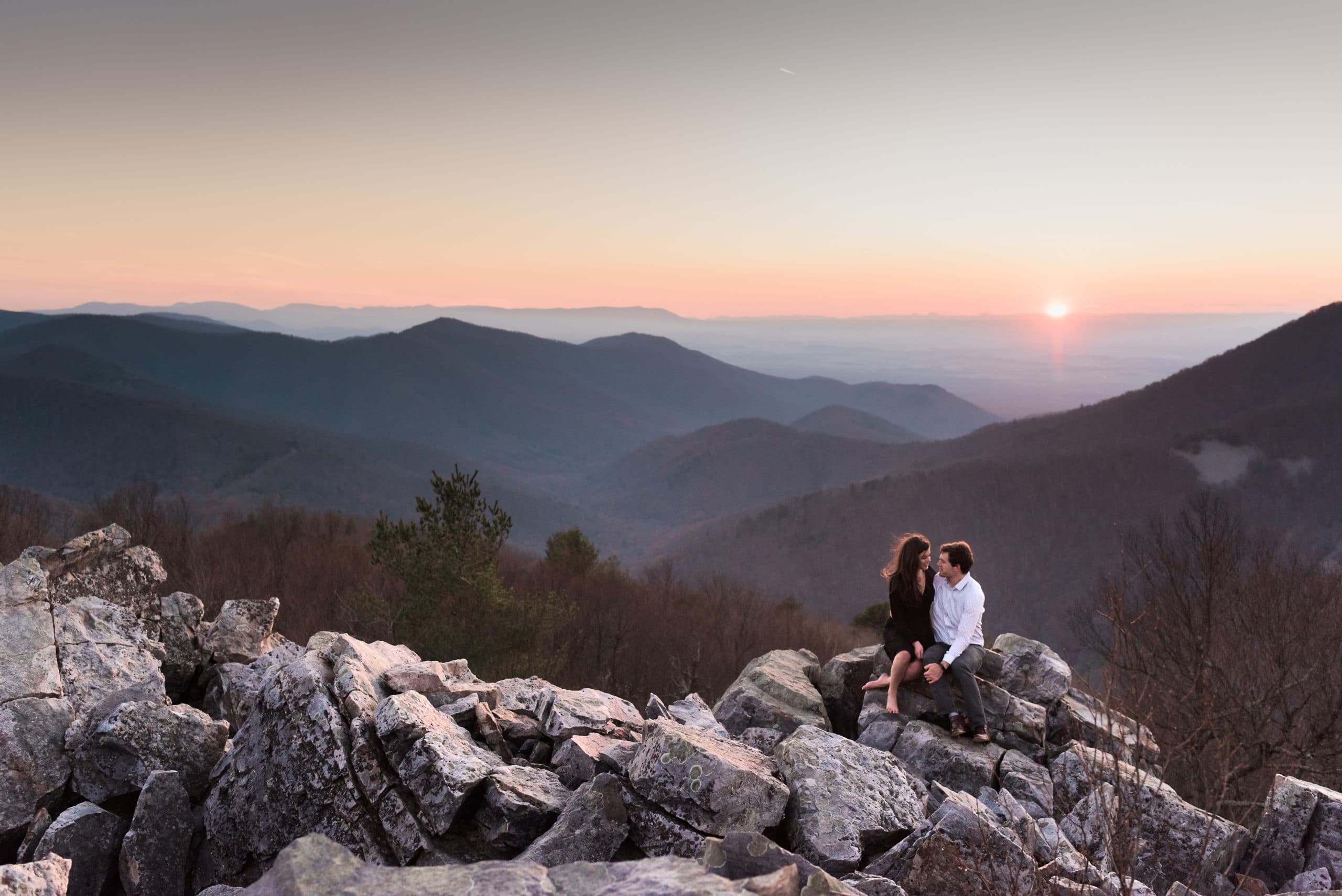 Not sure where to start with planning your engagement photos? Virginia photographer Beth Seliga of 3 Cats Photo compiled some tips and advice to help ease the process of planning your engagement photo session. From reasons why you should fit these into your schedule and popular Virginia locations to what to wear and how to incorporate a beloved pet, Beth offers her expert advice and has even compiled some helpful tips from couples she has photographed.
Why You Should Take Engagement Photos
It's a great way to get to know your photographer and how they work while in a relaxed, fun environment.
It's a fabulous way to celebrate this unique time in your relationship and to celebrate who you are as a couple.
They make great art/accessories for receptions and save the dates.
It helps you see what works for you two before taking your wedding portraits.
They show off your favorite places, your fur-babies and personal aspects of your life together, like bicycling, hiking, etc.
These give you a starting point for creating your wedding day hashtag(s) and help you begin the infamous countdown to the big day—#100daystogo or #100daycountdown.
It's a time to build trust with your photographer before your wedding day, and it allows him or her to get to know your fun personalities.
This time gives you a break from the chaos of wedding planning—just the two of you remembering why you fell in love in the first place!
How to Overcome Nerves in Front of the Camera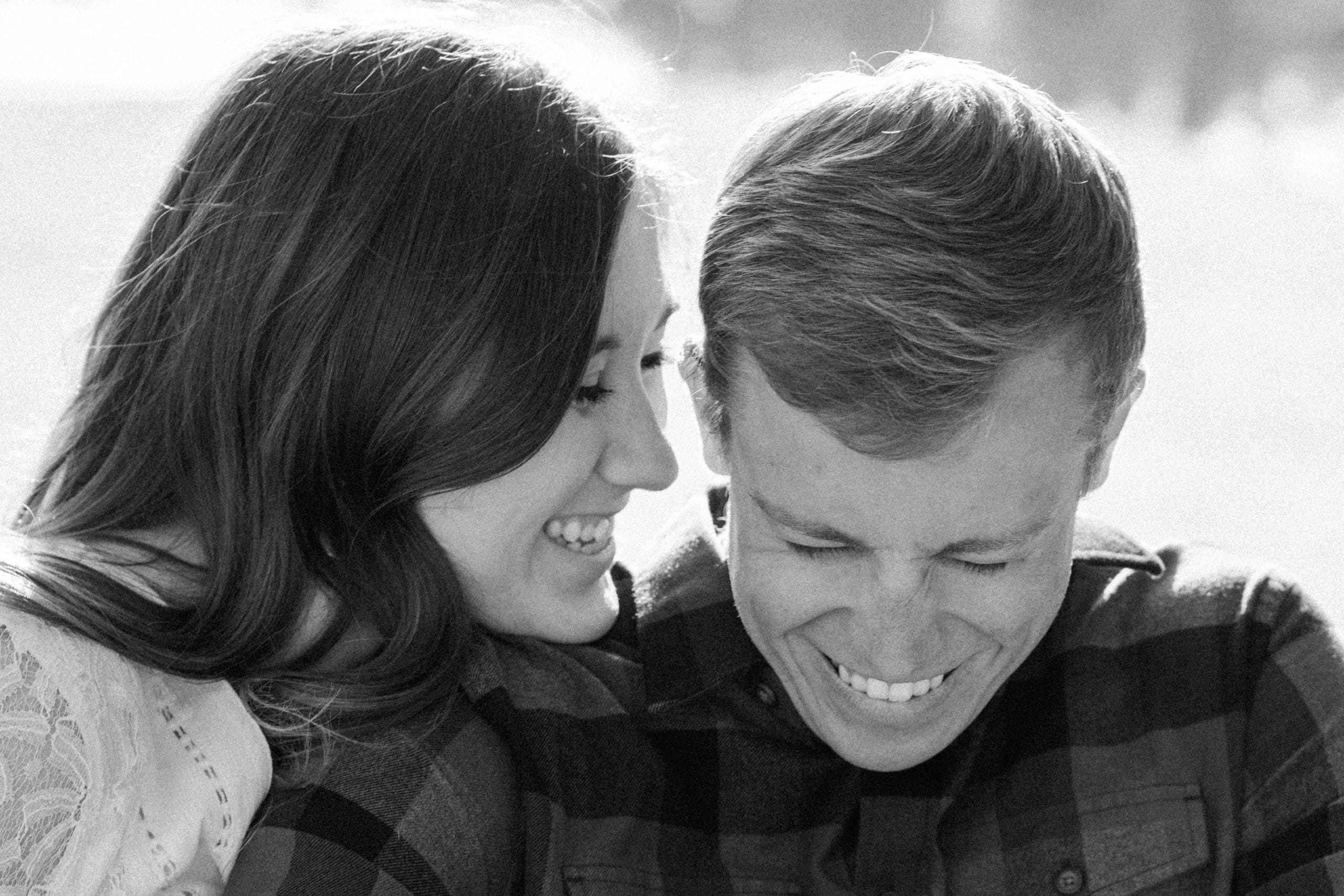 The biggest reason people skip their engagement session is that they are nervous or think they are awkward in front of the camera. Your engagement session is supposed to be fun and relaxed, not forced or uncomfortable. Even if you are nervous now, Beth promises that it will be more fun than you initially expected! "I always look forward to it, because it's a great opportunity for us all to hang out a bit before the wedding day," Beth shares. "And, actually, some of my couples have said that it ended up being a really amazing date night!"
How to Pick Where to Have Your Engagement Photos Taken
Ok, so you are sold on having an engagement session, and you have picked your dream photographer. Now, it is time to start planning. First, this is about YOU and who you are as a couple. "If you never hike together, don't succumb to the fear of missing out and pick a location because it's what you see others doing. If what you really love doing together is sipping coffee in your favorite coffee shop, go with it!" Beth adds. If you need a few ideas to get you started, here are a few of Beth's favorite places for taking engagement photos around the Charlottesville area.
Virginia Photo Location Ideas
GARDEN & FLORAL: Carter Mountain Orchard, Chiles Peach Orchard, Lewis Ginter Botanical Gardens, Maymont Gardens, University of Virginia Pavilions, Waterperry Farm & White Oak Lavender Farm
MOUNTAIN LOCATIONS: Blue Ridge Parkway, Grayson Highlands State Park, Humpback Rocks, Ravens Roost, Stony Man, Sharp Top at Peaks of Otter & Shenandoah National Park
RUSTIC & VINEYARDS: Barboursville Vineyards and Ruins, Early Mountain Vineyards, King Family Vineyards, Pippin Hill Farm & Vineyards, Swannanoa Palace & Veritas Vineyard & Winery
URBAN: Downtown Charlottesville, Downtown Richmond, IX Art Park Charlottesville & Libby Hill – Richmond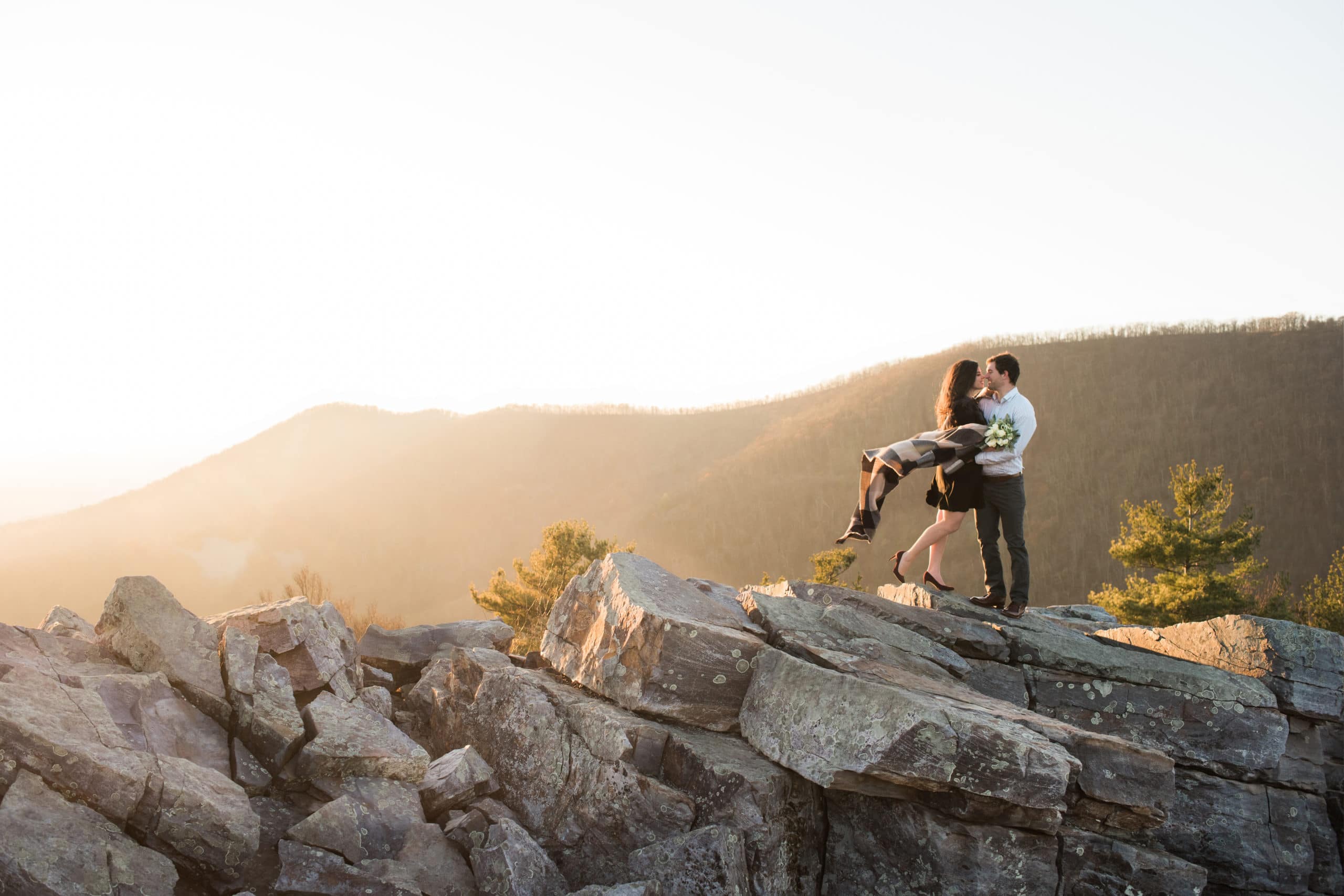 Maybe you are not having your wedding here in Virginia, but you are connected to the area through family, a former job or school. Plan your engagement session here anyway. Go with emotion and sentiment, and plan your engagement session someplace you dream about. Charlottesville and Virginia wine country are definitely two of those places.
How Can We Incorporate Our Pets into Our Engagement Photos?
"Another question I get asked a lot is about pets and how to safely include them in your engagement session," Beth shares. "Our own kitties are a huge part of our family, which is why I love when couples choose to incorporate pets into their session." And, the photos always turn out to be adorable!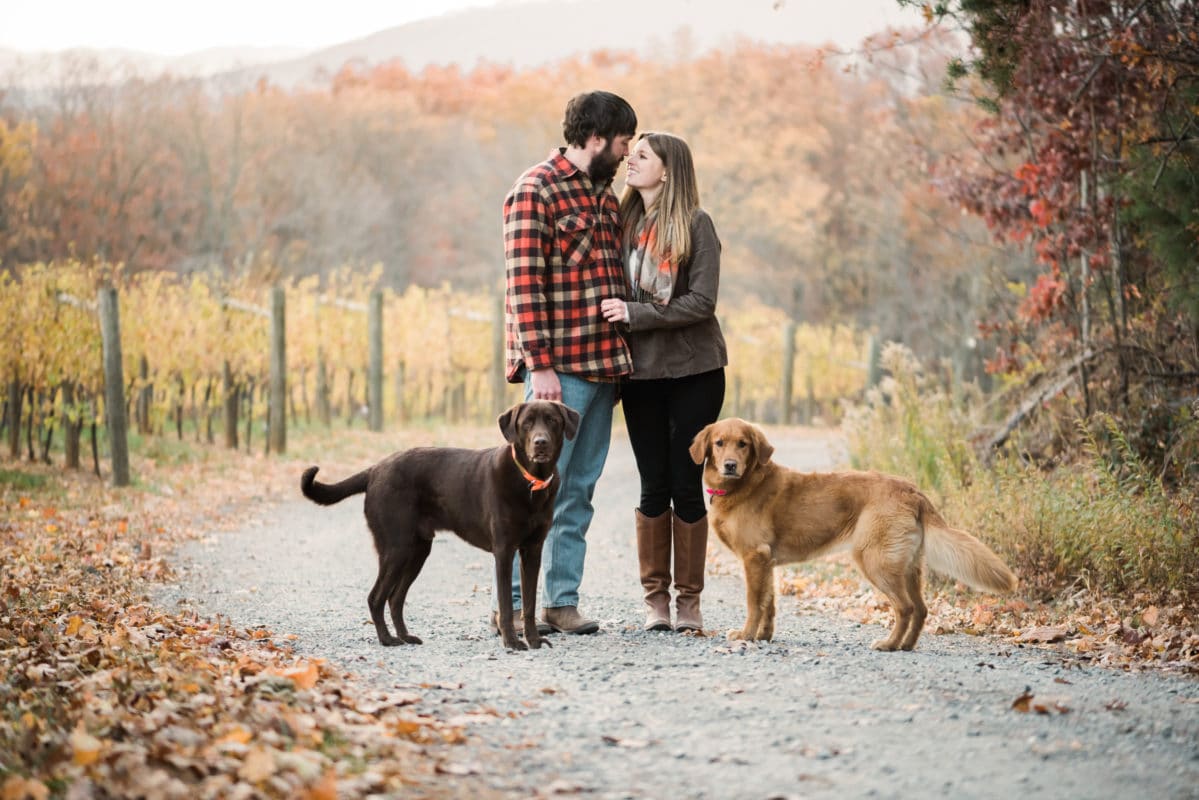 Tips for Taking Photos with Your Pets
"I always recommend planning for your pet to be at the first part of your session and then either dropping them off at home or having a friend pick them up." Pets should never be left unattended in your car, especially on a hot day. "Since we won't use your pet(s) in every single photo, it's nice to have a friend with you to hold him or her in between shots." If you're going to bring a pet, definitely pamper them before the shoot, too, with some nice grooming and a great walk to work off some of their energy. Keep in mind that your pet will try to do what you want because they love you, but every shot won't be perfect. Remember to be patient and give them some time to get comfortable with the situation.
What to Wear for Your Engagement Photos
Complement but avoid matching colors exactly. "When picking outfits, I recommend keeping in mind the word 'complement' rather than 'match.' Try to choose 'color-families,' such as pastels or jewel tones. Pastels are great in spring and summer, and jewel tones are better in autumn. Less is more as far as color goes. And, I usually recommend that one partner stick with more of a solid while the other brings the patterns."
Colors that don't steal the show. Neutral tones with a pop of color are much better than a bright color that will steal the show and leave color casts on your skin. "If we are doing a mountain top session, I suggest that my clients choose a color that exists in nature, and many opt for mossy greens, grey blues and soft lilacs."
Fabrics that photograph beautifully. Avoid shiny things. "Silks, cottons and natural fabrics with a little movement work very well. Tulle, lace and little embellishments also add interest without adding color."
The secret to looking fabulous in your clothing? Invest in a great tailor. Leave yourself enough time to get your outfit properly tailored. The difference is incredible. "Properly fitted clothes will give your images the polish that makes all the difference. Clothing that is too loose, too tight or just ill-fitting will not complement your frame properly. And, if you are wearing a loose top, pair with skinny pants."
Accessories. Generally, couples pick two outfits for an engagement session: a more formal outfit and a casual one. "I recommend saving your favorite outfit for later in the session, when couples usually feel more comfortable in front of the camera. And, don't forget to bring a few accessories! Leave the Apple Watch or Fitbit at home and opt for a classic elegant timepiece instead."
Feet. Clean, polished dress shoes are never out of style. "Heels will lengthen legs and help with posture, and they photograph beautifully, but they are sometimes a pain to walk in (especially if hiking to a location) so feel free to bring a cozy pair of walking shoes as well."
Hands. "Don't forget to clean your ring and invest in a manicure, as well. Most photographers, myself included, like to take detailed photographs of your hands and the ring in a pretty setting. Choose a neutral toned nail polish that won't distract from your images."
Match the vibe of your images. If you choose a coffee shop as a location, then you wouldn't want to choose a formal outfit. "If we are doing a late evening urban shoot, a gown and suit would be perfect. I always like jackets on guys. They are so versatile and give us a variety of looks. Pair with skinny jeans and cool shoes for casual or go full suit and tie for dressier looks. Avoid shorts, polo shirts and any type of cargo pants, unless the venue calls for it."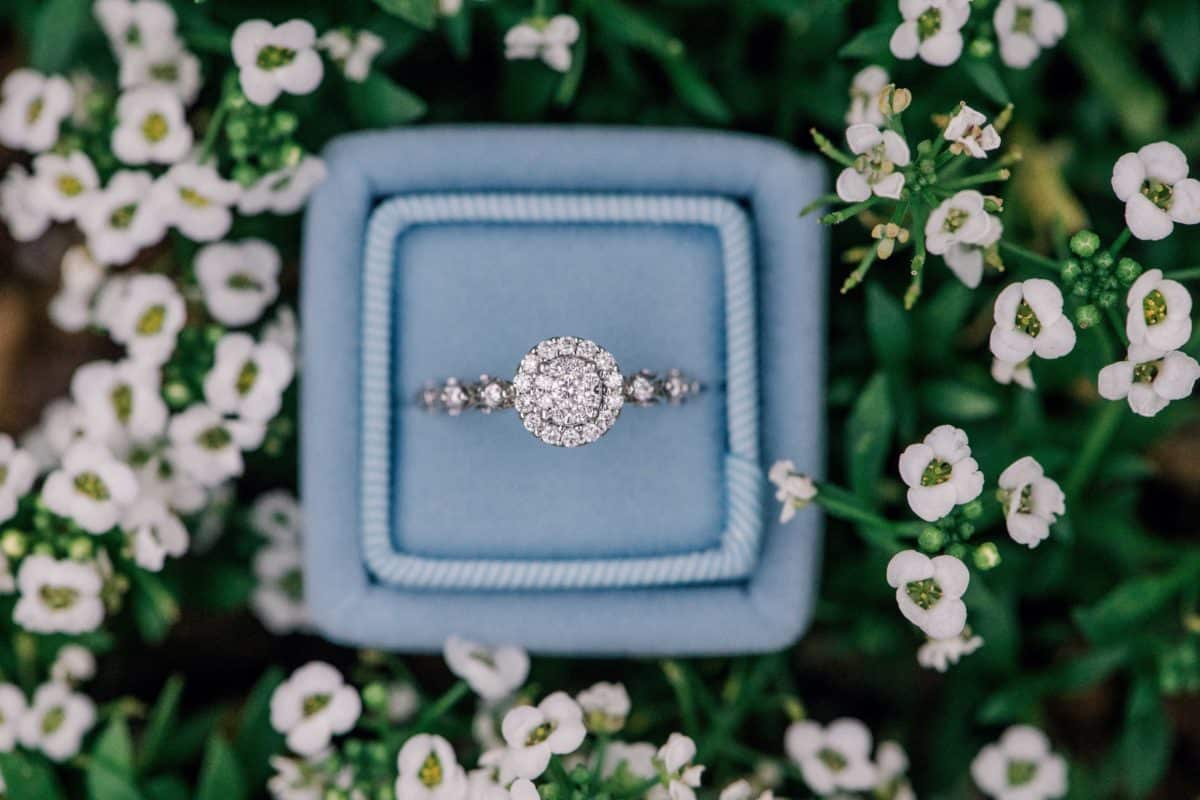 Should You Get Your Hair & Makeup Done for Your Engagement Photos?
"Yes," Beth says. "You will not regret it. Your look will last much longer, be camera ready and you will be able to relax before your engagement session. You can pair this with your wedding trial or just treat yourself to some extra pampering. Even if your look is very natural, just let your makeup artist know. Most pros can handle the 'natural but better' look as well as a more glamorous look."
Which Season is Best for Taking Engagement Photos?
Engagement sessions can take place at any time, from immediately following a proposal to just a few days before the wedding. "There isn't a 'good' or 'bad' time to take your photos, but I do love to plan sessions based on a particular 'look' that you have in mind. Some couples love flowers and spring sunshine, while others love crisp falls with golden foliage. All of it is perfect; it's up to you."
"Sessions typically last about an hour and a half and any time of the day is possible. I love to begin sessions about two hours before sunset. The first two hours after sunrise is also an ideal time to shoot, but I must confess that I am not much of a morning person!"
Tips from Virginia Couples on Planning Your Engagement Session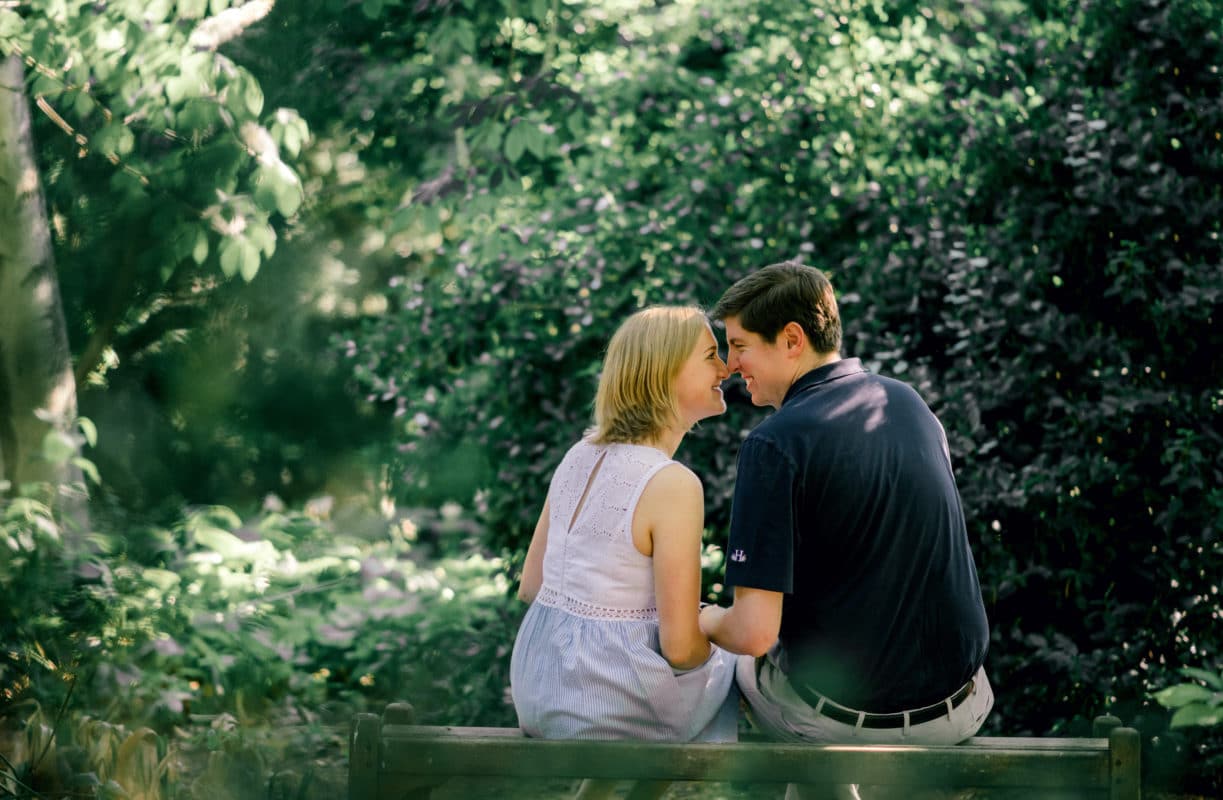 "Definitely take advantage of an engagement photo session as a way to break the ice, both with your future spouse and with the person behind the camera. You'll keep all of these images forever, and I think it's vital to the process! Your wedding photos will be all the more beautiful and relaxed!" – Kathryn & Jack
"I was most concerned about what kind of lighting or filters our photographer was going to use. I also don't photograph super well and was nervous to see what I would look like in my first professional shoot. I knew we would frame the pictures and wanted to love them! We knew we had a phenomenal photographer, but we were still nervous about how the two of us would be in front of a camera since we had never done that. There's something unique about being part of someone else's artwork and trying to fit both visions together." – Brenna & Adam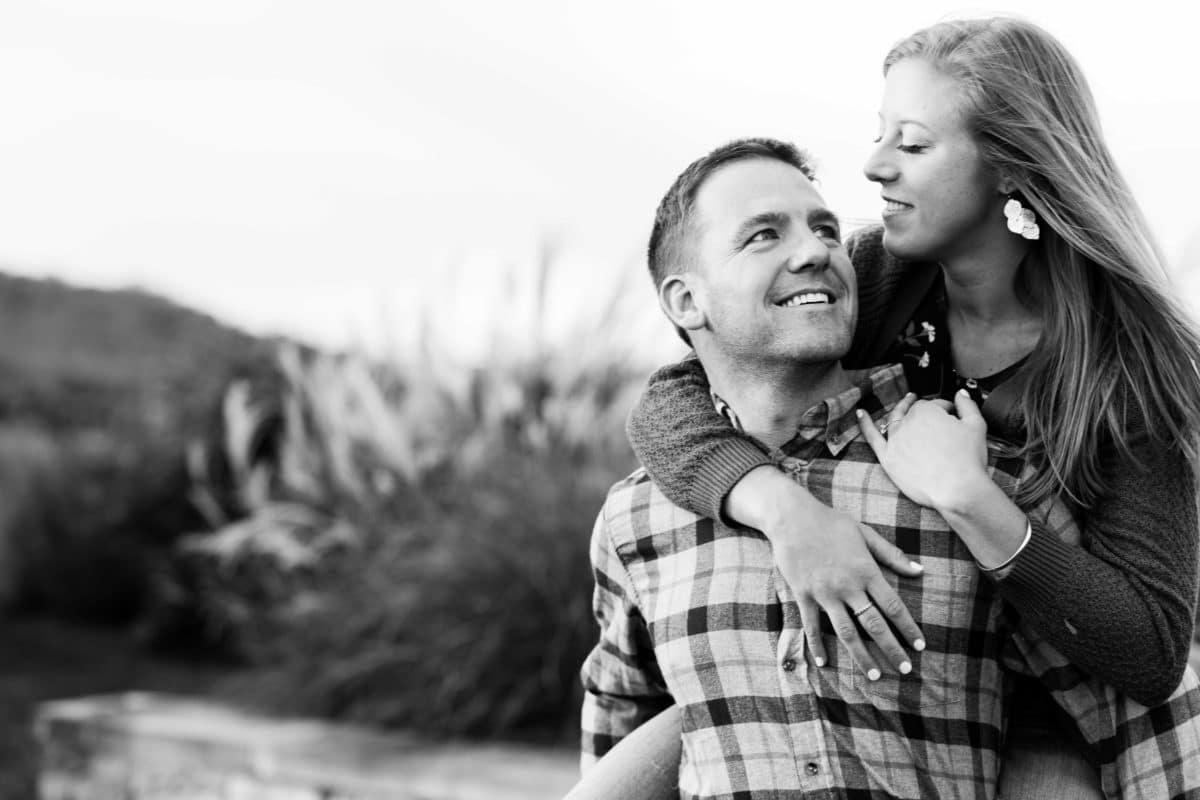 "Pick a photographer whose style you love and who you feel comfortable with, and then relax and trust the professional! I saw how detail-oriented and thorough Beth was from the start, and she put me at ease on the phone before we even met in person. I was confident I didn't have to worry about planning much and they would turn out great!" – Casey & Scott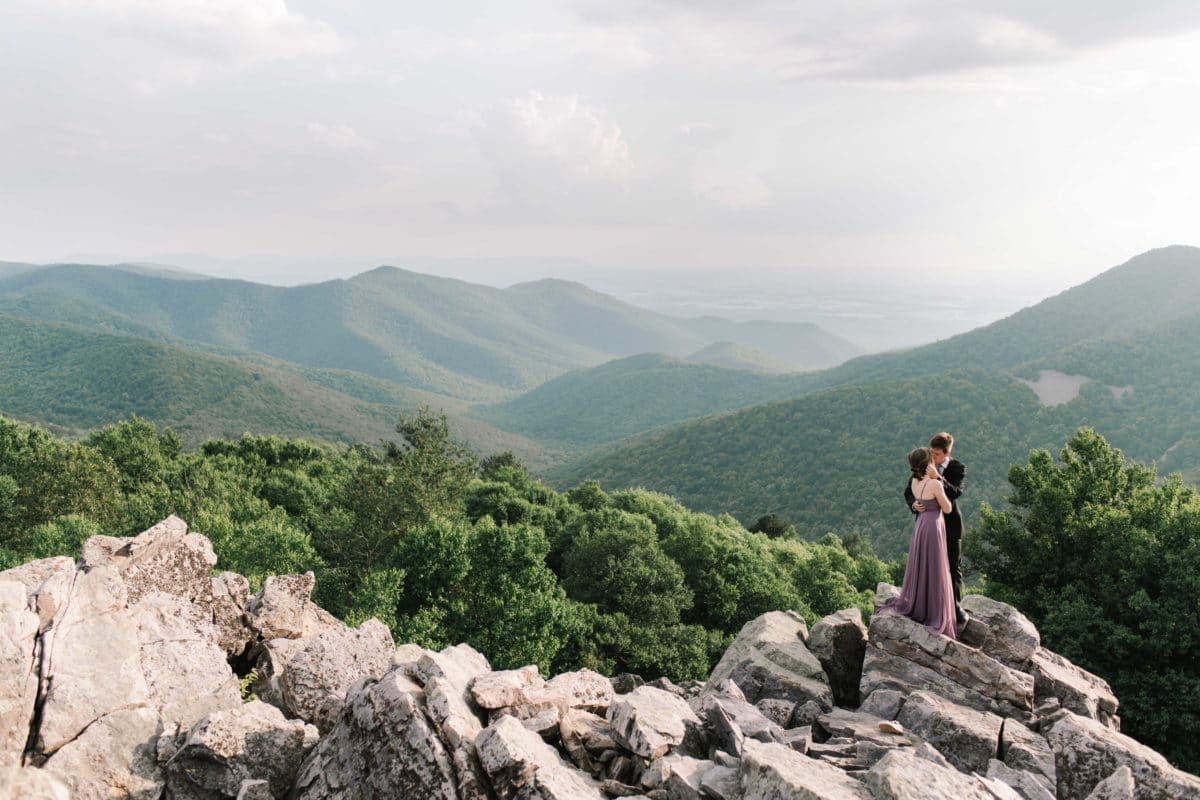 "I had debated getting an engagement session because of cost and unsure how many photos of us I actually needed, but I'm so glad we did. One because we got to spend more time with our photographer and get to know her, try out some poses, and get a feel for our hair/makeup and vibe of the pictures before the big day. Also, in the mountain session, I felt like I was in a commercial, standing in a gown on the top of the mountain was so cool. Definitely a once-in-a-lifetime experience." – Belle & Andrew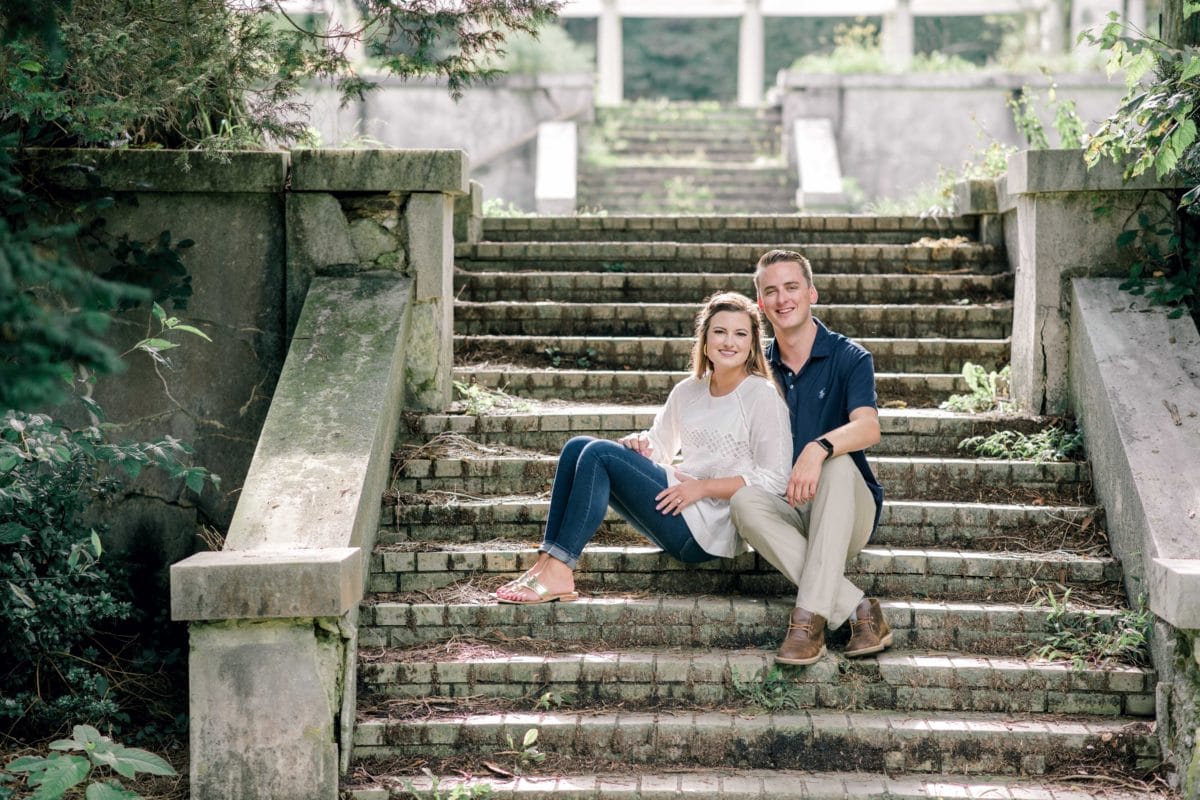 "My best advice would be to not overthink it. Between trying to pick the perfect outfits and locations, wherever you pick it will be fun and you will always cherish those pictures." – Emily & John
"No matter your doubts, taking engagement photos is a great decision. It gave us a chance to get more comfortable with being directed, and being able to see the results before our wedding helped us relax and have fun on our wedding day even more. We also wanted to have photos of where we met, fell in love and call home, so we could share a little piece of our lives with friends and family!" – Sarah & Cody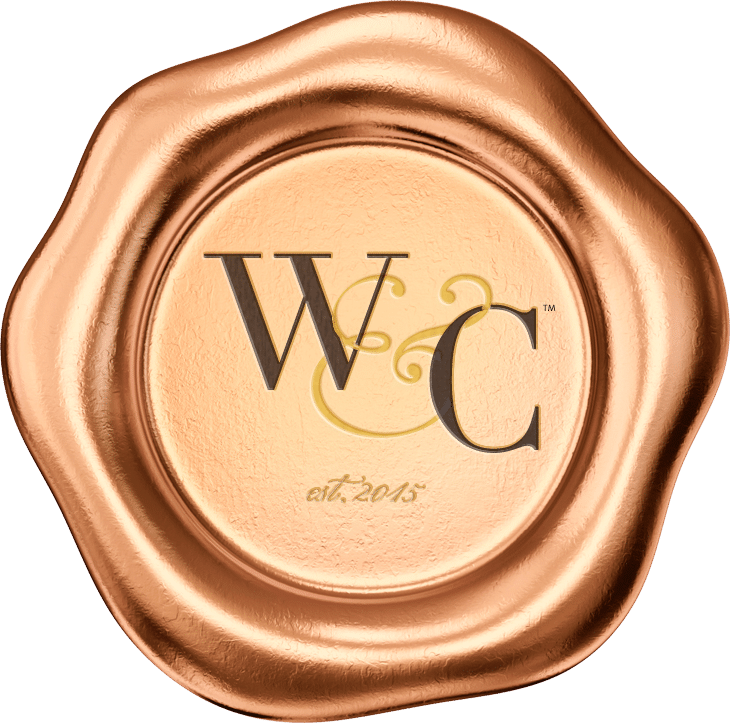 Wine & Country celebrates elevated living in Virginia Wine Country. Wine & Country Life, a semi-annual life & style magazine, and Wine & Country Weddings, an annual art book celebrating elegant Virginia weddings, are complemented by the Wine & Country Shop in Ivy, VA—a beautiful lifestyle boutique featuring over 40 Virginian artisans with everything from tailgating essentials and Dubarry attire, to locally made foods and award-winning Monticello AVA wines, as well as craft beverages for your next event. Sister publications under the publishers of Ivy Life & Style Media include the Charlottesville Welcome Book, a bi-annual publication guiding visitors and newcomers on all of the happenings and businesses in the region, and CharlottesvilleFamily's Bloom magazine, a bi-monthly parenting publication.
Wine & Country Experiences are now also available and include exclusive tours and hands-on classes with leading professionals in the local farm-to-table and vineyard scenes.