Photos: 1- Jen Fariello Photography, Pippin Hill Farm & Vineyards | 2- Aaron Watson Photography, Veritas Vineyard
Are you at the beginning of your wedding planning process and wondering where to start? We've got the tips you need for How to Select a Vineyard Wedding Venue in Virginia.
The choice of a venue is the absolute biggest decision a wedding-planning couple faces. Virginia's vineyards offer a certain kind of magic, but each venue hits a different point on an axis of rustic and elegance.
There are venues where you can get married in front of a fountain or with a backdrop of the Blue Ridge Mountains. You can have your cocktail hour in an elaborate garden or in a cozy pub-style tasting room. Or, host your reception under a tent or beneath chandeliers shimmering inside a barn-style hall.
Beyond your wedding day itself, your venue becomes a place where you can return to celebrate happy anniversaries and reminisce about your wedding day (and bring home a case of wine for at-home occasions). Here are some things to keep in mind as you explore the special world of Virginia vineyards.
How to Select a Vineyard Wedding Venue in Virginia
When Should You Pick Your Wedding Venue?
First of all, it's best if the venue is one of your earliest determinations, because it helps decide so many other wedding planning questions. So once you have a sense of your numbers (both bodies and budget) and a general feeling of the kind of event you'd like to create, poke around on venue websites (we have several venues you can review right here!).
You can also look on Instagram to get a sense of the venue's wedding persona, as well as on our Virginia Wedding Venues page and sister site, Wine & Country Life. Most venues have their basic fees posted somewhere on their websites. Note that rates vary with the season, so you may be able to afford a venue if you're flexible regarding the time of year (spring and fall are the most expensive), or even the day of the week. Once you have a few places that appeal, it might be fun to go visit for a wine tasting before you schedule an appointment to tour the event space. It's a low-pressure way to judge whether the venue feels like a good fit.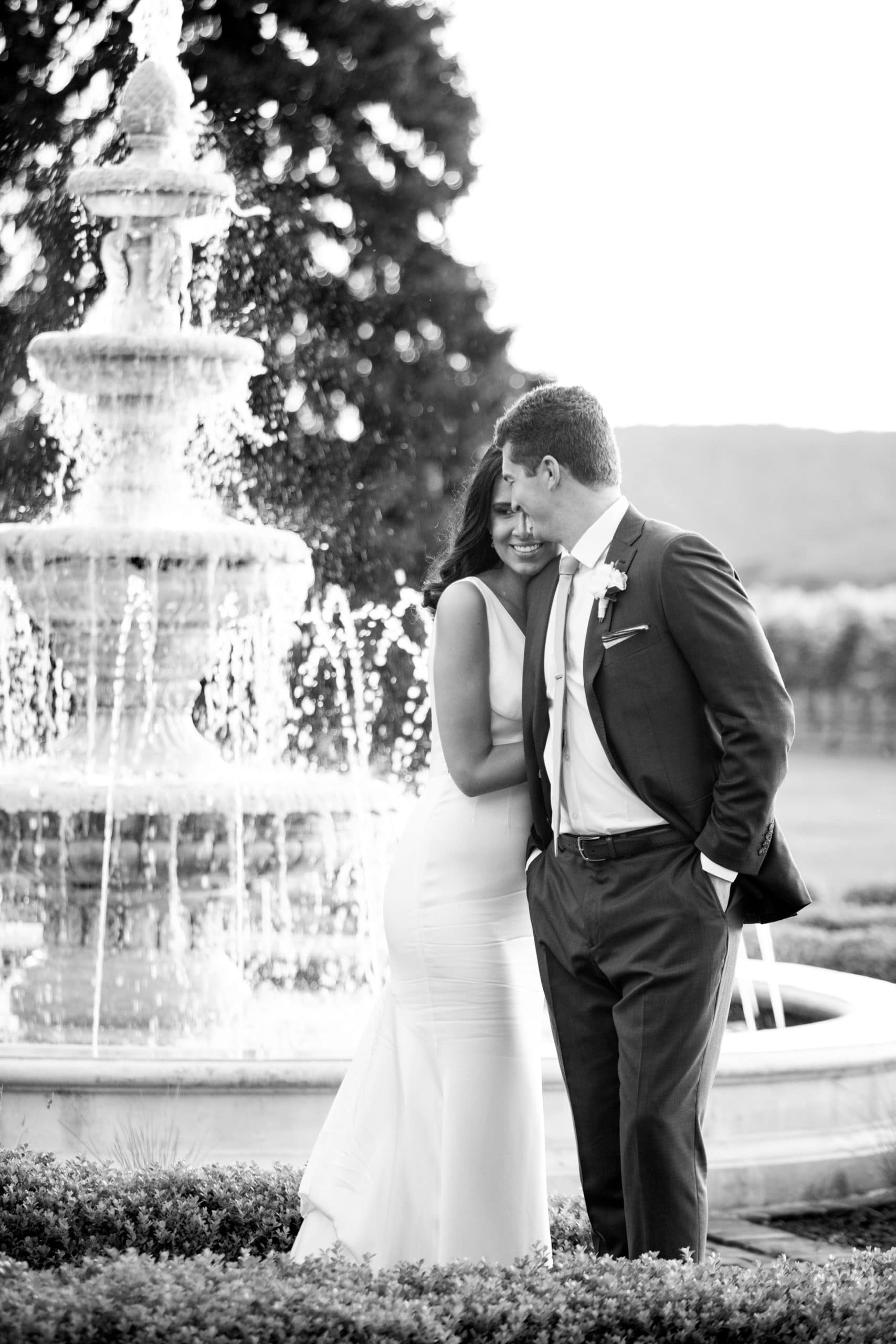 Aaron Watson Photography | Keswick Vineyards
What to Look for When Touring a Wedding Venue
Even if you have your heart set on a single venue, it's good to schedule visits to more than one place for the sake of comparison. Take along a camera and don't be afraid to snap photos to help remind you of how the various spaces work. Try to think through the event as a whole—from your arrival to departure—rather than just focusing on the ceremony or the location of the dance floor. Weddings are romantic and fun and once-in-a-lifetime events, but there are practical issues to consider, too.
Is Your Wedding Venue Accessible?
A vineyard wedding involves at least an element of Mother Nature. While some ceremony and reception sites are indoors with elegant amenities, others offer a more outdoorsy, rustic experience. What is the right fit for you and your guests? If any attendees have mobility issues, you want to carefully consider things like ease of access to the ceremony site and reception space.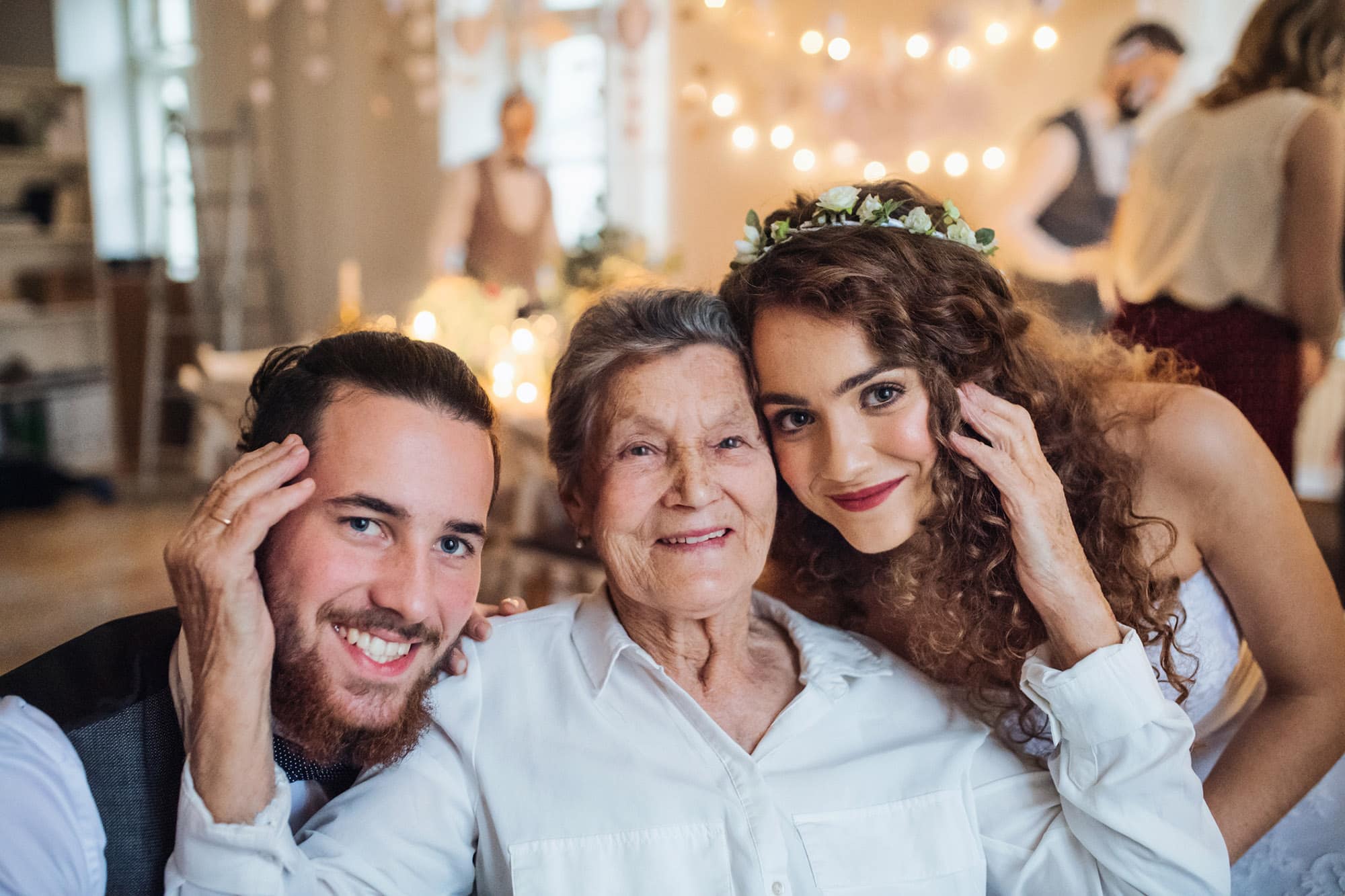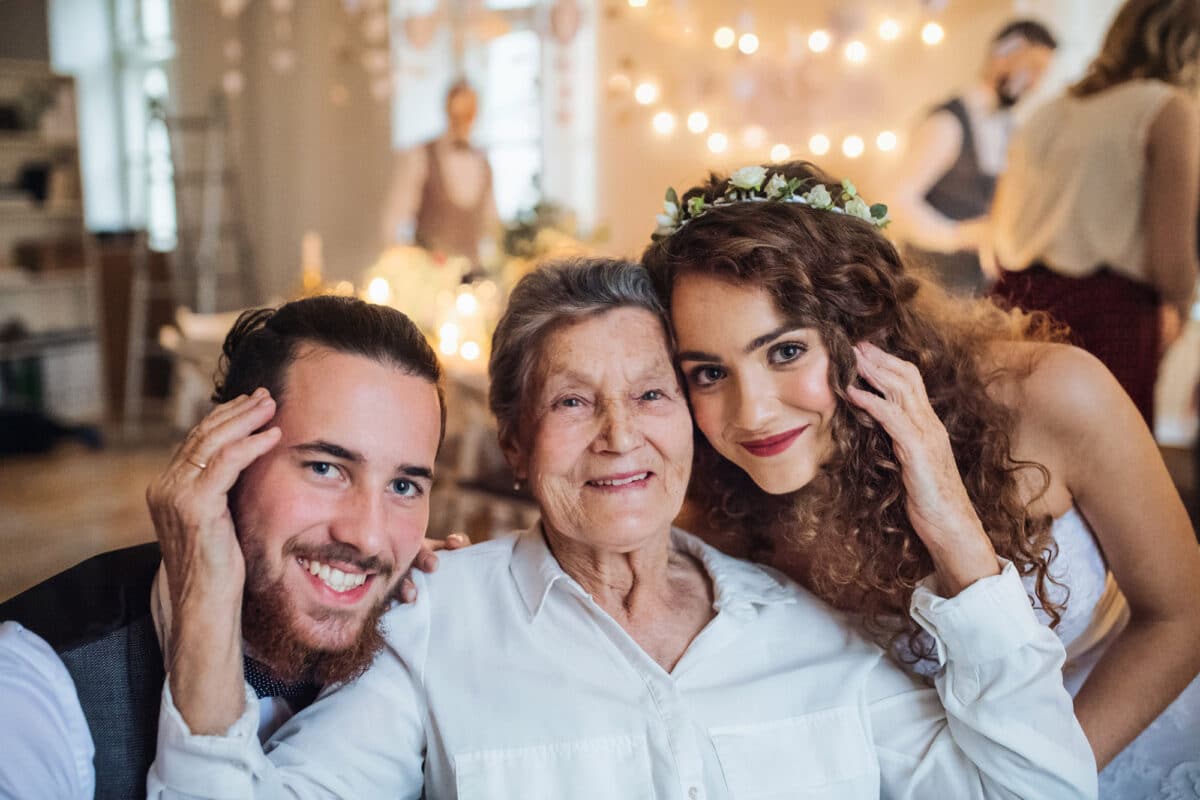 Getty Images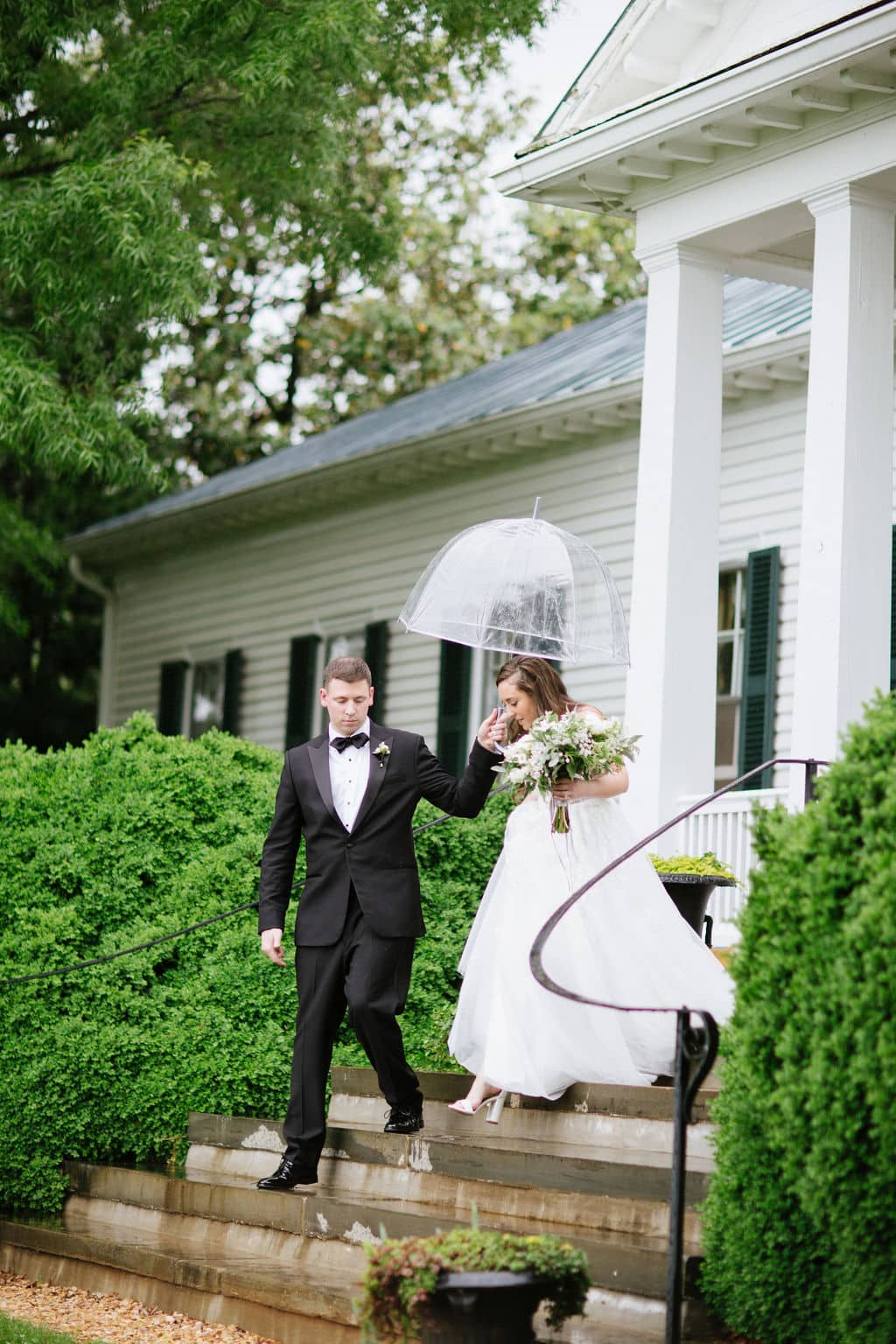 Jen Fariello Photography | Pharsalia
Wedding Weather Plan: Remember That Rain is Good Luck
Make sure you understand the plan for inclement weather when you are visiting the site, and make sure that you are comfortable with that shift if need be. The weather is the one thing you can't control. What are your options if the day turns to rain? Conversely, if the day turns out to be brutally hot, where is the shade and air-conditioning?
Venue Amenities: What is Included?
Most venues will be providing chairs and tables for the reception. Some include additional amenities like wine barrels and ceremony arches, which can be a real cost savings. Make sure you have a clear idea of what is included and what else you need to supply? If your venue only offers round tables but you are envisioning long farm tables, can you rent your own? Are you willing to do that? Also, can you get in the day before to set up?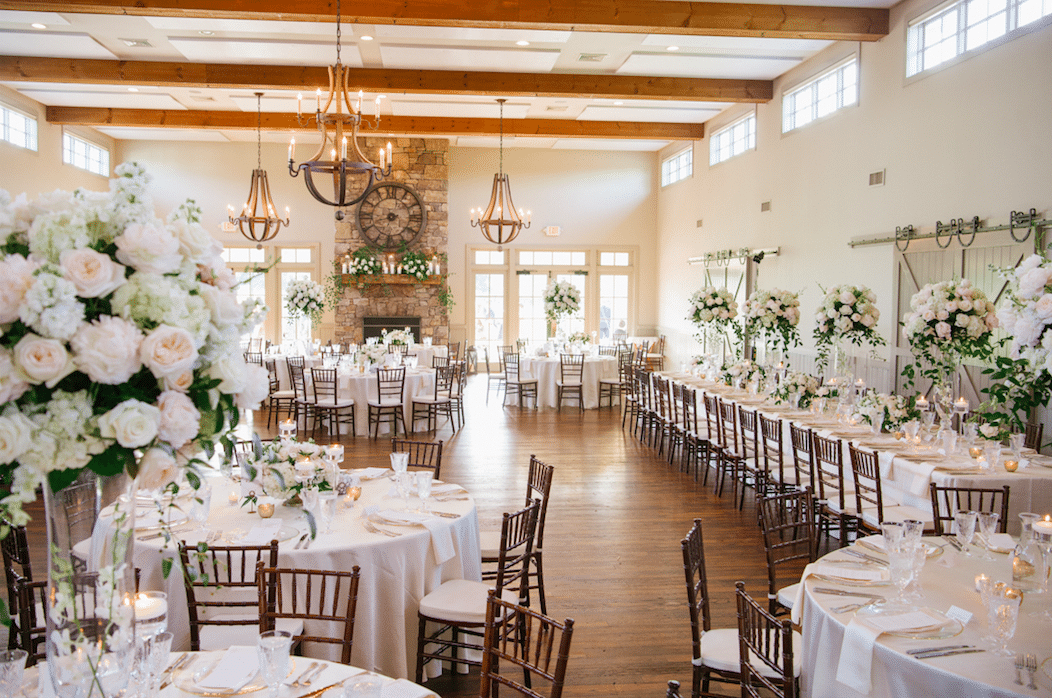 Jen Fariello Photography | King Family Vineyards
What if Your Wedding Vineyard Venue is Open to the Public?
Most wineries have tasting rooms open to the public, and it can be fun to have your bridal party overlap a little with happy visitors to the vineyard as everyone is getting ready. Just make sure you understand when you can be on-site at the venue, and who else may be there. Where does the bride get ready? What about the groom? Some places have truly terrific and comfortable quarters that may make the wedding party reluctant to leave for the ceremony.
Do You Like the Wine?
This isn't a small consideration, since Virginia ABC law requires that vineyards only provide their wines on-site. Make sure to do a tasting!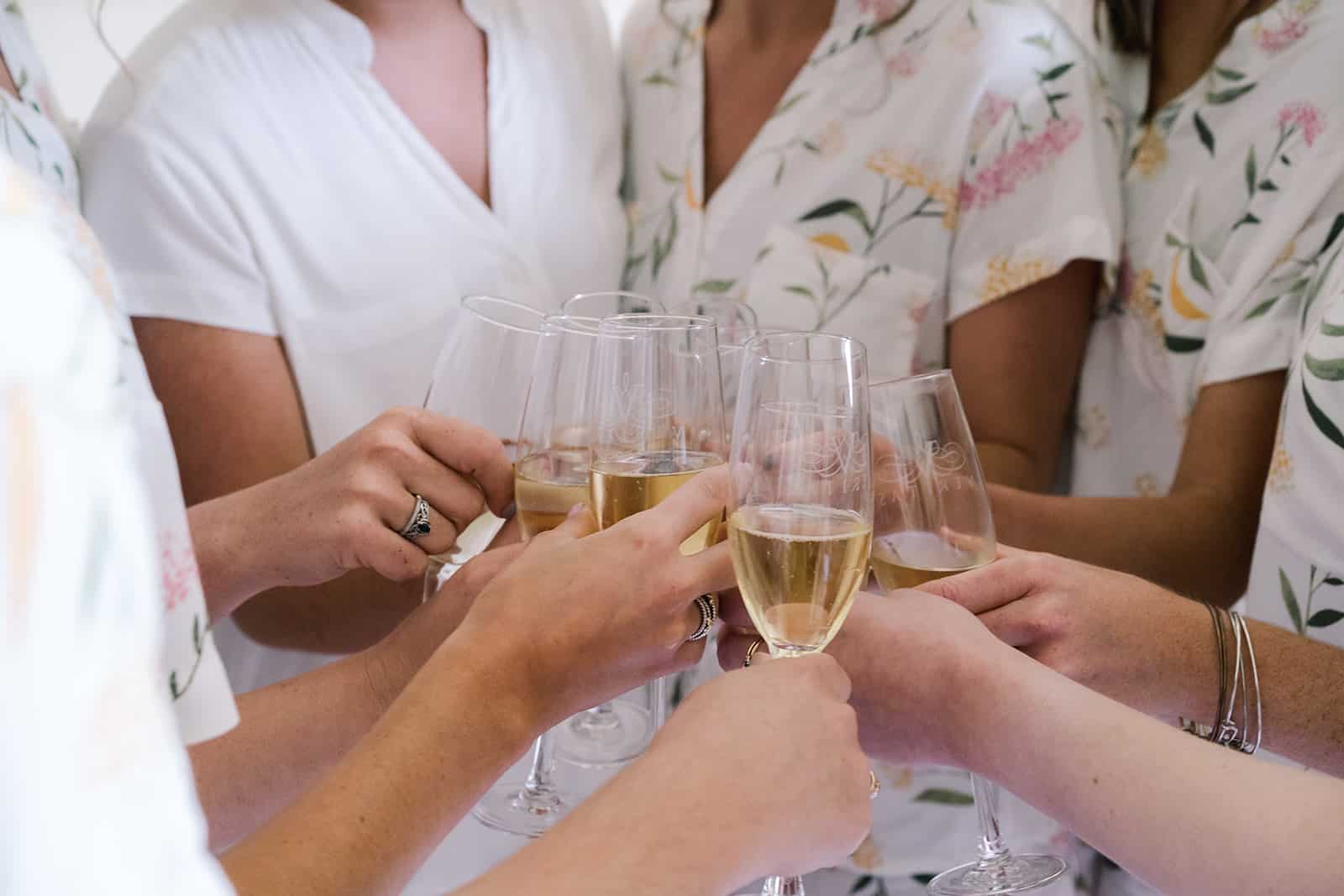 Unknown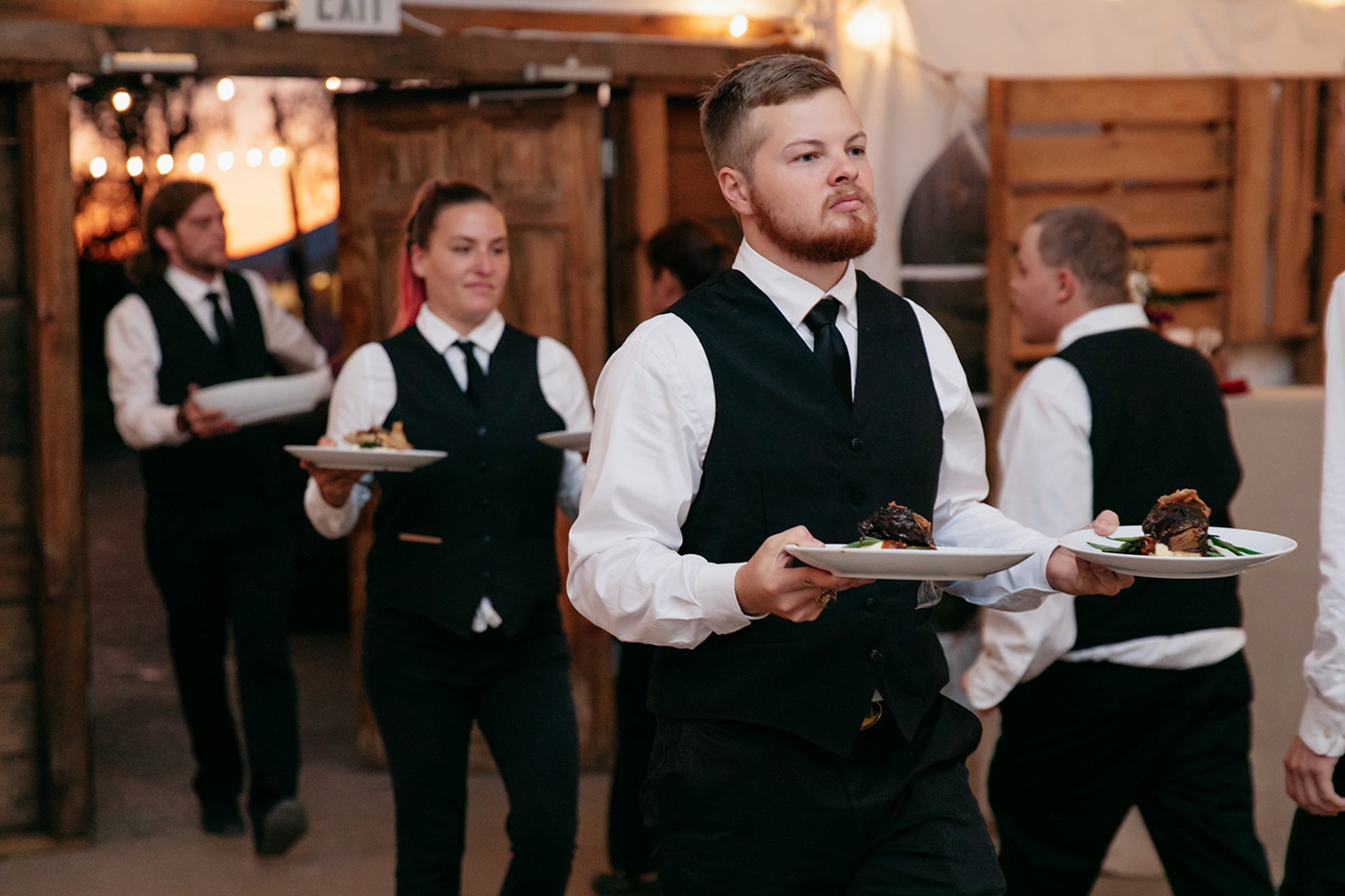 La Birdie Photography
Etiquette for Outside Vendors at Wedding Venues
Take a look at the venue's preferred vendor list, or ask their events person who they like to work with. Some venues require you to hire a wedding coordinator; others provide someone for you. A venue's website and social media may also give you an indication of other people who understand the specific challenges and opportunities of the site. If you have your heart set on a particular florist or caterer, you'll want to be sure they work at that venue.
Wedding Venue Transportation: Getting There & Getting Out
More and more venues have on-site or site-adjacent lodging opportunities, but most guests will require transportation to and from the venue. How involved will you need to be in transportation? Some couples hire buses or vans to transport guests. At the very least, you'll want to make sure you provide explicit directions and the approximate time to travel. When visiting the venue, remember that the rolling hills and country roads look very different to out-of-town guests trying to get back to their hotel in the dark.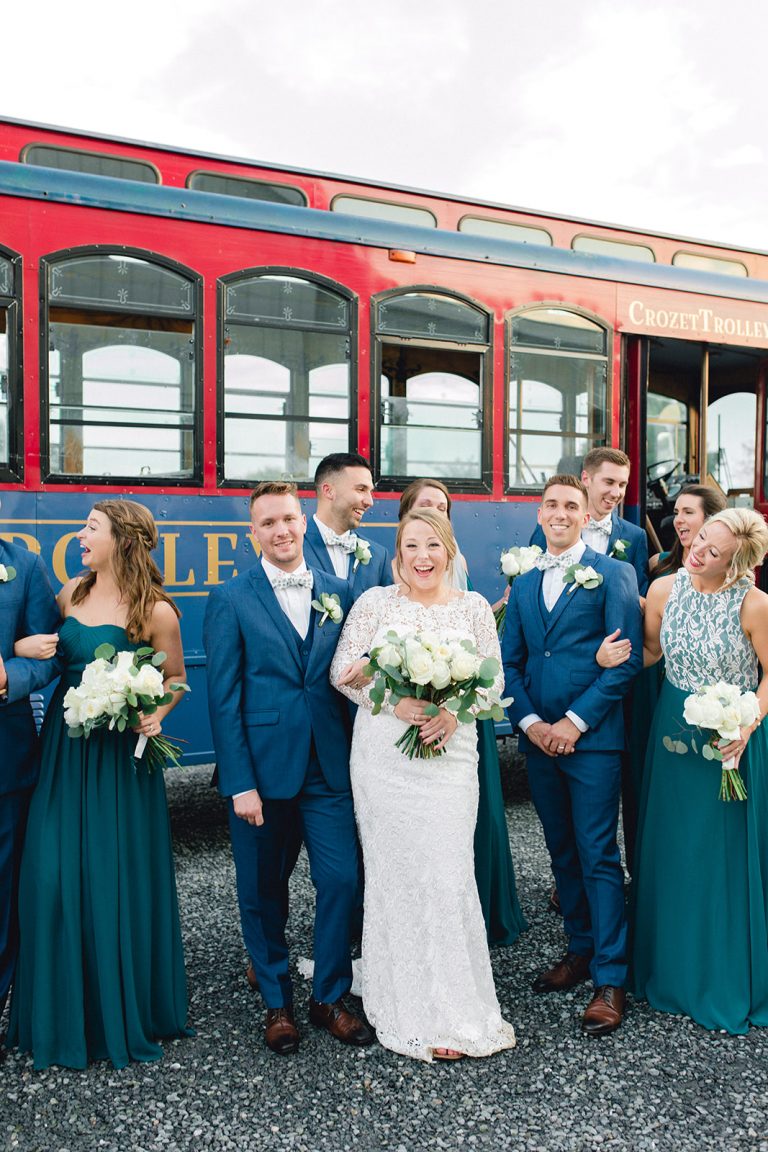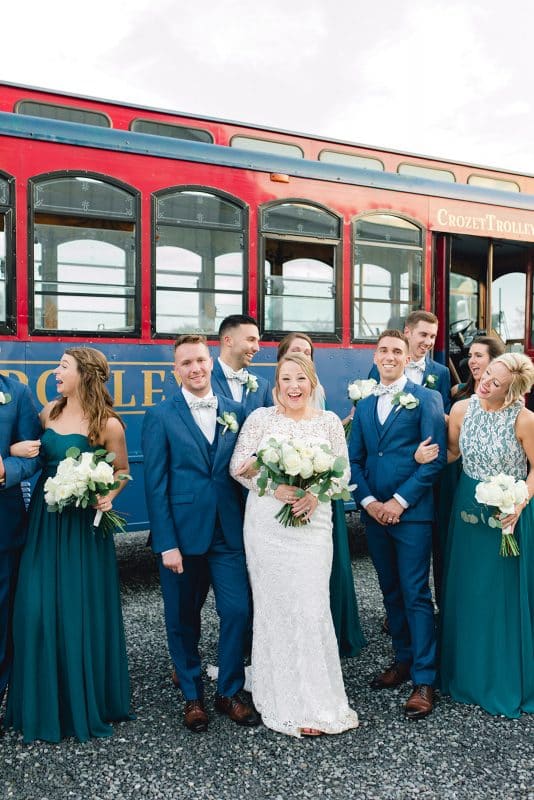 Paige Ryan Photography | Crozet Trolley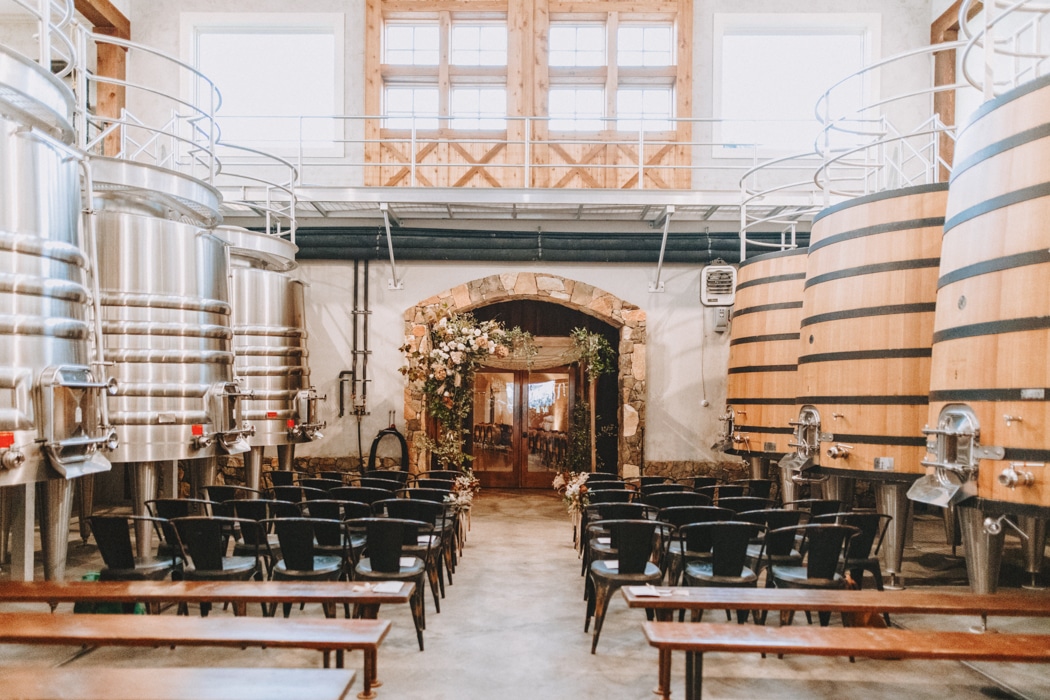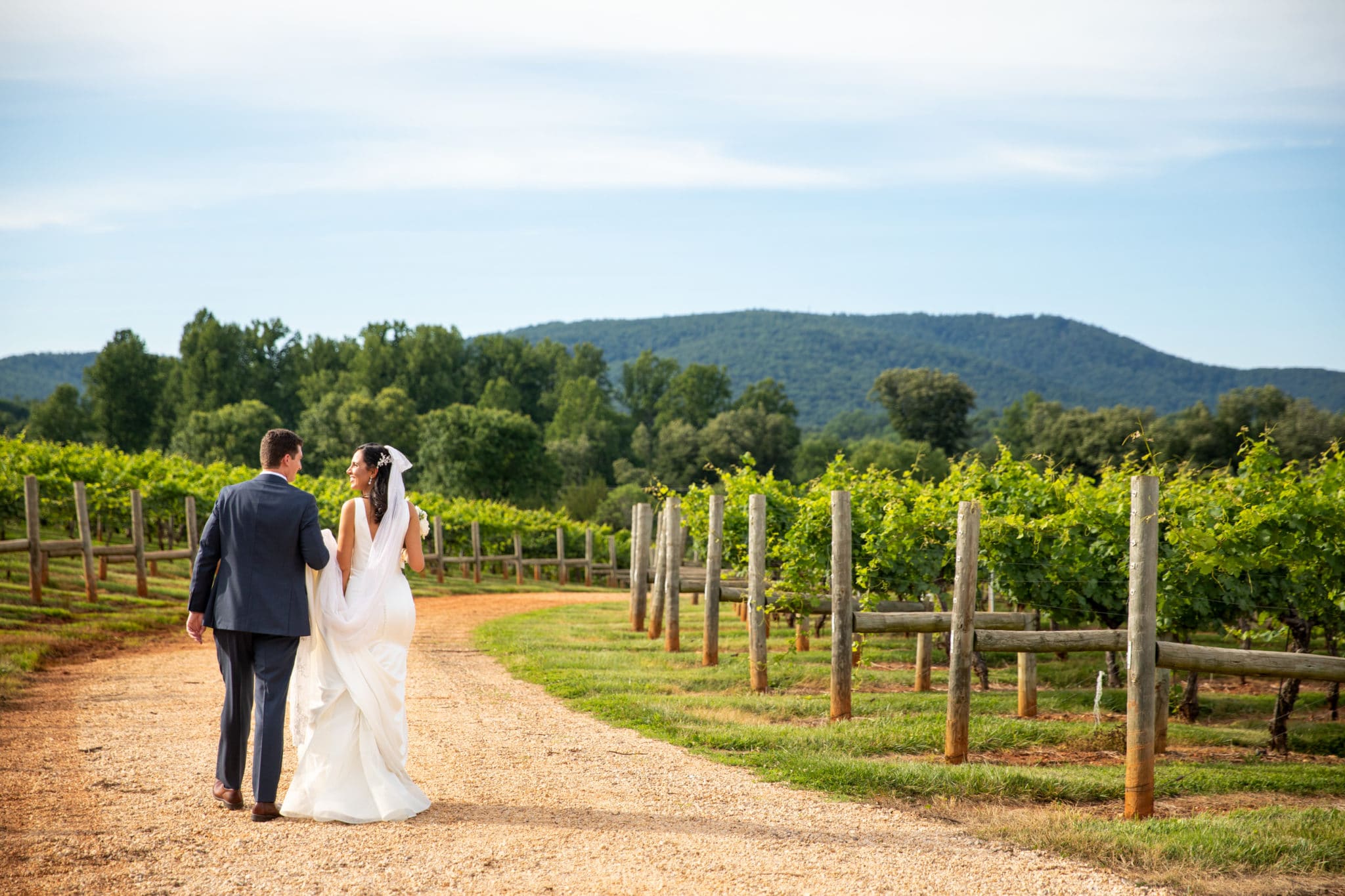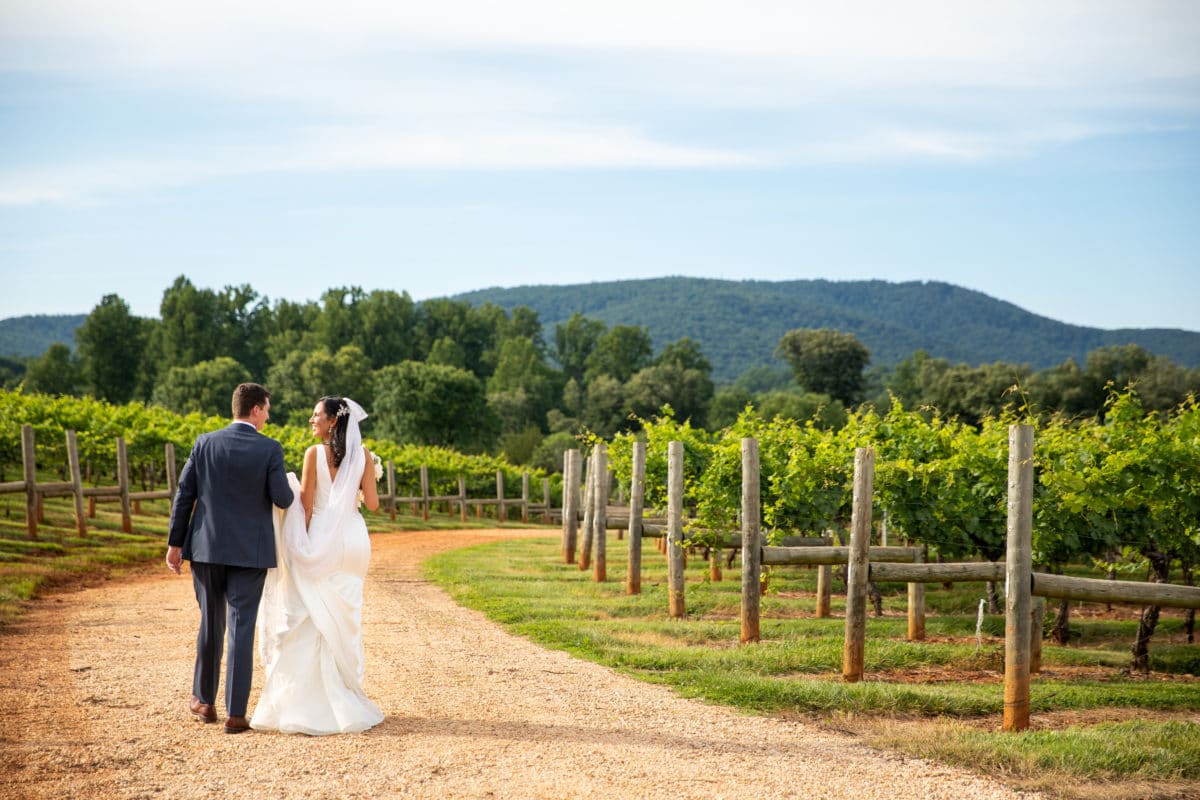 Photos: 1- Nessa K Photography, Stone Tower Winery | 2- Aaron Watson Photography, Keswick Vineyards
The Wedding Venue Decision: Final Answer
Ultimately, choosing a venue involves both the head and the heart. You want a venue that can accommodate your guest list and make sure that everyone has a comfortable and lovely experience. You want a place that offers the spaces to create your wedding vision, and one that provides both a beautiful backdrop to your memories and photographs. But, you also want to make sure that your choice of venue solves as many logistical issues as possible, leaving you free to be fully present to take in the fruits of all of your planning: a truly special start to your married life.
We hope you now feel confident to make a decision after reading these tips on How to Select a Vineyard Wedding Venue in Virginia. ~
A resident of Albemarle County, CATHERINE MALONE has written for Wine & Country since its inception.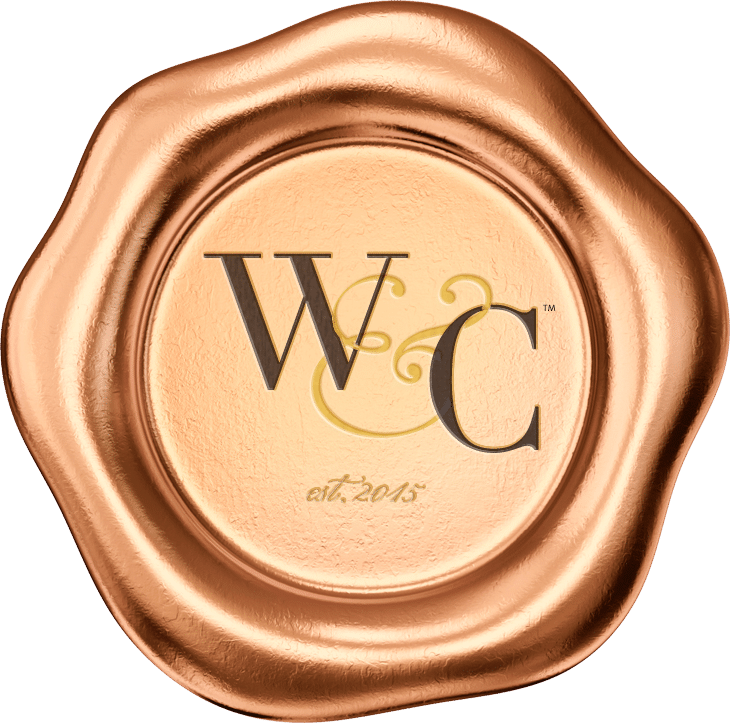 Wine & Country celebrates elevated living in Virginia Wine Country. Wine & Country Life, a semi-annual life & style magazine, and Wine & Country Weddings, an annual art book celebrating elegant Virginia weddings, are complemented by the Wine & Country Shop in Ivy, VA—a beautiful lifestyle boutique featuring over 40 Virginian artisans with everything from tailgating essentials and Dubarry attire, to locally made foods and award-winning Monticello AVA wines, as well as craft beverages for your next event. Sister publications under the publishers of Ivy Life & Style Media include the Charlottesville Welcome Book, a bi-annual publication guiding visitors and newcomers on all of the happenings and businesses in the region, and CharlottesvilleFamily's Bloom magazine, a bi-monthly parenting publication.
Wine & Country Experiences are now also available and include exclusive tours and hands-on classes with leading professionals in the local farm-to-table and vineyard scenes.