Image 1: Hana Gonzalez Photography; Liberty Baking Co. | Image 2 + Top Photo: Jen Fariello Photography, Favorite Cakes, Southern Blooms
After the bride in a white dress, the wedding cake—especially wedding cakes with fresh flowers—is one of the most evocative symbols of a wedding day. Guests, especially the young and the young-at-heart, greet the cutting of the cake with at least as much anticipation as the first kiss and first dance. There are many ways to make your cake visually memorable and a cohesive part of your wedding décor.
Picking a cake involves two components: flavor and design. Flavors are a personal decision and an opportunity to enjoy one of the most fun parts of wedding planning: the tasting. We've kissed the days of stale layers of cake with synthetic frosting goodbye in favor of luscious layers tasting of citrus or spice, artisan chocolates or whatever else you and your baker can envision.
More and more talented wedding cake makers appear every day, working with an ever-broadening list of ingredients and flavors. The focus these days seems to be on local ingredients and imaginative flavorings that will entice guests to having a piece.
Ideas for Wedding Cakes with Fresh Flowers
As for décor, flowers and wedding cake go together like the bride and groom. Adorning your cake with flowers, foliage and fruits just makes sense, and plays into the themes of abundance and feasting that are the markers of a wedding celebration.
The cakes above are like canvases, with lots of perfect white frosting serving as a canvas for the placement of the flowers and greenery. It works no matter if you choose the restraint of roses, lush open ranunculus and a simple line of greenery, or the abundance of citrus mixed in with blooms. Both hint at the cake's flavors within and tie it to the wedding's broader décor. They're dynamic and a little bit extravagant and will have guests' mouths watering well before dinner has ended.
Classic White Cake with Fondant & Fresh Flowers
White cake will never go out of style, and, as this lovely cake shows, a subtle design needs to make no apologies. The overall design works with an elegant floral theme. The attention to the fondant filigree plays up the height and elegant dimensions of the cake, culminating in a lovely cluster of flowers crowning the top layer. It's subtle drama, playing with both minimalist and rococo elements. The solid band at each base sets off the tiers and is the masculine counterpart to the more feminine filigree at the top. The perfect crowning touch is the floral cap of white spray roses surrounding one pale pink rose on top.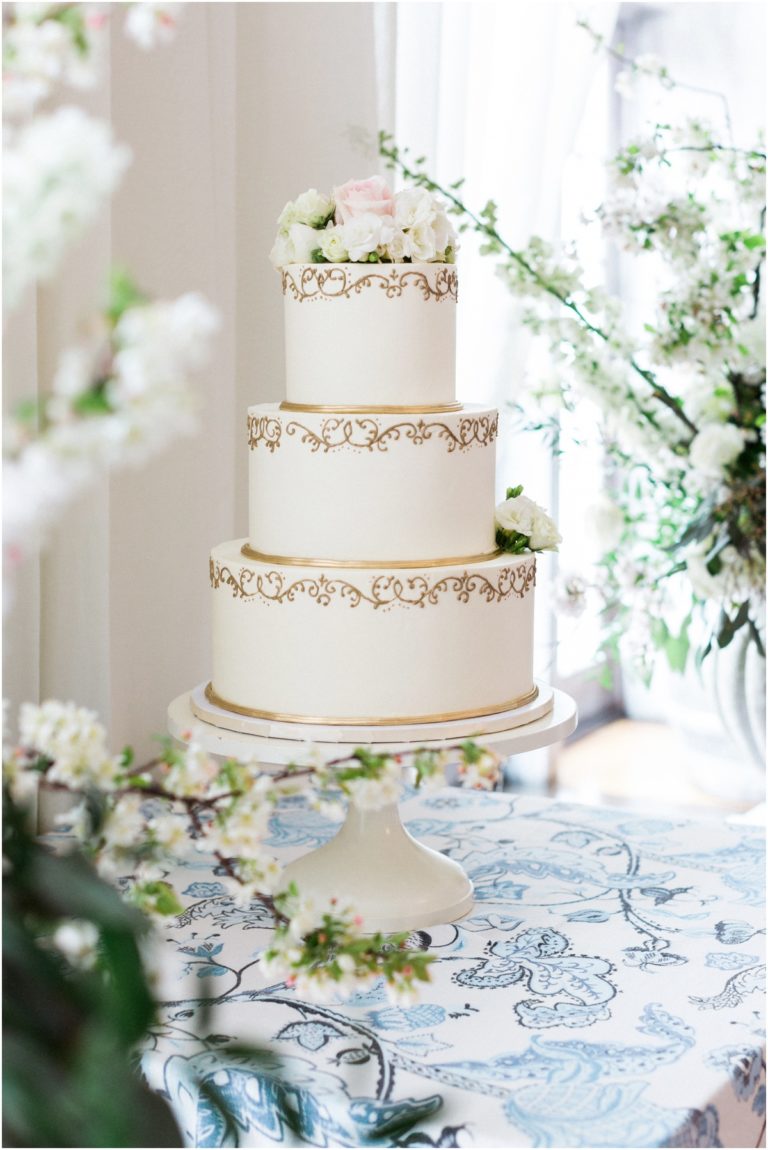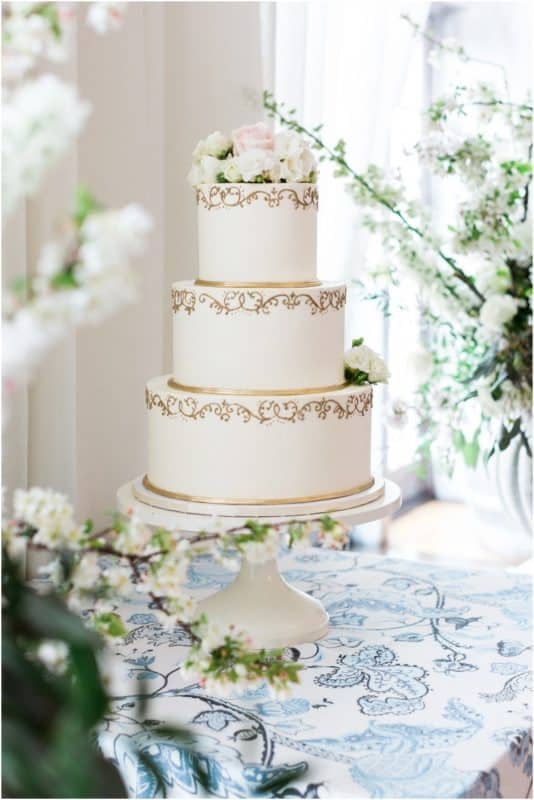 Amy Nicole Photography. Cakes by Rachel, Blue Ridge Floral Design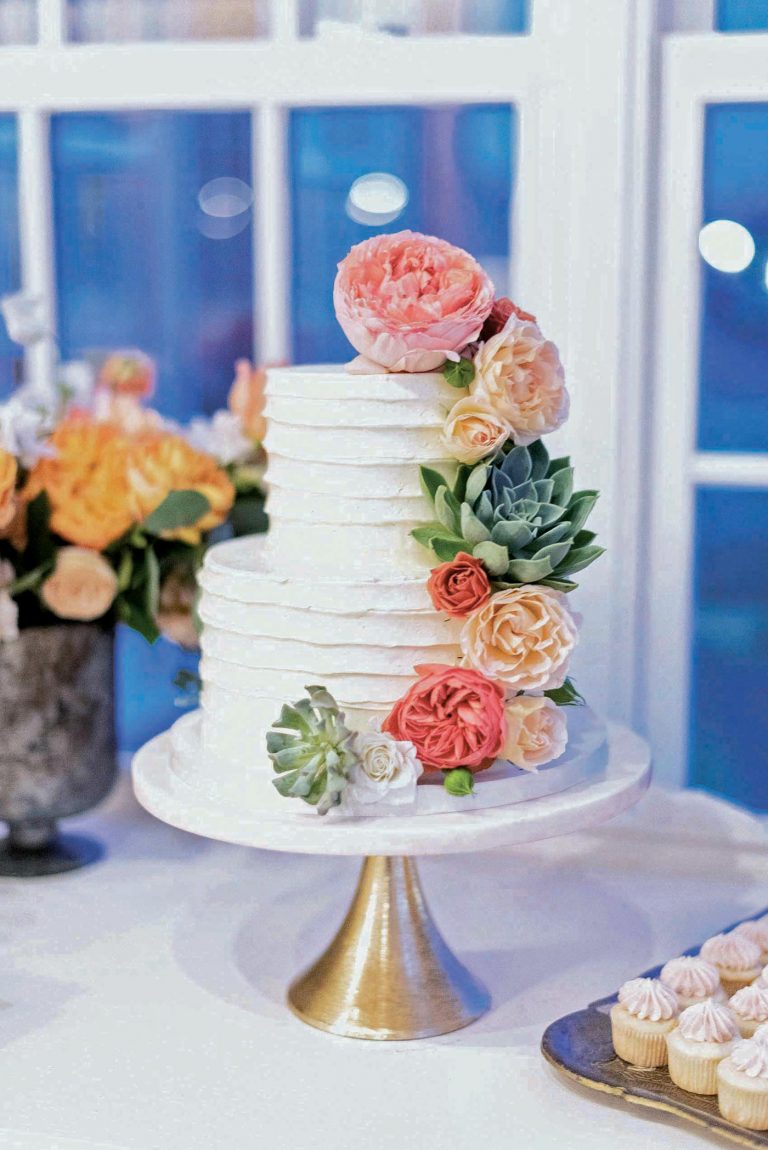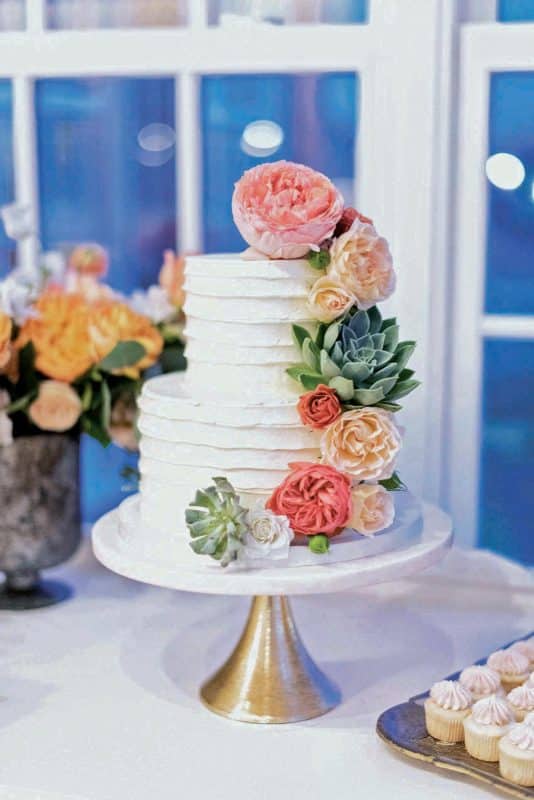 Mikkel Paige Photography, Passion Flower Cakes
Buttercream Cake with Succulents & Garden Roses
This super-fun cake, adorned with a swag of succulents and garden roses, has a hand-crafted element that keeps it from getting too formal. The florals give it a modern, warm flair in their tones of orange, peach and pale yellow, while the succulents break up the warm colors with cooling pale green. They also provide geometric edges to the ruffled curves of the rose petals. The buttercream frosting plays up the geometric qualities, but it also looks luscious and delicious.
Naked Wedding Cake with Fruit & Flowers
Naked cakes have now been popular for so long that they are heading past trendy into the realm of classic (while still being a little naughty). The tiers of this cake keep getting higher and higher, giving the final glaze of frosting more room to travel. The handcrafted element of this style of cake ties in well with boho, outdoors or more rustic wedding styles. See how well it looks on its wooden base? Subtle, simple adornments of fresh berries and colorful autumnal flowers keep it interesting, and the flower cap on the top tier is a sweet marker of a cake that aims high. Who could resist a slice?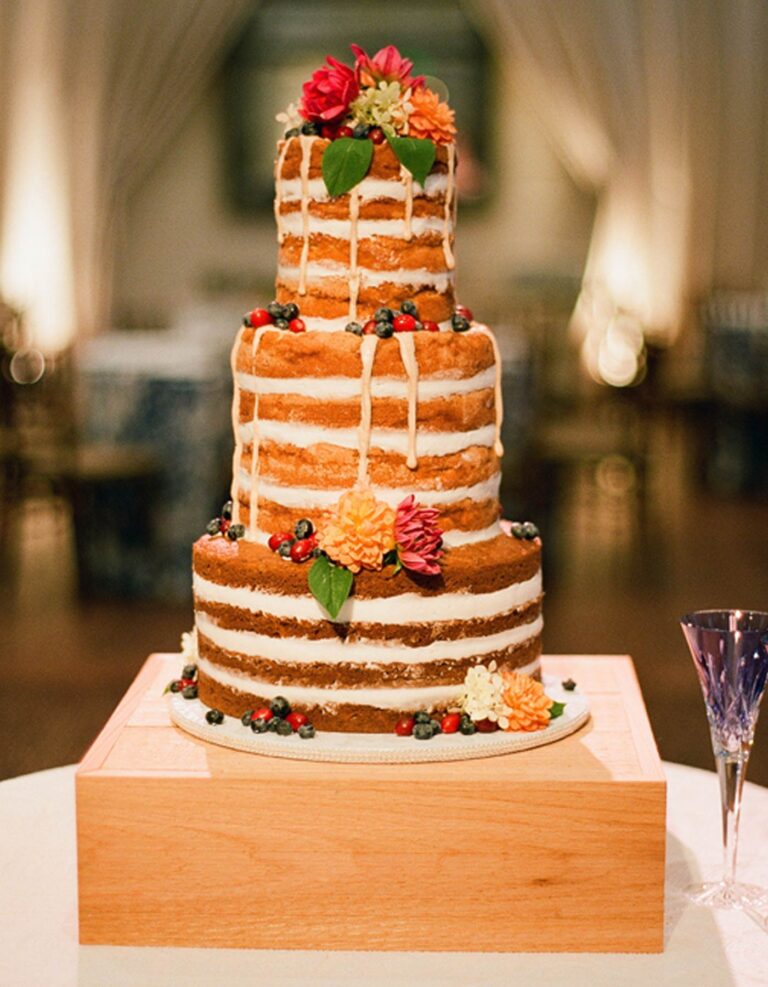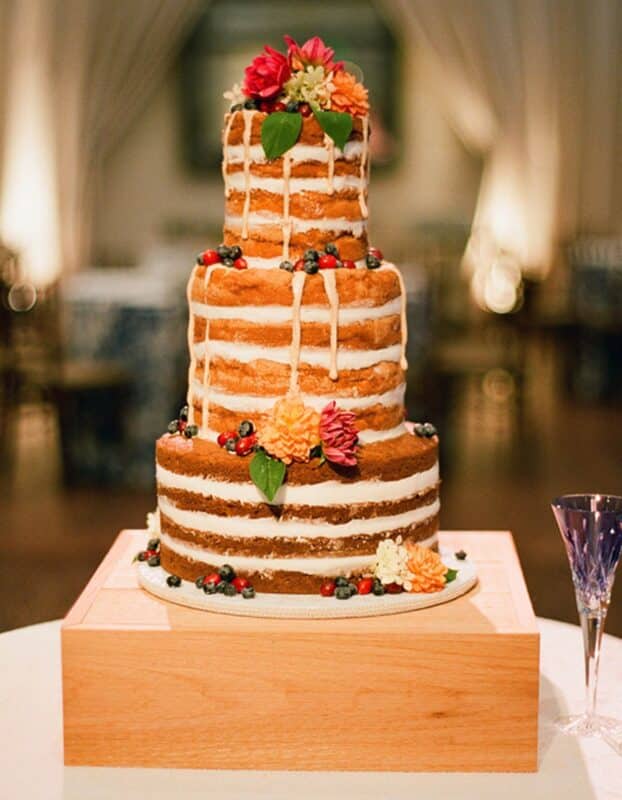 Jen Fariello Photography, Favorite Cakes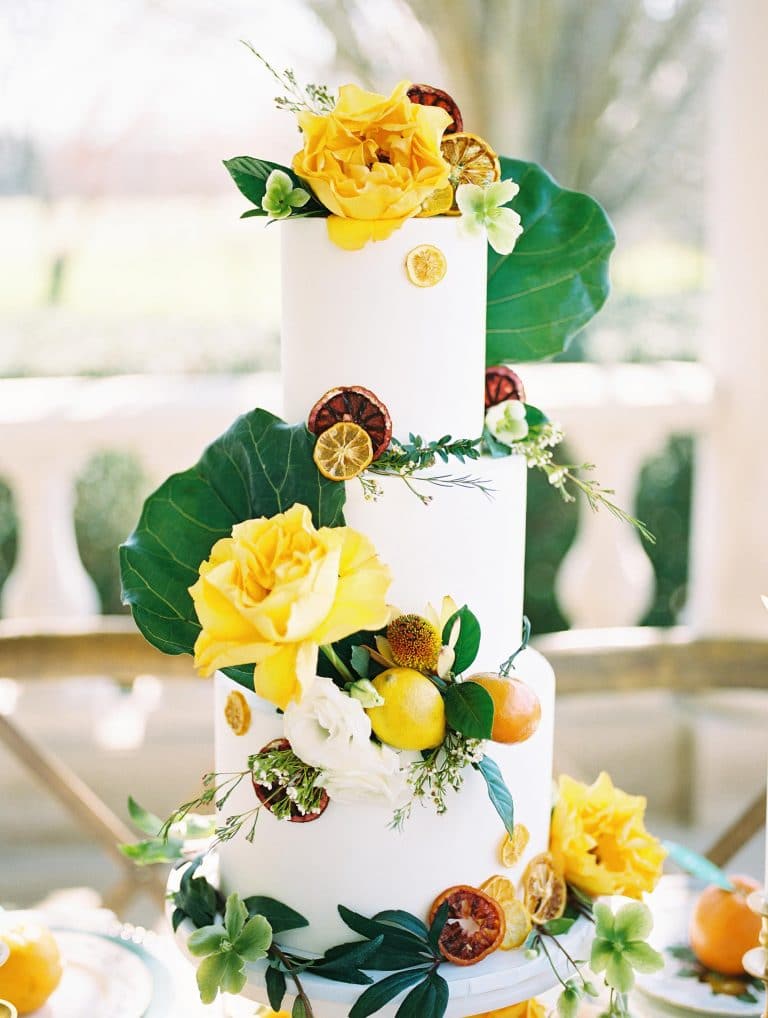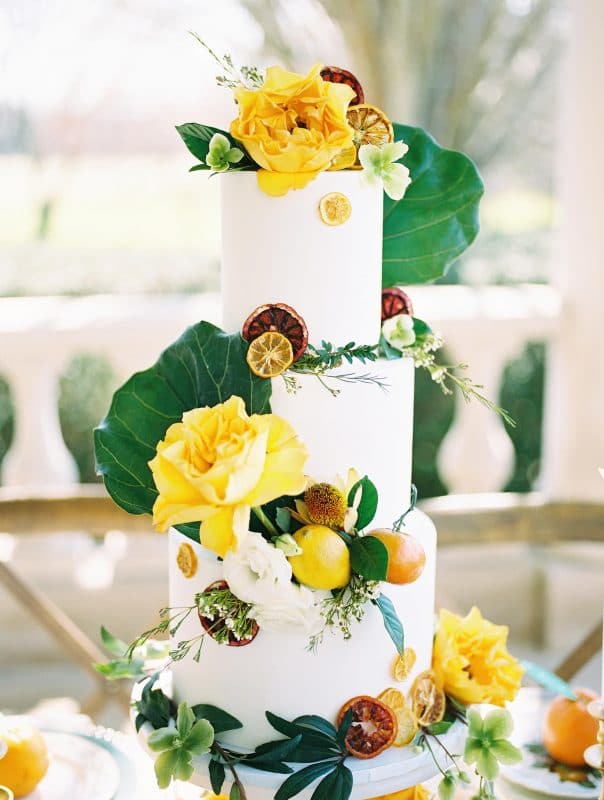 Hana Gonzalez Photography; Liberty Baking Co.
Three-Tiered Citrus & Floral Wedding Cake
This fondant-wrapped cake has a variety of elements on its smooth surface. You can see multiple kinds of both dried and fresh citrus, different kinds and sizes of greenery, and big yellow roses. You could also use yellow tree peonies to achieve the same effect with smaller blooms like hellebore, wax flower and lisianthus in white and green to mediate the colors. It's an incredible, ebullient (and tasty) statement piece that both ties into the rest of the wedding décor and hints at the flavoring inside.
Purple Floral Fantasy Cake
We love how this cake decorator has played with the contrast between light and dark from layer to layer in this dramatic confection. Jewel-toned purple flowers and the mixture of painted effects with dimensional overlaying vine detailing makes this an epic, fairy-tale dessert.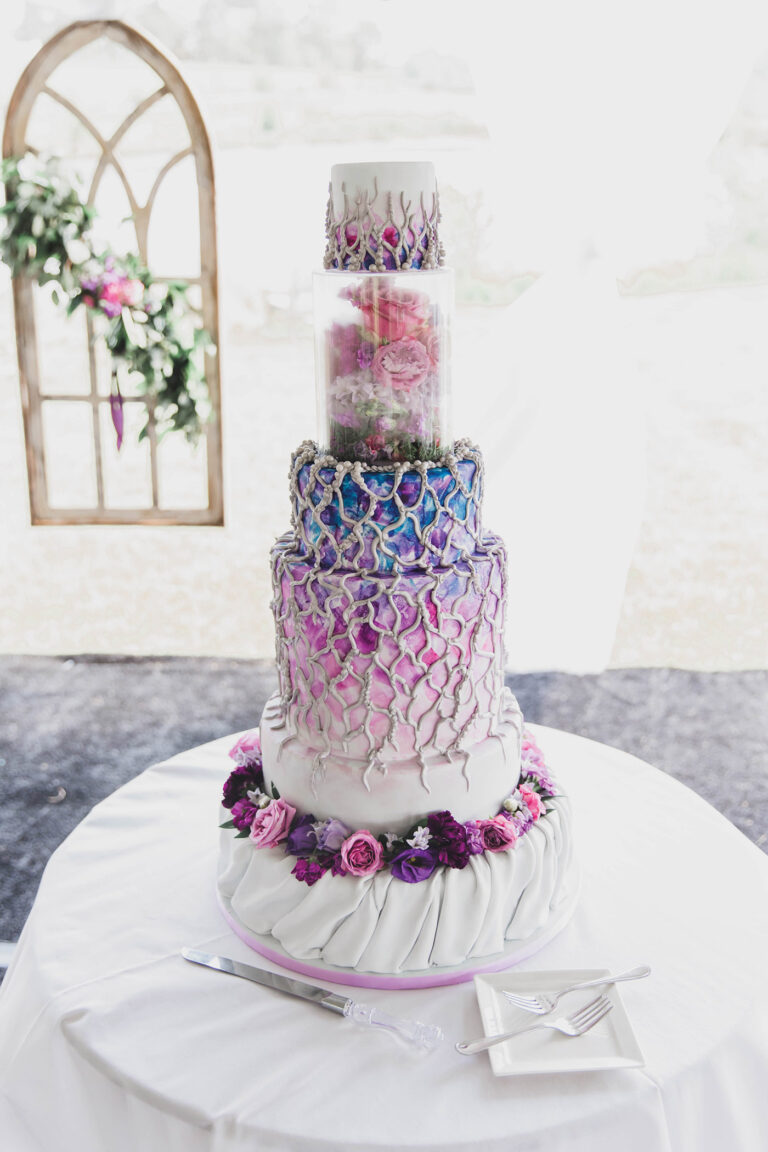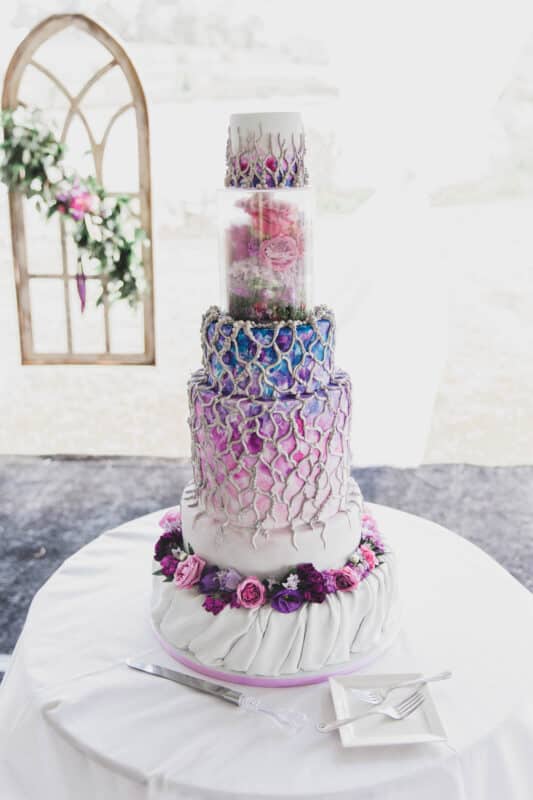 Michelle Harris Photography, Bijou Sweet Treats
The joy of the modern wedding cake is that there is no longer a long list of strict rules you must abide by. So, dare to dream big, and be whimsical, classic or something in-between with your confection.
Which Flowers Are Safe On Wedding Cakes?
Pro tip for incorporating wedding flowers into your cake: Make sure they are food safe—free from dyes, sprays and certain essential oils. When you play by these rules, you are free to let your cake and floral fantasies soar! ~
Want more Wedding Cakes with Fresh Flowers? Follow us on Pinterest!
A resident of Albemarle County, CATHERINE MALONE has written for Wine & Country since its inception.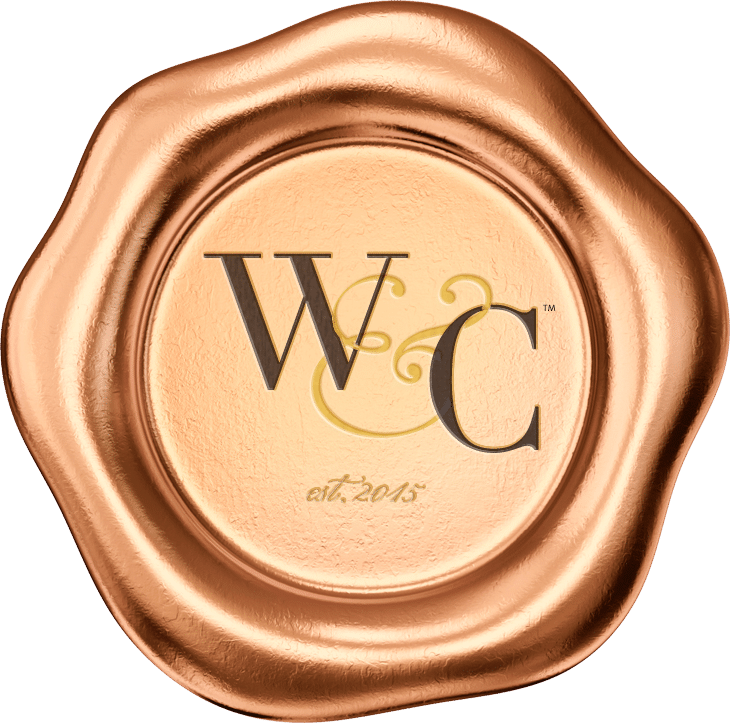 Virginia Wine & Country celebrates elevated living in Virginia Wine Country. Virginia Wine & Country Life is a semi-annual luxury print magazine with a full digital presence. The Virginia Wine & Country Gold Book is an annual guide to the top award-winning wines, wineries and experiences in Virginia Wine Country. The annual Virginia Wine & Country Wedding Planner is an art book of elegant Virginia weddings. The brand includes the Virginia Wine & Country Shop in Ivy, Va. It is a beautiful lifestyle boutique that brings the pages of the magazines to life. Virginia Wine & Country tells the stories of Virginia wineries, the farm-to-table movement, luxury travel, entertaining, art and the elegant country lifestyle. Ivy Life & Style Media also provides branding, web design and PR services for the wine industry.