You've likely spent months carefully curating your dream wedding; between the venue, food, music and ever-important invitations, a lot of work has gone into planning the perfect day. But in the midst of the Coronavirus outbreak, large social gatherings are not permitted at every venue, leaving many couples wondering how best to inform their guests that the nuptials have been postponed.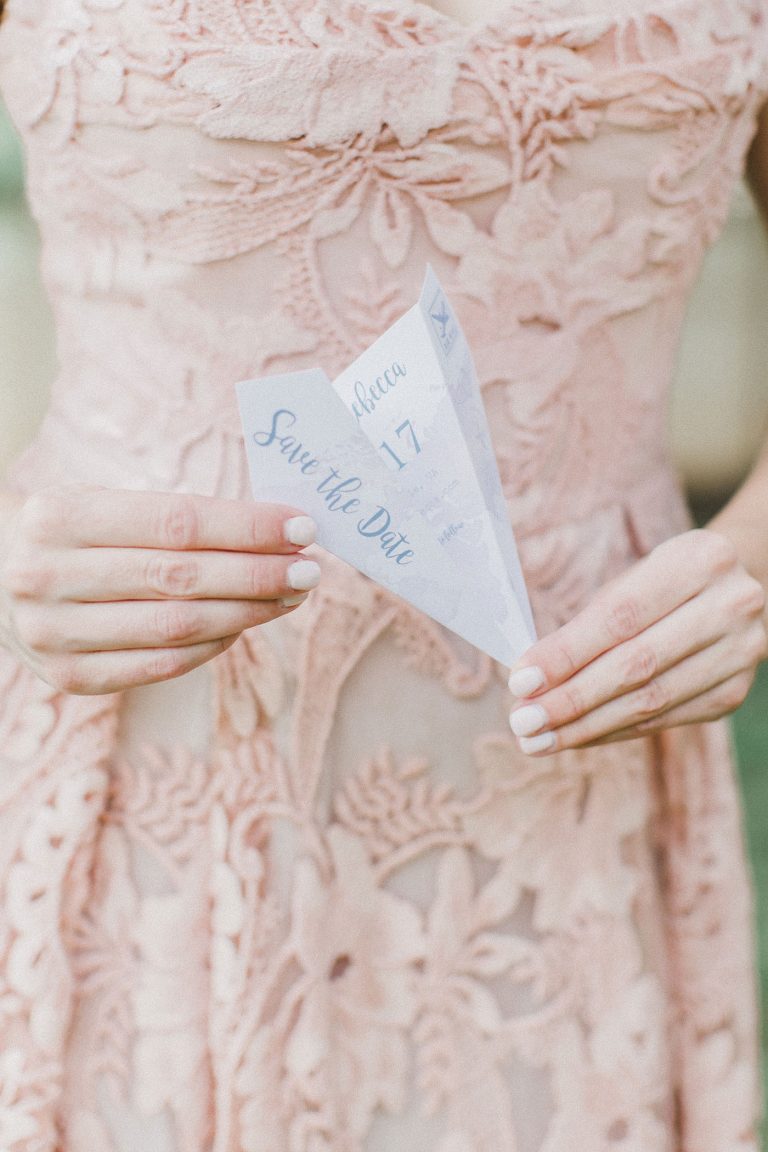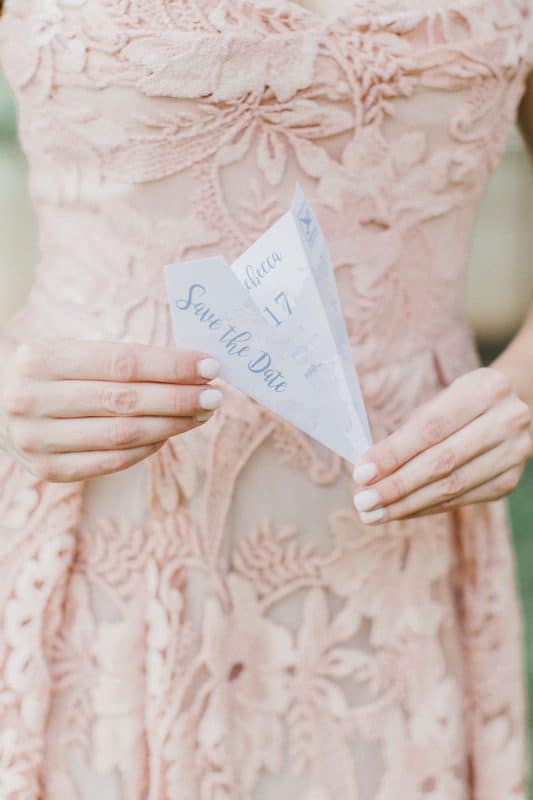 Annamarie Akins Photography
WHEN & HOW TO ANNOUNCE YOUR WEDDING'S POSTPONEMENT
When Should We Tell Our Guests?
With many guests likely having made travel arrangements and planned to take off work for the big day or even several days to make it to the wedding, it is best to let everyone know as soon as possible that the event has been postponed. This way, your guests can avoid cancelling flights last minute and it could help minimize any other inconveniences that postponing too close to the big day could present. Your friends and family are all aware of the unprecedented times we are in due to the Coronavirus pandemic, so the news will not likely be a big surprise, but a timely notification will be much appreciated by all.
Although you know that the wedding cannot go forward as scheduled, you likely have no idea when you will be able to reschedule. Social gathering guidelines are changing every day and it is impossible to clearly foresee the future of the pandemic, so it may be quite difficult to actually pick a date to move the wedding to at this point. If this is the case and you are not sure of the new date, simply informing your guests that the wedding has been postponed and the new date is TBD; this is absolutely appropriate. Once you do decide on a new date, try to inform your guests no later than two weeks before so that they can make the necessary arrangements.
What is the Best Way to Tell Our Guests?
You will want to make the announcement so that everyone is informed as quickly as possible. The best way to do this is through a group email to the entire guest list as well as a message on your wedding website if you have one. Although everyone is likely aware of the current situation, it is worth explaining your decision a little. Let your guests know that despite this being a very difficult decision, the health and safety of your loved ones is the most important thing right now.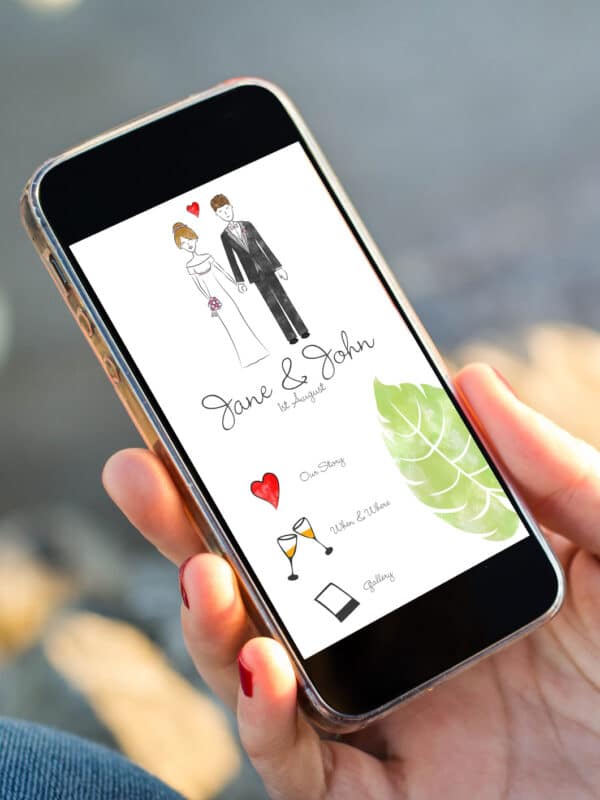 Getty Images
While a blanket email should reach most of your guests quickly, you may want to personally call any older relatives to make sure they get the update in a timely manner. You can also follow up the email with an official postponement card if you would like. This can be done digitally or by mailing out cards. We're big fans of Richmond based invitation designer Pipkin Paper Company.
While you may want to maintain the theme by sending these out on your specific wedding stationery, be sure to first consider whether or not you will want to use these for sending another update when you select the new date and if you have enough to do both. Another option is simply to keep it minimal even if it doesn't entirely fit with the style of your initial invitations.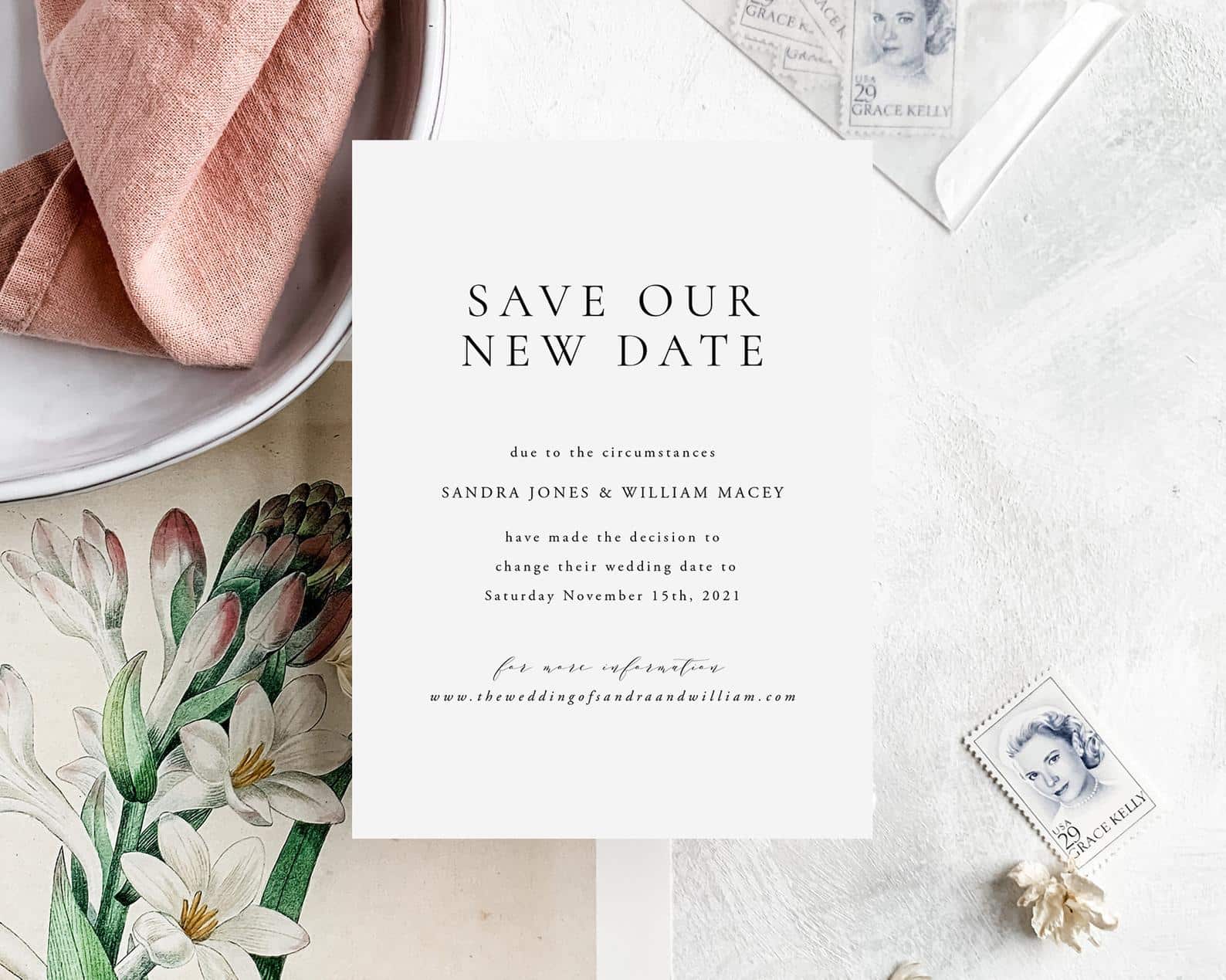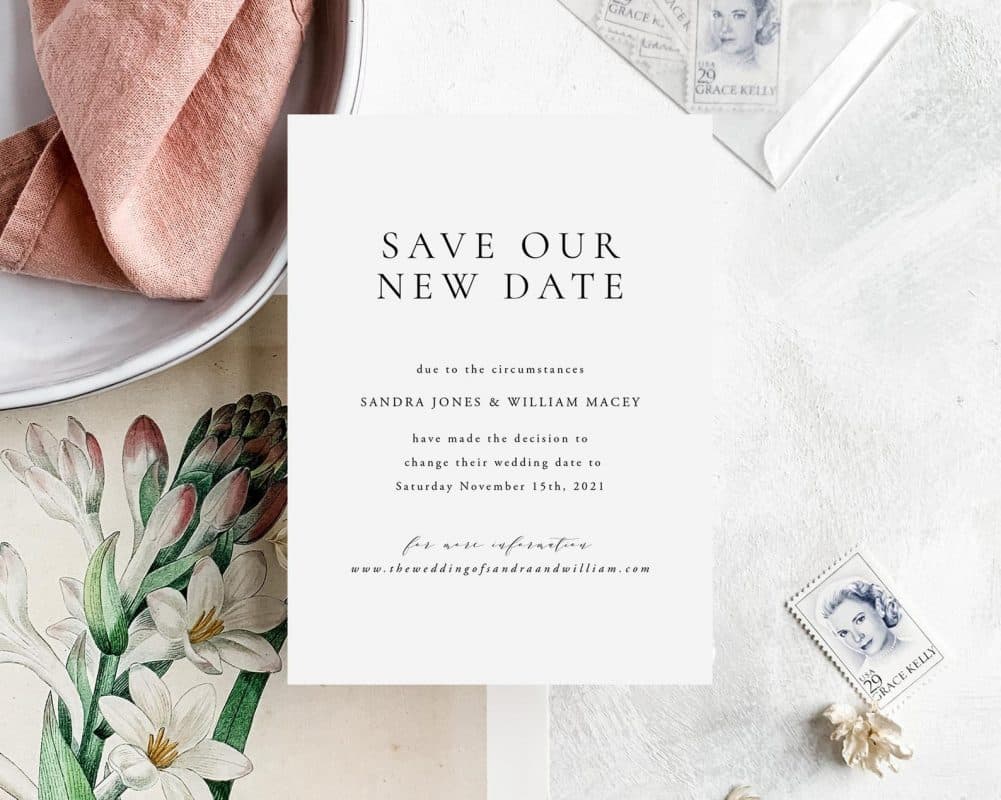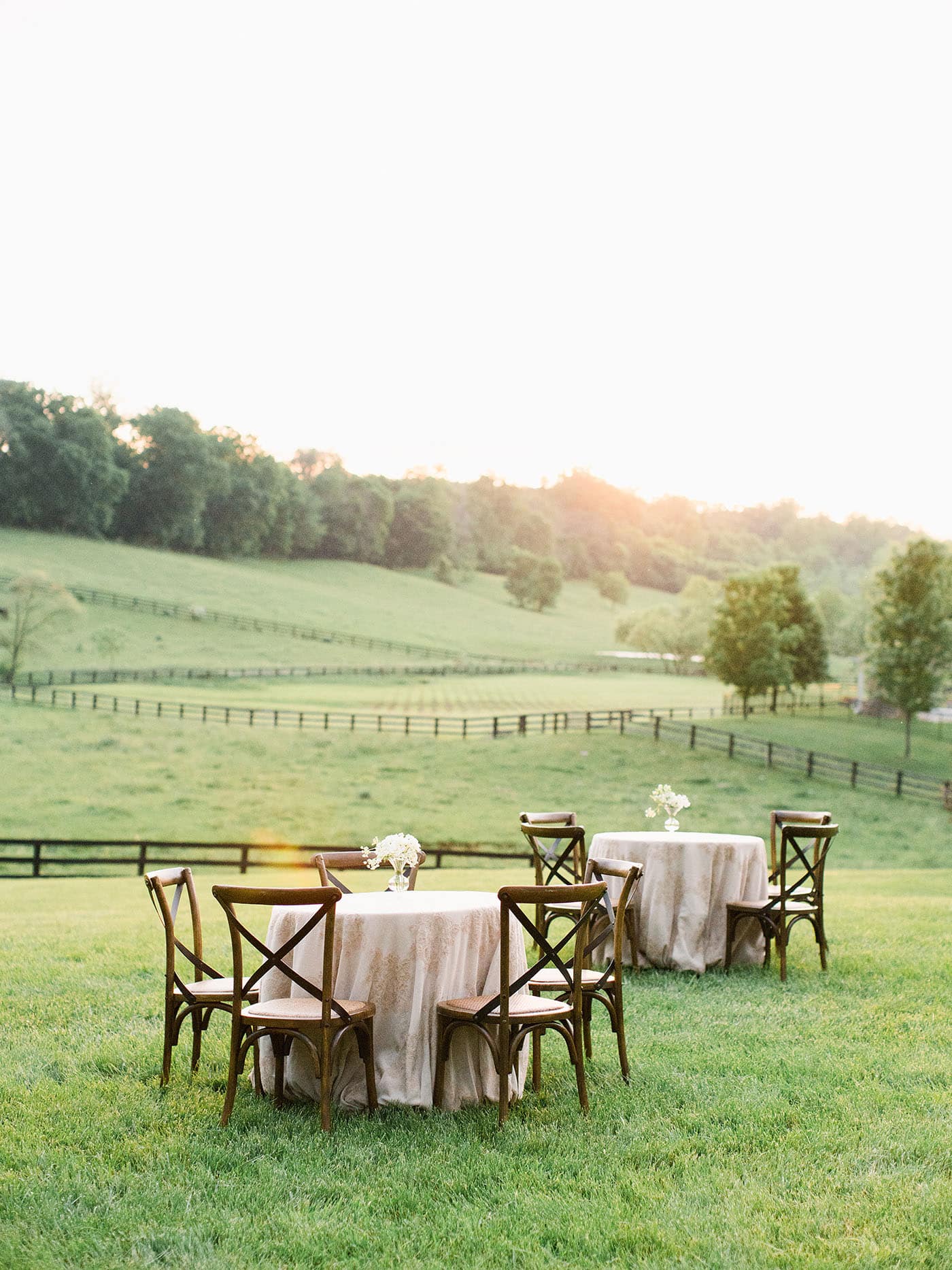 Rachel May Photography
WHAT TO SAY WHEN POSTPONING YOUR WEDDING
What Exactly Should We Say?
You know that the wedding has to be postponed and your guests have to be informed, but what exactly should you say? How much detail should you give? What if you do not have a new date yet? Breaking the news to loved ones can be tough, but a thoughtful and considerate note will go a long way. Here are a couple suggestions on how to inform your guests of a wedding postponement: "Due to the COVID-19 pandemic, we regret to inform you that the marriage of [You And Your Partner's Name] has been postponed. This was a very difficult decision, but the health and safety of our loved ones is of the utmost importance right now. The new date is still TBD, but we will inform you as soon as possible." Or, "In lieu of the current health crisis, we have decided to postpone our wedding until we can ensure the safety of all our guests. We are still so excited to say 'I Do' and sincerely apologize for any inconvenience this has caused." Another option could be: "Don't put away your dancing shoes just yet! Unfortunately, we have had to postpone our wedding due to the Coronavirus, but we hope you will be able to join us in the future to celebrate. We appreciate your patience and hope you are staying safe and healthy in these unprecedented times."
"Don't put away your dancing shoes just yet! Unfortunately, we have had to postpone our wedding due to the Coronavirus, but we hope you will be able to join us in the future to celebrate. We appreciate your patience and hope you are staying safe and healthy in these unprecedented times."
What If We Want to Downsize Instead of Postponing?
With social distancing guidelines easing up in some areas, you may be considering going forward with your wedding in an abridged capacity. Unless you were already planning on a very small gathering, this is going to require cancelling a lot of invites to meet the safety guidelines in your locality. Despite these easing guidelines, the Coronavirus is still very much present, and each guest you invite can have an exponential impact on the spread of the virus. Even if you are technically allowed to gather up to 50 people, remember that this may not be a very safe choice and to, instead, keep the party as small as possible. Although it may be disappointing to not have everyone you wanted there for the big day, remember that your wedding is really about you and your partner and there is always time to celebrate with everyone else another time. Don't worry too much about offending your guests by uninviting them, everyone understands the situation and wants to keep each other safe and healthy.
The most important thing is to be upfront with your guests. Rather than sending an impersonalized blanket email, try to send an individual email, note or phone call to anyone that you have to un-invite. You can still include these people in other ways, such as by offering a virtual reception invite or by inviting them to a bigger party in the future.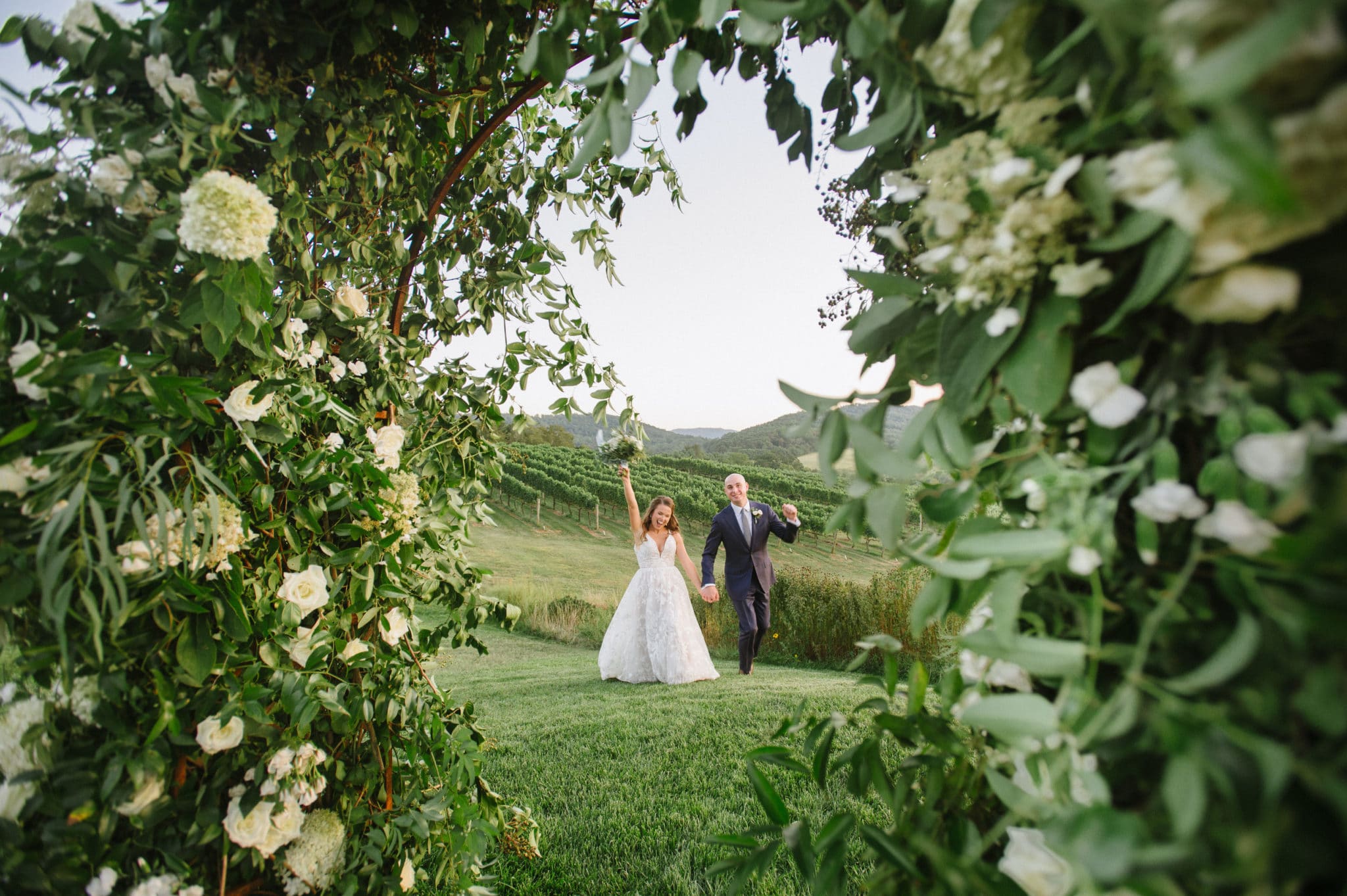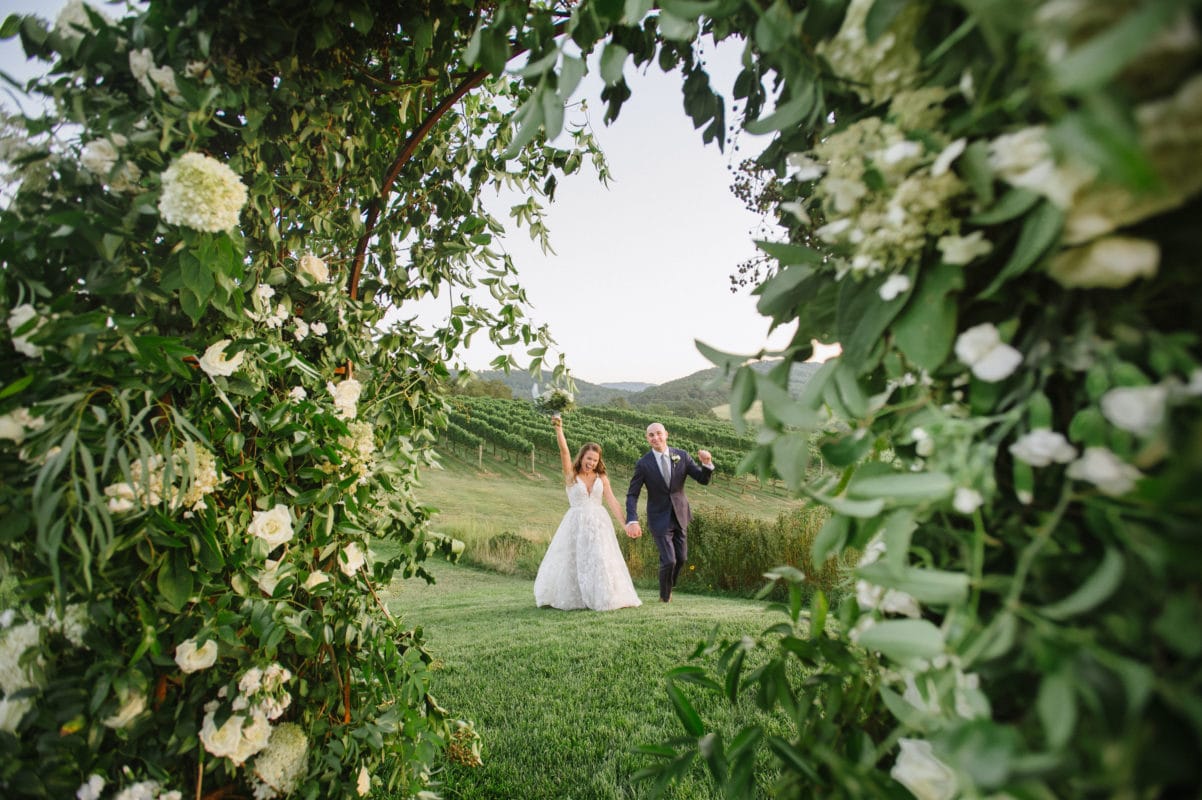 Jen Fariello | Pippin Hill Farm & Vineyard
Decide with your partner if you want to postpone or downsize, and discuss when a potential future date may be. Include your wedding party in the conversation, especially when trying to figure out a new date that would work best for everyone. Inform your guests of your decision, whether that be a blanket email to let everyone know the wedding has been postponed or individual messages to downsize the guest list. Even if you can't have a big party on your original wedding date, make sure to commemorate the day with your partner by doing something special together. ~
ELIZABETH HELEN is majoring in communications and dance at the University of South Carolina and loves writing about beautiful Virginia weddings.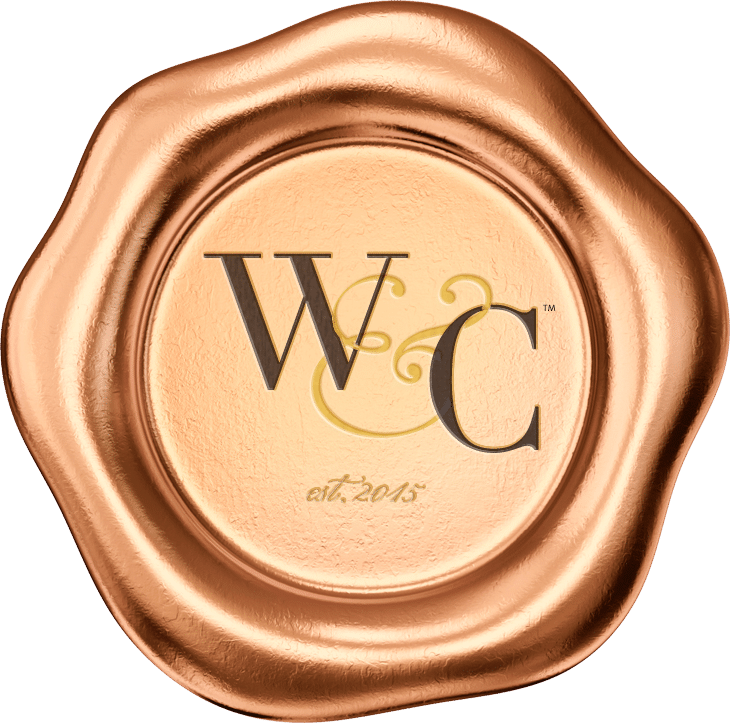 Virginia Wine & Country celebrates elevated living in Virginia Wine Country. Virginia Wine & Country Life is a semi-annual luxury print magazine with a full digital presence. The Virginia Wine & Country Gold Book is an annual guide to the top award-winning wines, wineries and experiences in Virginia Wine Country. The annual Virginia Wine & Country Wedding Planner is an art book of elegant Virginia weddings. The brand includes the Virginia Wine & Country Shop in Ivy, Va. It is a beautiful lifestyle boutique that brings the pages of the magazines to life. Virginia Wine & Country tells the stories of Virginia wineries, the farm-to-table movement, luxury travel, entertaining, art and the elegant country lifestyle. Ivy Life & Style Media also provides branding, web design and PR services for the wine industry.