Photos: Sera Petras Photography, Rachel May Photography
Picking the perfect bouquet for your wedding is an important feature on any bridal to-do list. With so many floral varieties, colors and bouquet styles to choose from, the task can feel overwhelming. Luckily, we've compiled a list of tips for a breathtaking wedding bouquet to help get you started, no matter what time of year your wedding may be. We have even more floral trends to help inspire you as well.
SHOP LOCAL FOR IN-SEASON ARRANGEMENTS
Virginia wine country florists will know which flowers will be in season and have the connections to supply locally-sourced arrangements and bouquets on your wedding day. They can help you pick an artful arrangement with florals that are guaranteed to be fresh, full and, most importantly, abundant! Not to mention, they may have flower suggestions perfect for your wedding that you haven't thought of yet.
BIGGER BLOOMS NEED MORE ROOM
A beautiful, full bouquet makes for a memorable walk down the aisle and photographs well, too. If you're opting for larger flowers like peonies or dahlias, you don't need to include as many individual blooms to give your bouquet that desired full look. Balance them out with smaller buds to create perfect variation and depth in your bouquet.
GO GREEN FOR A NATURAL, RUSTIC LOOK
You can achieve a bohemian or elegant vibe while still creating a bountiful bouquet by choosing a green-centric arrangement. Adding ferns and succulents to any bridal bouquet is not only on-trend but also country chic and stunning. Natural bouquets also look great alongside a variety of wedding styles, from a cozy indoor winter wedding to an outdoor wedding under the summer sun. Greens like huckleberry, astilbe, eriostemon and eucalyptus add volume and a lovely aroma to your arrangement, and can also create movement and direction within your bouquet, whether you want an overflowing cascading stye or an elegant, round arrangement.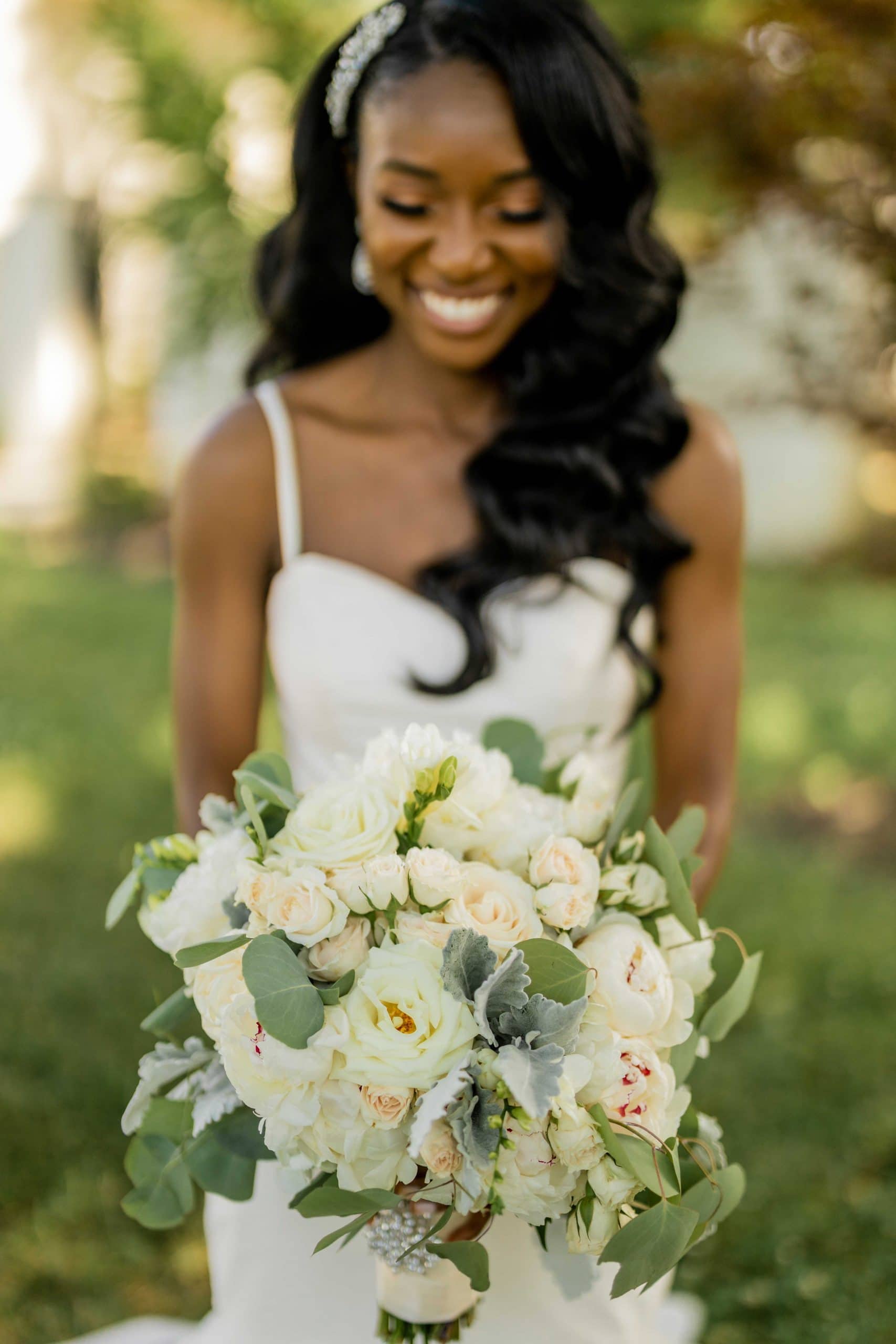 Mason Photography
WHITE FLOWERS ARE INCREDIBLY VERSATILE
Most popular wedding flowers can be naturally white, like roses or peonies. Baby's breath, with its numerous tiny white buds, is a great way to add volume and a sprinkle of white to your arrangement. White goes with everything, too, so if you haven't decided on bridesmaids dresses or your tablescape, you can guarantee that white flowers will work with whatever you end up choosing.
CHOOSE ONE HUE WITH DIFFERENT TINTS, TONES & SHADES
If you are unsure how to select complementary colors, you can always pick one hue and find different flowers in many variations. For example, for a pink hue, fill your bouquet with light pink dahlias or lilies and vibrant pink peonies or roses. Your bouquet will be colorful and effortlessly attractive.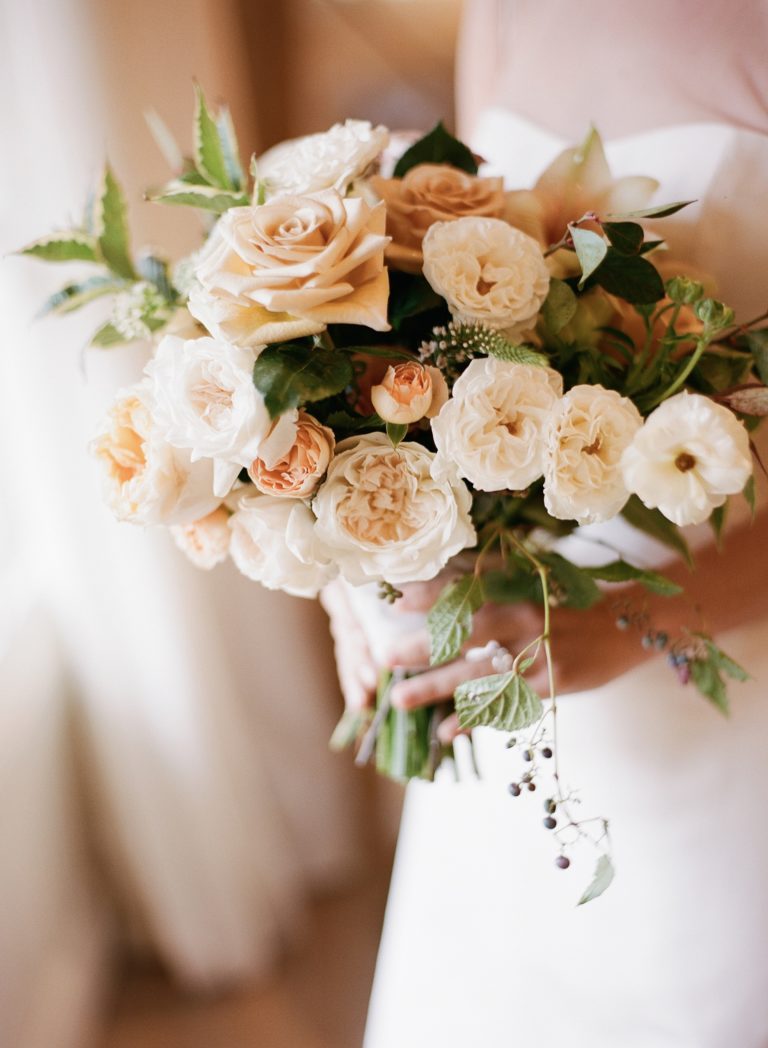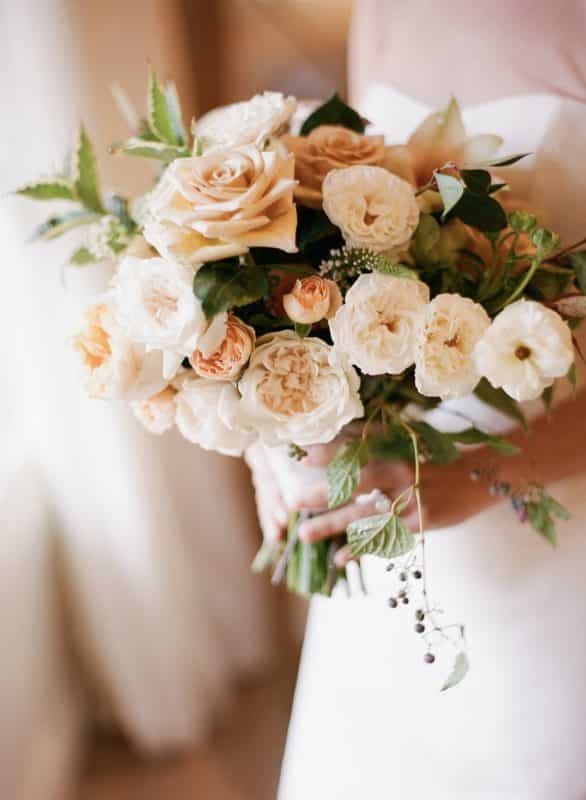 Elisa Bricker Photography
Megan Kelsey Photography, 3 Cats Photo
Building a beautiful bouquet is decidedly an art form, and we are so proud to have some many incredible florists in Virginia to help you. While it's nice when designers want to pursue a certification in their field, this doesn't always guarantee success. So be sure to talk with the designers in your area, look at lots of photos and get a clear picture of your ultimate vision.
Armed with all of these tips for a breathtaking wedding bouquet, you are sure to love your flowers. ~
MARY ALLEN TALLEY is a recent graduate of the University of Virginia and interned at Ivy Life & Style Media. In her free time, she enjoys reading, spending time with friends and exploring Charlottesville.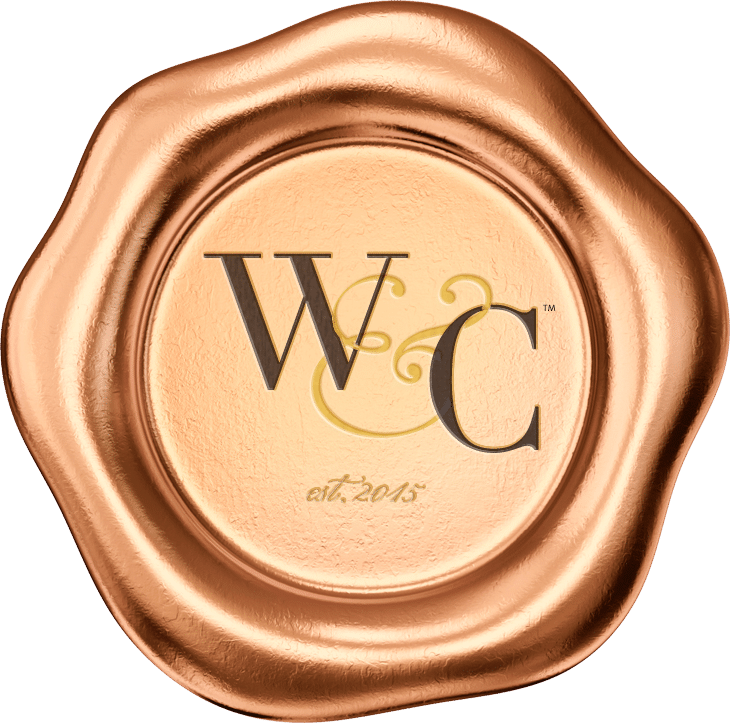 Wine & Country celebrates elevated living in Virginia Wine Country. Wine & Country Life, a semi-annual life & style magazine, and Wine & Country Weddings, an annual art book celebrating elegant Virginia weddings, are complemented by the Wine & Country Shop in Ivy, VA—a beautiful lifestyle boutique featuring over 40 Virginian artisans with everything from tailgating essentials and Dubarry attire, to locally made foods and award-winning Monticello AVA wines, as well as craft beverages for your next event. Sister publications under the publishers of Ivy Life & Style Media include the Charlottesville Welcome Book, a bi-annual publication guiding visitors and newcomers on all of the happenings and businesses in the region, and CharlottesvilleFamily's Bloom magazine, a bi-monthly parenting publication.
Wine & Country Experiences are now also available and include exclusive tours and hands-on classes with leading professionals in the local farm-to-table and vineyard scenes.