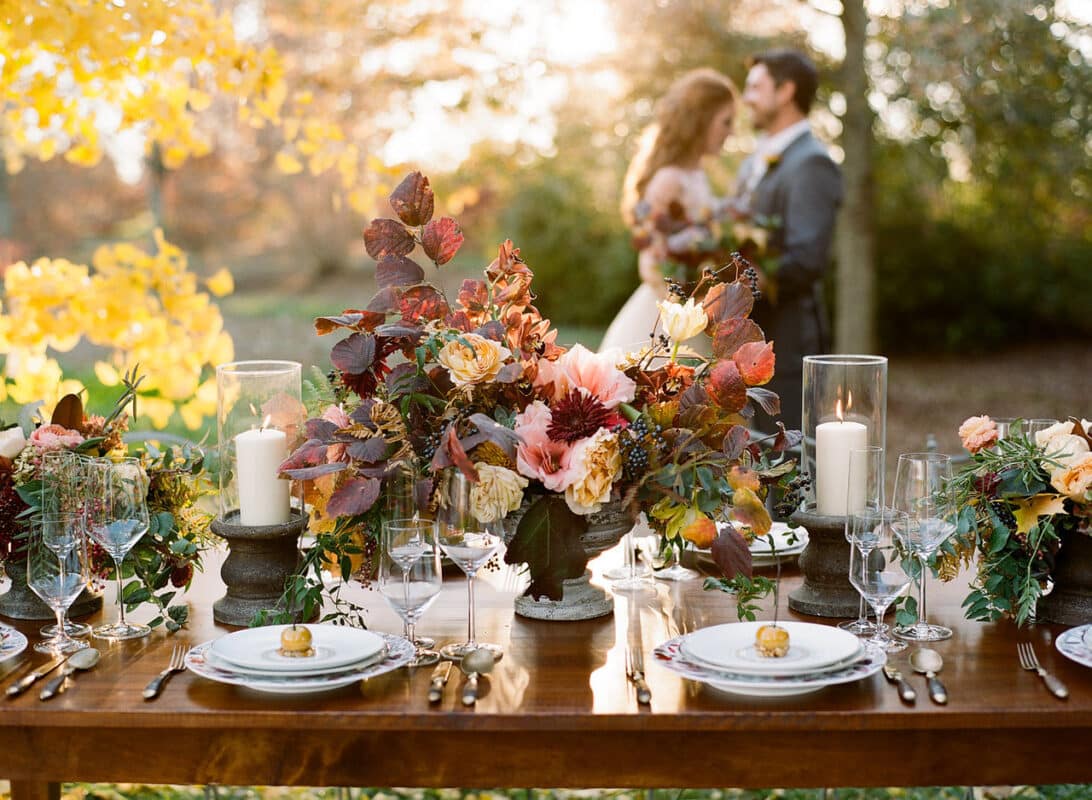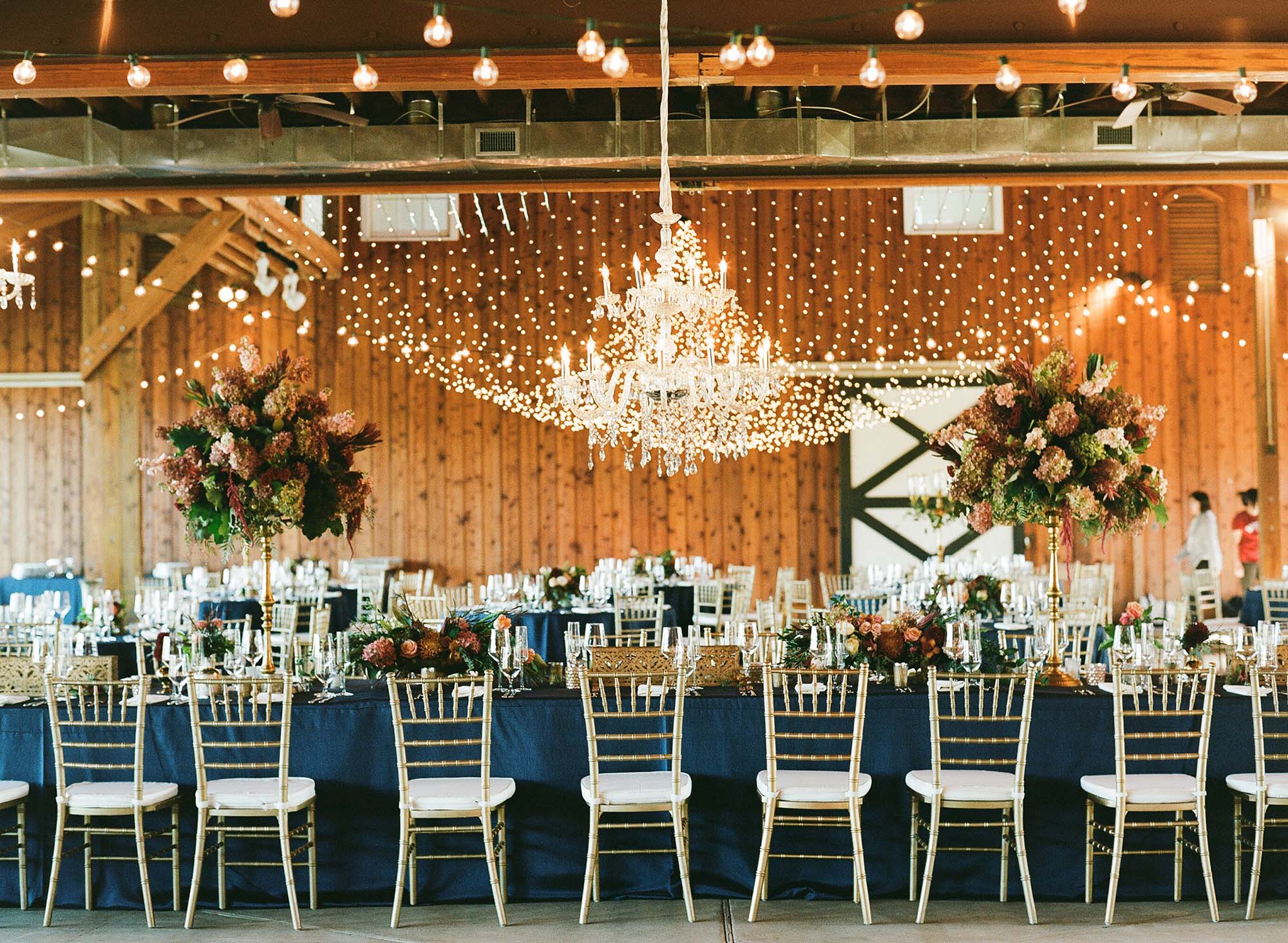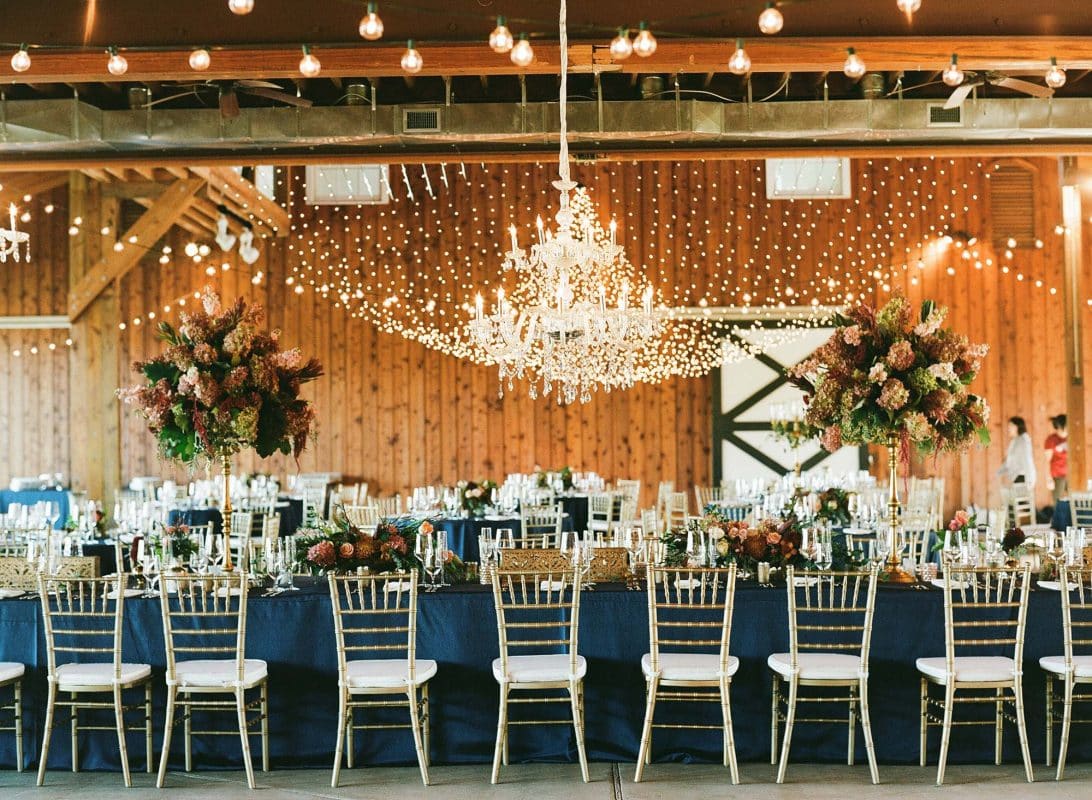 Photo 1: Jen Fariello Photography, Southern Bloom by Pat's Floral Designs & Sarah Sargent | Photo 2: Jen Fariello Photography
There is something magical about the color palette of a fall Virginia wedding. The warm tones of reds, oranges, yellows and greens paired with cozy accessories, cooler temperatures and harvest-inspired tablescapes are just a few of the reasons to love fall wedding season.
Looking for inspiration for your fall wedding tablescapes? No matter whether you are going for something more subtle or looking to transport guests into a fall wonderland, we've compiled a few stunning fall wedding table styles to help get you started or to help you top off an already themed space.
SOMETHING BLUE
This fall twist is perfect for any outdoor wedding. The non-traditional fall color of blue offsets, yet complements, the expected hues and seasonal flair like these decorative pumpkins. This setup gently introduces guests to fall with light-colored flowers matching the changing seasons around you. And, the dusty blue table linens will mirror Virginia's Blue Ridge Mountain views. Additionally, the lantern candle holders and greenery serve as the pumpkin's companions. Don't forget to add extra candles, decorative glasses, artisan eats and stylish table numbers.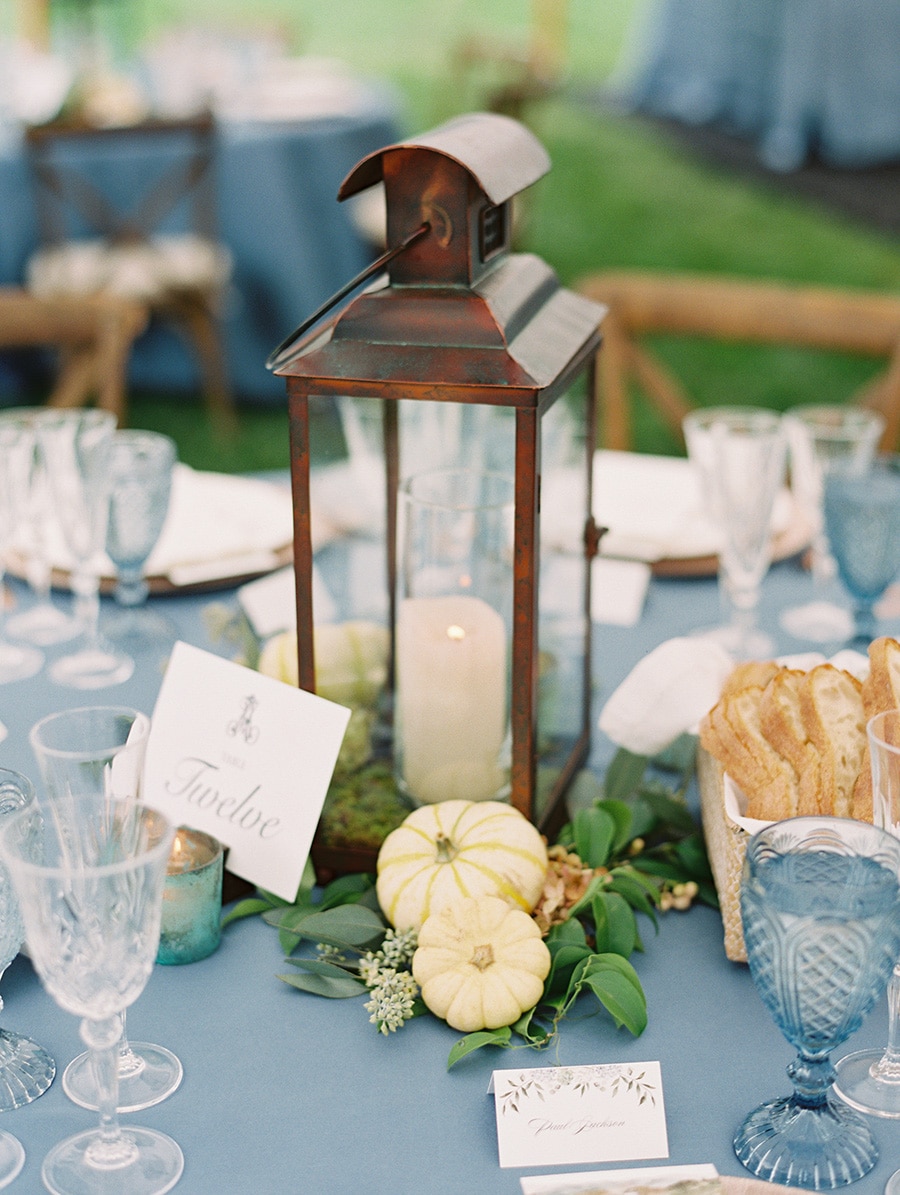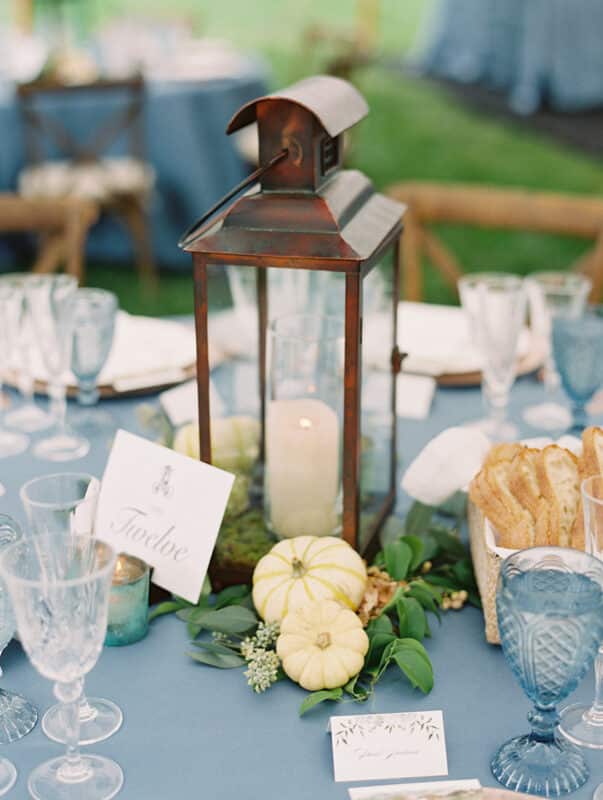 Photo: Rachel May Photography | Southern Blooms by Pat's Floral Design | Anne Arden Events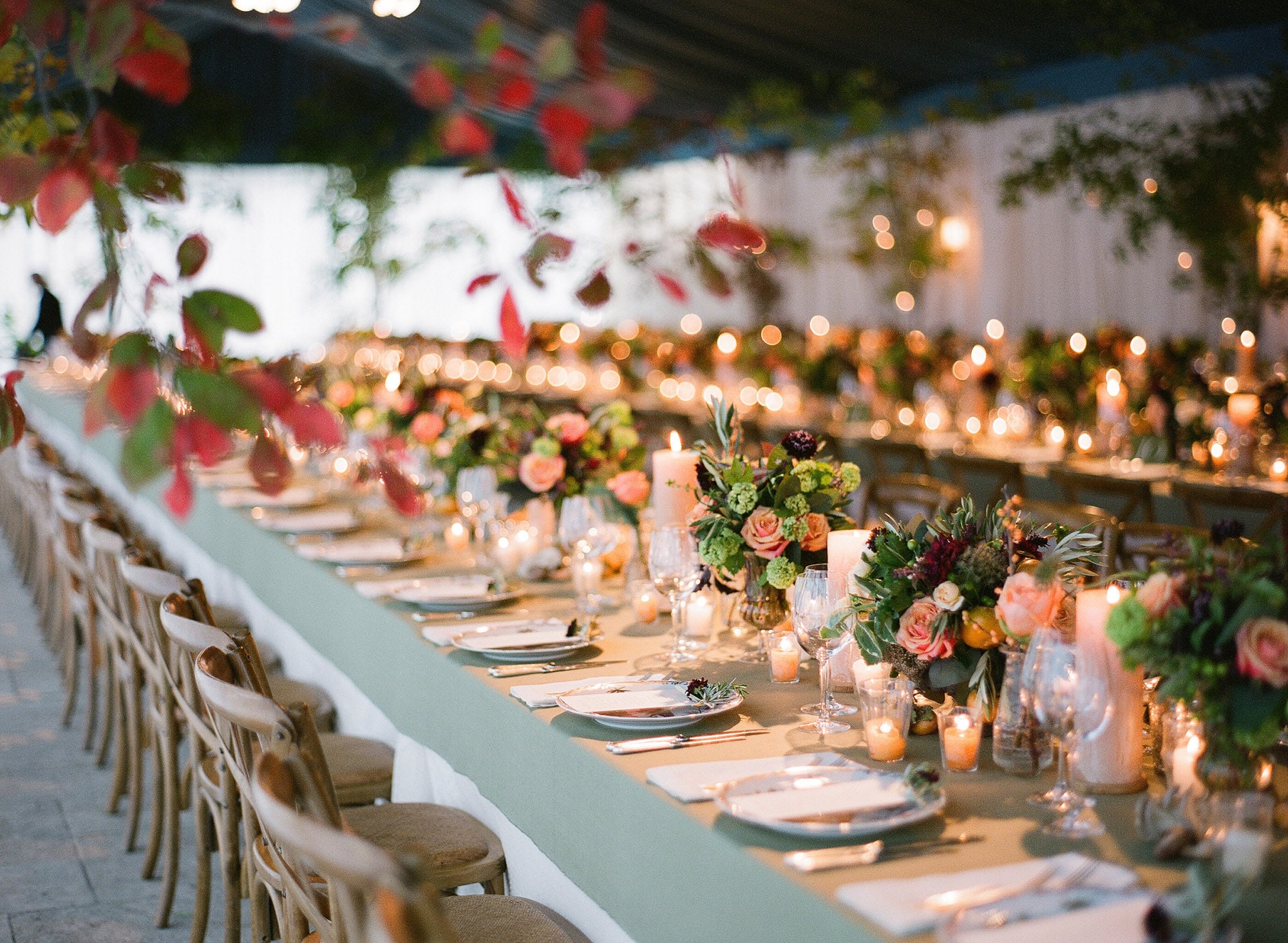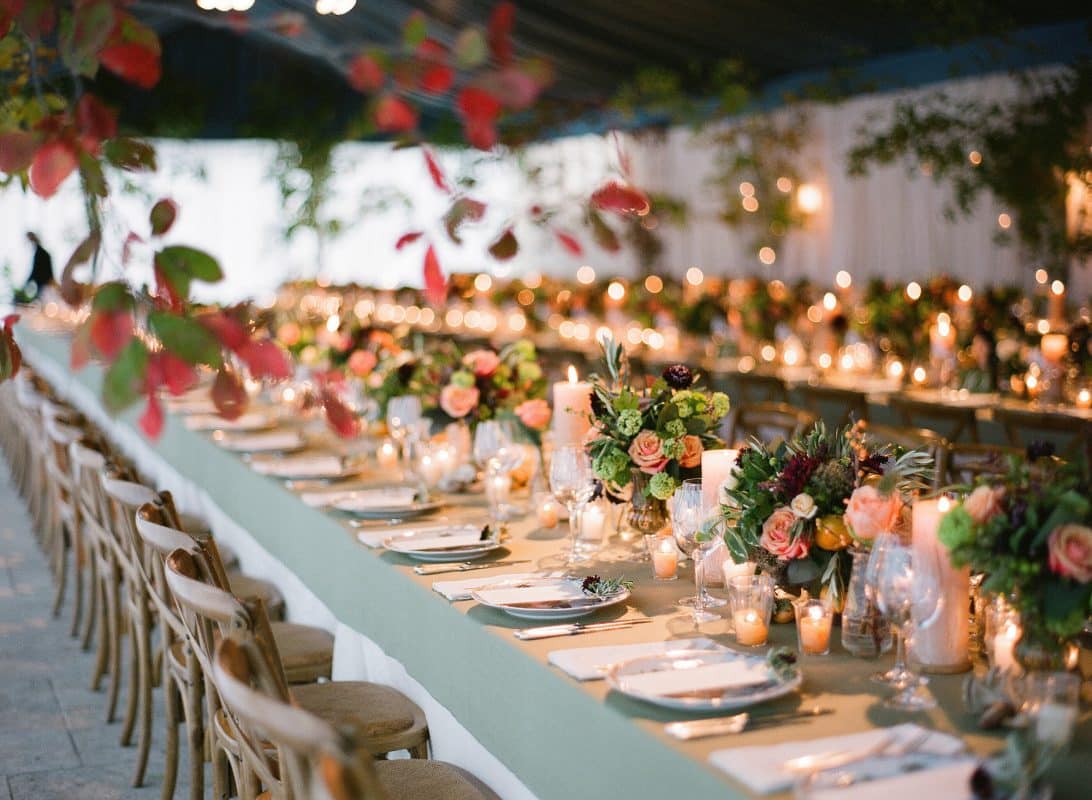 Photo: Jen Fariello Photography | Beehive Events | Easton Events | Skyline Tent Company
FALL ROMANCE
As you enter this couple's reception, floral branches decorate the ceiling, revealing long wedding tables ripe with pastel flowers, glowing candles and dainty dinnerware. These tent-length banquet tables allow guests to dine all together, while creating an ethereal look. Adding to an already eye-catching display, this couple created greenery-filled flower arrangements that add visible texture complemented with soft pastel flowers. The pink and golden undertones of the plates add a delicate feel, and the warm glow from the candles creates a cozy scene inside the tent. This décor is perfect for a couple looking to create garden romance.
SEASONAL FLAIR
Speaking of an open, airy feel, this outdoor setup merges beautifully with nature, especially fall in Virginia wine country. The darker leaves and greenery in these antique vases create an earthy feel, while the delicate pink and yellow flowers add a sweet flair. As guests admire this floral masterpiece, they can enjoy charcuterie board treats with rustic silverware atop wood tables. The dark blue and red highlights on the decorative plates match the floral arrangements while elevating the rustic theme.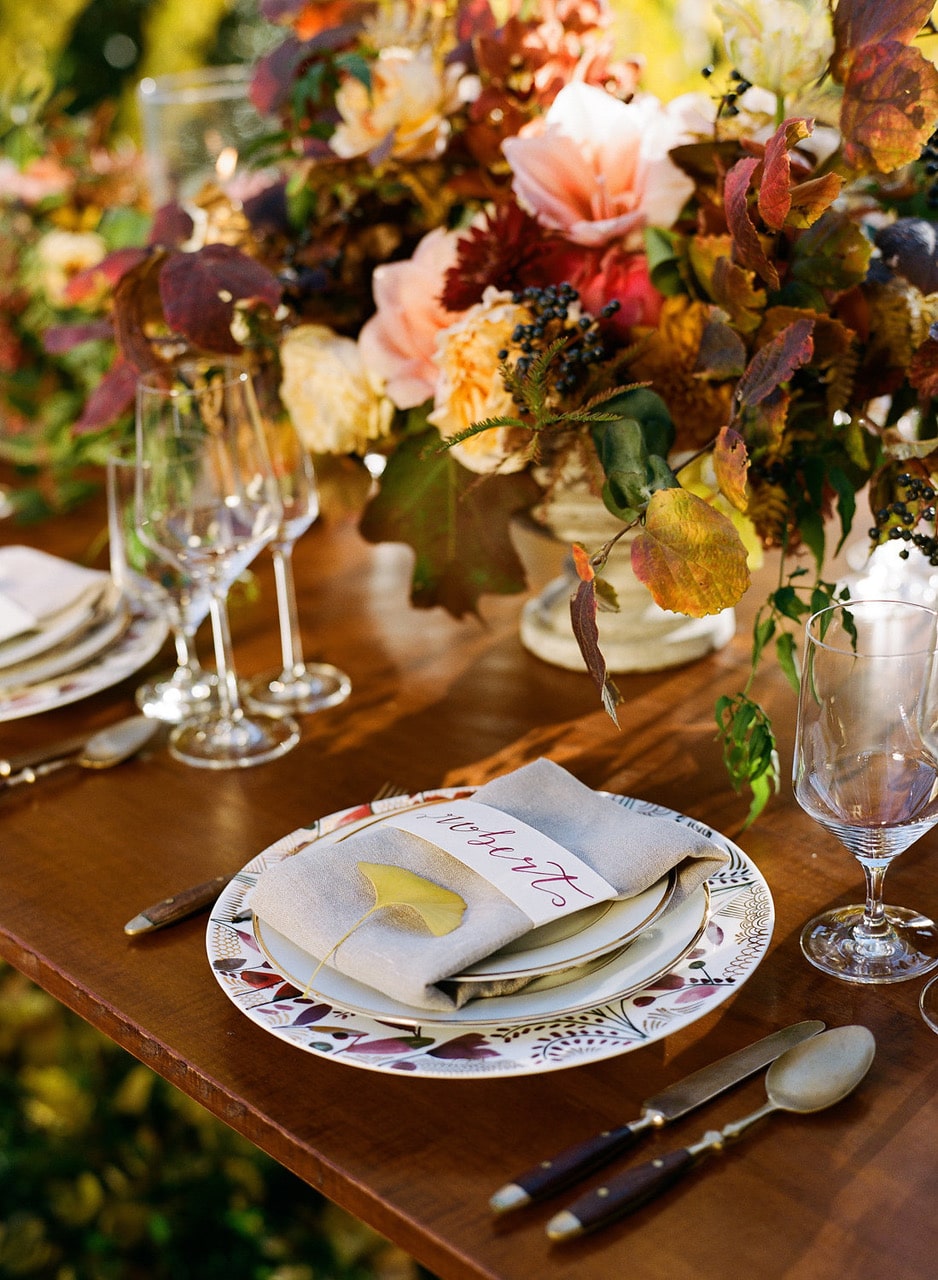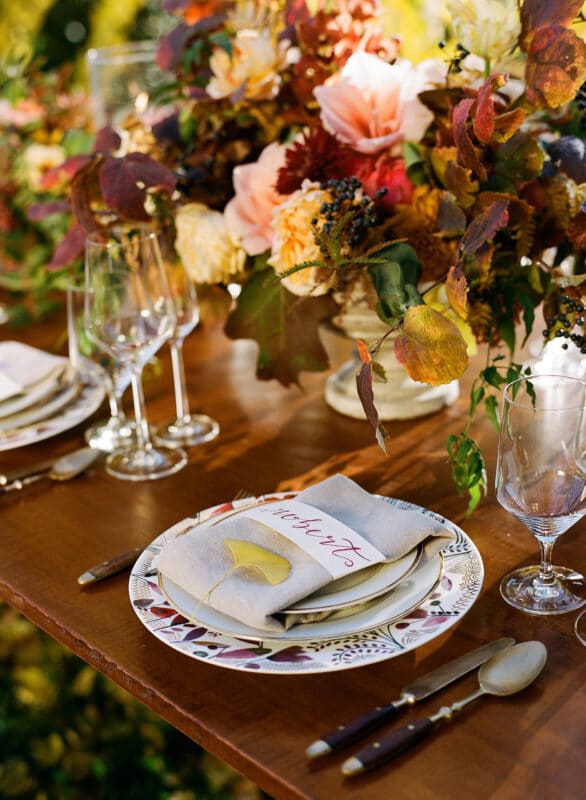 Photo: Jen Fariello Photography | Southern Bloom by Pat's Floral Designs | Sarah Sargent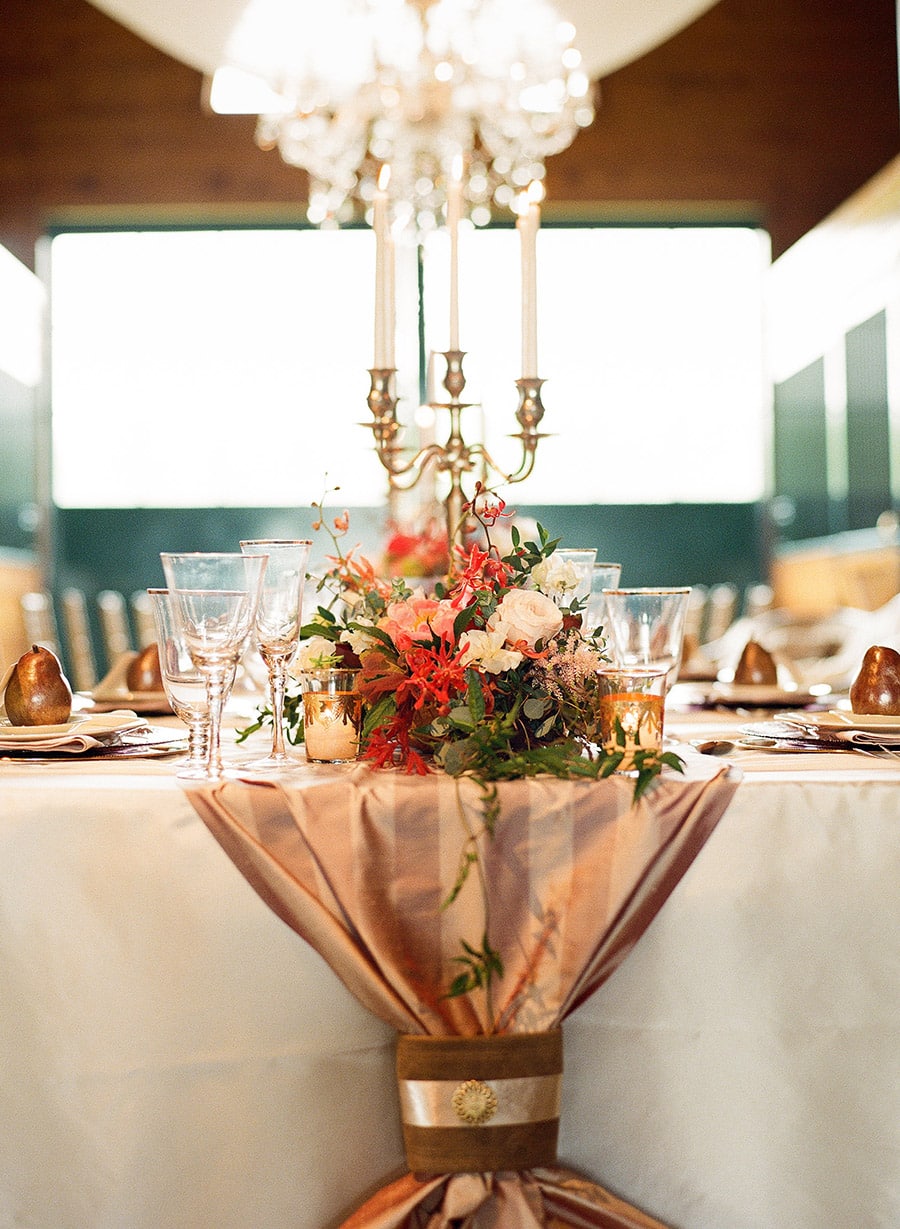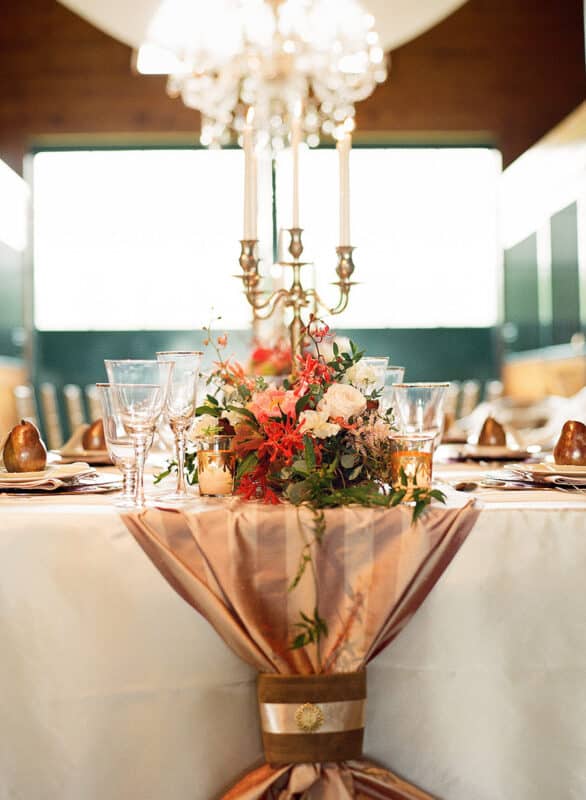 Photo: Jen Fariello Photography | Southern Blooms by Pat's Floral Designs | Shindig Weddings & Events
AUTUMNAL ELEGANCE
Underneath a shimmering chandelier, gold candelabras steal the show. Bright fall colors pair nicely with the golden tapestry stylishly tapered at the ends of the table while golden pears accentuate its fall luster. These gold touches perfectly subdue the brighter floral arrangements. The candles and crystal glasses blend seamlessly and add a simplicity to the design that doesn't distract from the other décor. Elaborate décor is always a good idea, but never shy away from adding simple, complementing pieces, too.
RUSTIC CHIC
If you love loose, overflowing arrangements, these centerpieces are right for you. The deep yellow and orange flowers paired with lighter greenery creates contrast, while pheasant feathers and darker vases provide a rustic touch. The loose style of the arrangements transports guests to a peaceful fall field. Consider recreating this design for a barn wedding or outdoor vineyard-side affair to create the best aesthetic. If you want to add to the farm/field theme, consider this couple's arrangement of wooden charger plates, crystal glassware, neutral colored napkins and horseshoe napkin weights.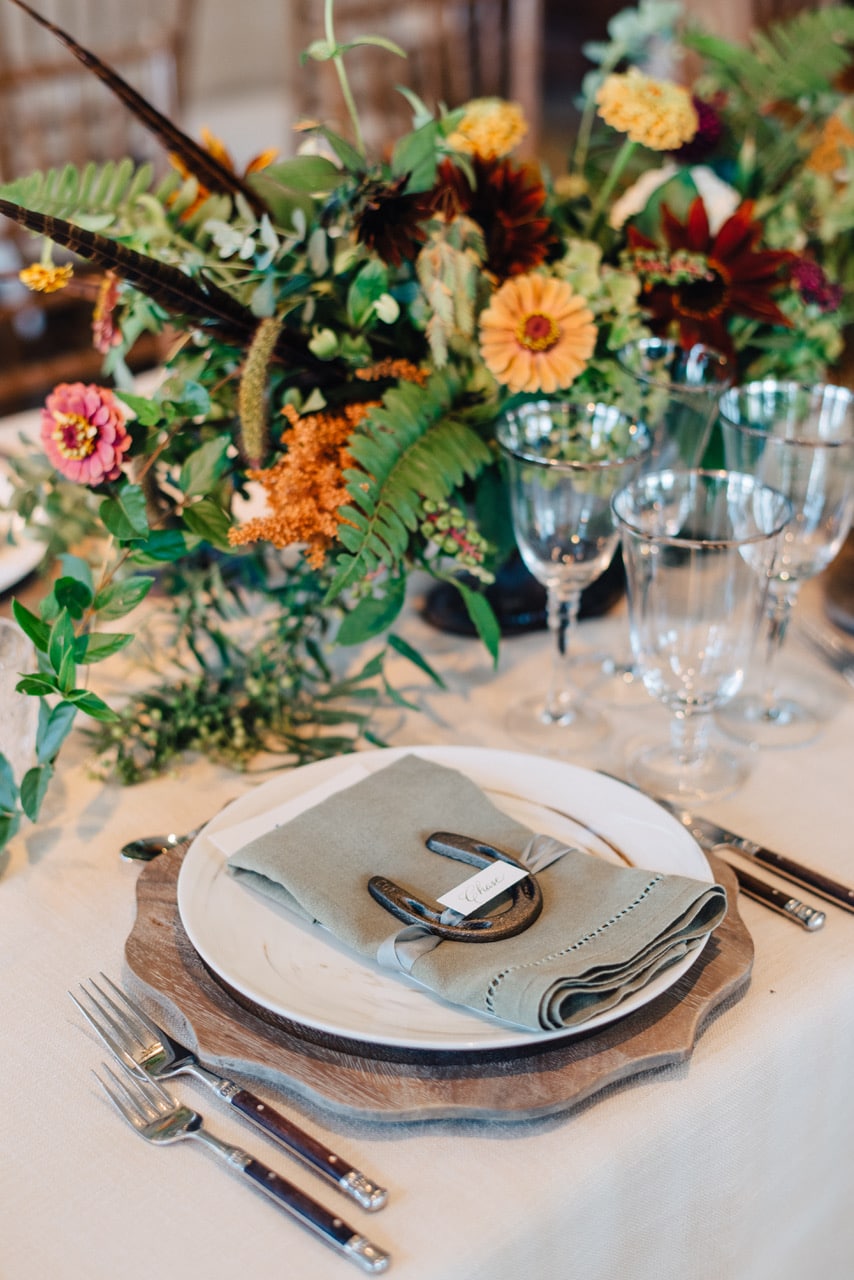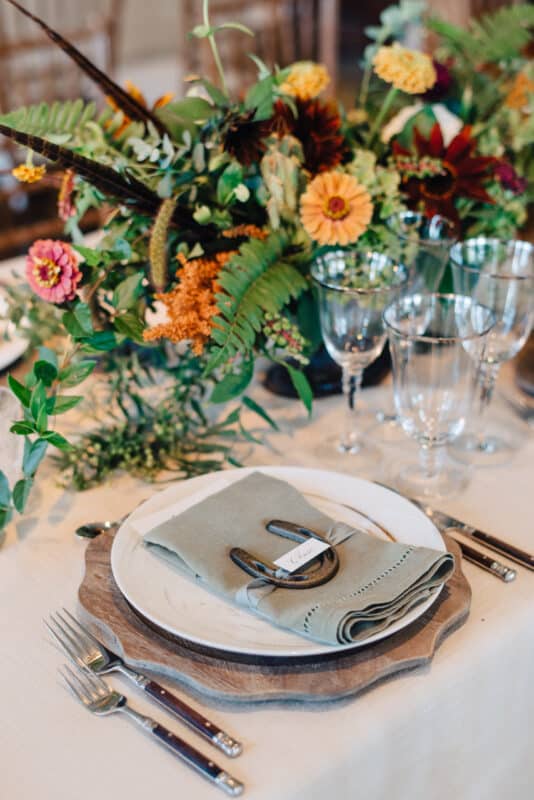 Photo: Alex Tenser Photography | Southern Blooms by Pat's Floral Designs
A MAGICAL OASIS
This couple wanted to create a dreamier atmosphere, complete with fairy lights, rustic chairs and a muted color palette. This barn setup combines rustic with sophistication, making for a beautiful design. The moss green tablecloths and wooden chairs invite guests into a makeshift forest beneath a starry night. Purple flowers atop golden plates at each place setting add the perfect final touch to round out this magical theme. You can also consider recreating this magical theme outdoors near the vines.
BOLD & BREATHTAKING
The blending of bold and gold hues in this reception space creates a dramatic yet classy feel. Scattered fairy lights and crystal chandeliers perfectly complement the golden chairs and flower stands while also brightening the space. The flowers—practically standing on their own—add dark, rich seasonal flair that only accentuates the wood aspects of this venue. Adding varying height between the tall and low centerpieces also adds depth to the space and helps the seamless merging of the color palette with the dark blue table linens.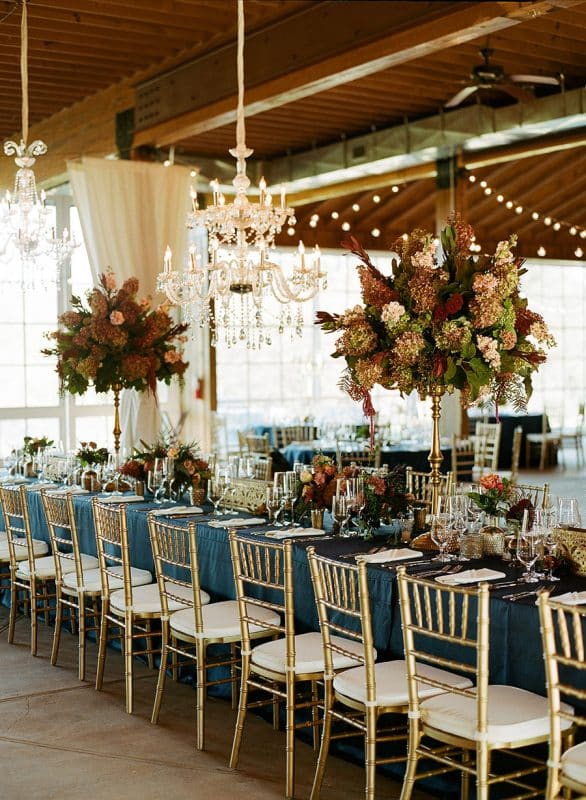 Photo: Jen Fariello Photography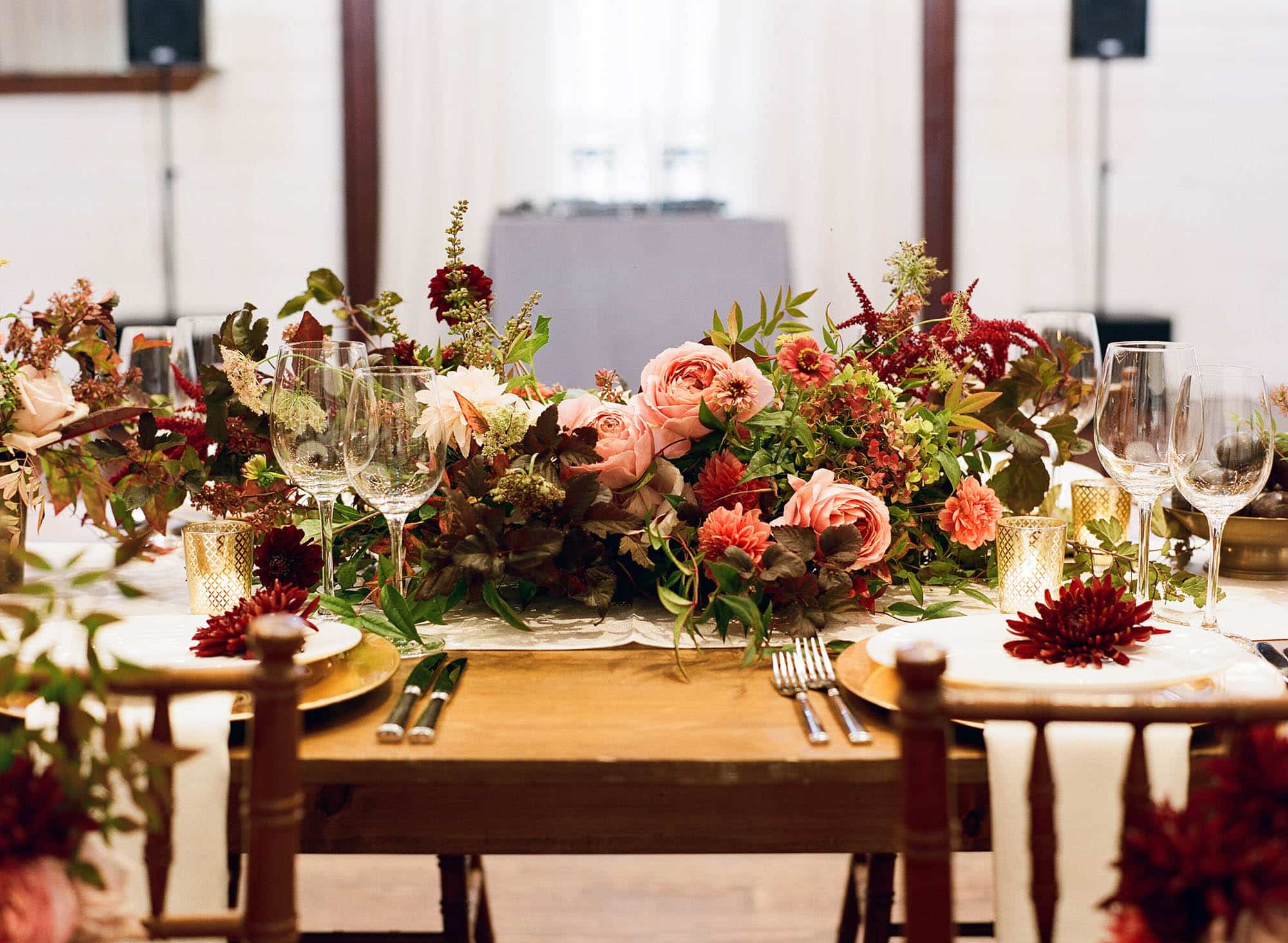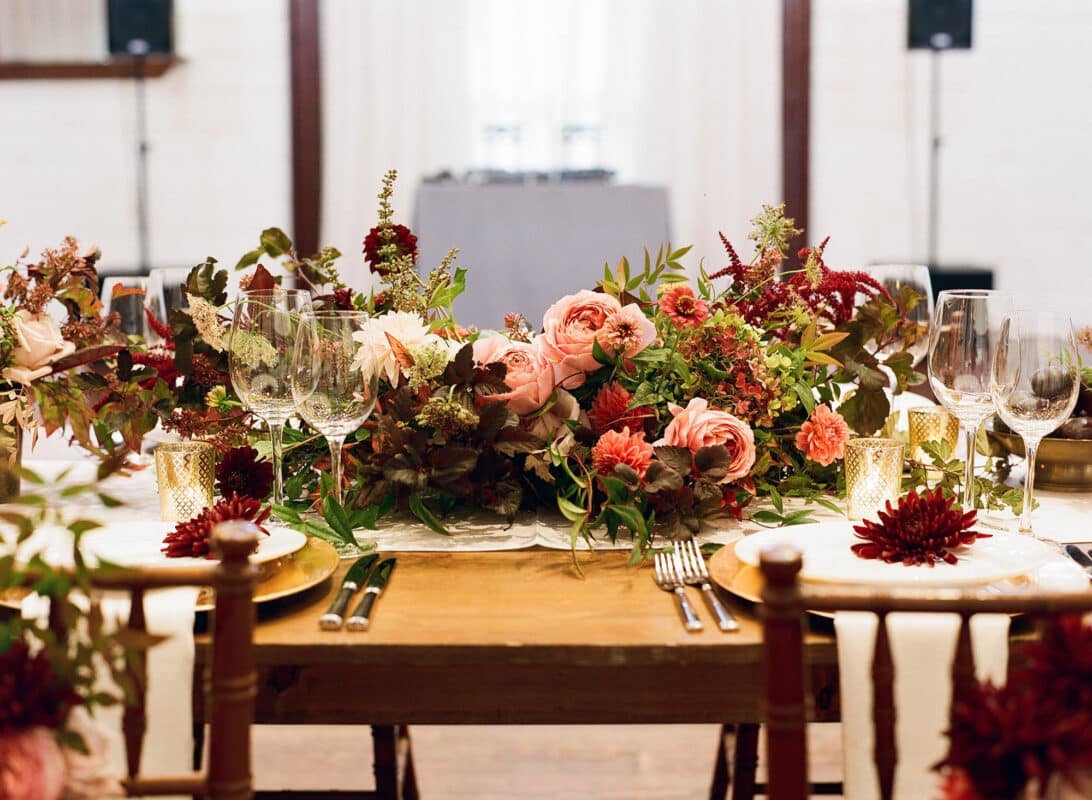 Photo: Jen Fariello Photography | Pippin Hill Farm & Vineyards
No matter how you want to play off of these creative and stunning fall wedding tablescapes, don't forget to add your own personal touches. You can easily customize these ideas to fit the style and vision of Virginia wine country wedding.
Looking for more inspiration for your fall wedding? See our online blog for more flower trends, reception décor trends and planning tips. ~
A Charlottesville native, LEXI CLATTERBUCK is currently completing her schooling at Virginia Tech and loves writing about all aspects of Virginia weddings.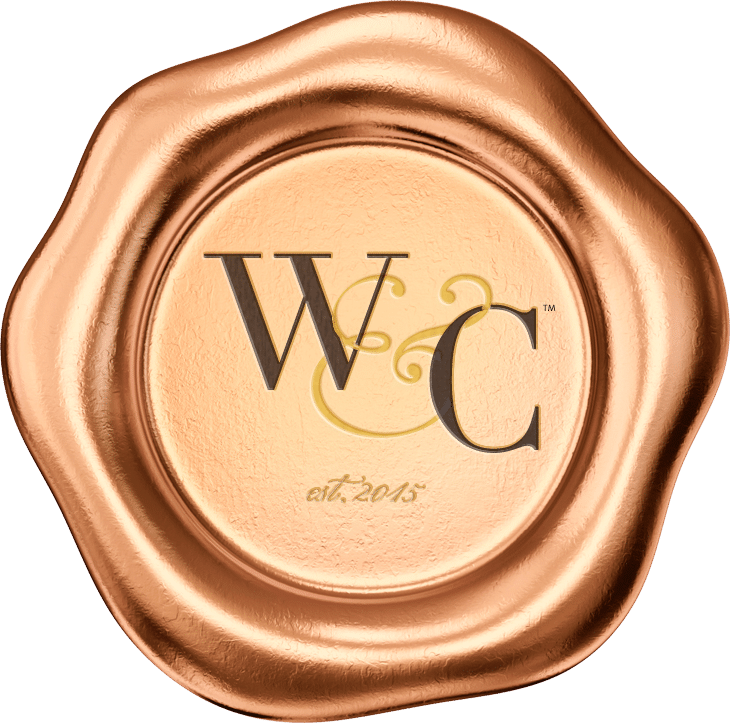 Virginia Wine & Country celebrates elevated living in Virginia Wine Country. Virginia Wine & Country Life is a semi-annual luxury print magazine with a full digital presence. The Virginia Wine & Country Gold Book is an annual guide to the top award-winning wines, wineries and experiences in Virginia Wine Country. The annual Virginia Wine & Country Wedding Planner is an art book of elegant Virginia weddings. The brand includes the Virginia Wine & Country Shop in Ivy, Va. It is a beautiful lifestyle boutique that brings the pages of the magazines to life. Virginia Wine & Country tells the stories of Virginia wineries, the farm-to-table movement, luxury travel, entertaining, art and the elegant country lifestyle. Ivy Life & Style Media also provides branding, web design and PR services for the wine industry.