Tucked away between the beautiful rolling hills of the Shenandoah Valley lie dozens of spectacular wedding venue options for an idyllic country celebration. With historical charm and modern elegance, these barn wedding venues in Virginia highlight the area's natural rural beauty.
Between historical estates and rustic pastoral barns, there are an abundance of incredible options, so we've gathered a list of the best to help you decide. Each one offers the perfect combination of old and new and will have you in awe of their tranquil beauty and counting down the days until you can celebrate your marriage on one of these stunning properties.
WEDDING BARN VENUE NEAR DANVILLE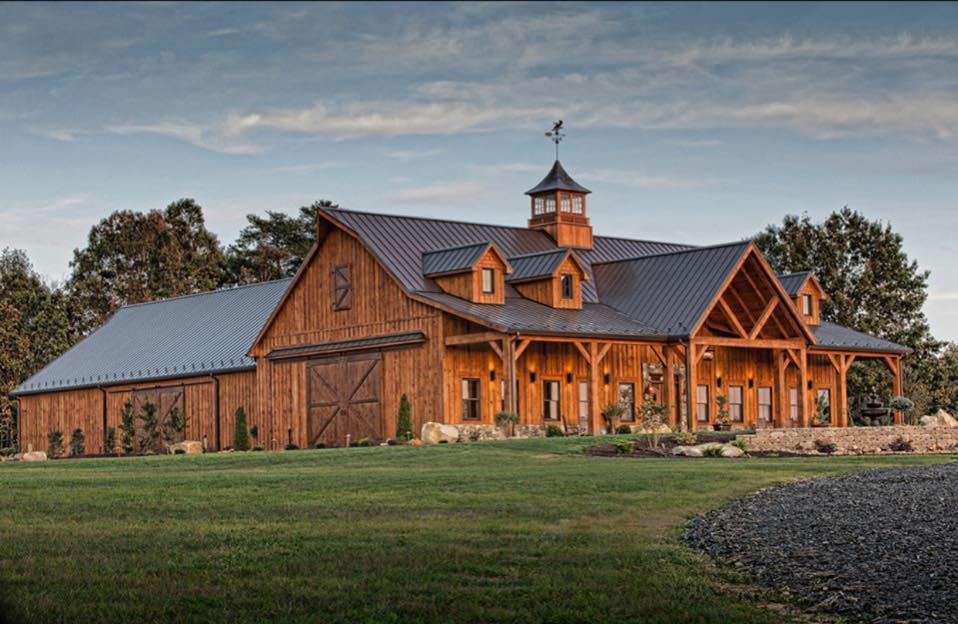 Atkinson Farms
Atkinson Farms
Tucked away in the countryside of Danville, Atkinson Farms is a stunning countryside venue with a kick of elegance. Newly constructed in 2016, the lodging at Atkinson uses reclaimed wood beams in its architecture to strike a balance between rustic and chic. With a prodigious capacity of up to 1,000 guests, Atkinson Farms is equipped to host a wedding of any size.
WEDDING BARN VENUES NEAR LEXINGTON
Big Spring Farm
Consider this your venue to have an enchanted fairytale wedding. Big Spring is an upscale farm wedding venue in Lexington, boasting a meticulously-restored barn and a 10-acre lake formed by one of Virginia's largest natural springs. Imagine exchanging vows at the waterfront, under weeping willows surrounded by mountains—it's a wistful dream achievable only at Big Spring Farm.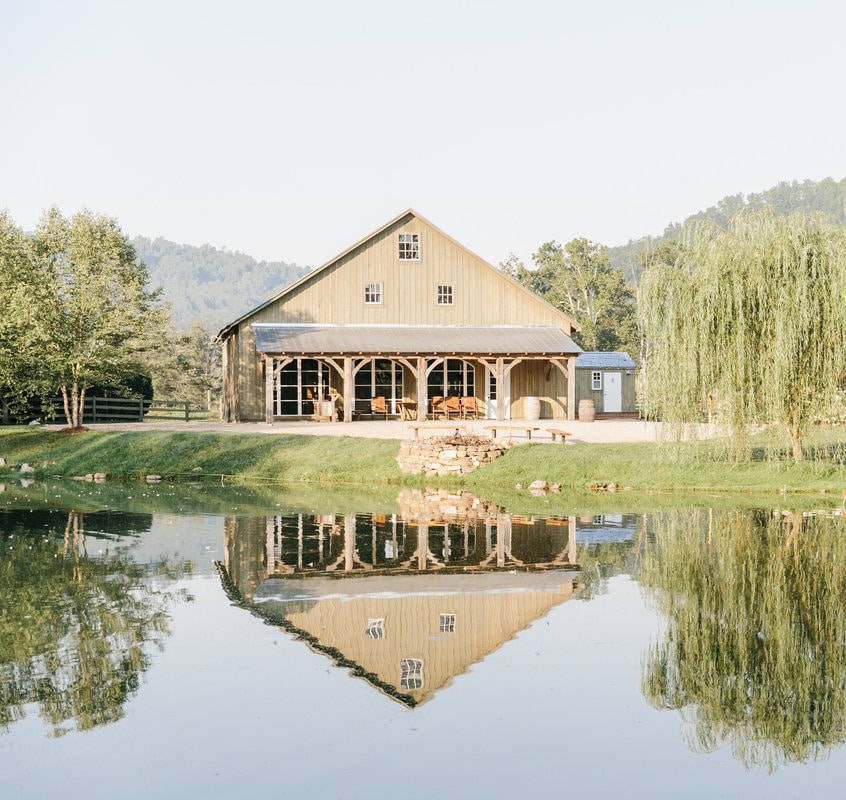 Big Spring Farm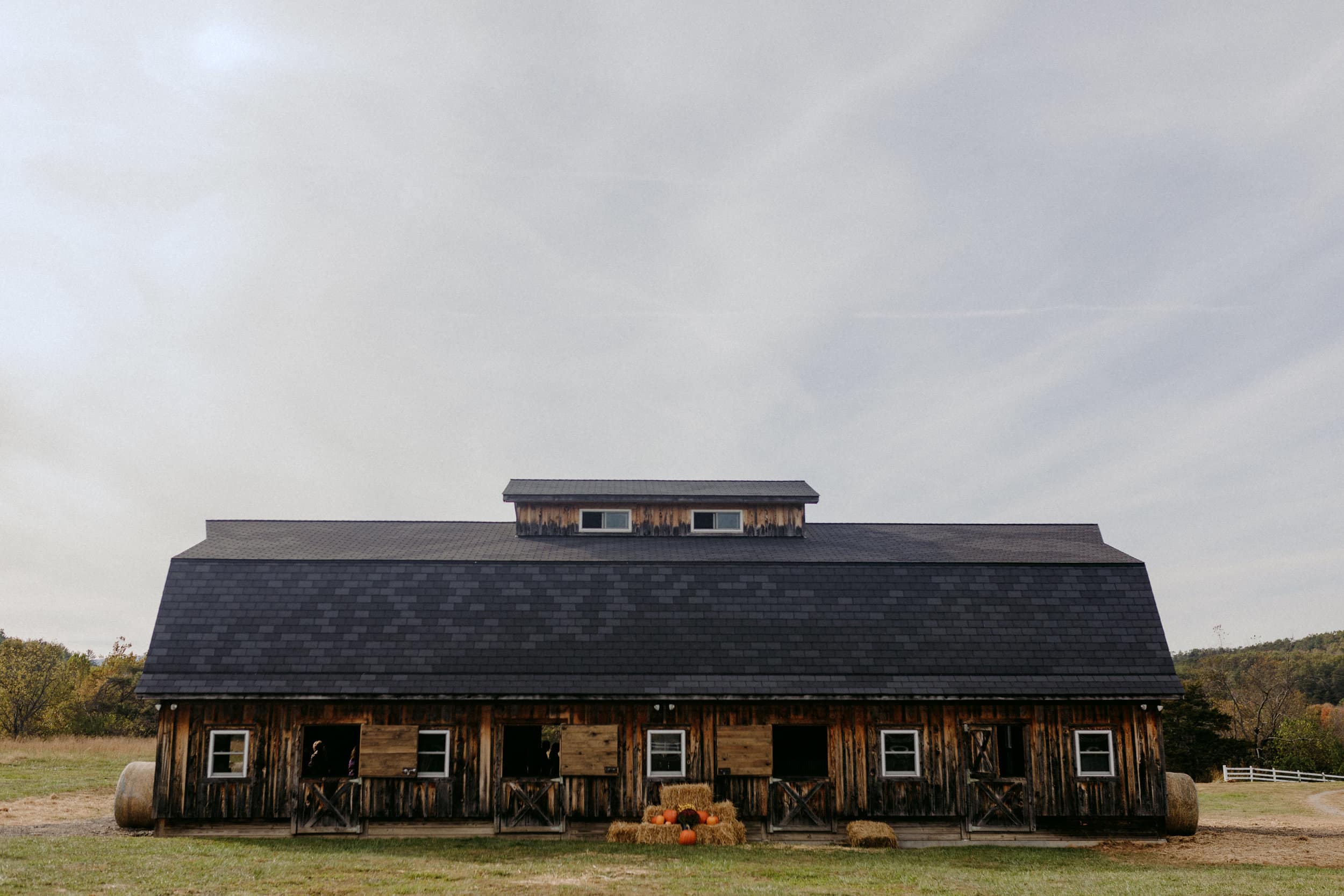 The Farm at Glen Haven
The Farm at Glen Haven
With a panoramic view of the Blue Ridge Mountains, The Farm at Glen Haven in Clifton Forge is a tranquil barn that exudes life from within its walls. Seated next to a colorful wildflower meadow and a spacious multi-tiered ceremonial barn, this venue has endless possibilities for an ethereal wedding.
The Seclusion
Inspired by architecture from the Old World, The Seclusion in Lexington recalls a bygone era of romance both inside and out. Large barn doors outfitted with handmade iron handles, honey-colored wooden floors inside the Great Hall, and an entire valley of colorful light reflecting off the mountains invite you to stay a while. French doors open onto the venue's large, covered veranda that offers a 360-degree overlook of the Shenandoah skyline. It's a glamorous and romantic touch to an already intimate venue.
Learn More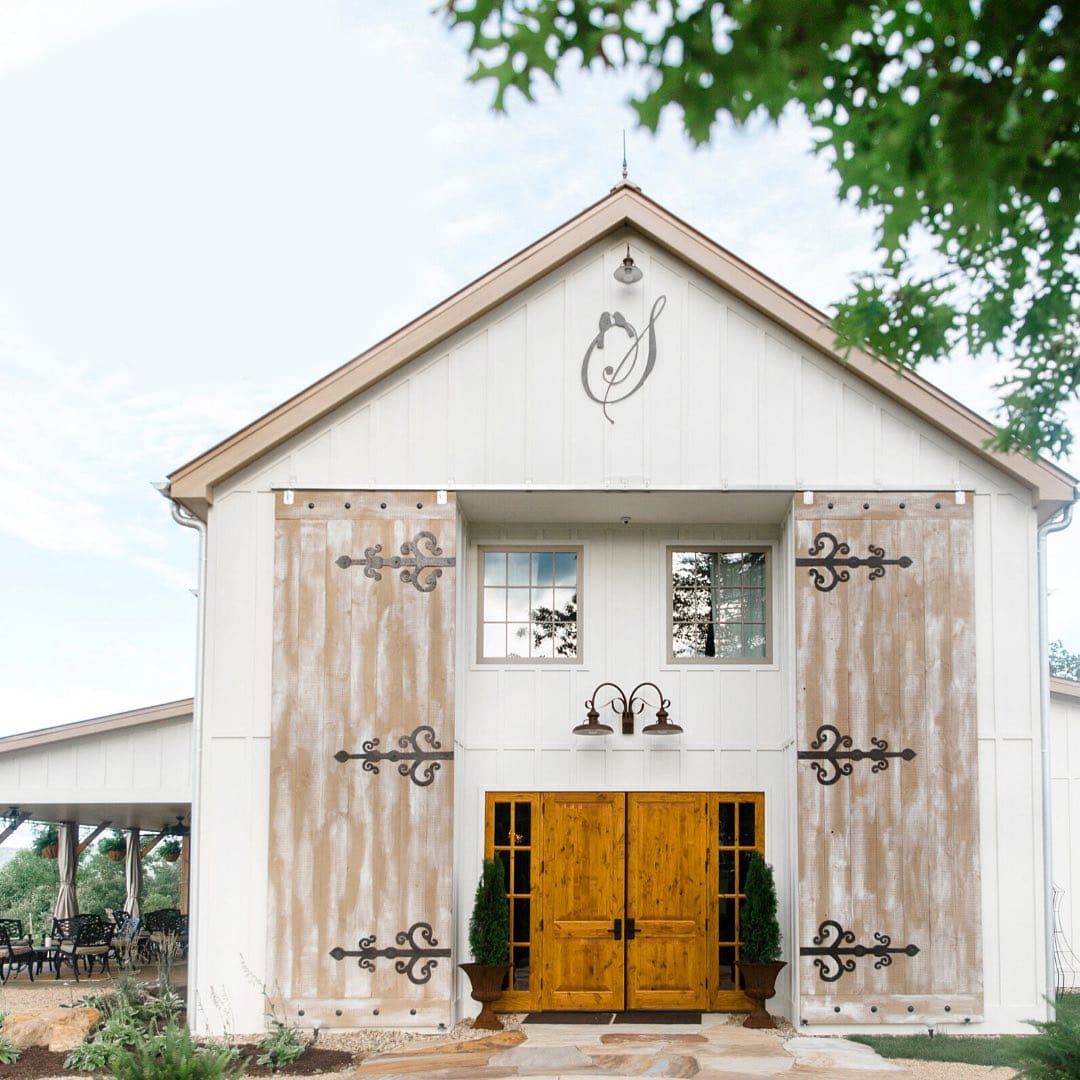 Sydney Leigh | The Seclusion
WEDDING BARN VENUE NEAR ROANOKE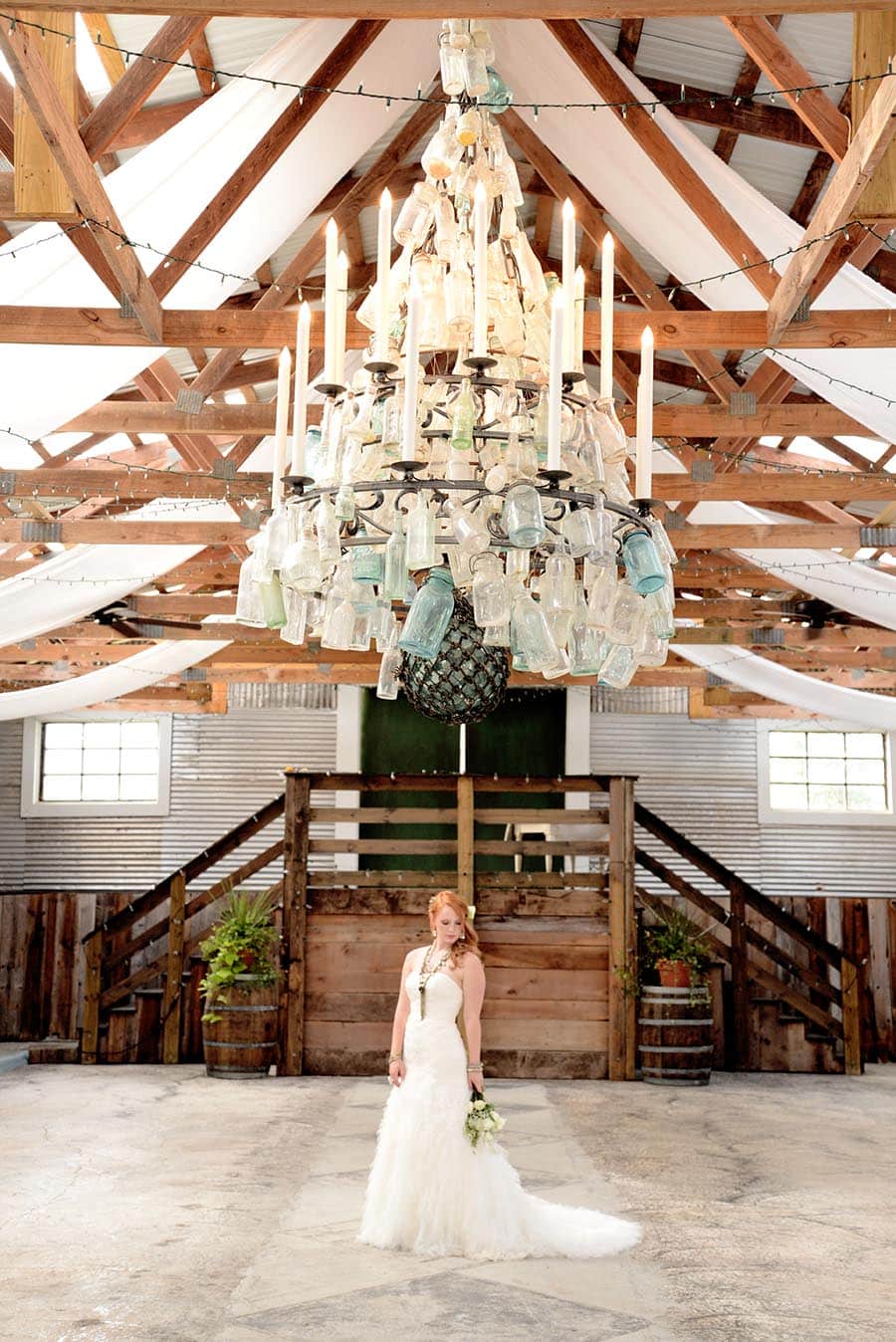 Sinkland Farms
Sinkland Farms
Surrounded by the comfort and serenity of wildflower meadows, Sinkland Farms in Christiansburg hosts an enormous barn facility with high beam ceilings and a colorful chandelier made from repurposed glass bottles. Ceremonies can be held on the property's stoned terrace by a tranquil duck pond, and receptions can move into Sinkland's Barn and Pavilion. With multiple spaces for guests to roam and whimsical design features to enjoy, Sinkland Farms is an adventure in waiting.
WEDDING BARN VENUES IN THE VALLEY
Cross Keys Barn, LLC
Located in the heart of the Shenandoah Valley, Cross Keys Barn is the only renovated bank barn with modern bathroom facilities in Rockingham County. Surrounded by a peaceful and rural landscape, this 100-year-old barn features the original structure with a stunning cathedral ceiling and finished oak floors. With a large deck, vast windows and charming double doors, the barn has an outdoor ambiance and provides breathtaking views of the mountains and farmland.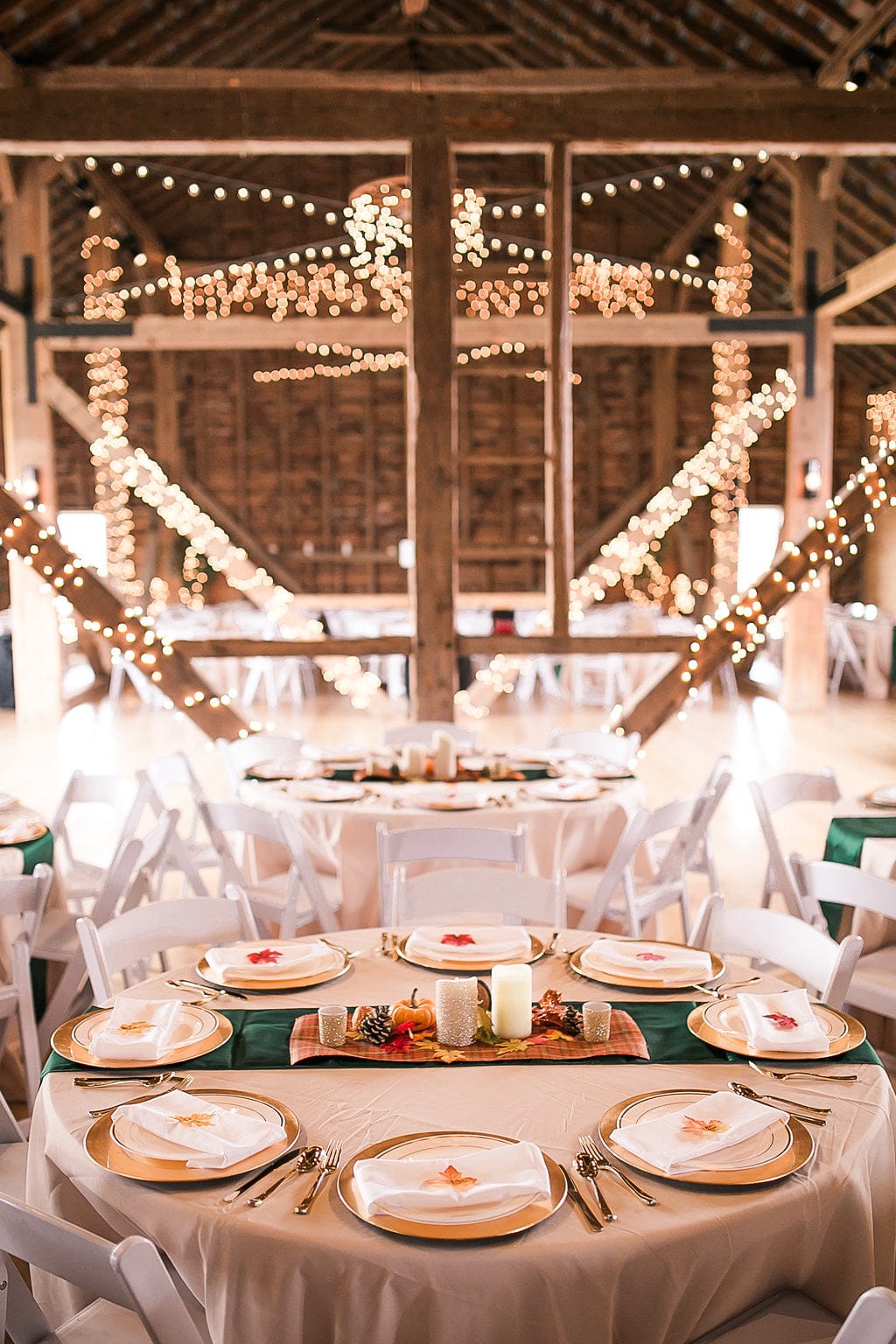 Cross Keys Barn, LLC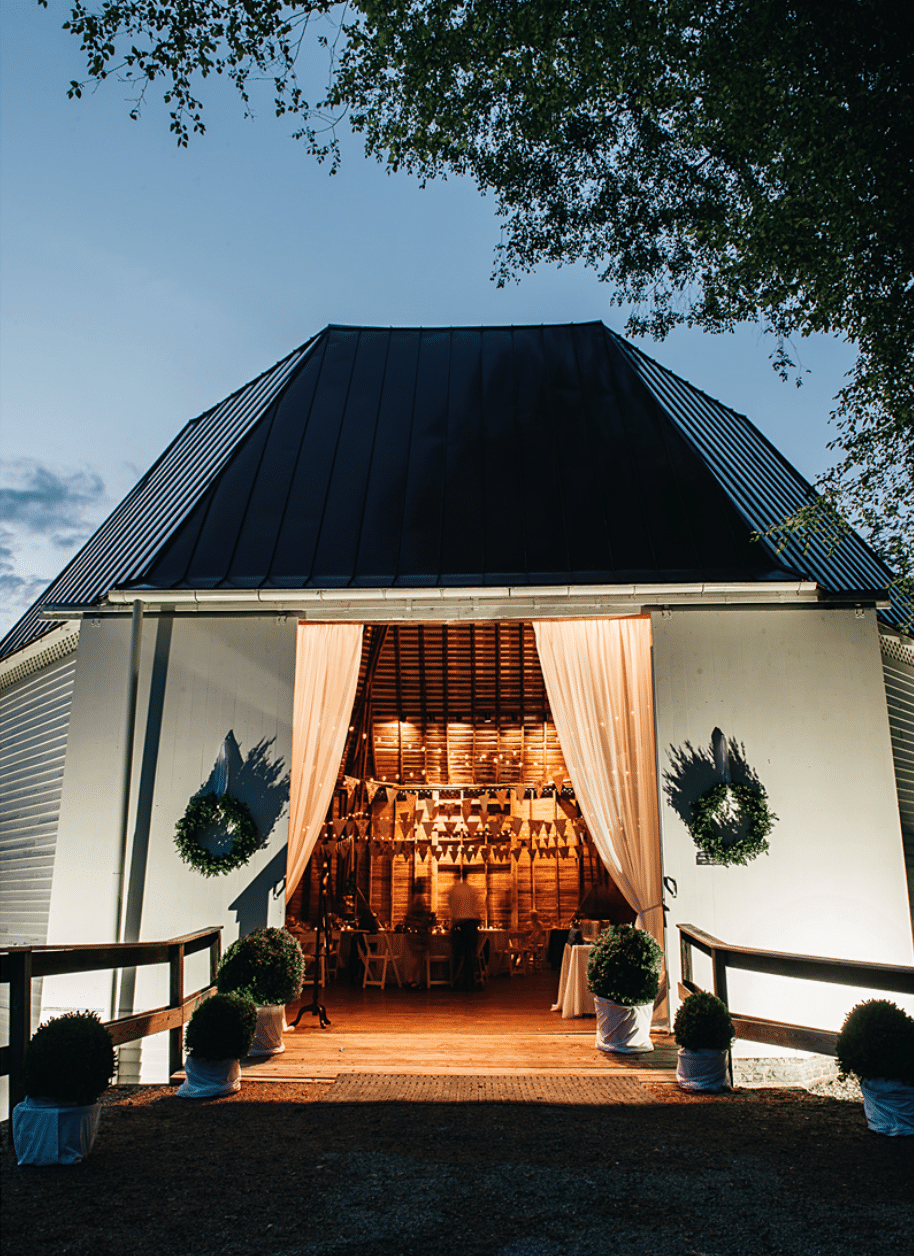 Ron Dressel Photo | Octagonal Barn at the Frontier Culture Museum
Octagonal Barn at the Frontier Culture Museum
Once a family-owned cattle barn, this unique and historic showpiece is now an event center at the Frontier Culture Museum in Staunton. The novel-shaped barn is a perfect blend of rustic charm and modern amenities. With wooden beams, high vaulted ceilings and two floors with over 3,000 square feet of usable space, the Octagonal Barn needs little decorating to stand out. Tucked away in the woods, this remote barn is the perfect venue for your farm fairytale wedding.
Red August Farm
Equipped to easily accommodate 300 guests, this spectacular historical barn is coated in southern romance and country charm. The interior is adorned with four dazzling chandeliers and the paved drive is lined with stately cherry trees for a sophisticated and vintage elegance. Set on top of a little hilltop with gorgeous views, Red August Farm is the perfect tucked away venue for an intimate country wedding.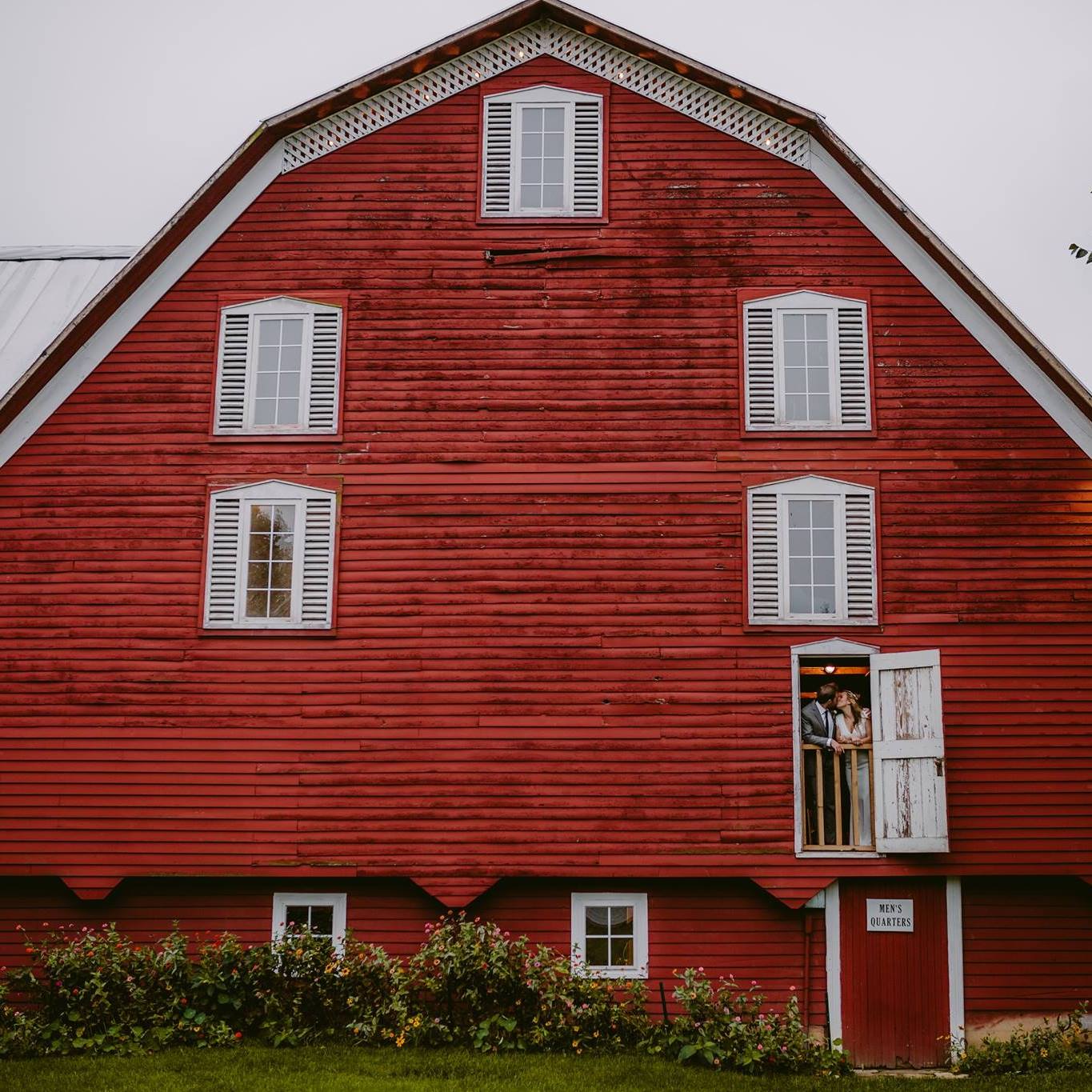 Red August Farm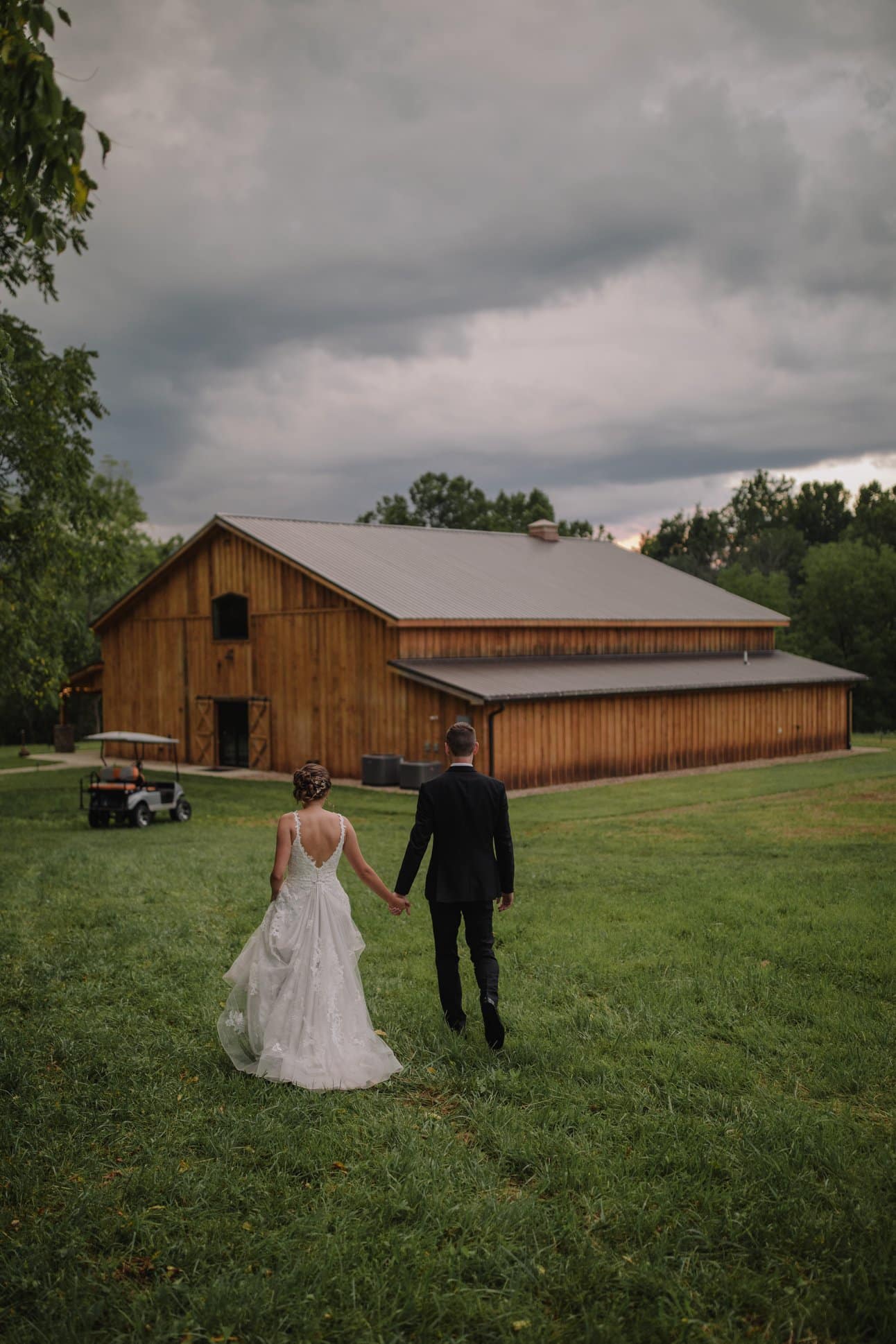 Valley Mills Farm
Valley Mills Farm
With a riverside gazebo ceremony site, a brand new reception barn with breathtaking panoramic views and lush, rolling hills, Valley Mills Farm is an idyllic countryside getaway. Merging both historic charm and modern grace, you get the best of both worlds with this 15-acre park-like setting. This 1824 homestead in Swoop, Virginia, provides the perfect backdrop for a delightfully southern celebration.
Barns provide a simple, charming backdrop for every dream wedding.
With tranquil rolling pastures, extraordinary mountain views and so much historical charm, you can't go wrong with one of the spectacular barn wedding venues in the Shenandoah Valley. These rustic chic settings lend themselves perfectly to an adorably country and stunningly southern soiree.
Whatever the size or style of your gathering, many beautiful barn wedding venues in Virginia have exactly what you are looking for on an unforgettable day. ~
ANYA KARAMAN is a recent graduate of the University of Virginia. She studied English and History and has a background writing on issues of global development and migration.
ELIZABETH HELEN is majoring in communications and dance at the University of South Carolina and loves writing about beautiful Virginia weddings.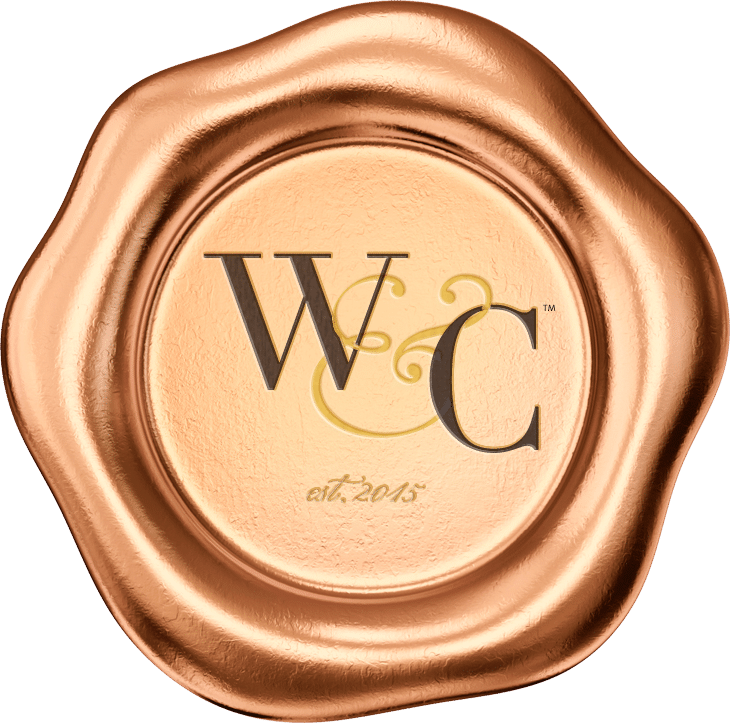 Virginia Wine & Country celebrates elevated living in Virginia Wine Country. Virginia Wine & Country Life is a semi-annual luxury print magazine with a full digital presence. The Virginia Wine & Country Gold Book is an annual guide to the top award-winning wines, wineries and experiences in Virginia Wine Country. The annual Virginia Wine & Country Wedding Planner is an art book of elegant Virginia weddings. The brand includes the Virginia Wine & Country Shop in Ivy, Va. It is a beautiful lifestyle boutique that brings the pages of the magazines to life. Virginia Wine & Country tells the stories of Virginia wineries, the farm-to-table movement, luxury travel, entertaining, art and the elegant country lifestyle. Ivy Life & Style Media also provides branding, web design and PR services for the wine industry.