Between tossing the bouquet and sharing the first dance, weddings are full of traditions, and the wedding cake is no different. Many traditions that are still common today are rooted in practices popularized centuries ago and symbolize all sorts of prosperity and good luck for your future as a wedded couple. To help you decide on how best to personalize and handle this part of your reception, we've compiled some Southern Wedding Cake Traditions and Wedding Cake Etiquette Tips.
SOUTHERN WEDDING CAKE TRADITIONS
TIPS FOR CUTTING THE CAKE TOGETHER
The tradition of newlyweds cutting their cake together has been around for centuries. The ancient Greeks and Romans incorporated the "wedding cake" into the nuptials, where the groom broke bread over the bride's head. This act symbolized the end of her purity, and represented good luck and fertility. Just as with all traditions, this adapted during the Middle Ages to multiple-tier cakes the newlyweds would have to kiss over. If successful in doing so without knocking over the cake, it was said they would be blessed with many children. The symbolism of today's cake-cutting ceremony is shown in the placement of the couple's hands. The groom places his hand over the bride's and, together, they cut the bottom tier of the cake, serving as a reminder of their relationship's longevity, as well as showing the groom will support and care for his bride. For the guests, enjoying cake after the couple has cut it is known to bring them good luck.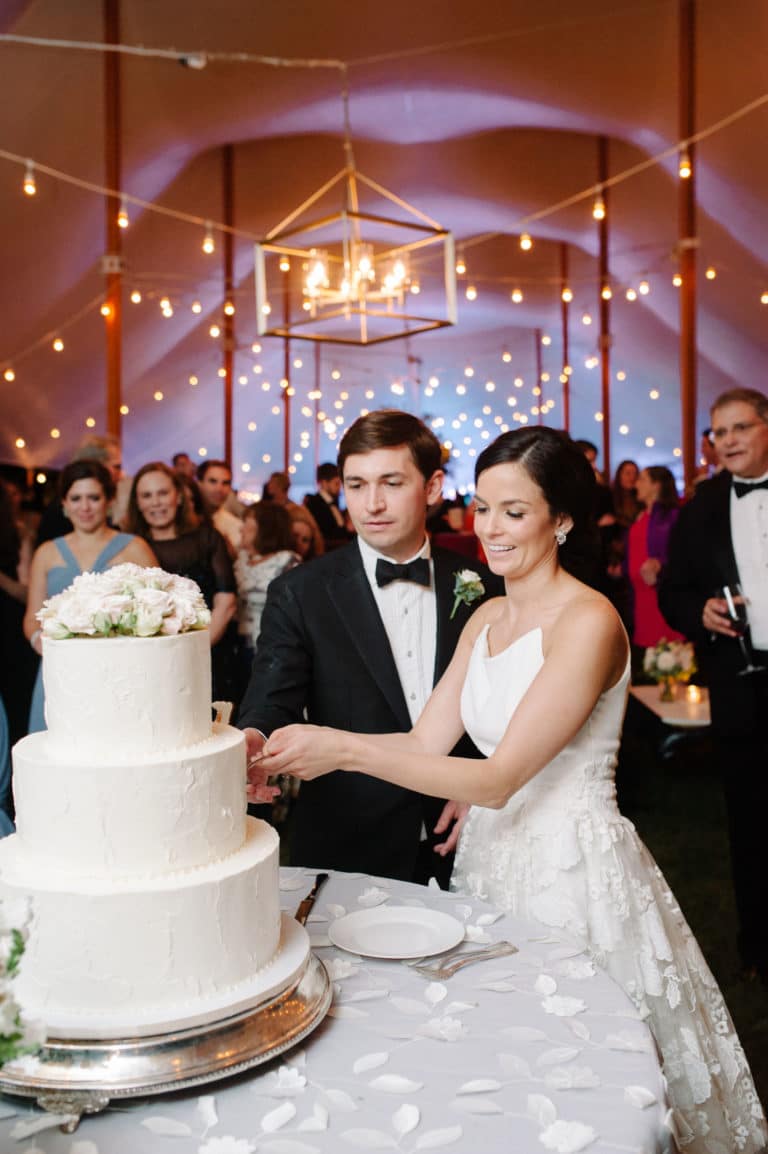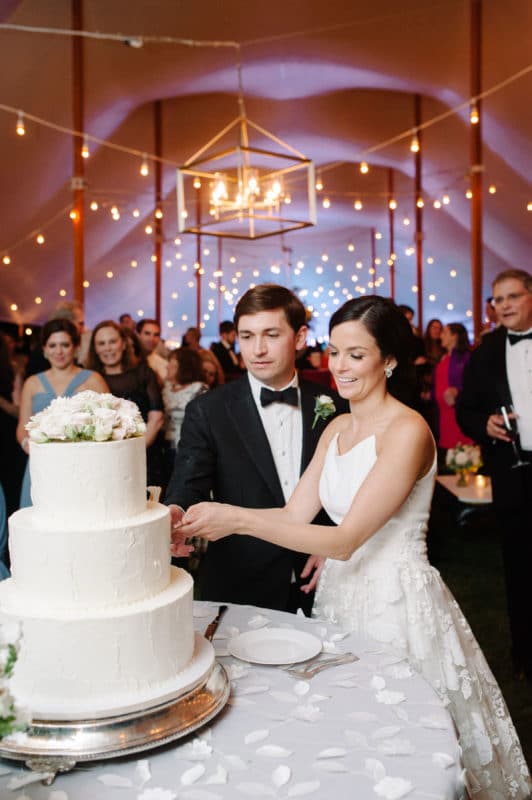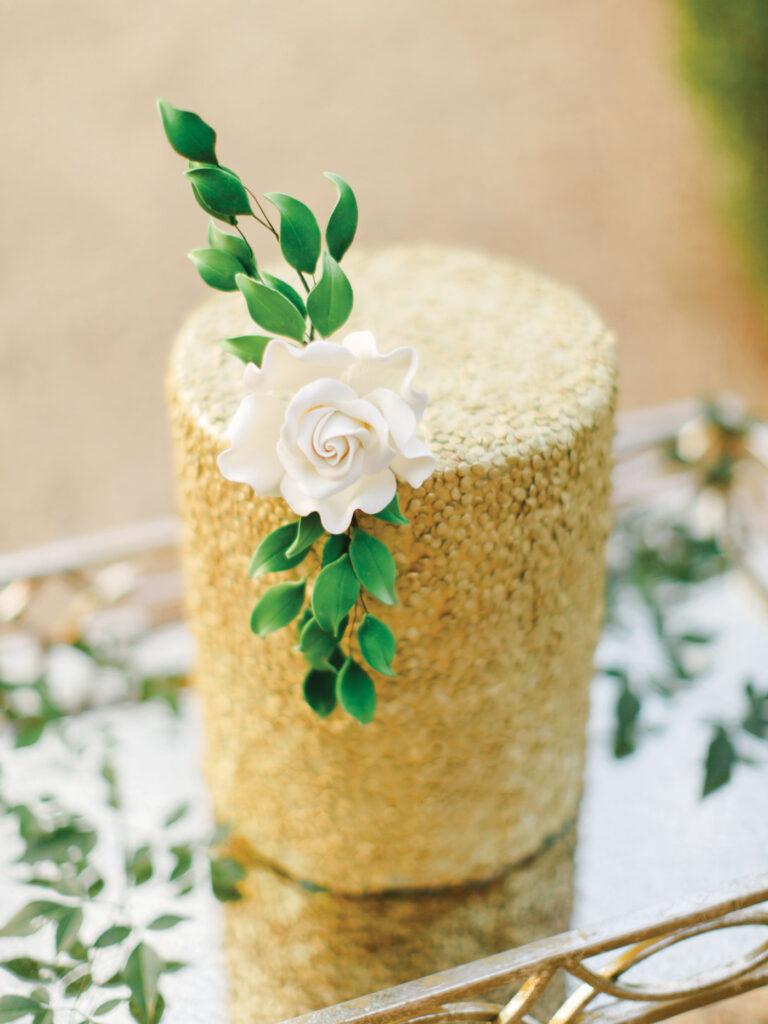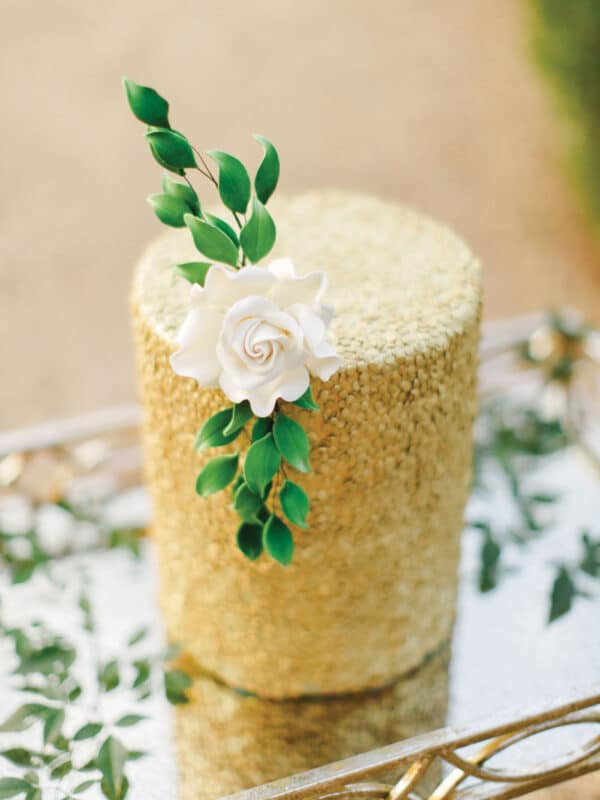 SHOULD YOU SAVE THE TOP TIER OF YOUR WEDDING CAKE
Another long-standing wedding tradition has been for the couple to save the top tier of their cake to share on their first anniversary. Often believed to bring good luck and prosperity to a marriage, this is also a great way to bring a literal piece of your wedding back into your lives to celebrate on a special day. Just as with many traditions, this one has welcomed a new twist. More popular now, couples are doing away with saving cake from their actual wedding day and instead having the same bakery make a new mini cake for their one-year anniversary.
WHAT IS A GROOM'S CAKE
A popular Southern wedding cake tradition is the addition of a groom's cake. This cake is a great way to add a personal touch to an ancient tradition of the cake-cutting ceremony. The groom's cake allows couples to embrace playfulness and incorporate something meaningful or personal, whether it represents where they met, a favorite memory or a promise for the future. Favorite sports teams, hobbies like fishing or bowling, and pets are among the most common choices for cake themes. A more modern twist is incorporating both interests into this cake, allowing it to pay homage to a furry companion, to represent where they met or to show off a mutual hobby.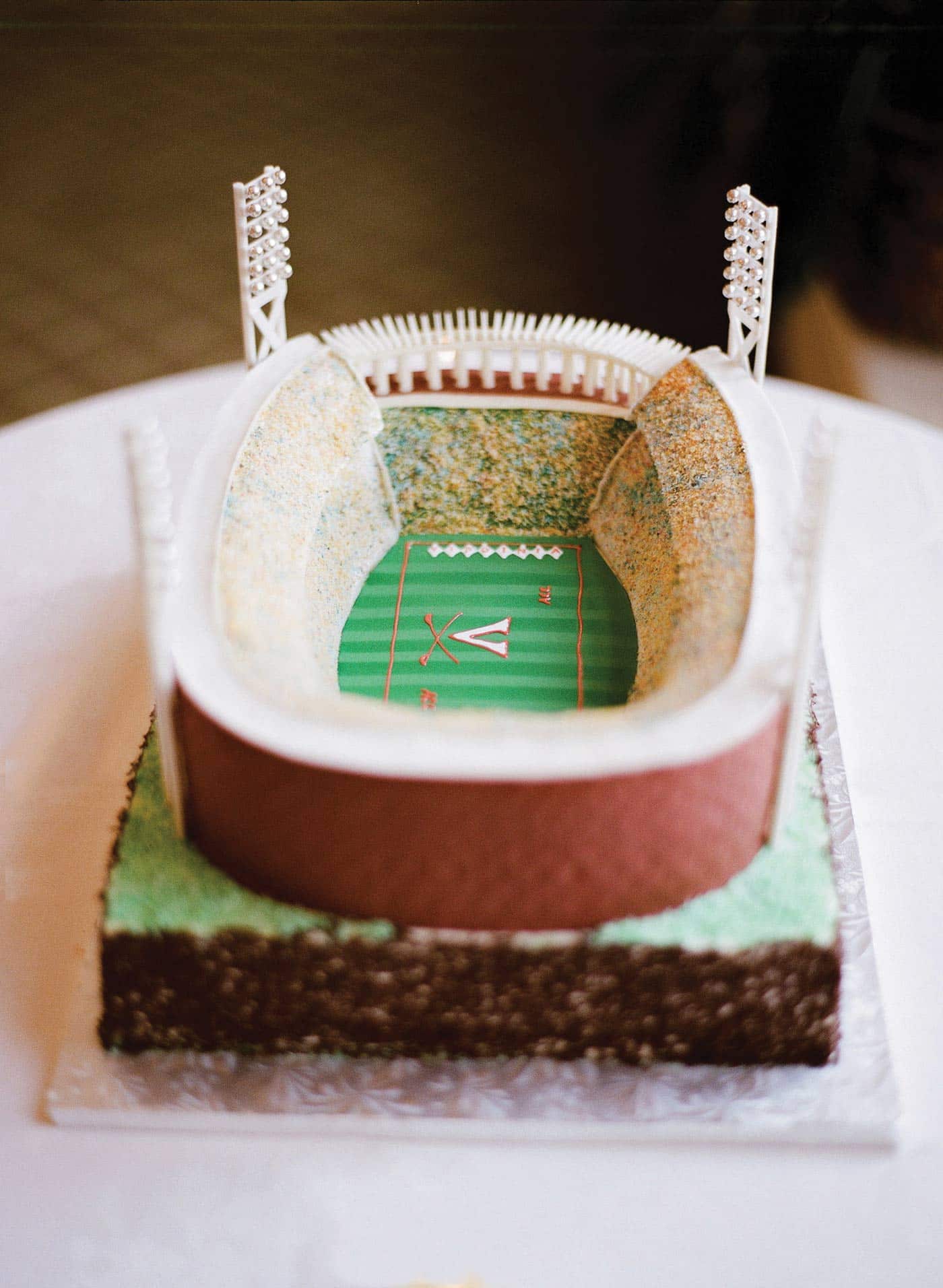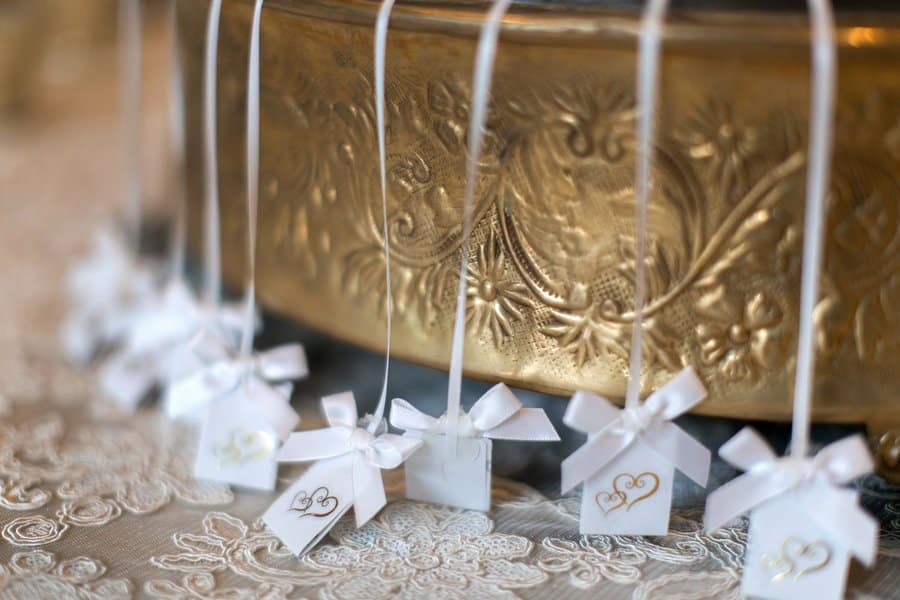 WHAT ARE CAKE PULLS
A cake pull, sometimes known as a ribbon pull, is when the bride gathers a number of her single or eligible female friends around the wedding cake to pull out inserted charms with ribbon tails. Whatever charm is pulled will signify that woman's future. There are eight classic charms historically used for ribbon pulls, each with its own meaning, such as the ring (which indicates the next to get married). Contemporary brides are also choosing charms that extend to more than just single friends, such as charms symbolizing good health and happy families. A traditional cake pull has the charms inserted into the bottom layer of the cake after baking. Brides have been known to incorporate this tradition into their bridal shower or a brunch, too. This tradition was brought to America by the English, with ties to English, Irish and Scottish cultures dating back as far as the 1600s.
WEDDING CAKE ETIQUETTE TIPS
WHEN YOU SHOULD CUT THE CAKE
As tradition has it, the cutting of the cake was known for being the final event of the evening, signaling to guests they were welcome to head home. Even though couples are now placing this event at different times throughout the reception, it should still serve as the last "official" event of the evening. This kindly informs grandma or parents with children that they won't miss any other formalities if they choose to head home early. A modern twist happening more recently is couples choosing to cut their cake before dinner. There are pluses to this, such as helping make serving easier for the catering team and saving money when paying a photographer by the hour.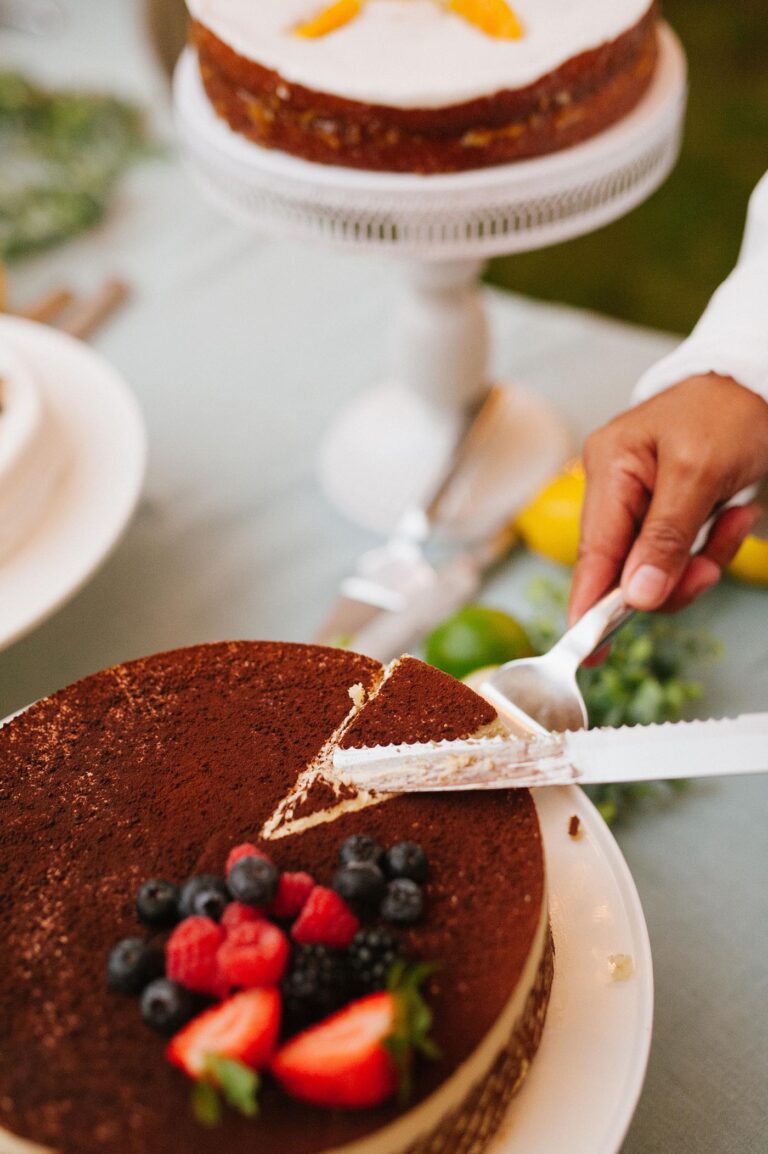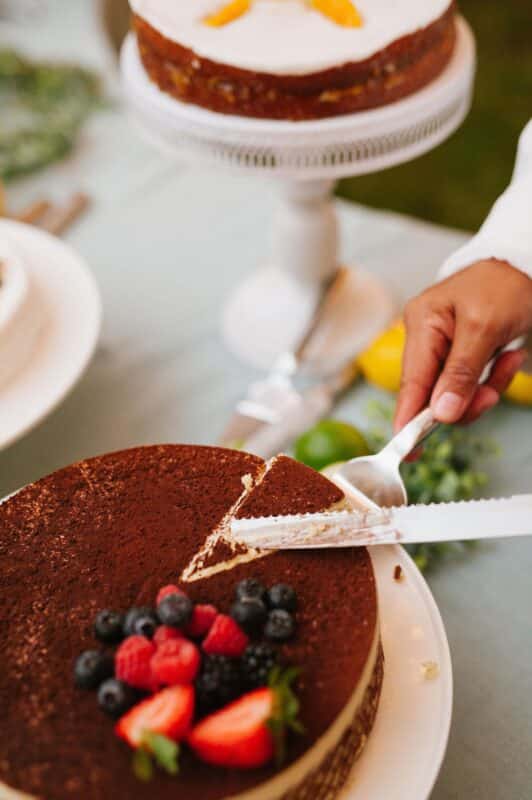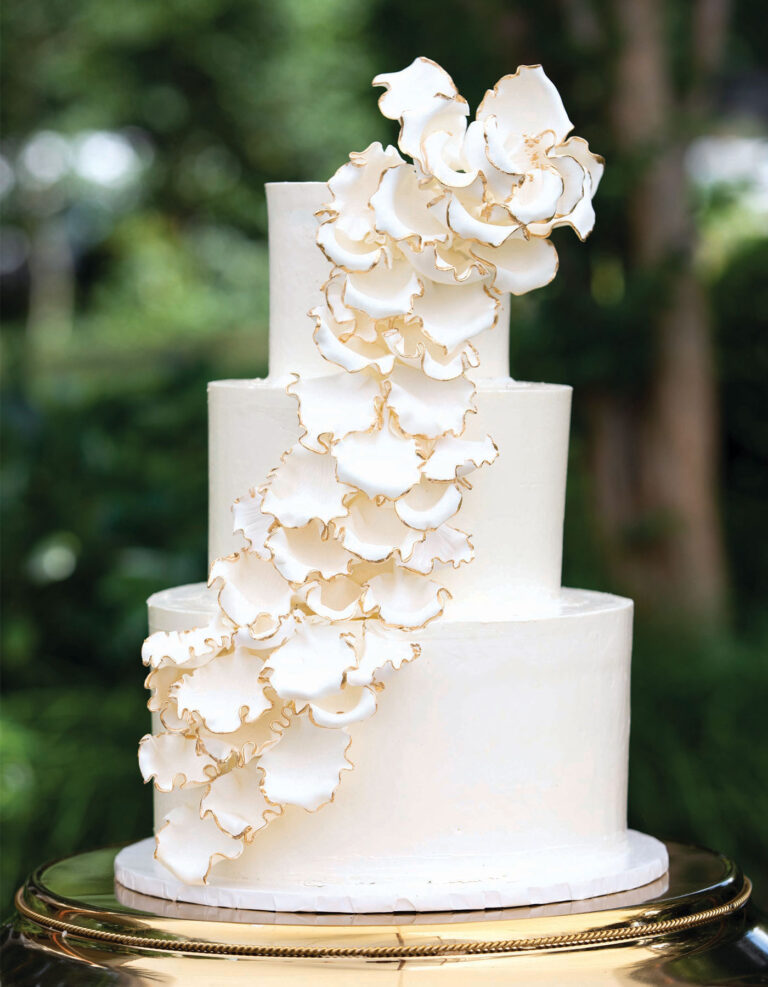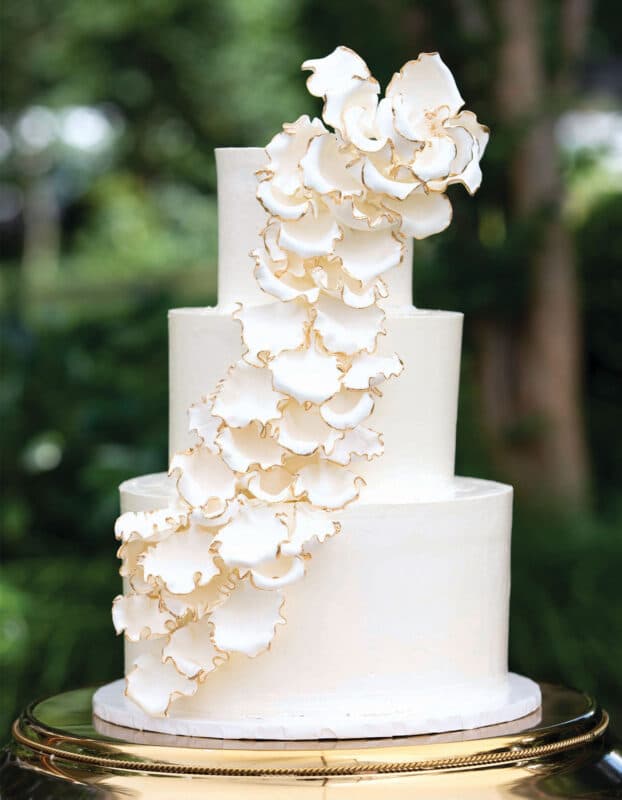 WHY WERE WEDDING CAKES WHITE
Popularized in the Victorian era, the white wedding cake symbolized money and social importance due to the fine, white sugar that was needed to make the icing being extremely expensive. Originally known as "the bride's cake," a white wedding cake was created to be a representation of the bride's purity. Today, the white cake is still a commonly observed tradition, with many brides wanting the cake to mirror the style and color of their white dress or bouquet.
POPULAR SOUTHERN WEDDING CAKE FLAVORS
While a traditional cake flavor might be perfect for some, the color and flavor of your wedding cake is entirely up to you. From multi-flavored layers to one stunning work of confectionery art, you can help a local baker bring your vision to life. A few Southern Wedding Cake Flavor ideas include: red velvet cake with cream cheese frosting; lemon orange chiffon; amaretto cream; chocolate; and honey-infused vanilla. One of the most common Southern flavors couples are choosing is the Hummingbird Cake—a delicious blend of spices and tropical fruits paired with creamed cheese custard and topped with browned butter frosting.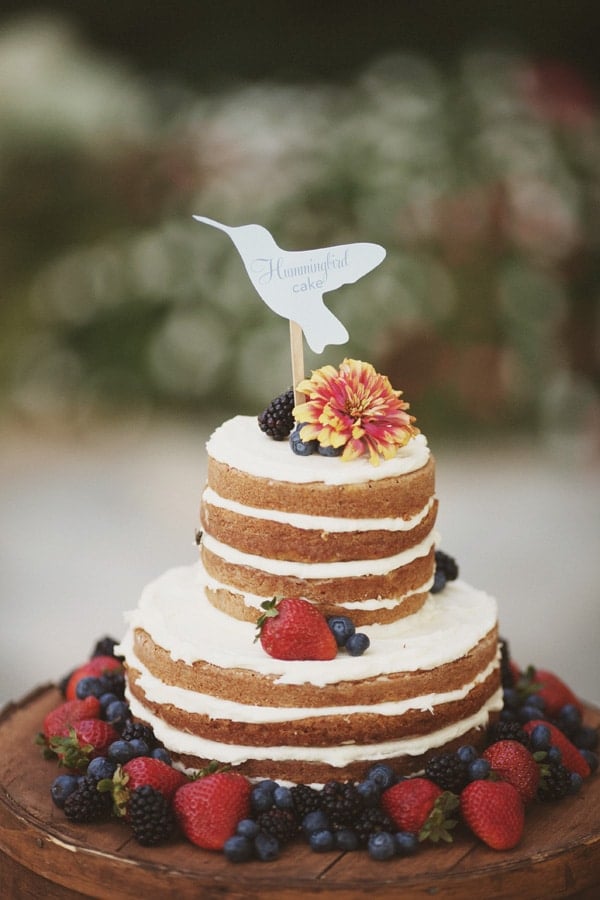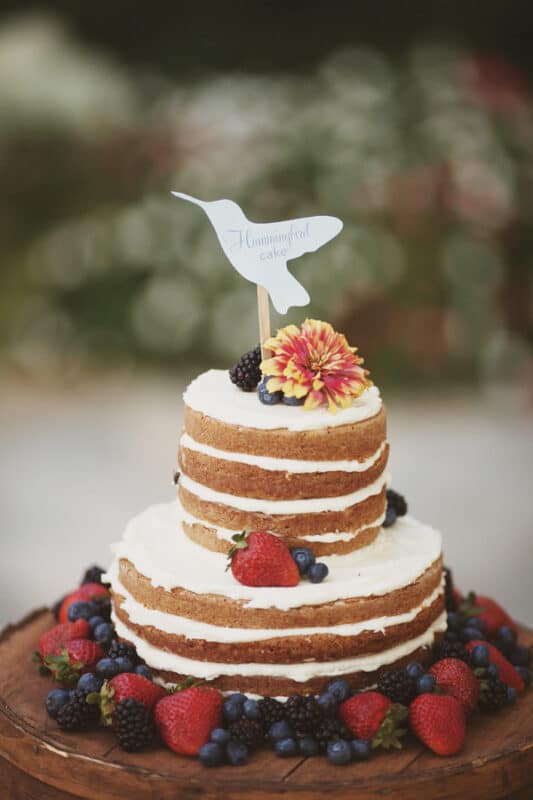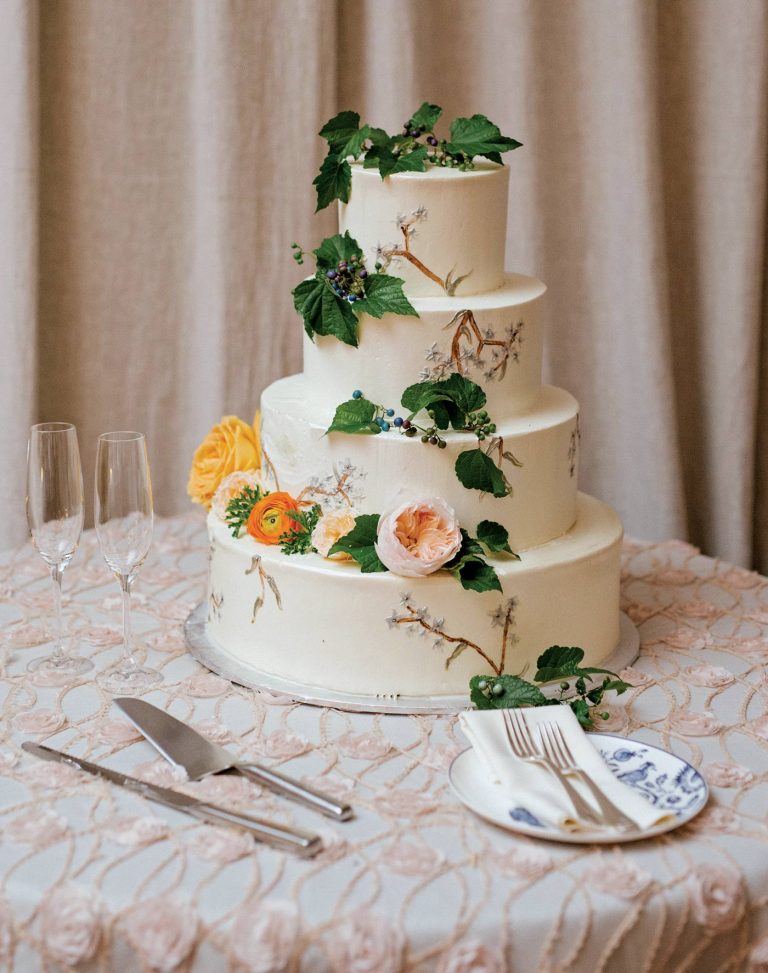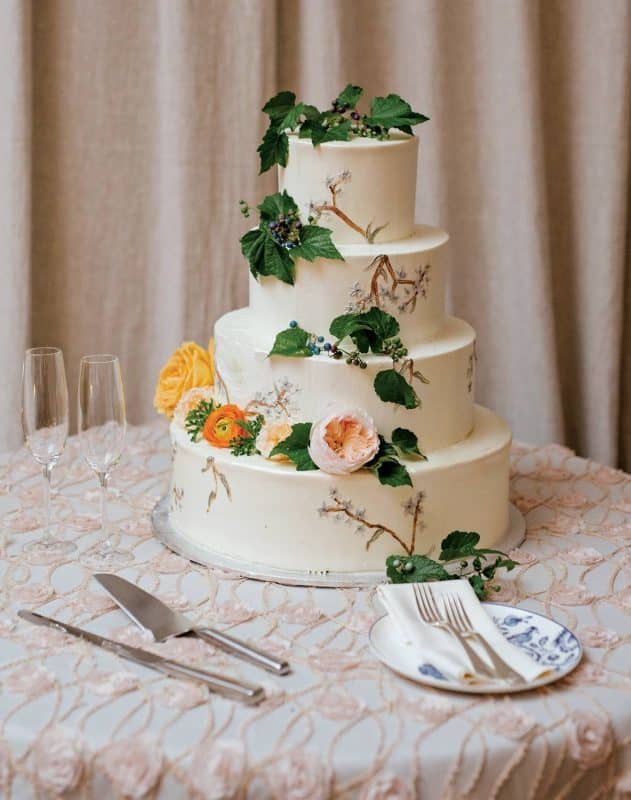 WAYS TO ADD SOUTHERN FLAIR TO YOUR WEDDING CAKE
Getting married in Virginia wine country? There are many ways to add Southern flair to your wedding cake. For a vineyard effect, try adding grape clusters to your cake display or mixing a local sparkling wine into the cake. If you're a spirits lovers, a white cake with bourbon buttercream can be a creative treat. Southern flowers like Dogwood blooms, Magnolia blooms, Oak leaves or locally grown florals can serve as the perfect topper or decoration to your wedding cake without committing to something entirely different.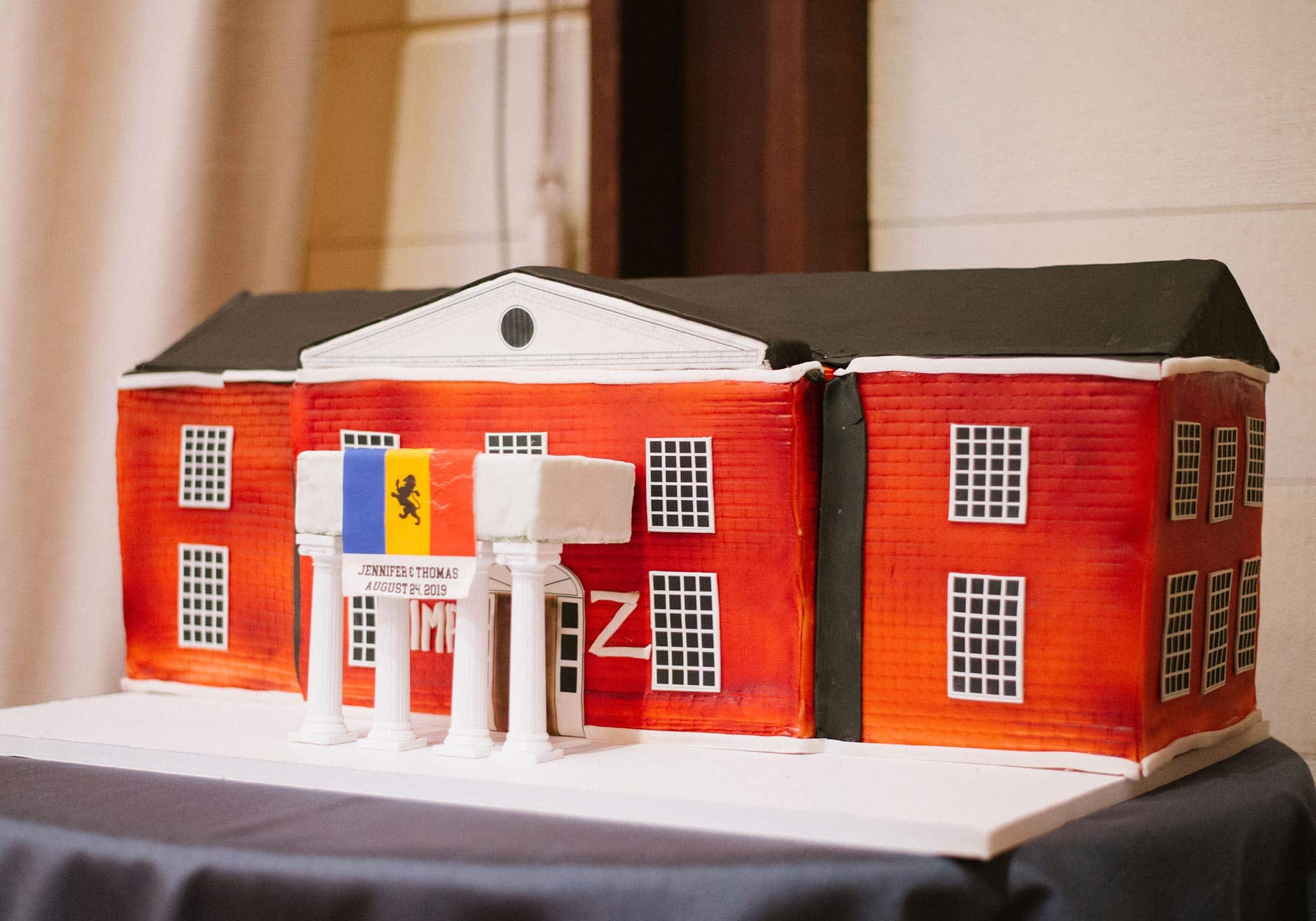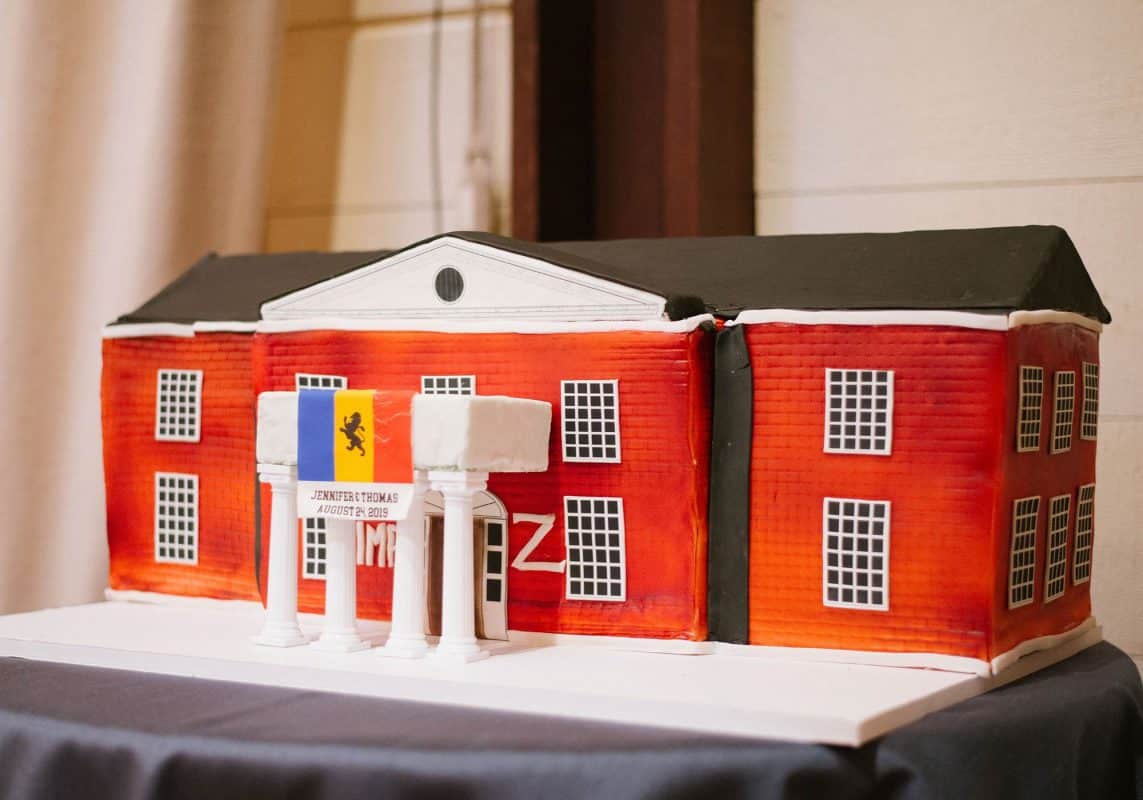 These Southern Wedding Cake Traditions and Wedding Cake Etiquette Tips are here to help guide you in your wedding planning. So, no matter whether you want to follow a tradition that has been a part of your family for generations or start your own, your cake-cutting ceremony will be personal and special.
If you have a tasting scheduled, be sure to check out our Questions to Ask Your Wedding Cake Baker article. For more guidance and inspiration on creating your perfect wedding cake, see our Wedding Cake Trends section and follow us on Pinterest. ~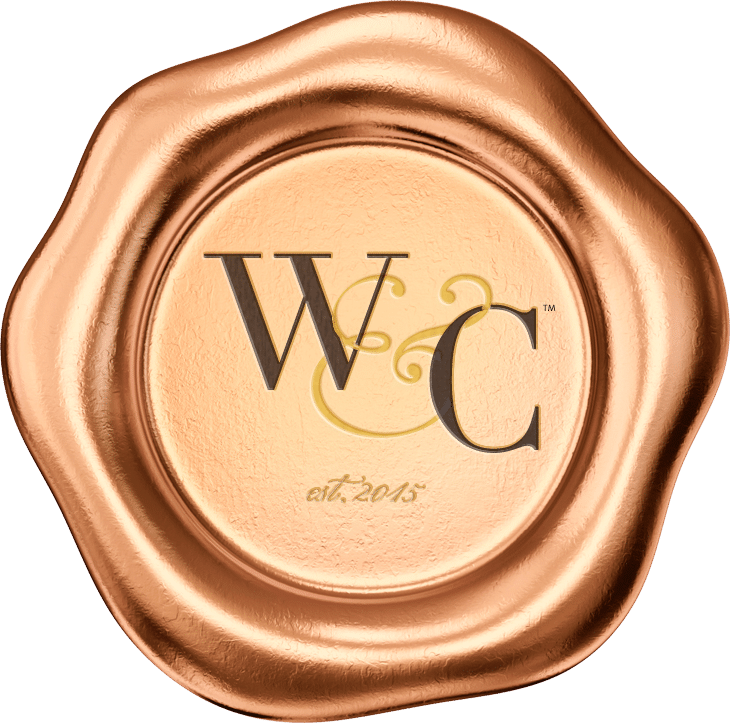 Wine & Country celebrates elevated living in Virginia Wine Country. Wine & Country Life, a semi-annual life & style magazine, and Wine & Country Weddings, an annual art book celebrating elegant Virginia weddings, are complemented by the Wine & Country Shop in Ivy, VA—a beautiful lifestyle boutique featuring over 40 Virginian artisans with everything from tailgating essentials and Dubarry attire, to locally made foods and award-winning Monticello AVA wines, as well as craft beverages for your next event. Sister publications under the publishers of Ivy Life & Style Media include the Charlottesville Welcome Book, a bi-annual publication guiding visitors and newcomers on all of the happenings and businesses in the region, and CharlottesvilleFamily's Bloom magazine, a bi-monthly parenting publication.
Wine & Country Experiences are now also available and include exclusive tours and hands-on classes with leading professionals in the local farm-to-table and vineyard scenes.