Located in the countryside of Central Virginia, Charlottesville is surrounded by rolling fields and statuesque trees all framed by arresting mountaintops. With all its stunning natural beauty, Jefferson's Virginia is the perfect place to hold an outdoor wedding.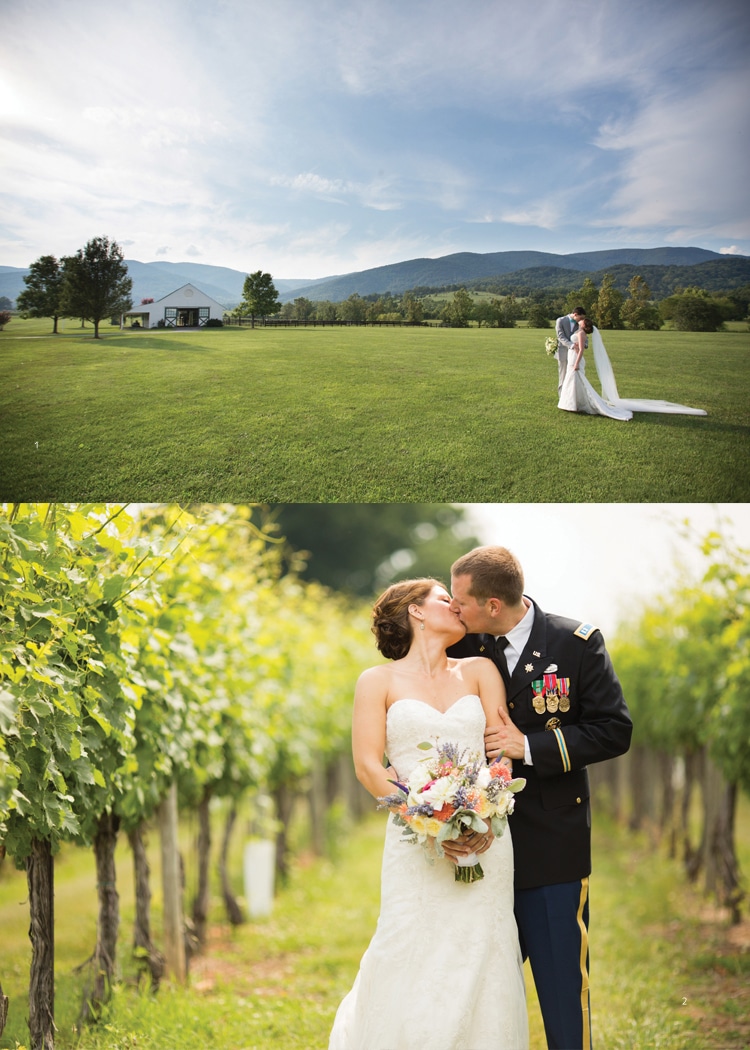 With sweeping landscapes and a multitude of great venues available, there's no better backdrop for wedding pictures. Whether bordering your photos with the undulating peaks of the Blue Ridge or the lush vines of a splendid vineyard, the stunning natural light and colors will make any couple glow.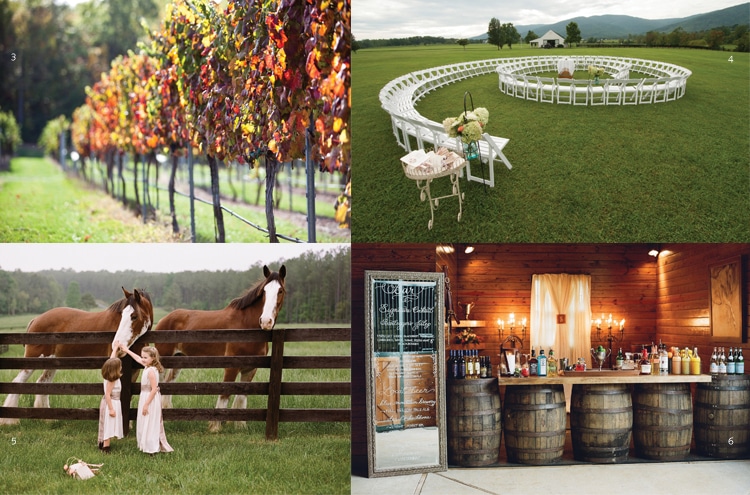 Outdoor weddings also provide an array of opportunities to incorporate new ideas, items and aesthetics that aren't options at indoor weddings. The expansive open space makes it possible to play with seating arrangements, aisle configurations, decorations, musical entertainment and even allows for inviting special animal guests!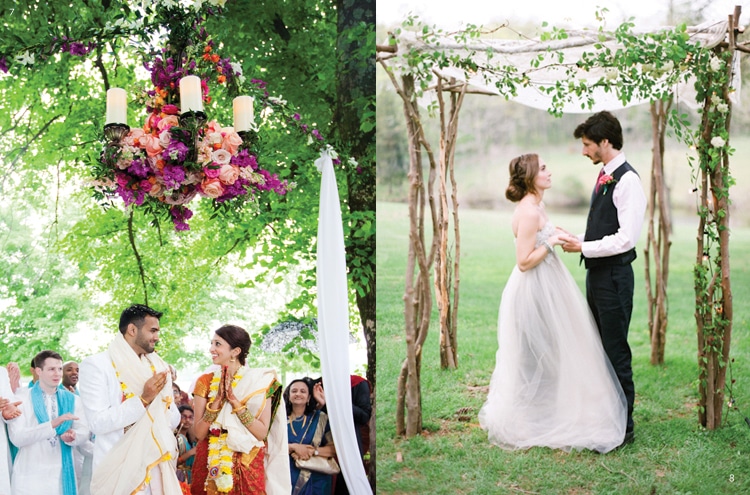 Repurposed wine barrels make great table or seats for guests. Large arbors covered in flowers or incorporated straight from nature create a stunning spectacle to surround a couple as they take their vows of love and promise. Tree limbs become convenient canopies and hangers while leaves ingratiate flawlessly into color schemes.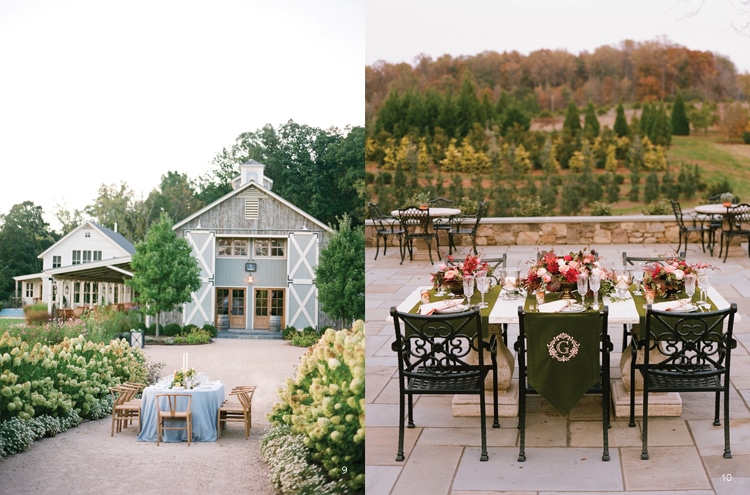 After the ceremony, guests will continue to be enamored with breathtaking views during the reception or cocktail hour. While casually conversing with friends or enjoying a fine wine, the open-air seating will extend guests' experiences to enjoying artful surroundings and perhaps inspire discussion!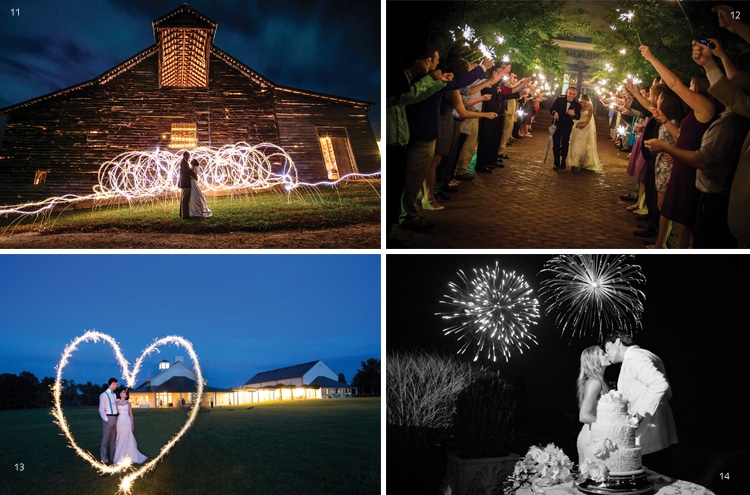 As day turns to night and the sun fades into twilight, outdoor weddings provide a venue to utilize brilliant pyrotechnics. Sparkler send offs, mounds of patterned, criss-crossed fairy lights and fireworks create a magical evening experience all will be sure to remember.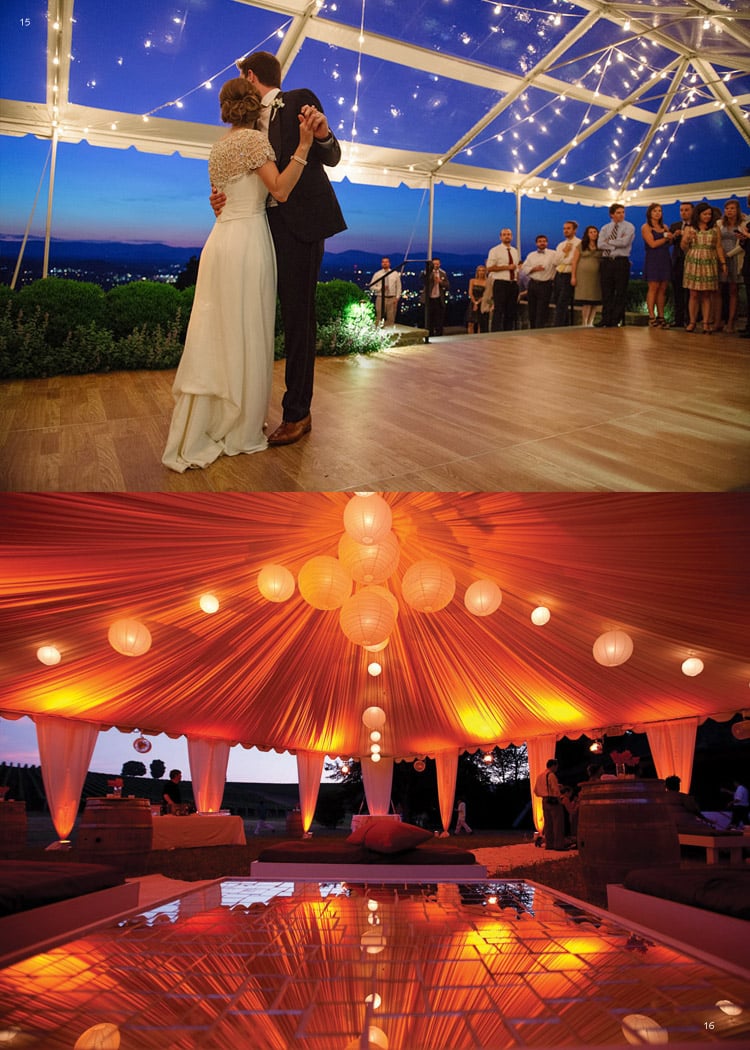 Ethereally lit tents provide shelter and ambience for guests worried about Mother Nature's fickle personality, while also supplying an amazing venue for attendees to dance the night away. These tents further provide freedom to play with atmospheric lighting in a way that indoor receptions hinder. Having a wedding out of doors can provide ample opportunities to expand anyone's wedding pallet while enjoying nature's richness.
Images: Header Jack Looney Photography, Veritas Vineyard and Winery
1 Aaron Watson Photography, King Family Vineyards
2 Aaron Watson Photography, Keswick Vineyards
3 Leah Valentine Photography, Keswick Vineyards
4 Jack Looney Photography, King Family Vineyards
5 & 6 Jen Fariello Photography, Mount Ida Farm
7 RubySky Photography, Hedge Fine Blooms
8 Marta Locklear, Nature Composed
10 Jen Fariello Photography, Grelen Nursery
12 Robert Radifera Photography
15 Jen Fariello Photography, The Jefferson Monticello
From Ivy Publications, publishers of Charlottesville Wine & Country Weddings, an annual art book celebrating elegant country weddings in Jefferson's Virginia; Charlottesville Wine & Country Living, a semi-annual magazine of Life & Style in Jefferson's Virginia; CharlottesvilleFamily's Bloom Magazine, a monthly parenting magazine with a calendar of Charlottesville festivals and events plus stories on education, health and family fun; and the Charlottesville Welcome Book, a guide to attractions like Monticello, vineyards, the University of Virginia as well as a relocation handbook. Email us at weddings@ivypublications.com with your questions and inquiries, or call us at 434-984-4713.
Wine & Country celebrates elevated living in Virginia Wine Country. Wine & Country Life, a semi-annual life & style magazine, and Wine & Country Weddings, an annual art book celebrating elegant Virginia weddings, are complemented by the Wine & Country Shop in Ivy, VA—a beautiful lifestyle boutique featuring over 40 Virginian artisans with everything from tailgating essentials and Dubarry attire, to locally made foods and award-winning Monticello AVA wines, as well as craft beverages for your next event. Sister publications under the publishers of Ivy Life & Style Media include the Charlottesville Welcome Book, a bi-annual publication guiding visitors and newcomers on all of the happenings and businesses in the region, and CharlottesvilleFamily's Bloom magazine, a bi-monthly parenting publication.
Wine & Country Experiences are now also available and include exclusive tours and hands-on classes with leading professionals in the local farm-to-table and vineyard scenes.