The time between a couple's engagement and their wedding is a special period in their life, a time when they get to bask in the glow of their impending marriage and all that comes with that next step. One of the most exciting parts for a couple, especially a bride, is choosing wedding rings.
We talked with local jewelers at Schwarzschild Keller & George to help you with your next big purchase. So, before saying "I Do," check out our guide for helping you choose your wedding band.
"Your wedding band should not only highlight your engagement ring, it should represent the commitment you will make on your big day. Depending on your style, your wedding band can either complement your existing piece or make a statement of its own. Take a look at a few of our customer's favorite pairings.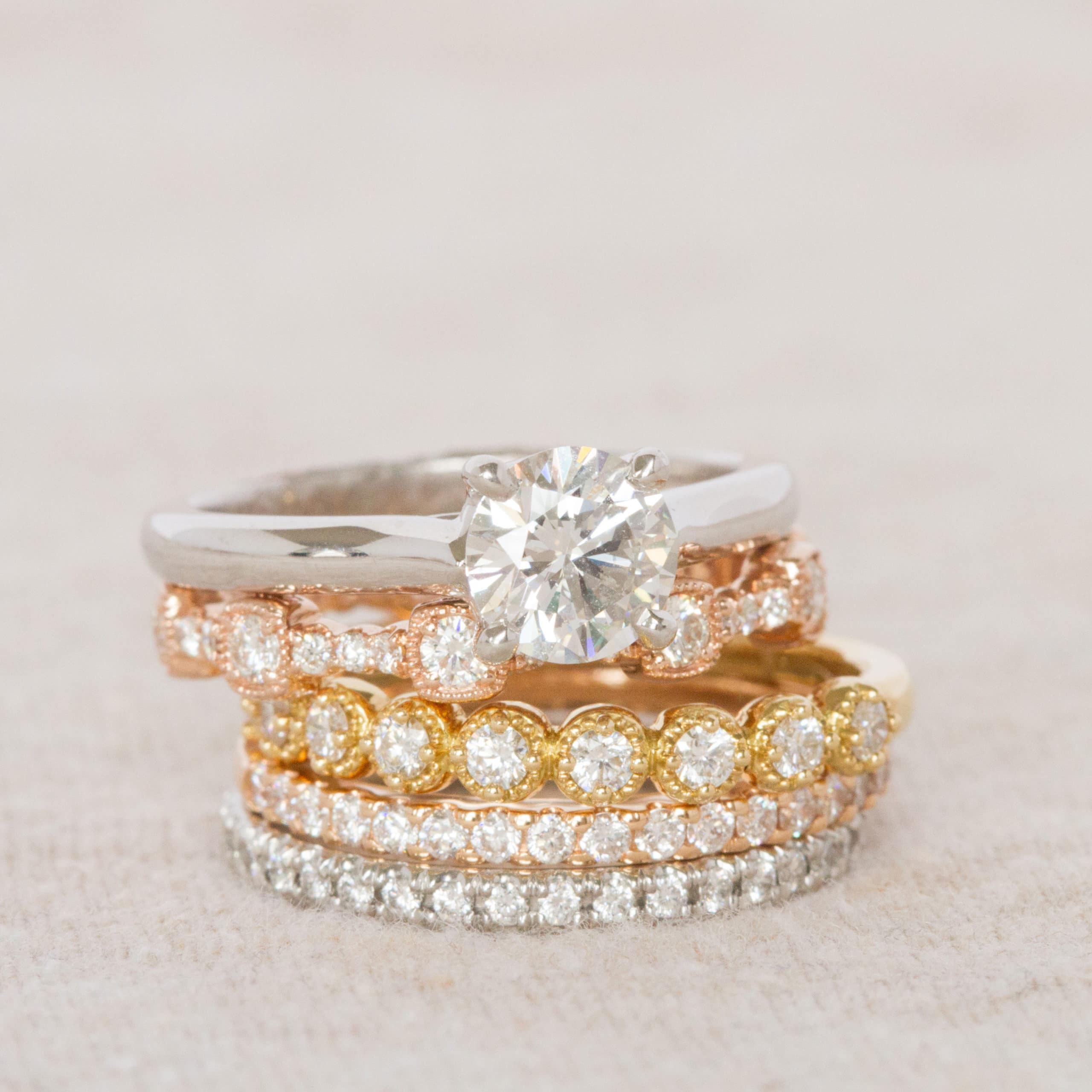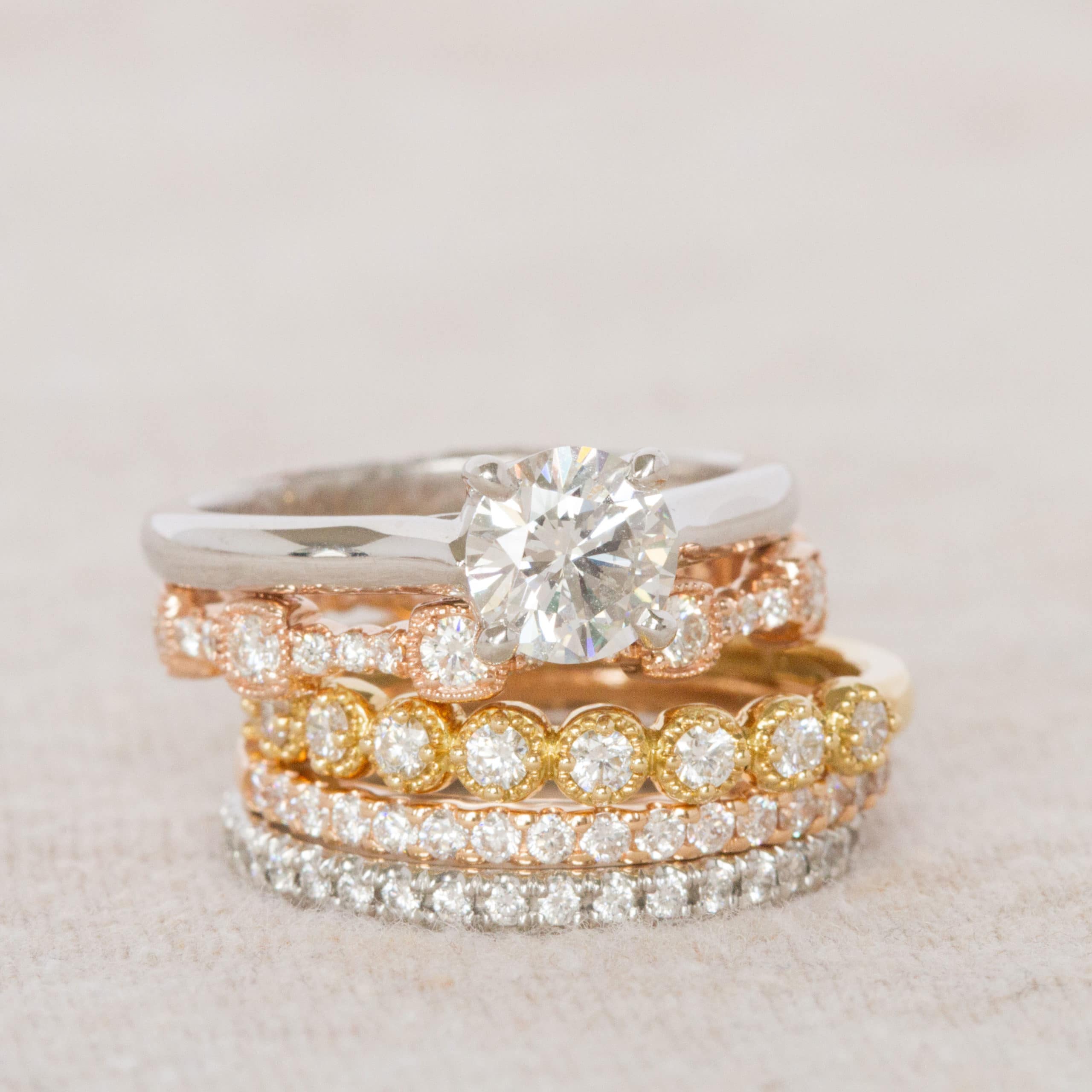 Wedding Bands Matching A Solitaire Engagement Ring
A solitaire engagement ring, no matter whether it is a princess, round, oval or emerald cut, is the easiest ring style to pair with a wedding ring. If you are looking for a more sophisticated, timeless look, try a diamond eternity band similar to those below from Suna Bros. With eternity bands, the gemstones are set the entire way around the ring. You can even choose ones with different style stones. Regardless, there is no end, hence the name "eternity."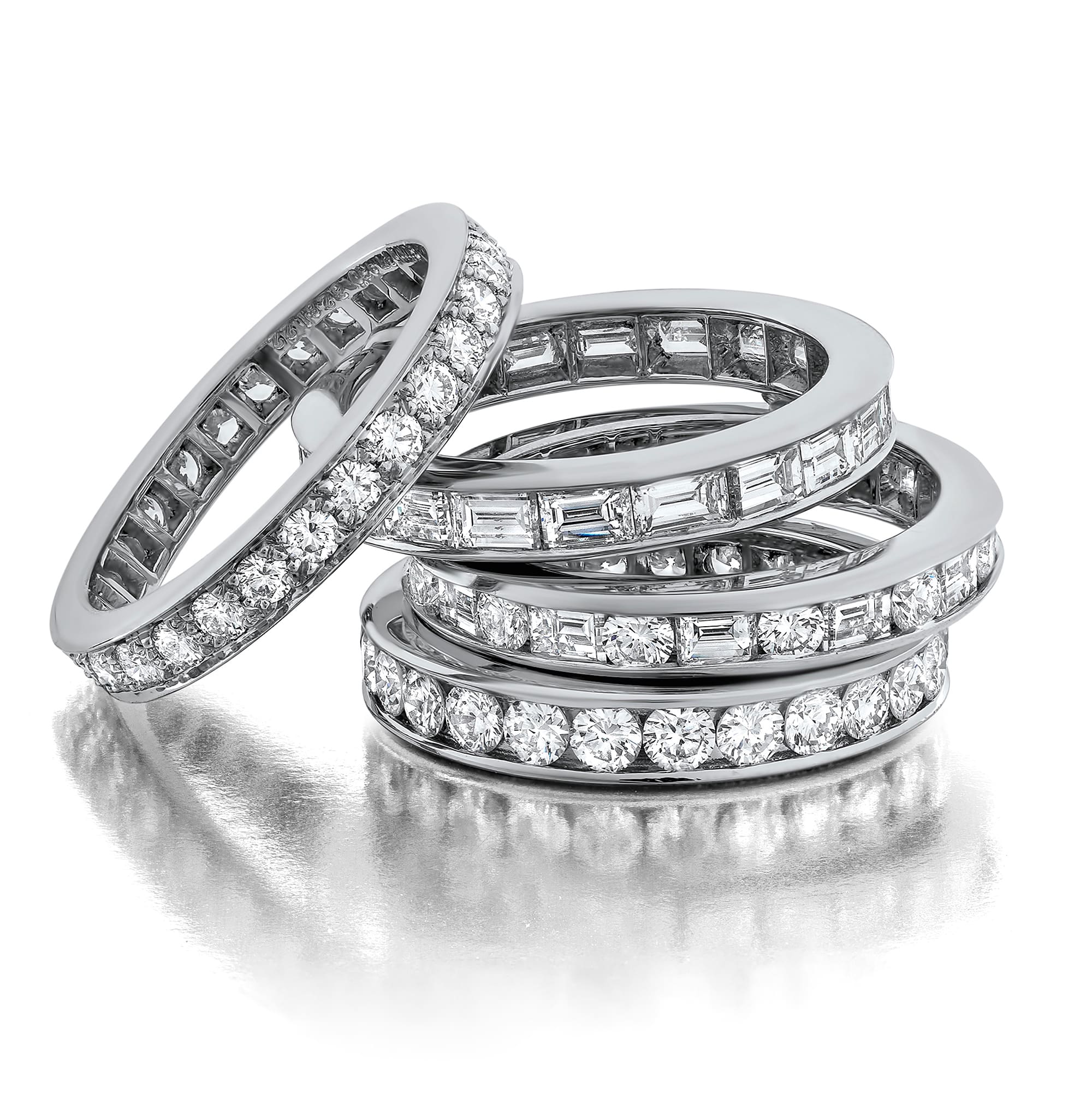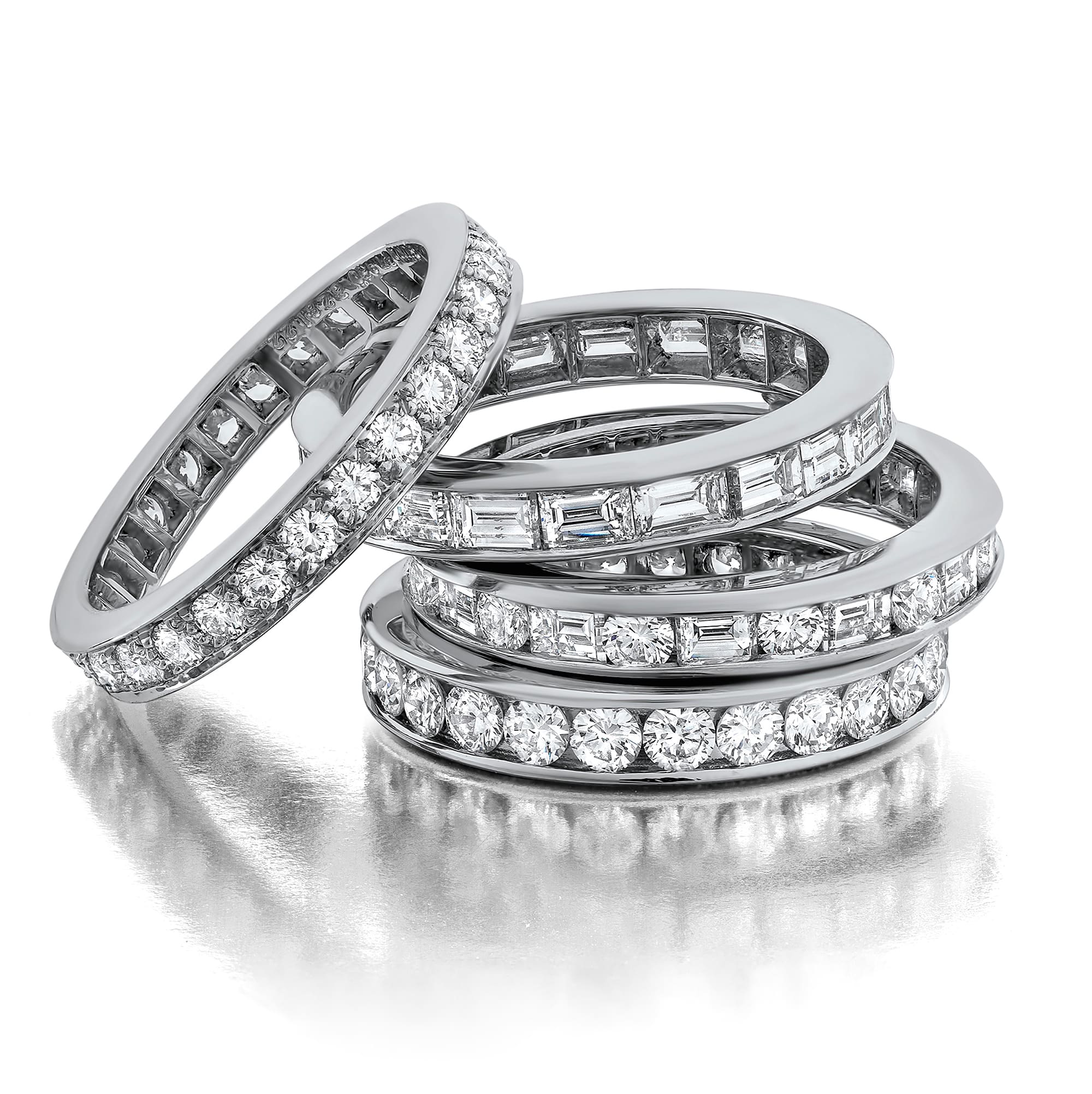 If you are looking for a more eye-catching look, try mix and matching your solitaire ring with a wedding band made from a different colored metal like the rose and yellow gold options below from Christopher Designs and Hearts On Fire.
Wedding Bands Matching A Three-Stone Engagement Ring
A three-stone engagement ring can easily be paired with a band featuring the same shaped stones as either the center or side stones. If you have a three-stone ring that features round stones on the sides, try it on with a band that also features round gemstones.
If you are looking for a classic look, pair your engagement ring with a band like the one from Christopher Designs below at left. Mirroring the gemstones in both your rings also allows you to mix and match metals while creating a clean, beautiful look. Another popular trend is to pair your three-stone engagement ring with a slightly curved wedding band like the yellow gold diamond band below.
Wedding Bands Matching A Halo Engagement Ring
Halo style engagement rings are one of our customer's favorite styles because they offer a show-stopping appearance for a more approachable price point. That being said, the halo design can grandly take center stage on its own, so we would suggest that you match yours with a simpler band—one that is either all-metal or made with the same sized diamonds as those in the halo.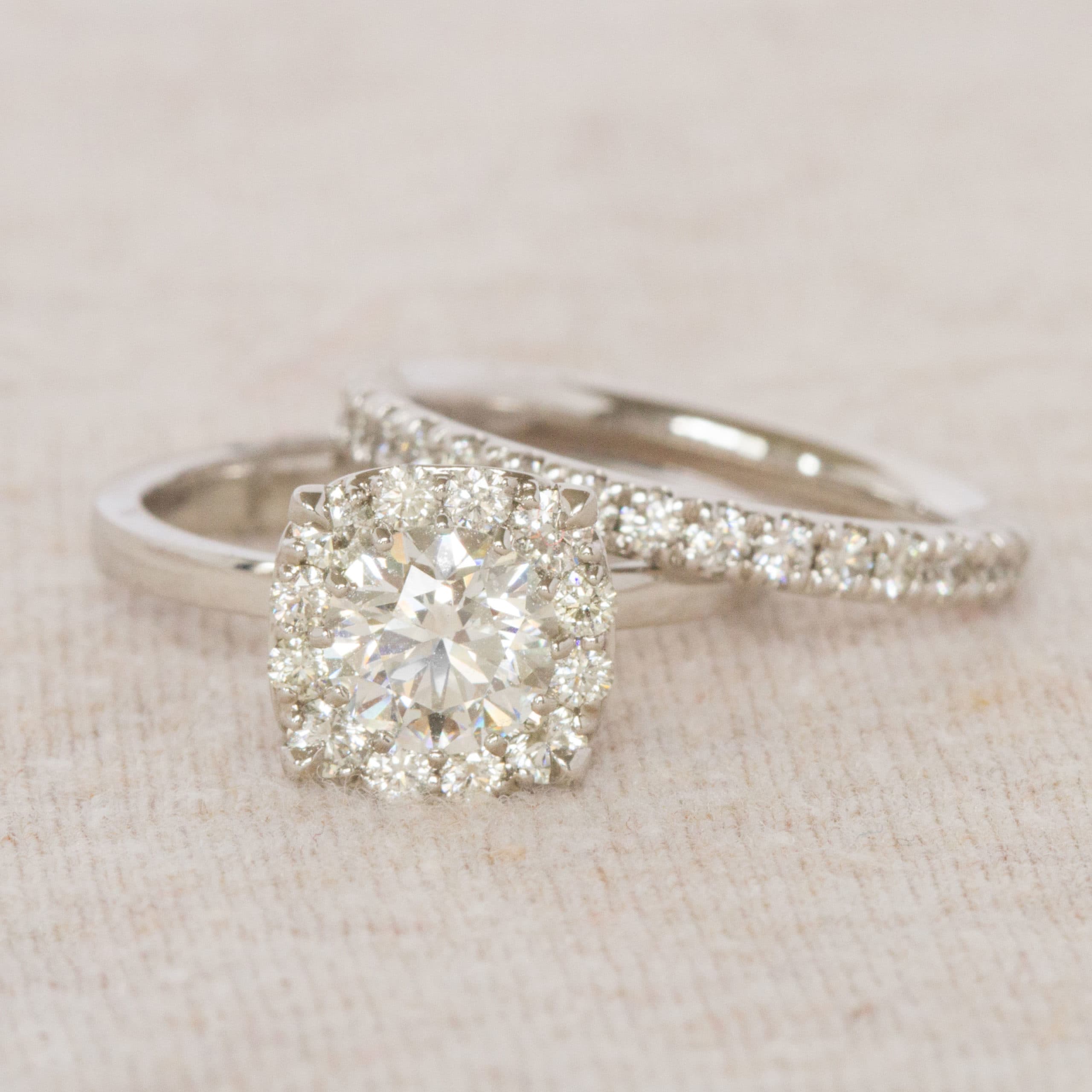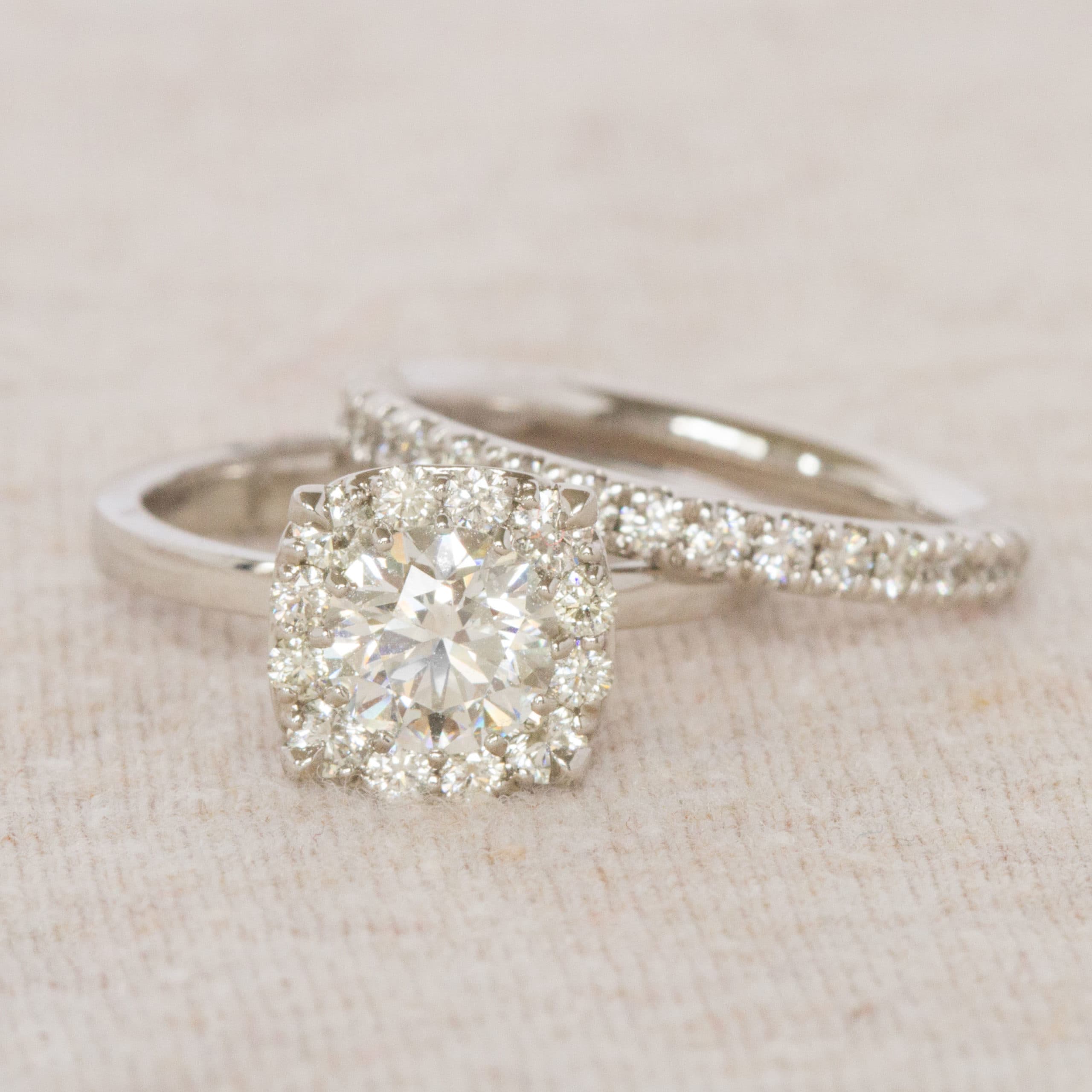 Again, you can always choose to mix metals styles like with the Hearts On Fire engagement ring and rose gold band below. This pairing is definitely a fashion-forward way to express your sense of style.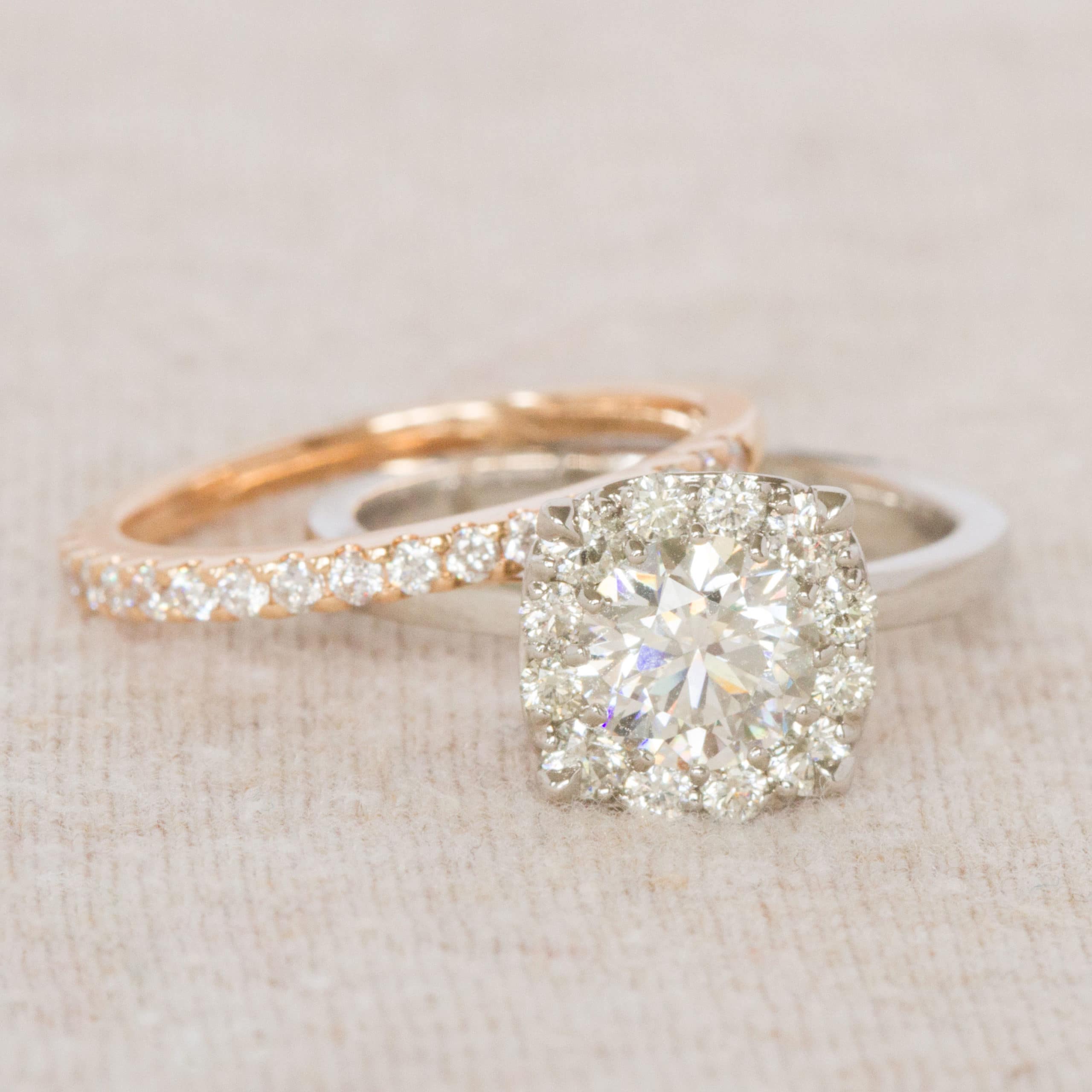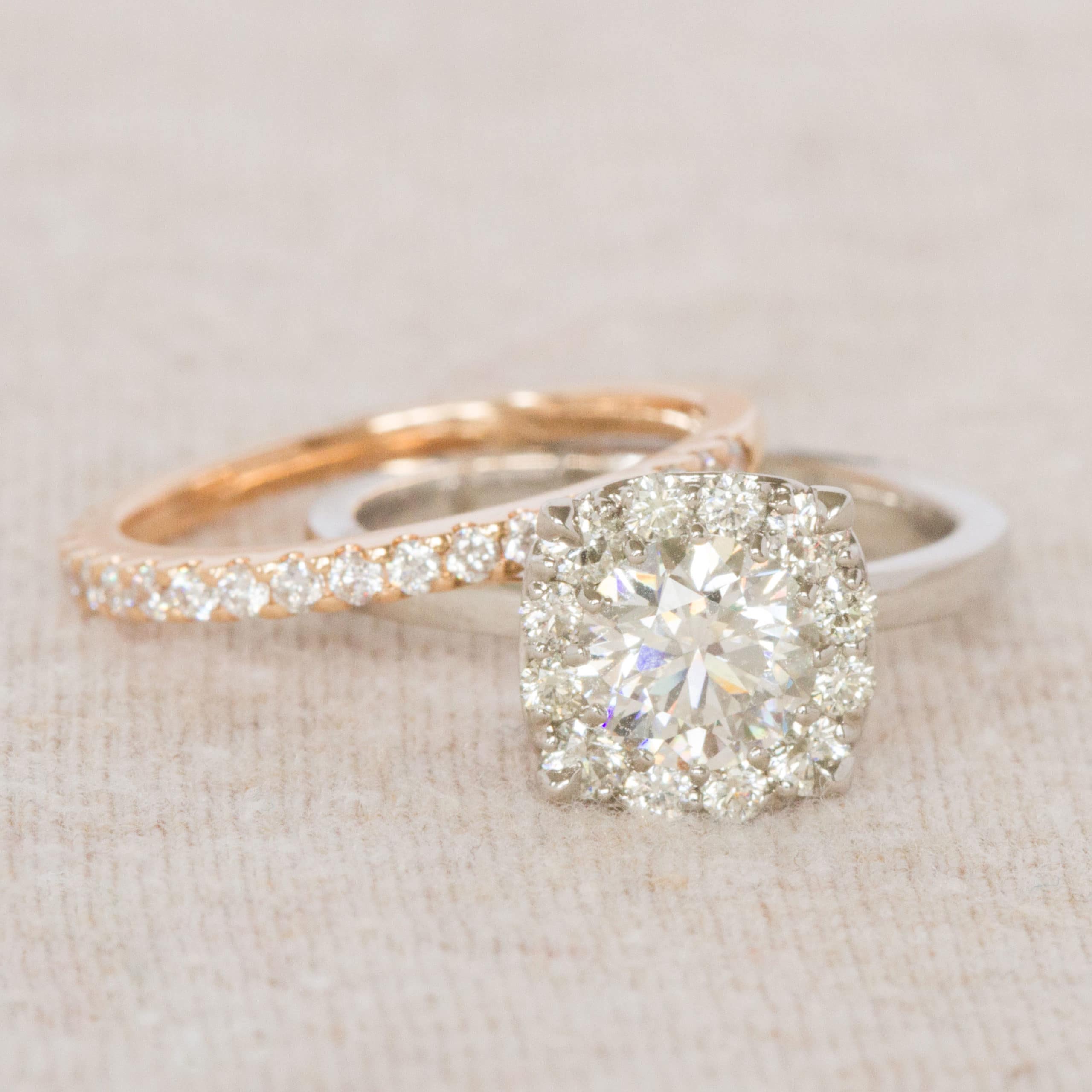 Finally, there is always the option of having your wedding band custom-made so it can be made-to-fit beside your engagement ring. And, be sure to know ahead of time whether you want to have an engraving added. Certain styles are better for engravings, so if this is something you definitely want, be sure to ask the jeweler before purchasing.
I Know What I Like! What Are My Next Steps?
Once you know what you like, it's time to start shopping! Plan to select and purchase your ring no later than two months before your wedding date. We would suggest you try as many rings on as you want (and maybe get the opinion of one or two friends). It is also important to be open-minded to trying on options that are not shown above or saved on your Pinterest board.
One last thing: As you look at different styles, do not forget about comfort. You may love the look of a ring, but find that it doesn't fit or feel as well as you thought. Wear it around in the store for a few minutes and maybe hold the hand of your fiancé as a comfort test.
And, finally, consult your jeweler, and choose a wedding ring that both you and your fiancé are happy with and one that represents your lasting love for one another."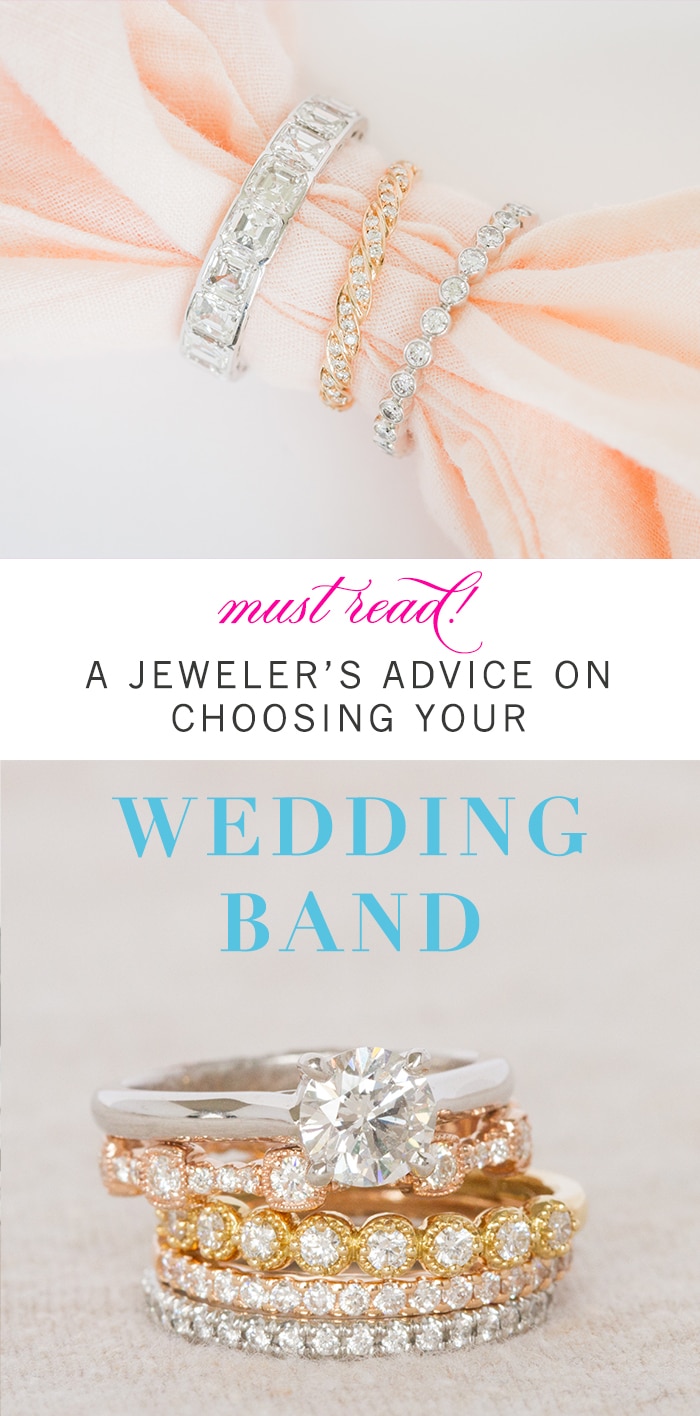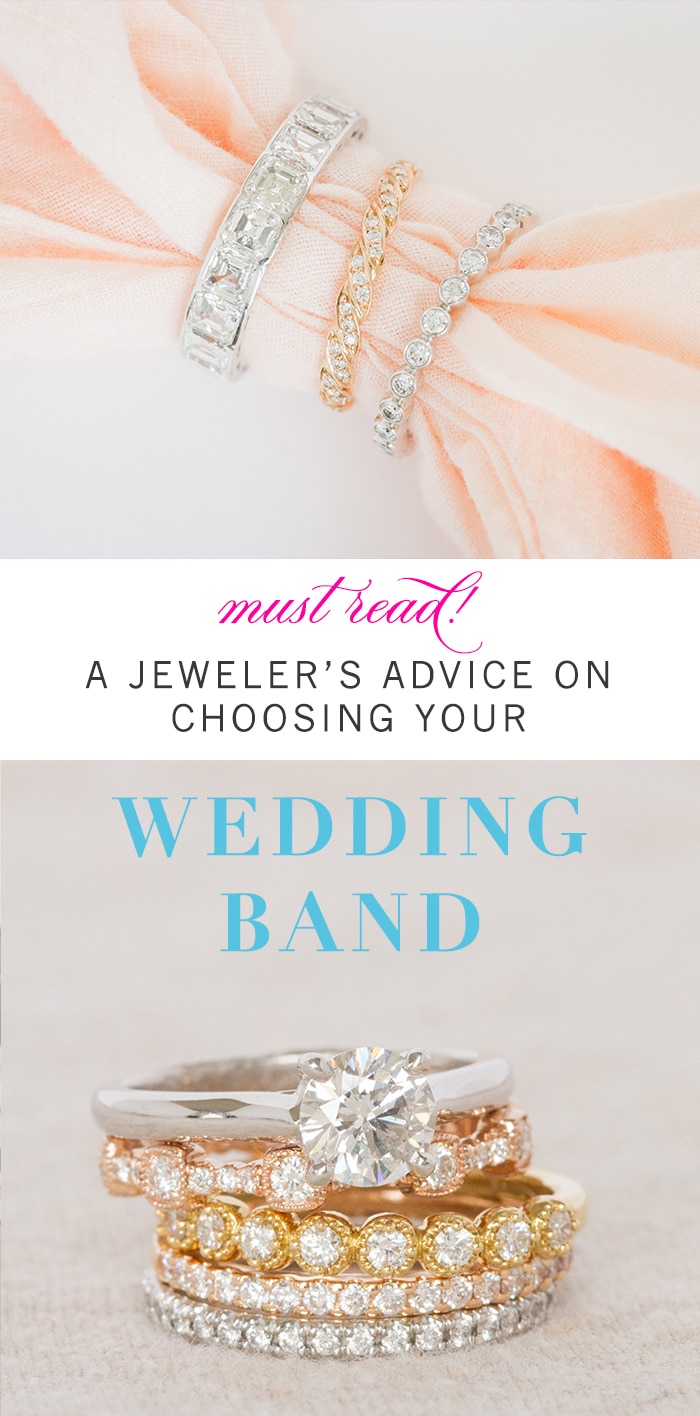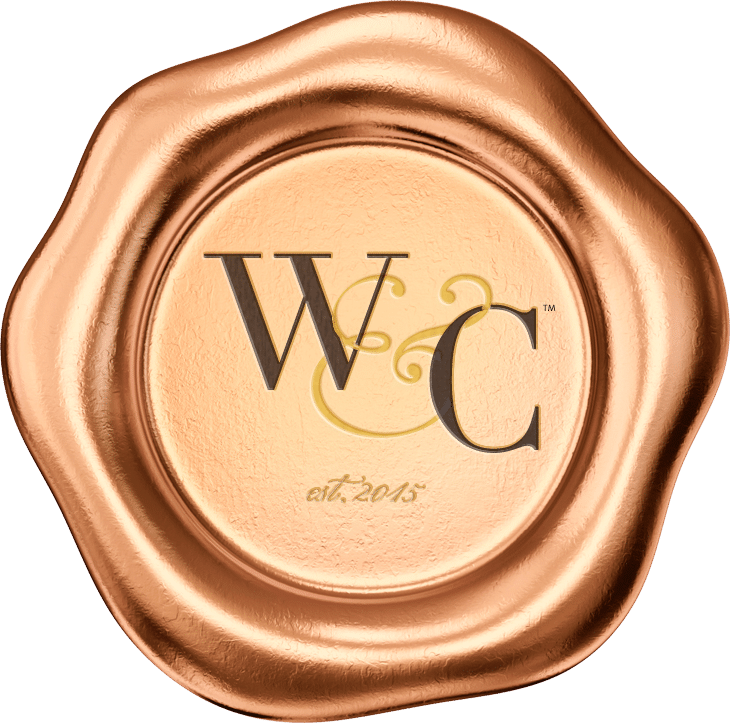 Virginia Wine & Country celebrates elevated living in Virginia Wine Country. Virginia Wine & Country Life is a semi-annual luxury print magazine with a full digital presence. The Virginia Wine & Country Gold Book is an annual guide to the top award-winning wines, wineries and experiences in Virginia Wine Country. The annual Virginia Wine & Country Wedding Planner is an art book of elegant Virginia weddings. The brand includes the Virginia Wine & Country Shop in Ivy, Va. It is a beautiful lifestyle boutique that brings the pages of the magazines to life. Virginia Wine & Country tells the stories of Virginia wineries, the farm-to-table movement, luxury travel, entertaining, art and the elegant country lifestyle. Ivy Life & Style Media also provides branding, web design and PR services for the wine industry.