Amidst all that is going on in the world, we wanted to help bring a little light to the wedding industry by showing how supportive all of our Virginia wedding vendors are when they come together. Brooke and Brad shared with us a little about their love story, their plans for their original wedding, how they planned an elopement in under 48 hours, and tips for all of the other couples out there having to postpone or cancel their weddings.
Their Story
Three years ago, Brooke and Brad first met after a mutual friend's annual flag football tournament in New York's Central Park. But, things didn't progress past that; Brad was there with another girl, and Brooke went back to her friends expecting that to be the end of things. Three months later, Brad sent her an Instagram message asking her out; and two and a half years later, Brooke and Brad are married.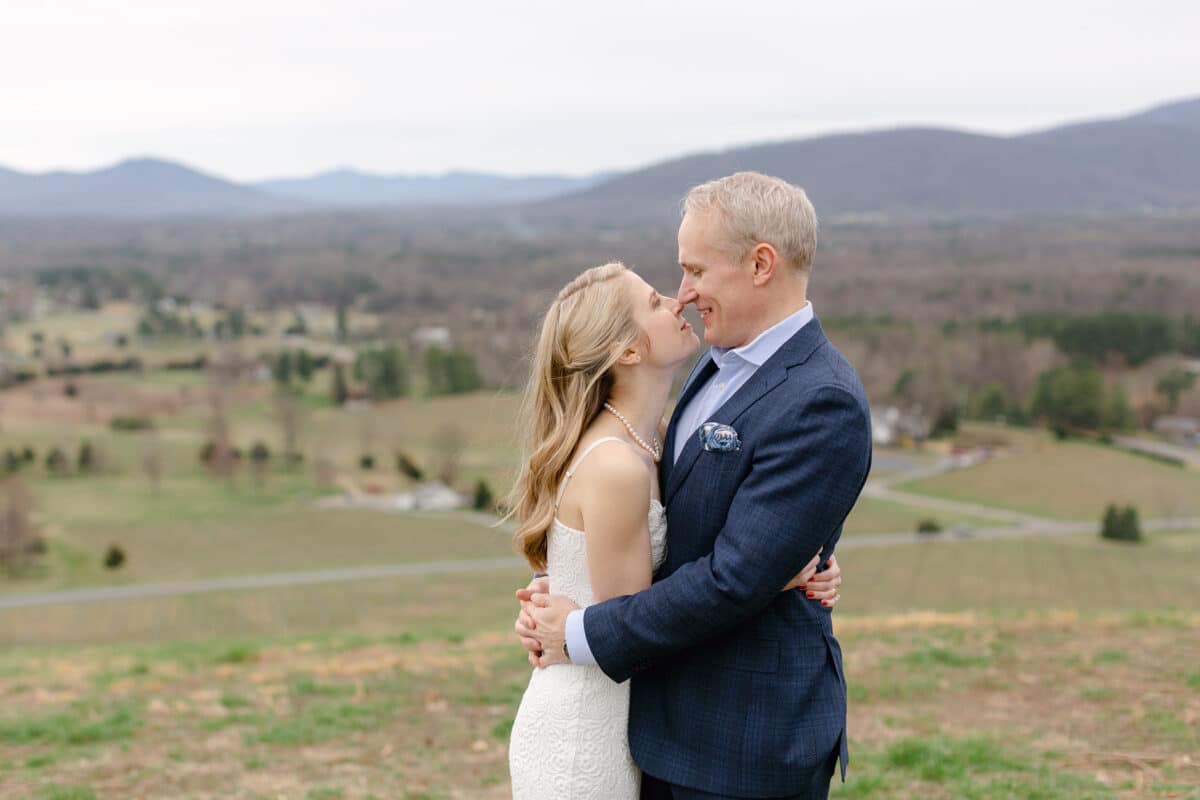 The newlyweds' wedding plans started out as most do: with a unique and beautiful proposal. During a trip through Acadia National Park, Brad pulled over to a stunning overlook by a lighthouse. When he pulled out the ring, Brooke was so shocked that she literally took a step back and tripped, falling over before telling him yes.
As they began planning their wedding, Brad initially suggested Charlottesville. Brooke had attended University of Virginia's School of Law, and the couple has always loved the city and its culture. They ultimately decided to get married in Brooke's hometown of Dallas, Texas, because it was more centrally located for their guests, and they wanted to have as many people make it as possible.
March 21, 2020, was to be their wedding date, where they would be surrounded by 200 loved ones. After the ceremony, they planned a romantic, glimmering reception hung with string lights at Dallas's Marie Gabrielle Restaurant and Gardens, complete with a live band. However, as the COVID-19 outbreak got worse, they realized their original plans would have to change in order to keep everyone safe and healthy.
So, on March 12, Brad called Brooke at work and told her he rented a car and would pick her up from her apartment at 3 o'clock that afternoon. Watching the news, he knew New York City was going to be hit badly by the outbreak, and he was concerned they would be stuck in the city, unable to get to their own wedding due to travel restrictions.
"At first, I definitely thought he was overreacting," says Brooke, "It was a big trust moment." As they continued driving, the news started advising social distancing measures. It was then that the couple began discussing options.
To start, they decided to stop in Charlottesville for the night. And, on the way, they called the pastor who was to marry them in Dallas and Missy Donovan, Brooke's spiritual mentor, for advice on their wedding cancellation. Both were supportive of the decision, and Brooke and Brad knew it was the right one.
Knowing they wanted to be married, and worried about finding an opportunity in the midst of a pandemic, the couple decided to elope in Charlottesville. That night, over dinner at Tavern & Grocery, they composed an email to send their guests letting them know the change in plans.
In 48 hours, the couple radically changed their wedding plans: Brooke emailed Judge Rick Moore, who she knew from her time in law school, and he agreed to marry them; and a friend in town connected Brooke with photographer Kate Greer, who was more than happy to photograph their last-minute wedding. The morning of the wedding, the photographer reached out to Veritas Vineyard & Winery, telling them about Brooke and Brad's story, and hoping they could host the last-minute wedding.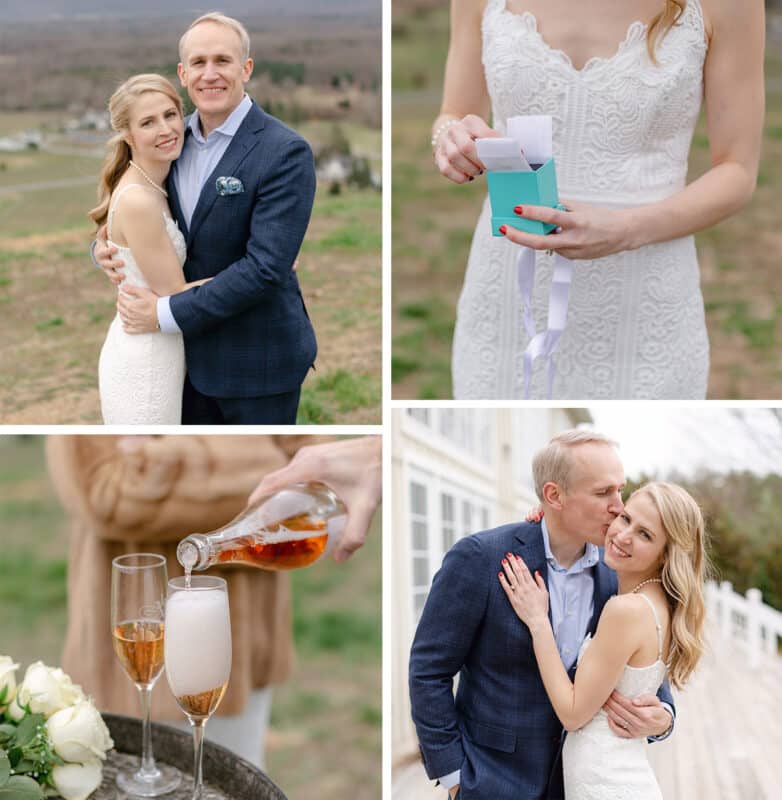 Just as it would be for any engaged couple, it was an emotional adjustment, but one the couple happily embraced. On the morning of March 14, one week before their original wedding date, Brooke walked into Cutting Edge Salon for her bridal appointment and was greeted by Donovan, who lives in Charlottesville.
"My husband doesn't want me to hug you because of the virus," she told Brooke, "but I'm not going to listen." Donovan, who was supposed to read scripture in the original wedding in Dallas, spent the morning with Brooke crying and helping her pull together the details for her new Charlottesville wedding. Donovan bought flowers and put together a bouquet, then restructured the veil she wore in her own wedding right there in the salon. "Missy thought of things I didn't even think of," says Brooke, referencing the fur coat she wore over her dress, which was Missy's grandmother's.
Before the wedding, Brad gave Brooke a handkerchief embroidered with "Team B and B," their nickname for themselves, knowing they both would cry. As they walked up the hill where they would say their vows, they came upon an old wine barrel, which Judge Moore used as a lectern. Donovan and her husband served as maid of honor and best man. And, during the ceremony, the couple read letters they had written to one another that, originally, they intended to read in private before their wedding.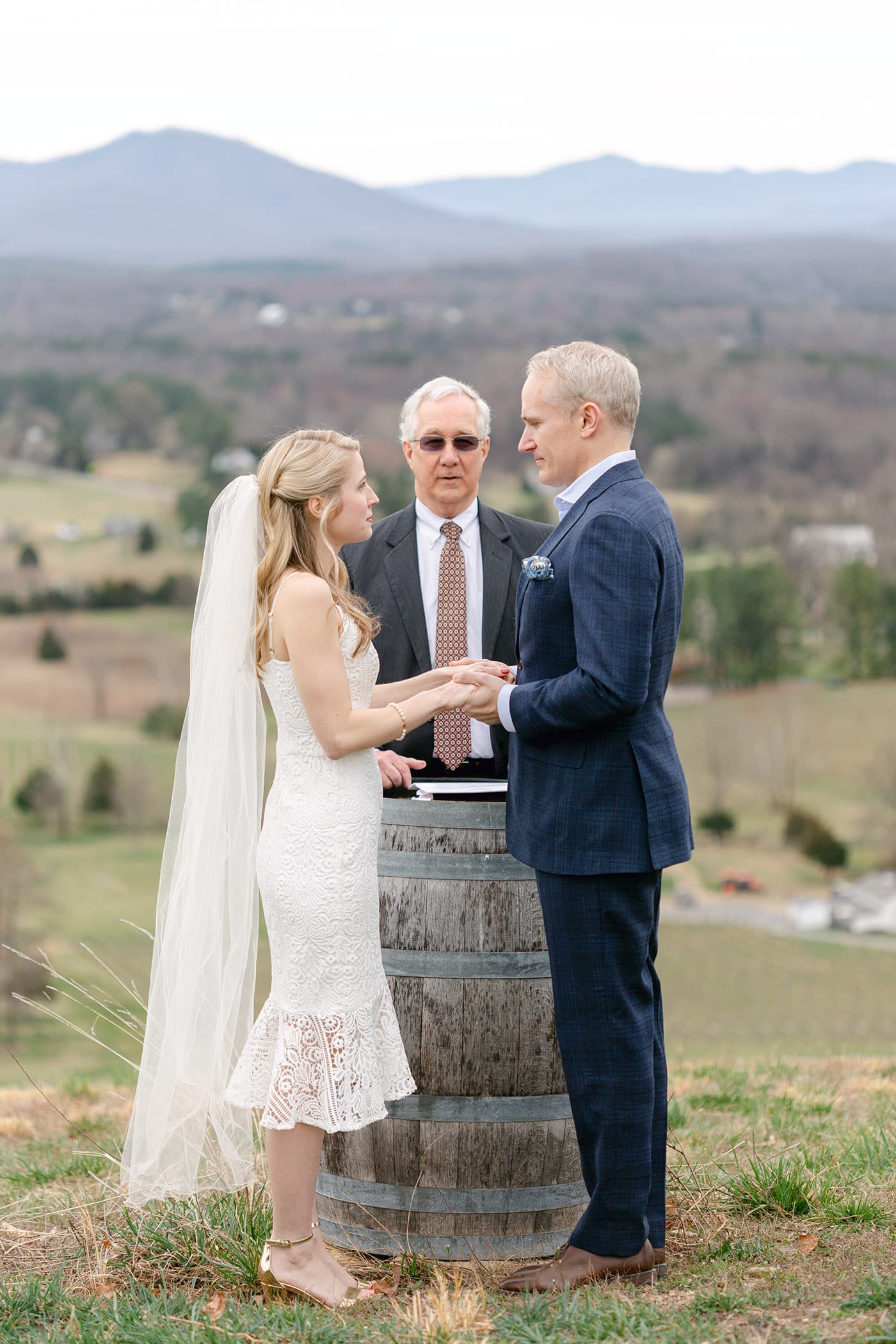 After the ceremony, the couple and their guests enjoyed complimentary wine from Veritas. With it being March 14, "Pi Day," they decided to pick up a pie from Pie Crust instead of have cake.
Despite the abrupt change in plans, Brooke and Brad's wedding still captured personal touches and was a great testament to the love they have for one another and those who were present or not. As it was his original suggestion, Brad now jokes that their Charlottesville elopement was the wedding he always wanted.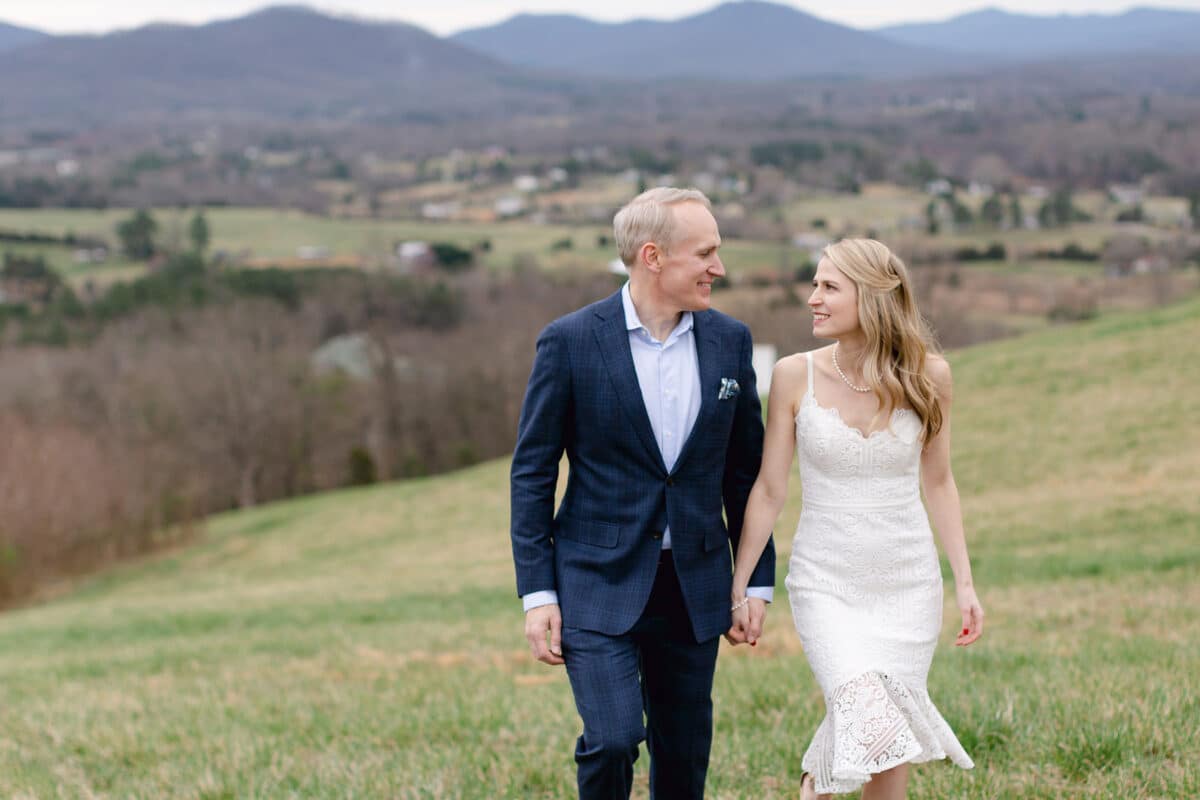 Tips for Canceling/Postponing Your Wedding During COVID-19
When did you know it would be best to cancel? Why did you cancel over postponing?
We knew we wouldn't be able to have the wedding we wanted—people would have to stand 6-feet apart and even potentially wear masks. We couldn't envision not being able to hug our guests. Additionally, we had 200 guests traveling from 12 states, and felt a huge moral responsibility that we would be putting them in danger. What if someone who came to our wedding contracted the virus and potentially died? It was a weight too heavy to bear. So, we decided to cancel the wedding and elope instead. There was so much unknown about when the pandemic would be over, and we were ready to start our lives together. We had been together for two years and engaged for nine months. We didn't want to put this next step in our life off. Despite the uncertainty in the world, we were 100 percent certain that we loved each other and wanted to get married. We think the New York Times said it really well, we "had a change of plans but not a change of heart."
When did you tell guests you were canceling and how did you handle?
We started questioning whether to cancel on the morning of Thursday, March 12 before we left New York that day. On our drive out of the city, we called two people to get validation that we were making the right decision—the pastor who was scheduled to officiate the wedding and my spiritual mentor who was scheduled to read scripture in our original wedding. That night (10 days before the original wedding date), we sent our guests an email. We needed to act fast because we had 200 guests traveling from 12 different states, and we knew they needed to alter travel decisions.
Do you have any tips on how to handle communicating this change to vendors?
Personally, we're still figuring this part out. This has been very challenging, because so many of our vendors are small businesses that are being hit so hard. We're doing our best to work with everyone. Almost all of our vendors have applied our deposits for a future event. And, because any event that we have in the future to celebrate with our friends and family will most likely look very different, we will probably not need to use all of our vendor's services.
We would encourage couples to go into the conversations with vendors with a compassionate and agreeable tone with an aim to come to a joint resolution (even if that means you don't get all your money back). We have been pointing smaller businesses in the direction of the stimulus package that Congress just passed and the President signed into law, which is providing small businesses with loans that they can get to help them during this time.
What would you say the biggest takeaway from your experience was that you would want other brides affected by the quarantining to know?
Event though it was an incredibly hard decision, we know it was the right decision to cancel our wedding. The safety of our family and friends is the number one priority. Further, a wedding is supposed to be a joyous occasion that should involve hugging and rejoicing. Knowing those things would be affected, the occasion wouldn't have felt like a celebration for us. We hope couples, and brides in particular, know that they are not alone in this season, that there are so many couples dealing with the effects of the virus. From concerns about getting a wedding dress in time (if their wedding is scheduled for the fall) to cancelled or postponed showers, bachelorette and bachelor parties, and weddings, it is a tough time for all. But, remember that it's ultimately about the partner you're choosing to do life with, and not just the party. Life is filled with ups, downs and now apparently global pandemics, and there's no one I'd rather face this crazy life with than my husband.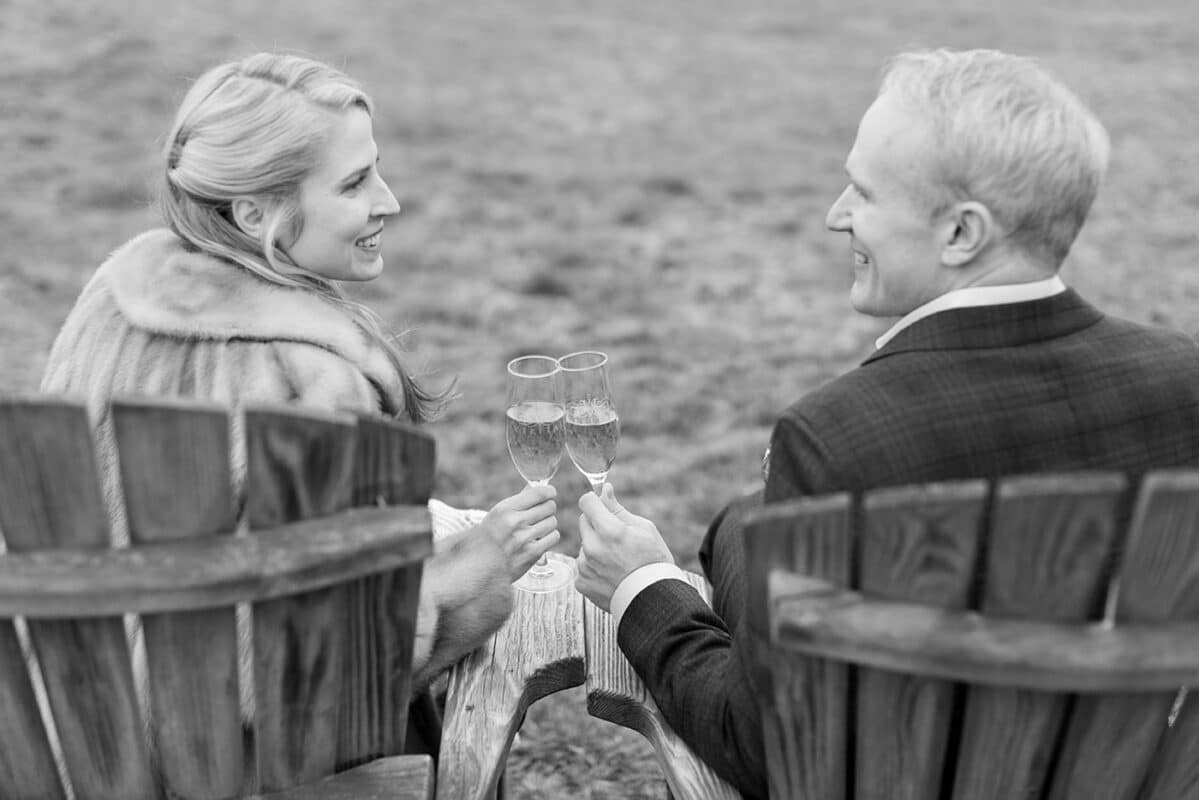 Photographer: Kate Greer
Venue: Veritas Vineyard & Winery
Hair & Makeup: Cutting Edge Salon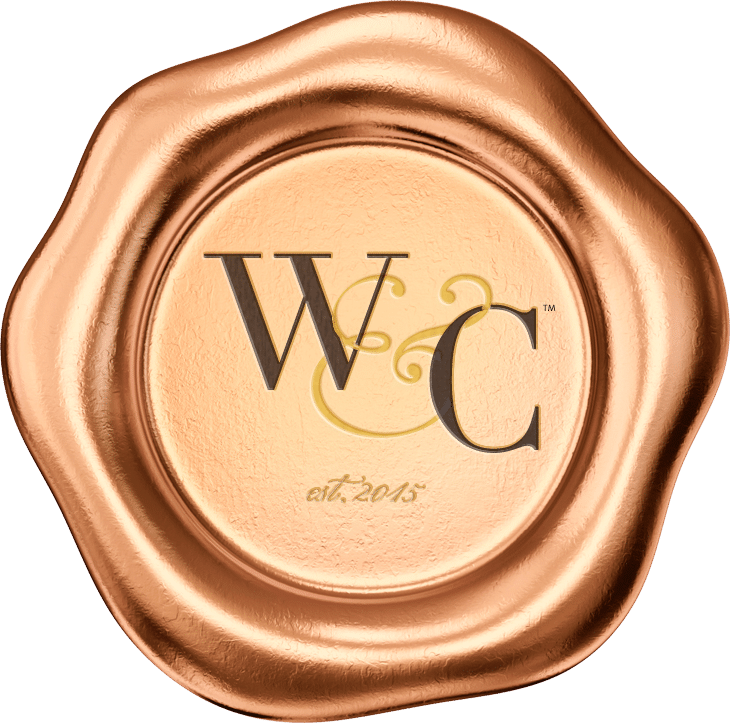 Wine & Country celebrates elevated living in Virginia Wine Country. Wine & Country Life, a semi-annual life & style magazine, and Wine & Country Weddings, an annual art book celebrating elegant Virginia weddings, are complemented by the Wine & Country Shop in Ivy, VA—a beautiful lifestyle boutique featuring over 40 Virginian artisans with everything from tailgating essentials and Dubarry attire, to locally made foods and award-winning Monticello AVA wines, as well as craft beverages for your next event. Sister publications under the publishers of Ivy Life & Style Media include the Charlottesville Welcome Book, a bi-annual publication guiding visitors and newcomers on all of the happenings and businesses in the region, and CharlottesvilleFamily's Bloom magazine, a bi-monthly parenting publication.
Wine & Country Experiences are now also available and include exclusive tours and hands-on classes with leading professionals in the local farm-to-table and vineyard scenes.