Fan & Mengyun's Virginia Vineyard Fête
Step inside this gorgeous Real Wedding featured in Volume 6 of Wine & Country Weddings. Mengyun and Fan's wedding in Virginia wine country featured English countryside flare, autumnal elegance and micro-wedding intimacy. Their story and celebration are beautiful reminders to always seize the moment.
Having met at Virginia Tech while both were completing Ph.D.s in their respective fields, the couple wanted to incorporate their love for their alma-mater. Their wedding color palette, implemented into the florals and décor by Blooming Wed, elegantly wove in the distinctive maroon alongside ivories, soft pinks and light blue.
When deciding where to wed, Fan and Mengyun knew they wanted an outdoor ceremony and reception in the fall. One look at Keswick Vineyards' colonial white mansion nestled amongst Virginia's foothills proved to be the obvious choice. 
Their wedding ceremony began with the bride riding in on a horse-drawn carriage. Before the seated guests could see the carriage, they heard the bells on the horses' neck tinkering, signifying that the bride was approaching. Virginia Wine & Country Life offers more equestrian inspiration for planning special occasions.
Waiting for his bride on the front steps of the mansion, before pillars wrapped in dainty vine, Fan was dressed to the nines in a maroon velvet tuxedo with matching bowtie. Mengyun donned a stunning Justin Alexander ball gown that had a v-neckline, natural waist and playful ruffle detailing on her skirt. She paired the gown with a birdcage veil and classic pearl jewelry, and a romantic bouquet of garden roses and zinnias ranging from pale peach to deep maroon. Her godmother accompanied her down the aisle, since her family was unable to attend the celebration in person. 
Despite the disappointment of not being able to fly their families over to the United States from China, the couple forged ahead to begin their new life together. Surrounded by 20 friends, classmates and their mentors, the couple wanted an elegant interactive ceremony that was poignant and inclusive of both their friends here and families overseas and that showcased their love of Virginia.
Awaiting guests at their seats was a fan with a printed letter from the couple, expressing their gratitude and celebration of love. The back of the fan had a thank you to each of their vendors who made their day possible despite the difficulties of planning a wedding during a pandemic. 
Prior to sharing their vows with one another, the couple performed a rose ceremony where they exchanged a rose to symbolize the budding and blossoming of their love.
Beyond live-streaming the ceremony and giving virtual guests the opportunity to leave messages to be read later, Mengyun and Fan were intentional about incorporating their far-away family. Even though he was unable to attend, Mengyun's cousin illustrated the vow booklets she and Fan read from during the ceremony.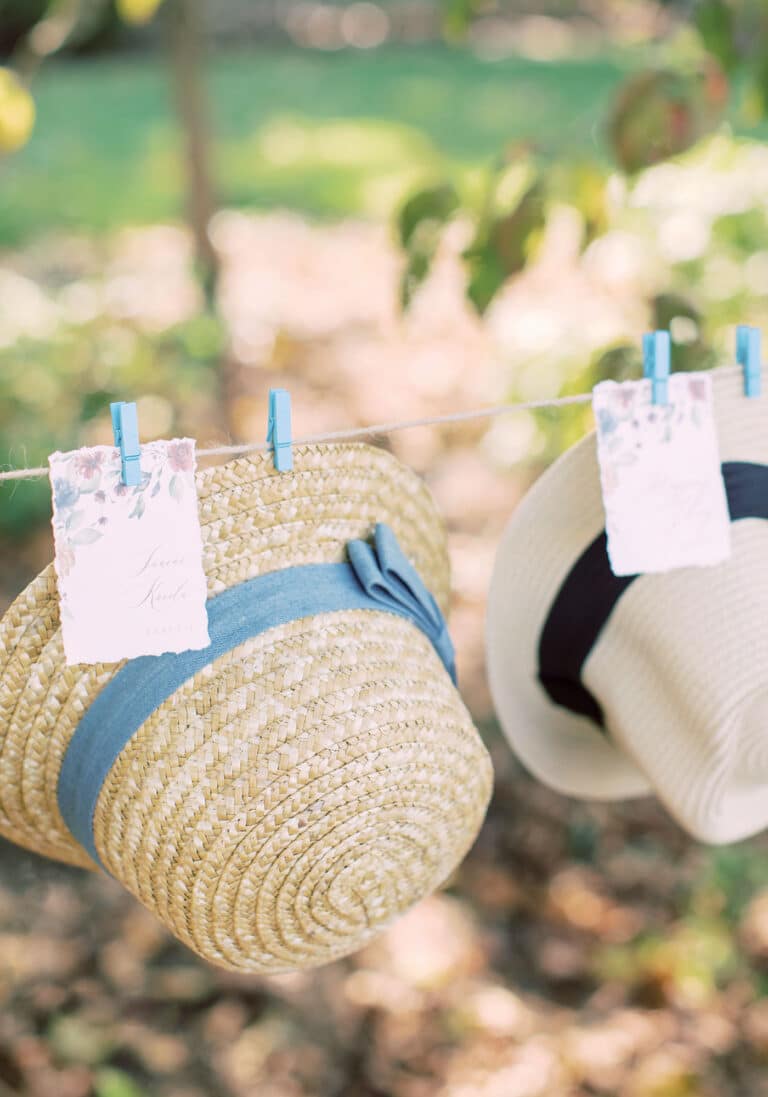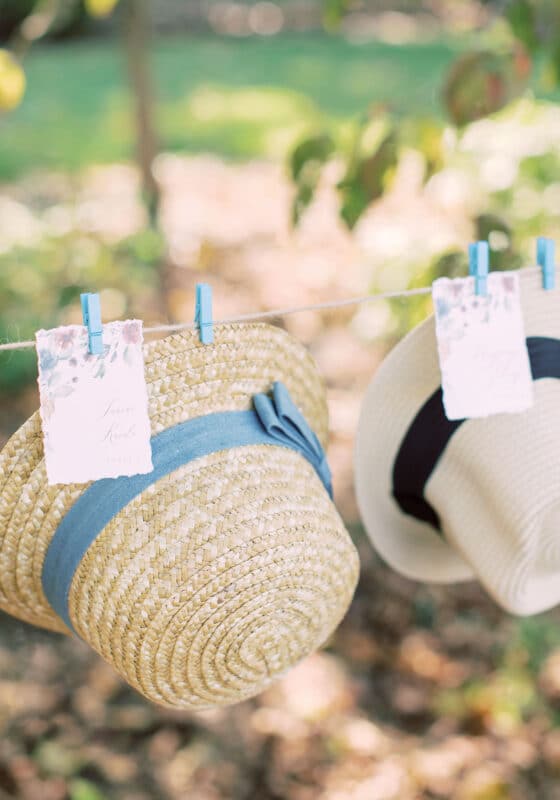 Dinner, which was held in the front garden of the vineyard, an often-unused part of the venue, allowed the majestic vines and mountain views to serve as the backdrop.
Adding a whimsical touch, an artful display of fedora-style sun hats tagged along a clothesline directed guests to their seats. Each guest's place setting featured a name card with the couples' wax seal monogram, while custom embroidered napkins welcomed the bride and groom at their seats.
For dinner, The Catering Outfit crafted delicious options, from duck confit spring rolls and spicy tempura shrimp bathed in a sweet soy sauce to southern fare like braised beef short ribs with whipped Yukon golds and Swiss chard, and crab cakes with charred carrot and asparagus sauté.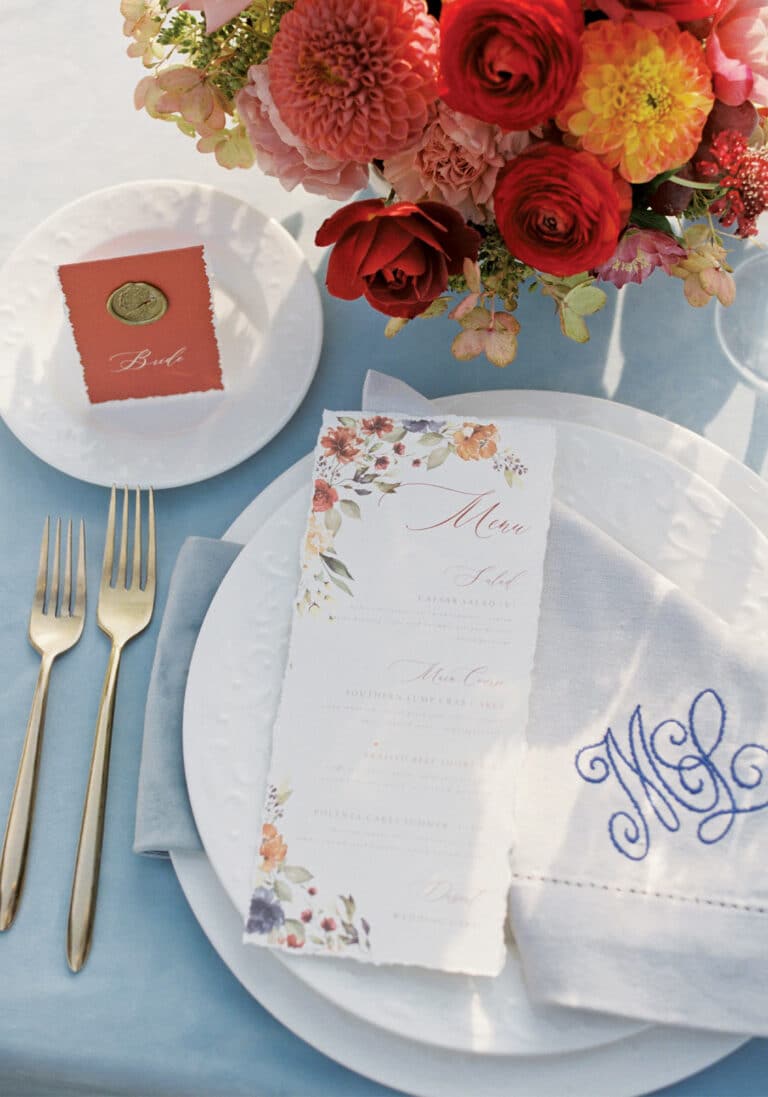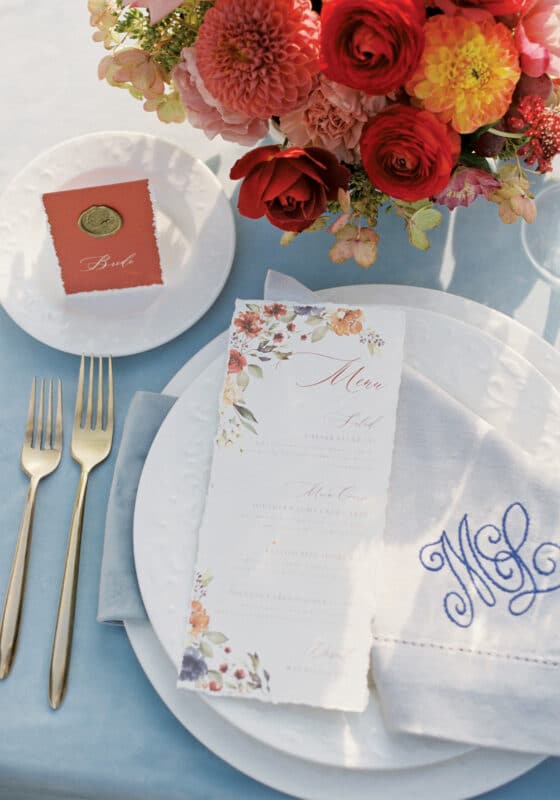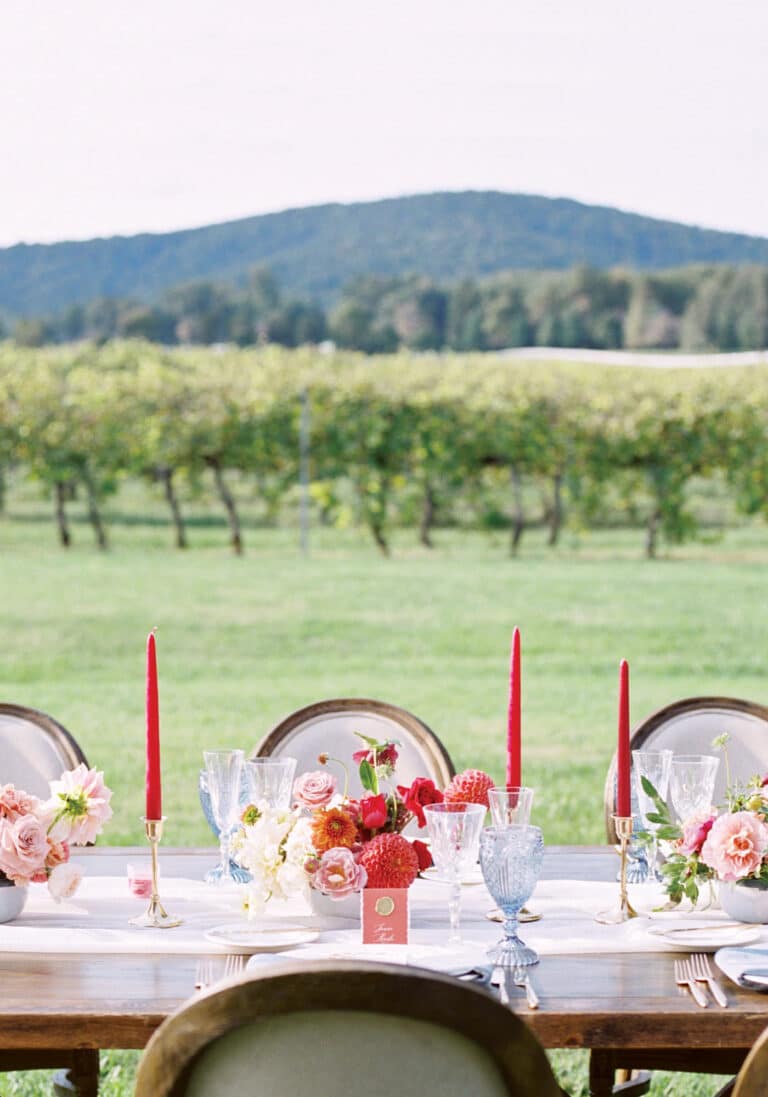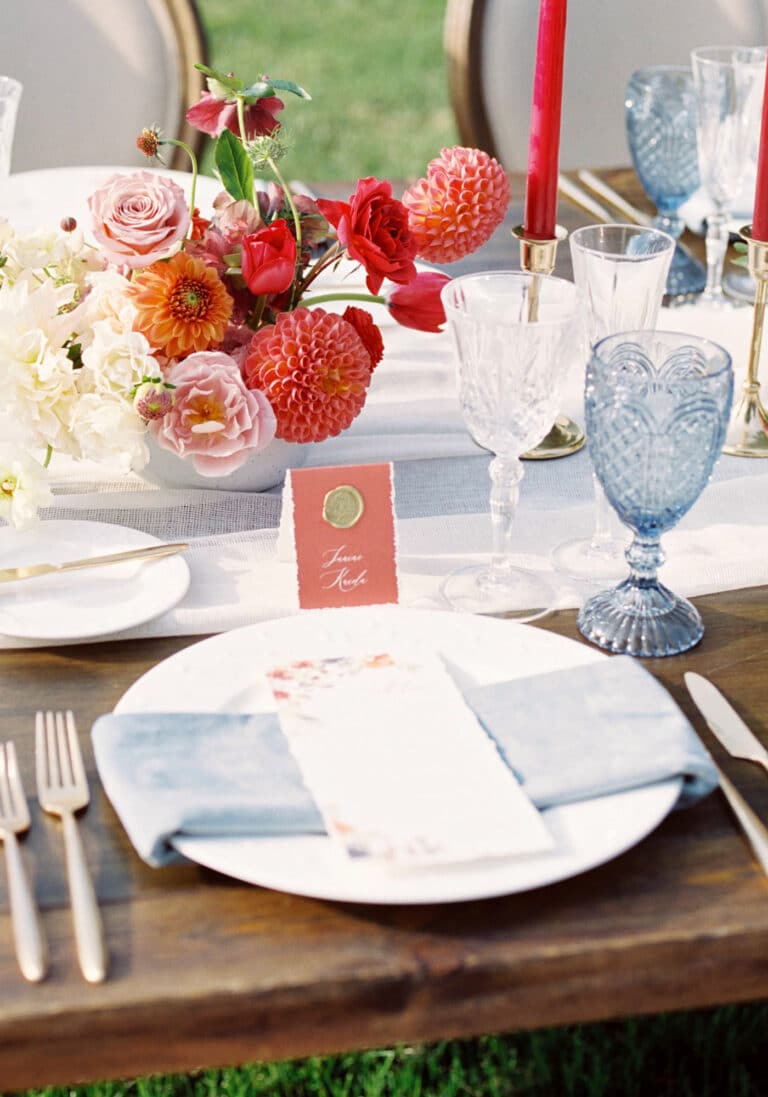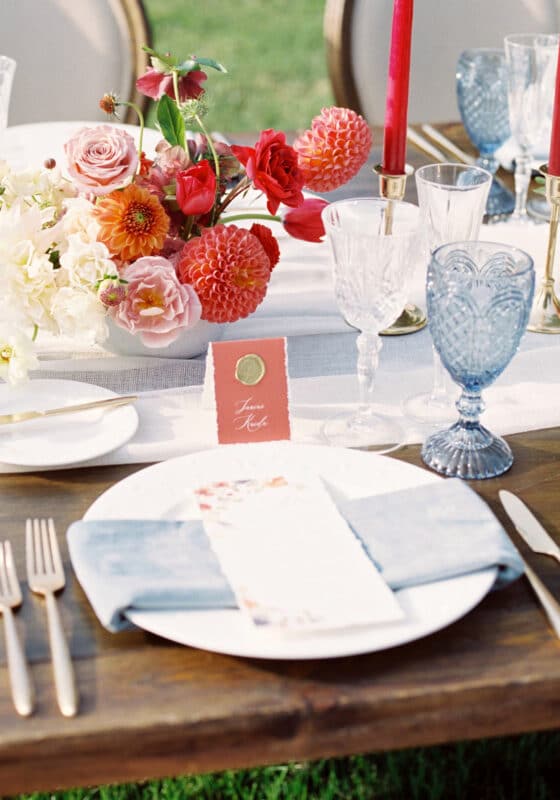 Carrying over their color palette to the reception, Mengyun and Fan also integrated the Virginia Tech maroon with the silk ribbons, candles and vibrant flowers nestled into the floral arrangements. Even the color of the bridesmaids' dresses created a tasteful yet bold impression against the Virginia countryside backdrop.
Complementing the rich hue were soft blues and golds—visible in the utensils, glassware and candelabras—as well as varying items with textures. They decided to let the green of the surrounding vineyard shine bright and steal the show.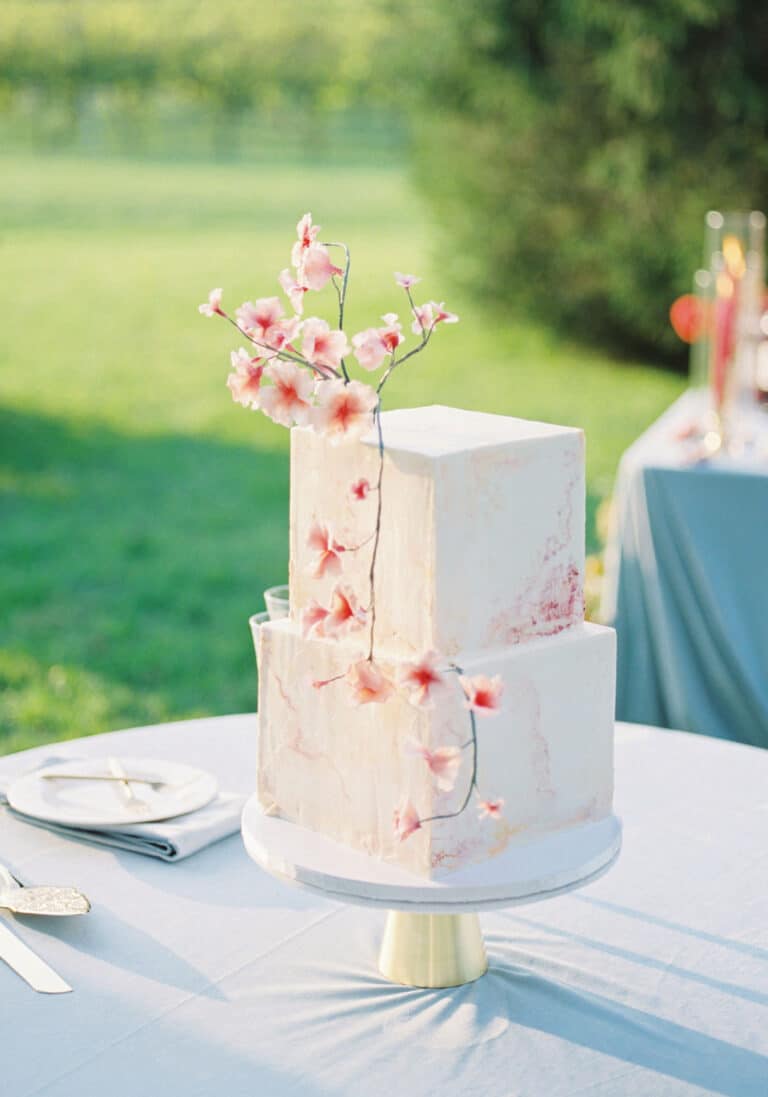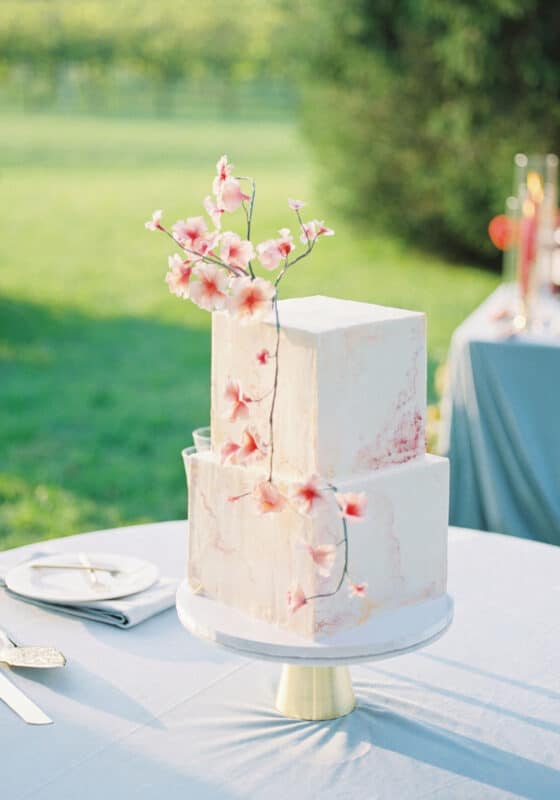 A nod to their heritage, Fan and Mengyun commissioned a cake emulating a Chinese painting. Embellished with a cherry blossom branch, the uniquely two-tier rectangular cake was decorated with a watercolor-like, marbled effect. 
Integrating more personal history into their day, the couple chose a tune from the movie La La Land, one of their favorite films, for their first dance. While some sacrifices had to be made, this smaller, more intimate wedding allowed Fan and Mengyun to be more intentional with their details and personal touches, while still including their family and friends abroad.  ~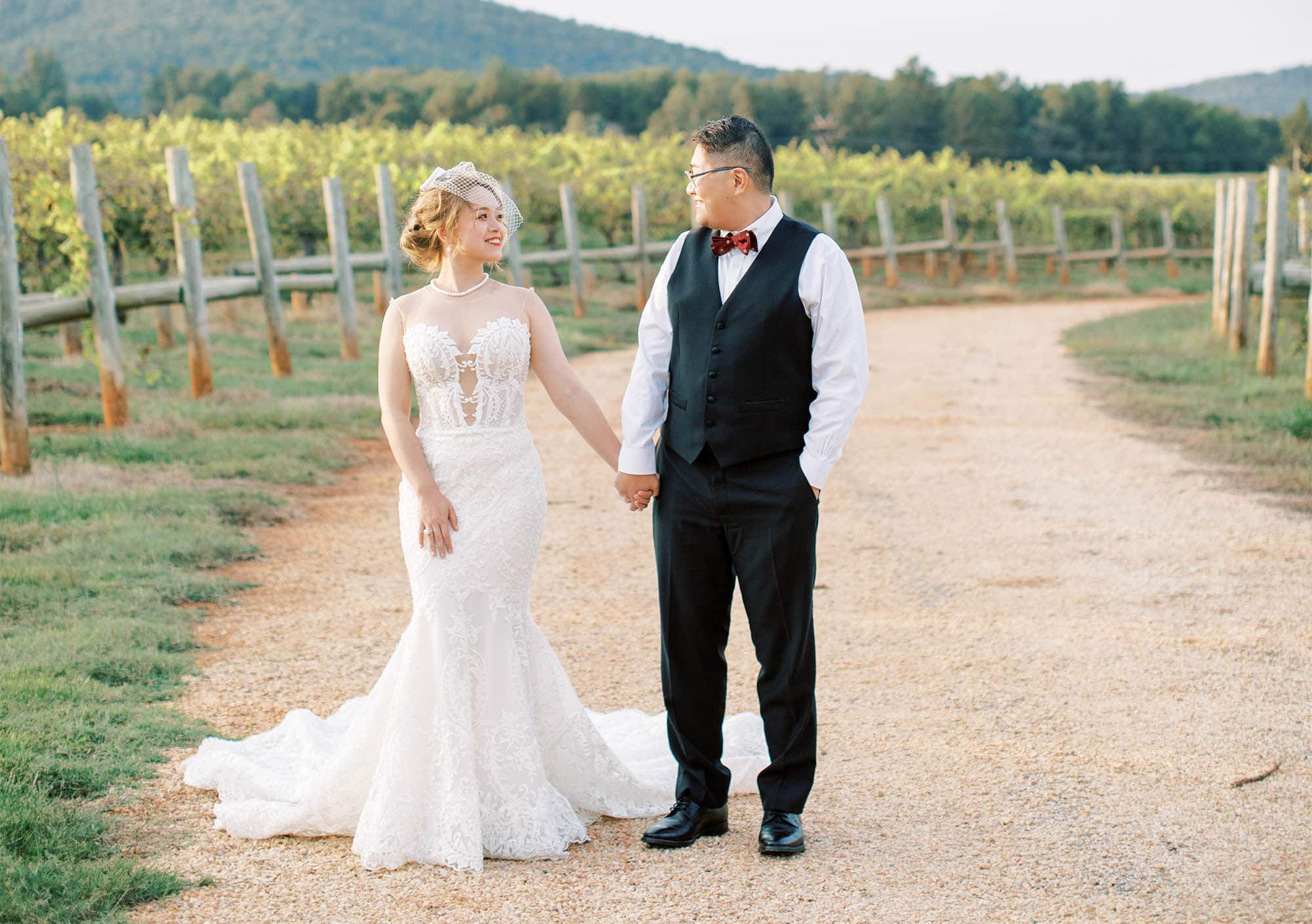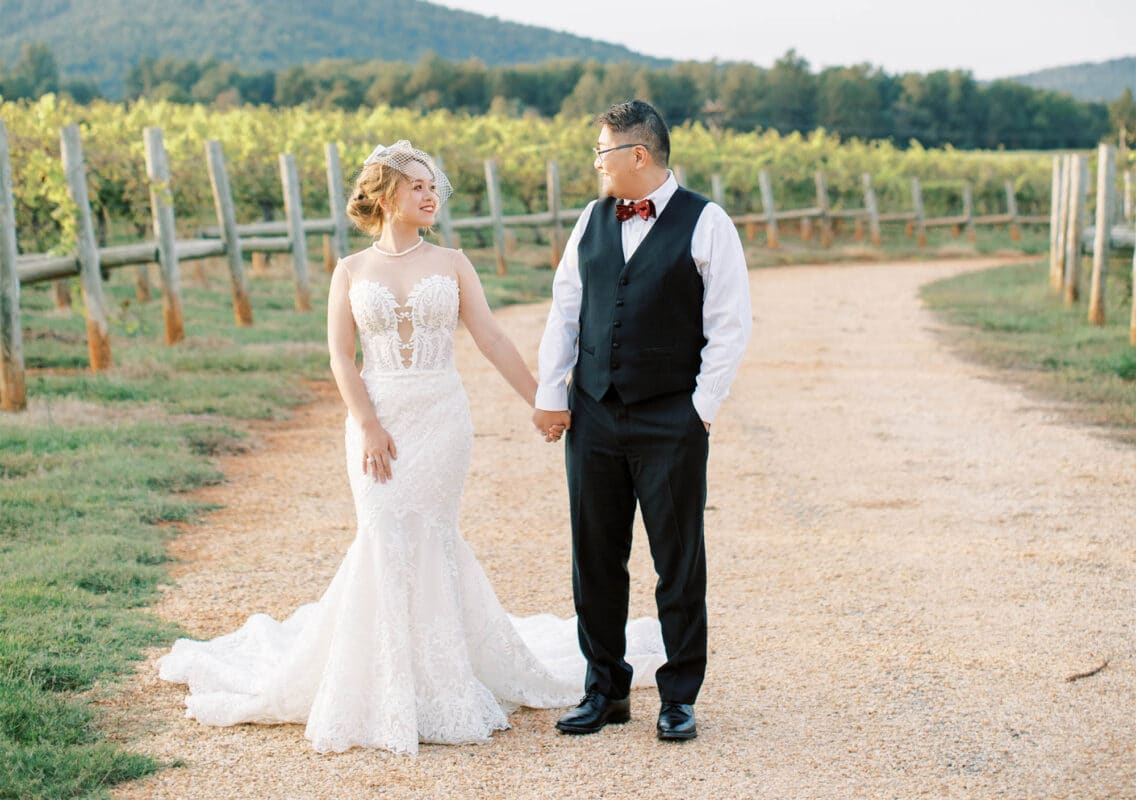 Venue: Keswick Vineyards
Wedding Planning, Design & Florals: Blooming Wed
Photography: Allison Dash Photography
DJ: DJ FIT
Invitations: Aerialist Press
Graphic Design: Blushtype Designs
Horse Carriage: Lexington Carriage Company
Rentals: MS Events
Linen: La Tavola Fine Linen
Videography: Travel House Collective
Catering: The Catering Outfit
Makeup & Hair Stylist: Belinda Ni
Cake: Cake By Rachel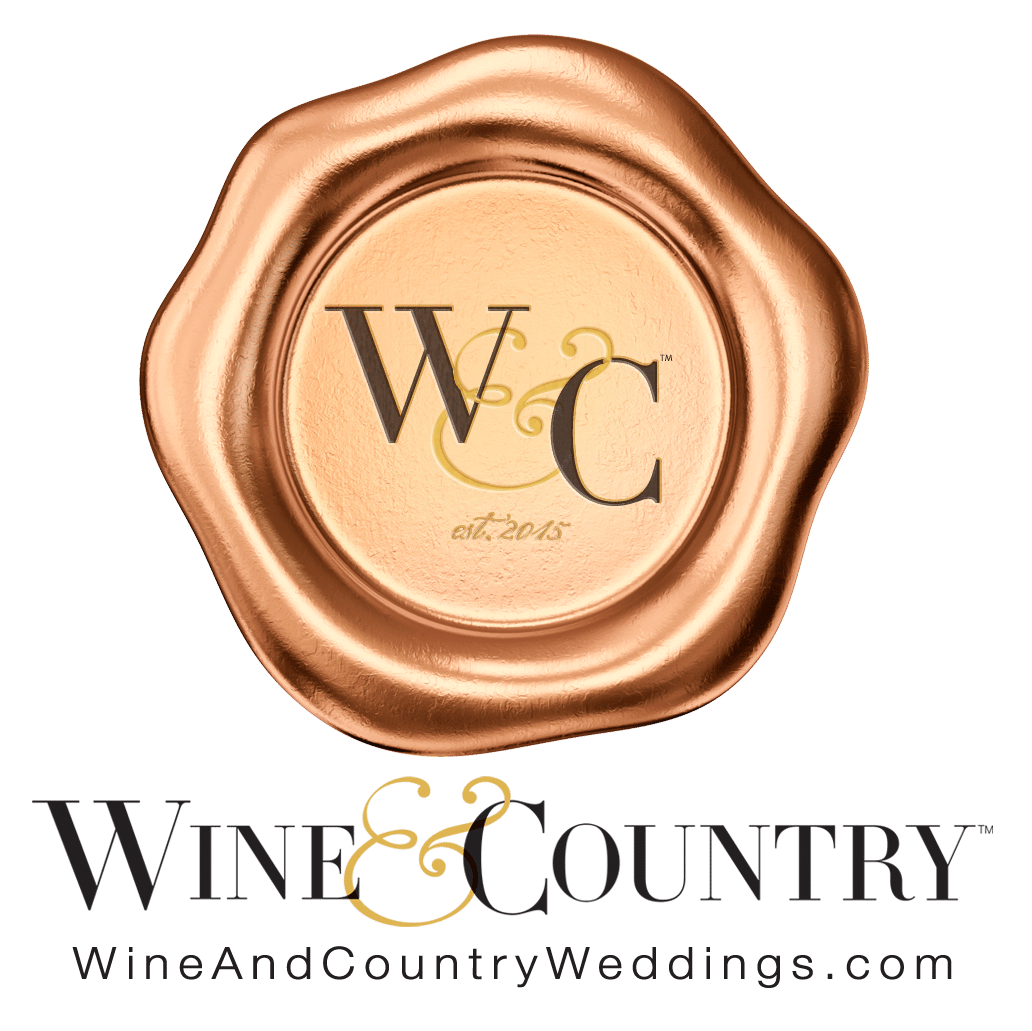 This wedding was featured in Volume 6 of Wine & Country Weddings.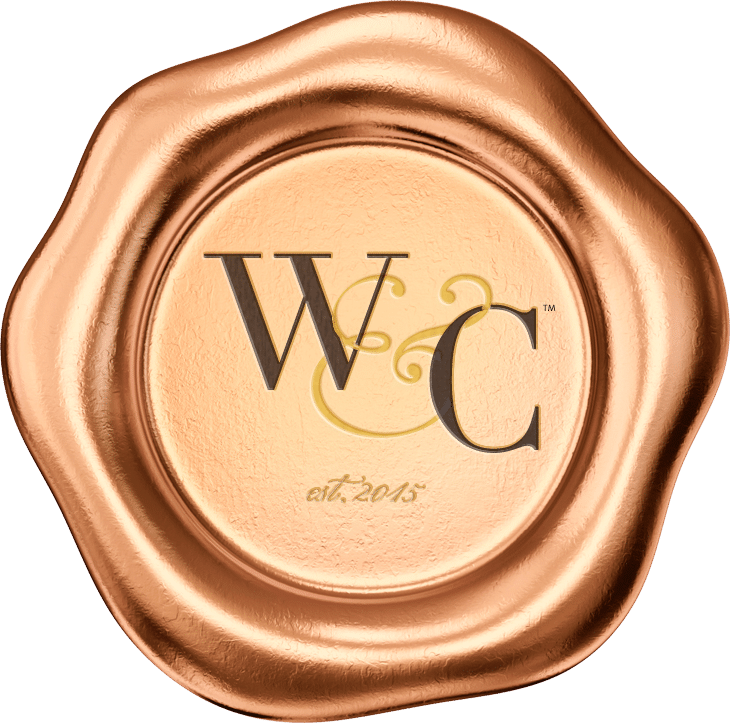 Virginia Wine & Country celebrates elevated living in Virginia Wine Country. Virginia Wine & Country Life is a semi-annual luxury print magazine with a full digital presence. The Virginia Wine & Country Gold Book is an annual guide to the top award-winning wines, wineries and experiences in Virginia Wine Country. The annual Virginia Wine & Country Wedding Planner is an art book of elegant Virginia weddings. The brand includes the Virginia Wine & Country Shop in Ivy, Va. It is a beautiful lifestyle boutique that brings the pages of the magazines to life. Virginia Wine & Country tells the stories of Virginia wineries, the farm-to-table movement, luxury travel, entertaining, art and the elegant country lifestyle. Ivy Life & Style Media also provides branding, web design and PR services for the wine industry.