'Tis the season of outdoor weddings, when all the luxuries of open-air spaces create a romantic and memorable scene. From the table setting and floral arrangements to picking the perfect dishes and drinks, your wedding reception can portray elegance and set the tone for all. No matter the location of your reception, personal touches can bring any space together in a cohesive manner. Just as Augusta and Brandon decorated the stunning veranda at Pippin Hill Farm and Vineyard, couples alike can create a simplistic décor, exuding elegance.
On the outdoor patio, a long table dressed in white filled the length of the space. Bamboo folding chairs added a unique touch to the overall style that blended well with the feel of the veranda. The overhead roof provided just enough shelter to its guests, bringing together the best of the indoor and outdoor experience. Local venues such as Pippin Hill are quintessentially located in the heart of Virginia wine country and are occasionally on vineyard properties as this one. With breathtaking panoramic views and accommodations for guest and hosts, these venues create perfect spaces for a celebration with friends and family.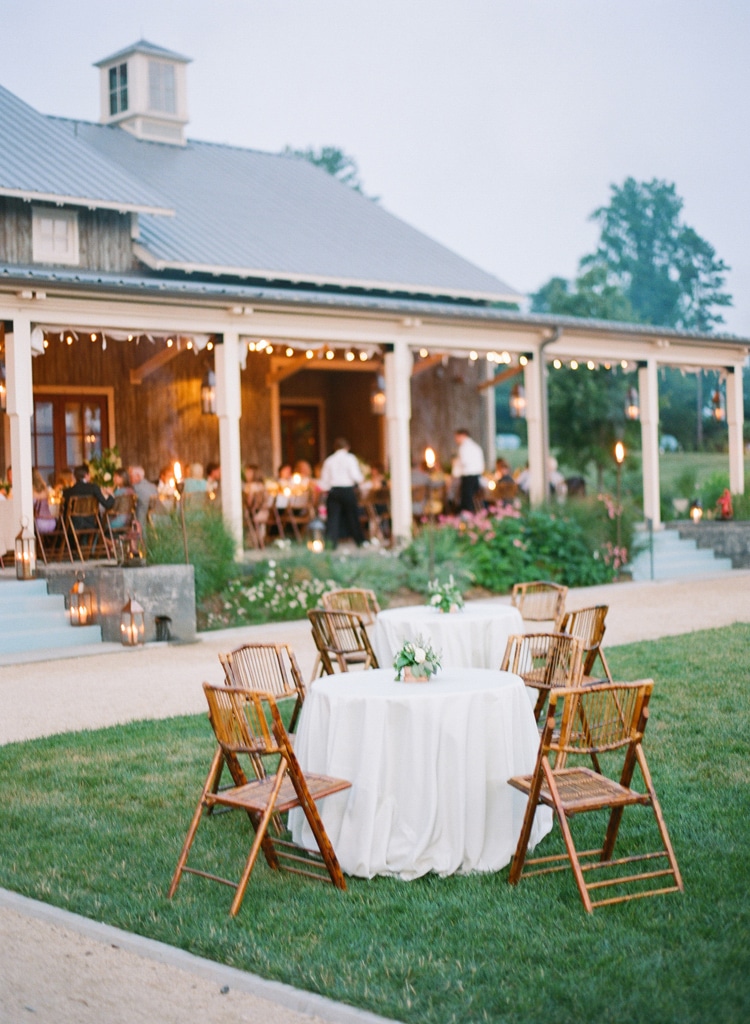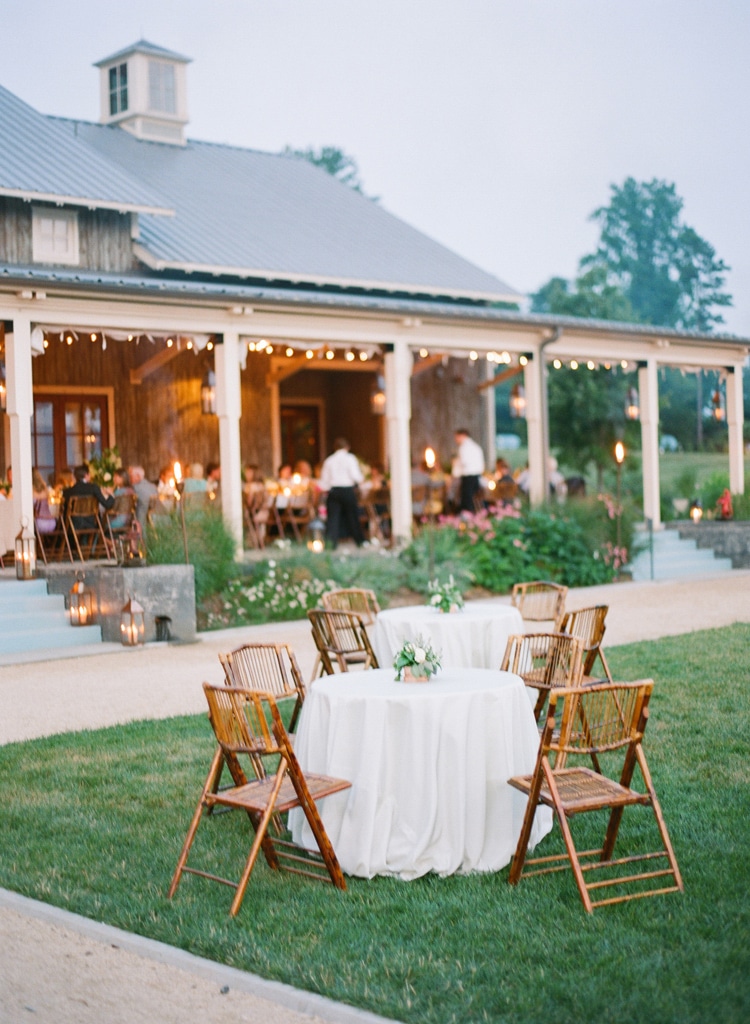 Augusta and Brandon let their personality shine through from beginning to end. Summer beverages awaited guests to help keep them cool, and belvoir fruit farm drinks were nestled in ice in concrete patio buckets, offering guests tastes of elderflower and rose. For another seasonal touch, little baskets of local treats were prepared for the guests to take home, filled with samplings of Caromont cheese, honeycomb and apricots.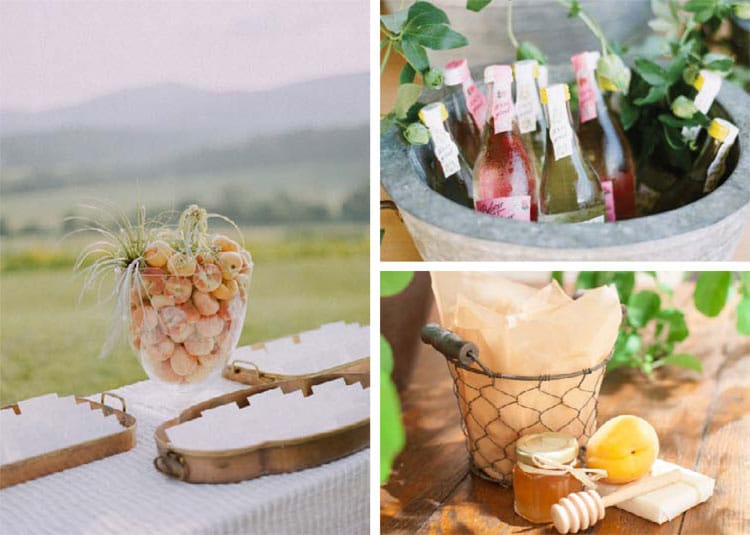 Throughout the course of the celebration, guests were spoiled with signature cocktails and wine. Grilled summer asparagus, complete with a sunny-side up quail egg and Virginia country ham, and delicious tempura green beans with a horasa aioli dip were favorites of the evening meal. The ingredients used by Chef Amalia Scatena were both sourced locally and also grown in the chef's garden on the Pippin Hill property.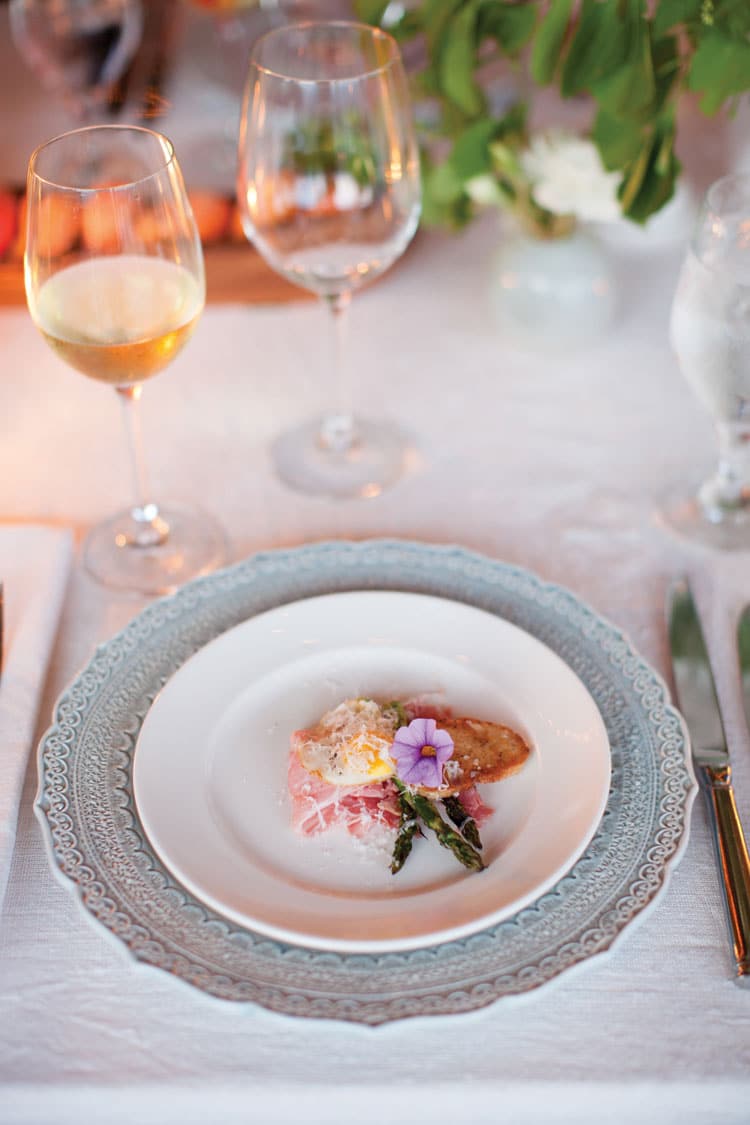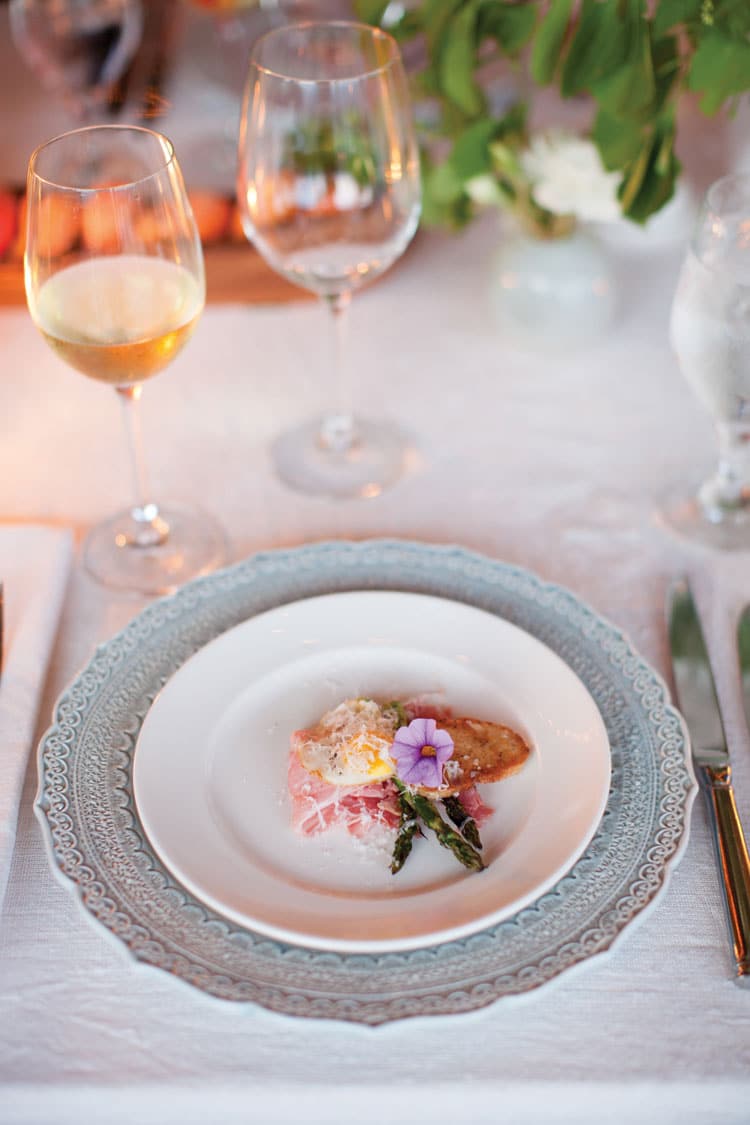 Spring and summer offer ample opportunities to use natural elements in your wedding décor. The florals included pretty pastels and apricot, while the pale blue accents in the plates and votive candleholders added a subtle masculine flare. When choosing a pastel color palette, you can balance it with greenery, creating a fresh welcoming appeal. For the bar, add greenery mixed in with the delectable dish being served or scatter it around the space with the additional plants. Your guests will be delighted by the attention to detail as they celebrate al fresco and enjoy the scents from the nearby vines blowing in the breeze. For tabletop bouquets, stick with hues that are more natural, since the space flows seamlessly from indoors to outside.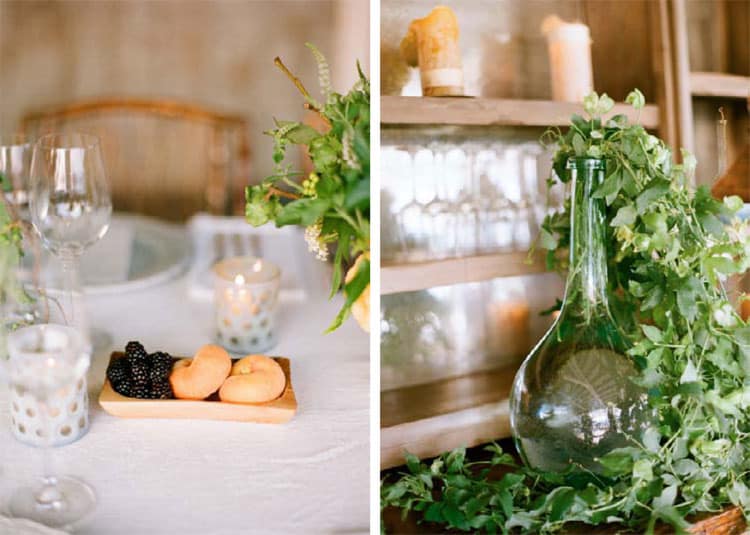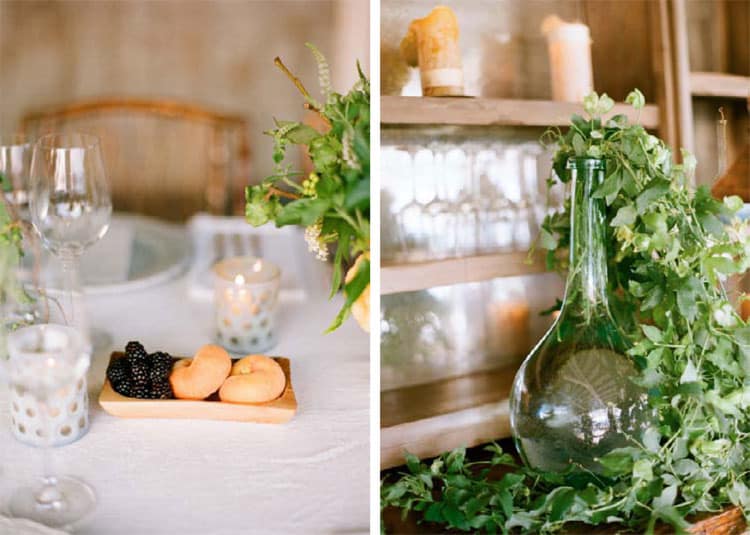 In setting a spectacular table, begin with the selected color scheme followed by the dining ware. Providing guests with a menu of what will be served is a creative way to add character to your setting. Tapered candles and delicate votives cast a glow on guests' place settings when the sun sets on the horizon. Arranging the candles and desired floral elements throughout the space will be key to tying in seasonal aspects to the outdoor mood. It will also make it easier to choose just the right lighting pieces for your theme. In addition to the votive candles on the table, Augusta and Brandon used a variety of lighting, incorporating lanterns and torchieres around the veranda for some natural candlelight, and hanging lanterns and mini fogs to set the ambiance.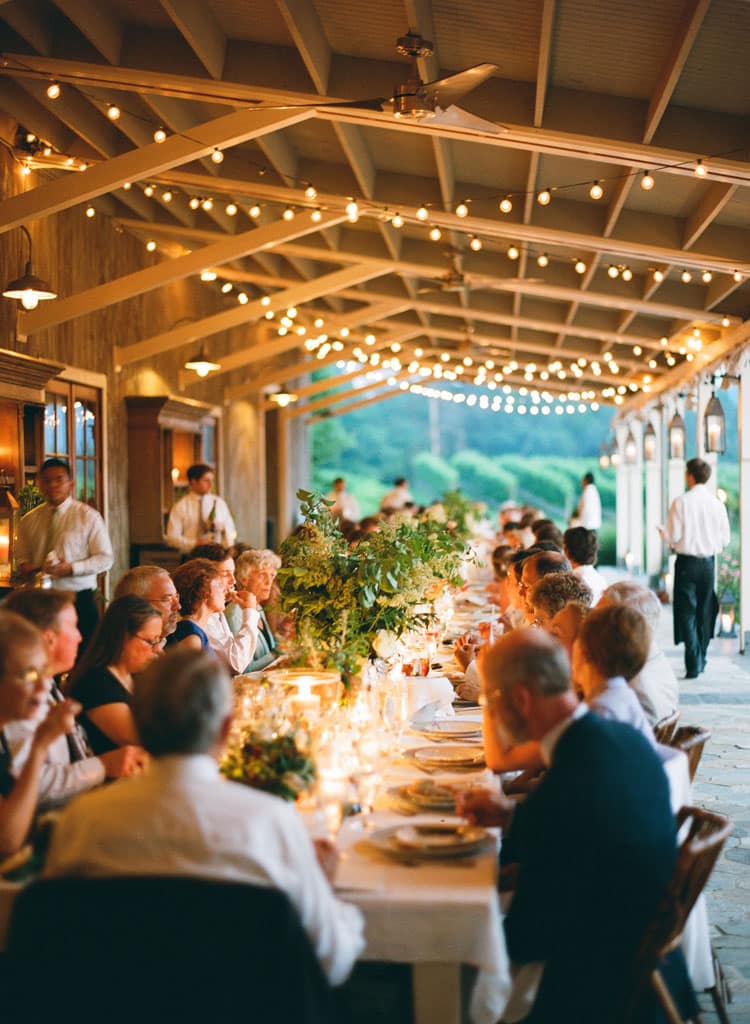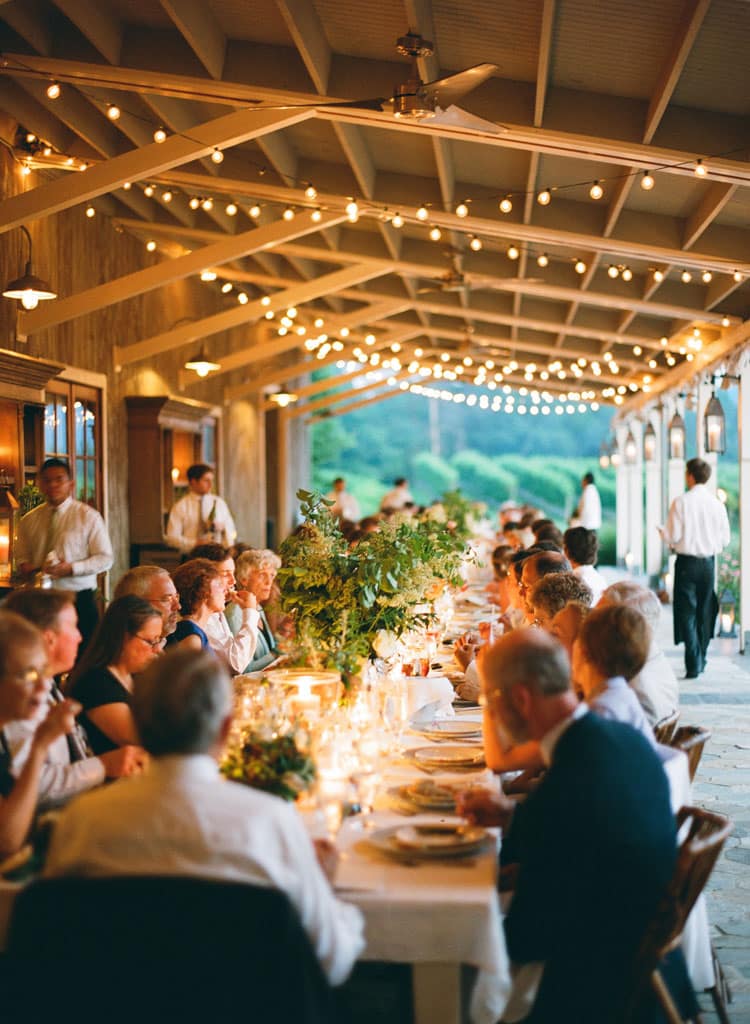 Augusta and Brandon's reception was a success—bringing together friends and family over a delicious meal in the summer air. This season, let nature inspire your décor when celebrating al fresco. Once you have finalized all the little details and your big day arrives, you will be able to enjoy the outdoor setting and the company of your guests.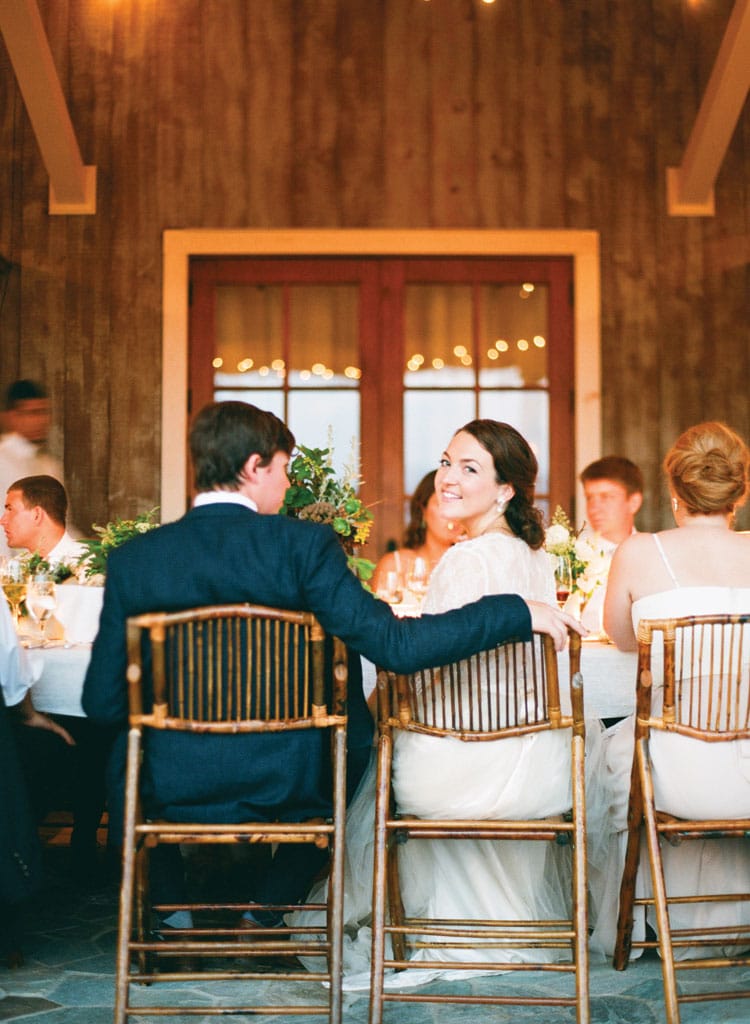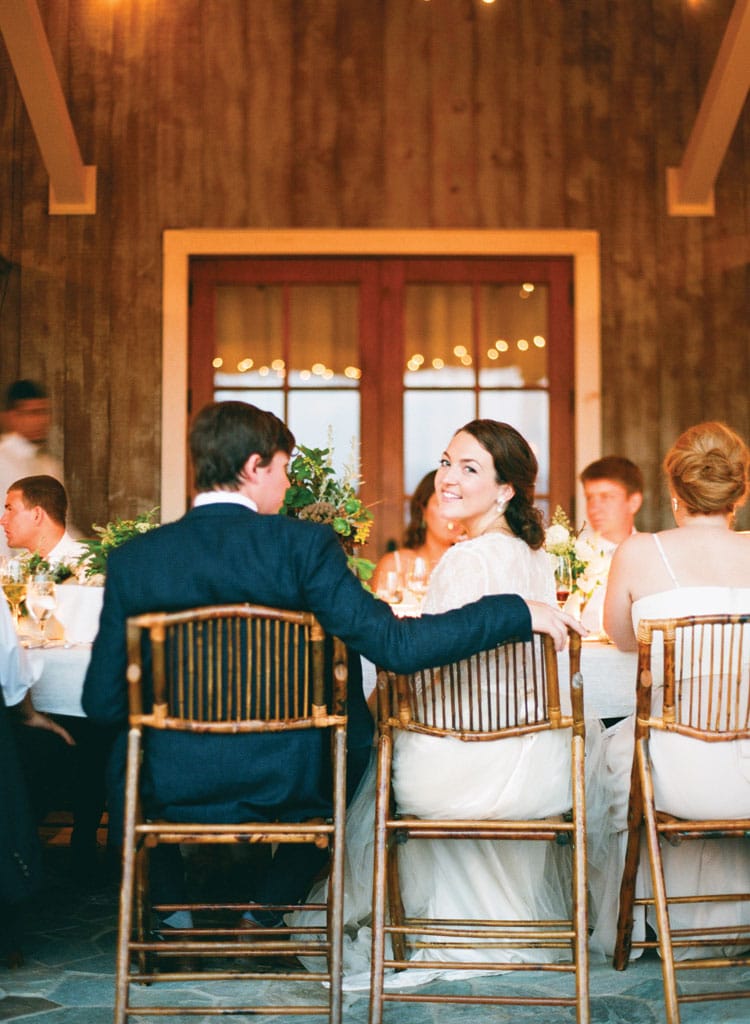 Photography: Eric Kelley
Venue & Catering: Pippin Hill Farm & Vineyards
Florist Design: Beehive Events
Stationaire: Valorie Cole (Augusta's aunt)
Hosts: Augusta & Brandon Davis
Event Planner: Easton Events
Beauty & Hair Stylist: Lora Kelley
Rentals: Beehive Events and Festive Fare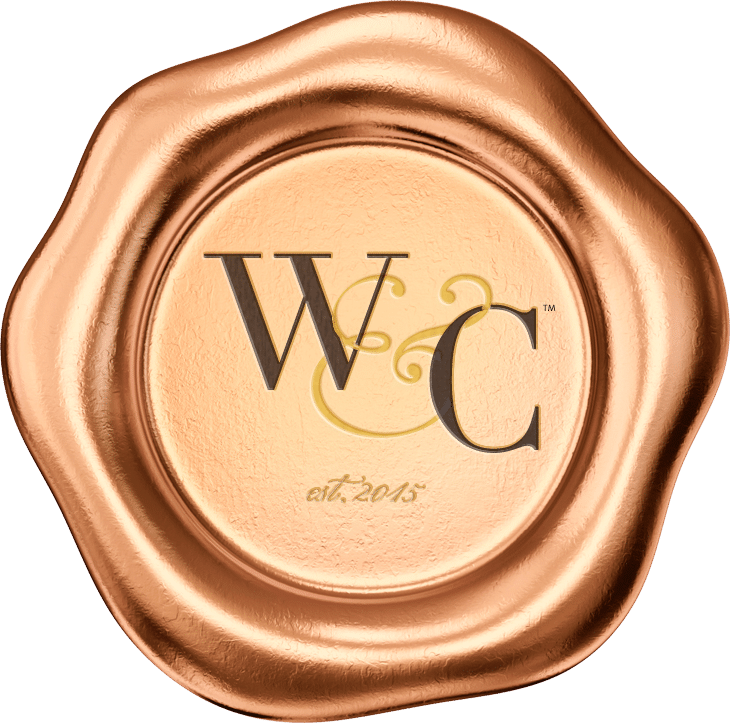 Wine & Country celebrates elevated living in Virginia Wine Country. Wine & Country Life, a semi-annual life & style magazine, and Wine & Country Weddings, an annual art book celebrating elegant Virginia weddings, are complemented by the Wine & Country Shop in Ivy, VA—a beautiful lifestyle boutique featuring over 40 Virginian artisans with everything from tailgating essentials and Dubarry attire, to locally made foods and award-winning Monticello AVA wines, as well as craft beverages for your next event. Sister publications under the publishers of Ivy Life & Style Media include the Charlottesville Welcome Book, a bi-annual publication guiding visitors and newcomers on all of the happenings and businesses in the region, and CharlottesvilleFamily's Bloom magazine, a bi-monthly parenting publication.
Wine & Country Experiences are now also available and include exclusive tours and hands-on classes with leading professionals in the local farm-to-table and vineyard scenes.