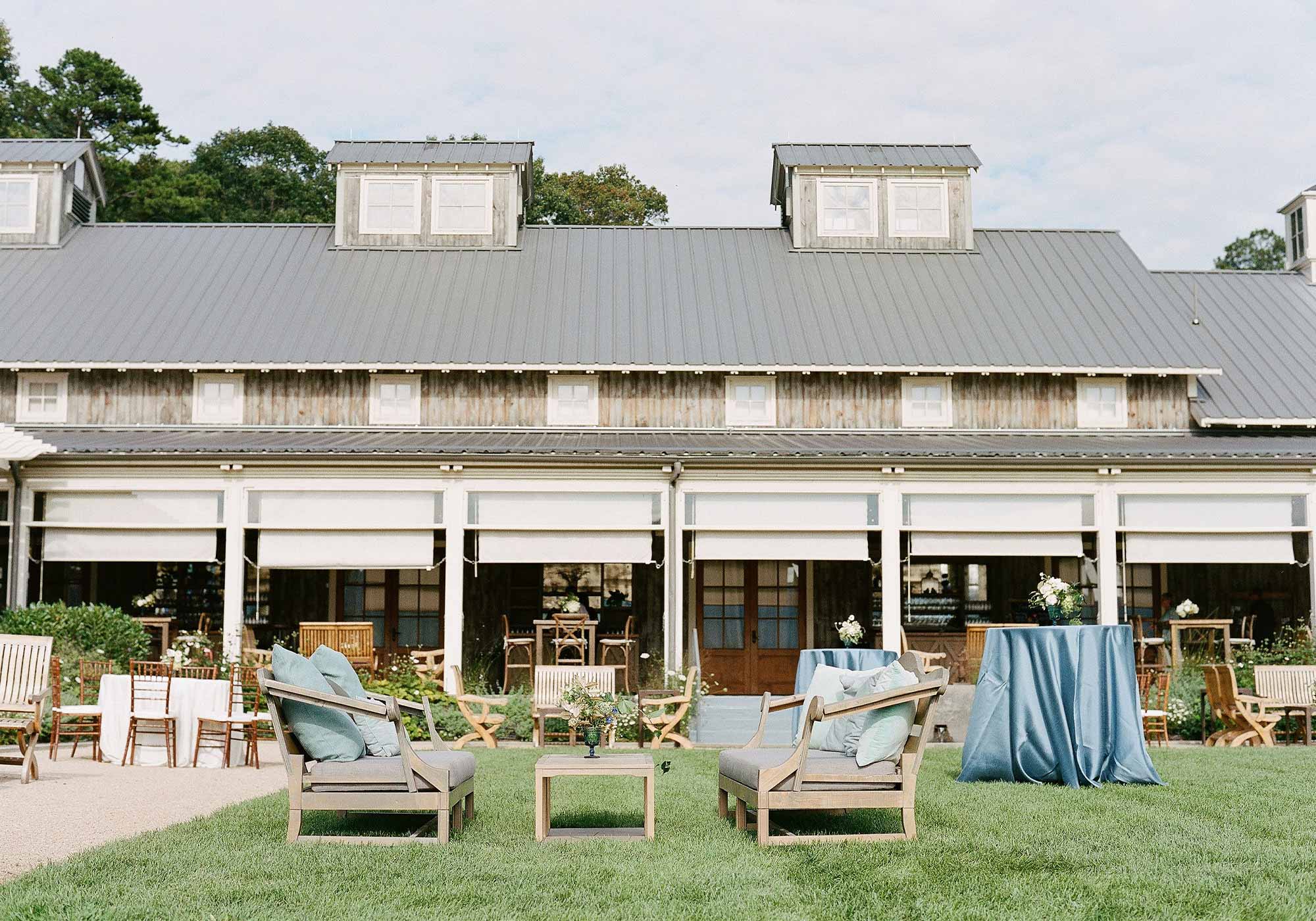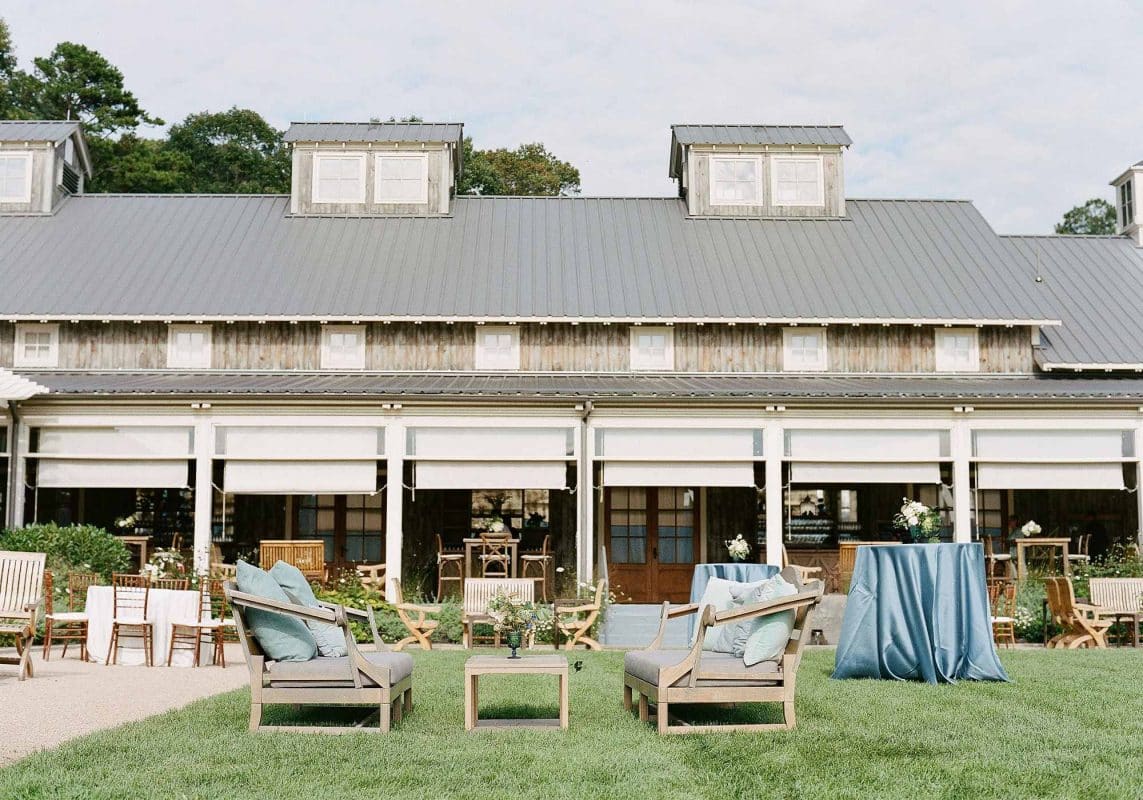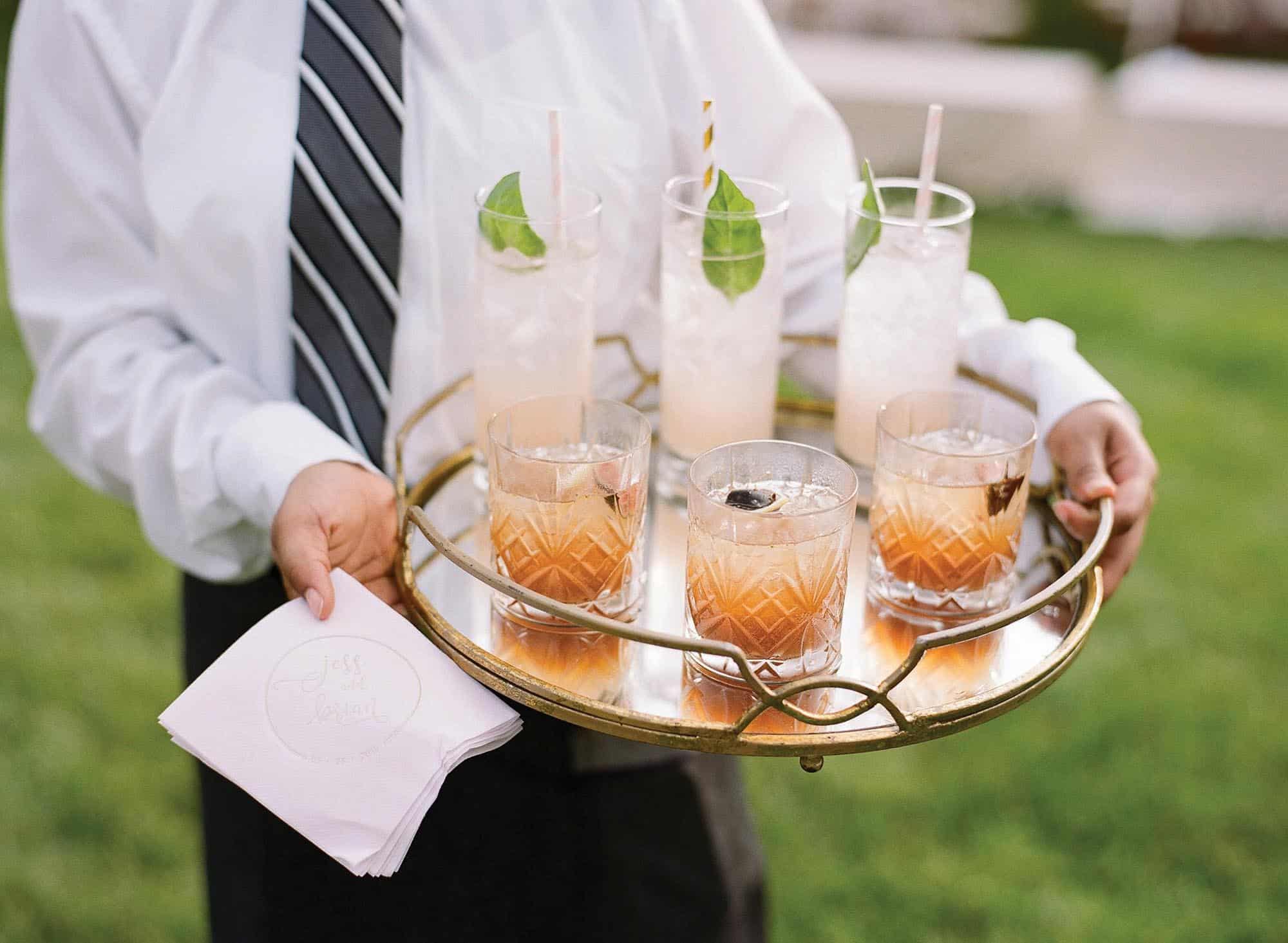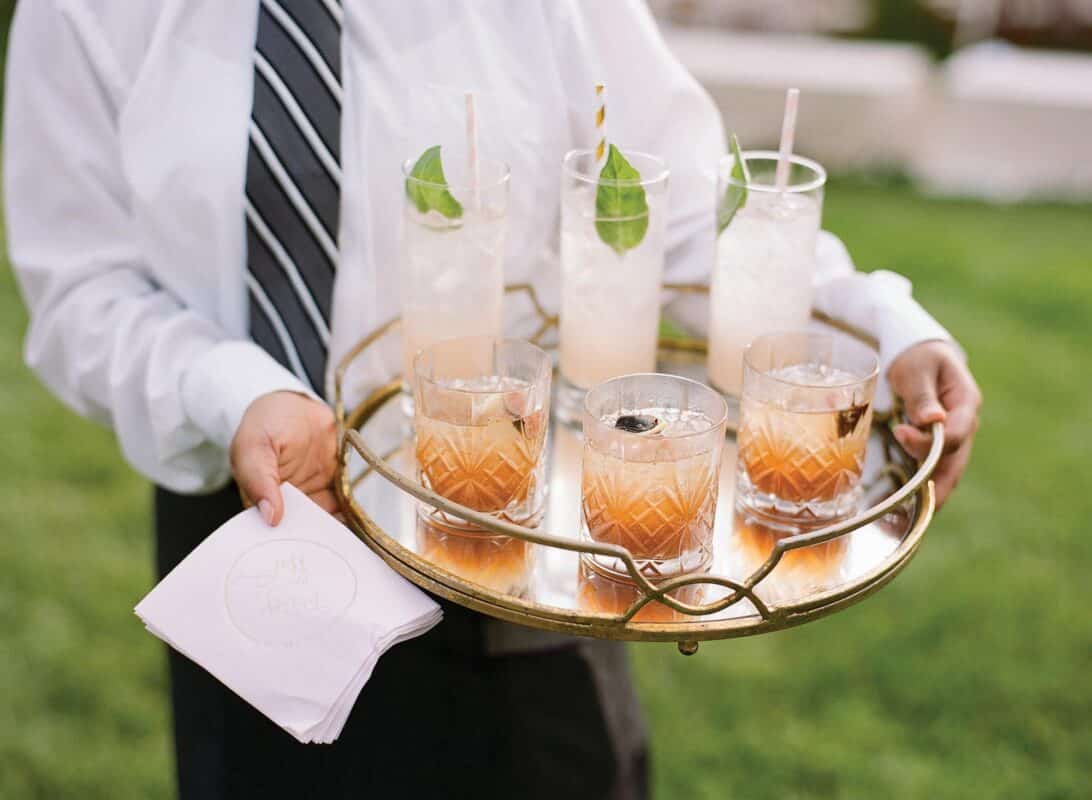 The jazz band is booked, the caterers are prepped and the wedding reception is seemingly ready to go off without a hitch. All that is left is to plan the cocktail hour. Cocktail hour serves as a precursor to the wedding reception and an opportunity for guests to mingle and enjoy fresh air. From cocktail hour entertainment and games to signature cocktails and cocktail hour décor, we're sharing our top recommendations for How to Plan a Wine & Country Cocktail Hour in Virginia.
WHAT IS COCKTAIL HOUR?
Cocktail hour is the period of time between the wedding ceremony and the wedding reception. Traditionally, it is a 60-minute affair where the wedding pivots from a romantic ceremony to a celebration that rejoices the newly married couple.
Although 60 minutes is standard, it is not uncommon for a cocktail hour to stretch slightly longer to allow the newlyweds to have ample time for capturing lifelong memories with the photographer, or to allow the ceremony space to be transformed for the reception.
Many couples personalize their cocktail hour, whether it's with a photo booth for guests to capture memories, a signature cocktail that tells a story, live musicians or games like cornhole or life-size checkers or jenga.
WHERE TO HOLD YOUR COCKTAIL HOUR?

Oftentimes, the wedding and reception are held at the same venue. If not, your cocktail hour can be held at your reception venue in a different space. If all of your wedding events are being held at one location, the cocktail hour is a great opportunity to utilize a new space at the venue not dedicated to the ceremony or reception. Weather permitting, rooftops, balconies, gardens and other outdoor areas are ideal, as they allow guests to grab some fresh air and roam about the property while enjoying one another's company. 
If hosting your wedding at a Virginia vineyard, such as at Barboursville Vineyards, Greenhill Vineyards, Morais Vineyards & Winery, Stone Tower Winery, Pippin Hill Farm & Vineyard, Veritas Vineyard & Winery and CrossKeys Vineyards, get creative with your options. For an al fresco cocktail hour, nestled amid picturesque scenery, consider hosting it under a stunning cathedral tent, on a patio just outside the tasting room or vineyard-side where guests can meander downs the grape-covered vines. For weddings with a smaller guests list, hosting your cocktail hour inside the tasting rom or wine cellar can be an intimate yet sophisticated experience. Learn more about all of the Wine & Country best wedding venues!
COCKTAIL HOUR ENTERTAINMENT IDEAS
While the newlyweds are off capturing their first portraits as a married couple, there are various options to help entertain guests beyond food and beverages. In Virginia wine country, outdoor entertainment ideas can easily be personalized to fit a vineyard theme, brewery theme or equestrian theme. Here are a few ideas couples getting married in Virginia are incorporating into their special day.
Musical Entertainment
While music is always encouraged, it should add to the atmosphere rather than be a focal point. The cocktail hour is the optimal time to play instrumental favorites that drift into the background. Popular cocktail hour music genres include jazz and soft rock. Virginia musicians available for booking include everything from live harpists to a capella groups. The Virginia Gentlemen, a student a capella group from the University of Virginia, are a Charlottesville favorite for lively musical entertainment.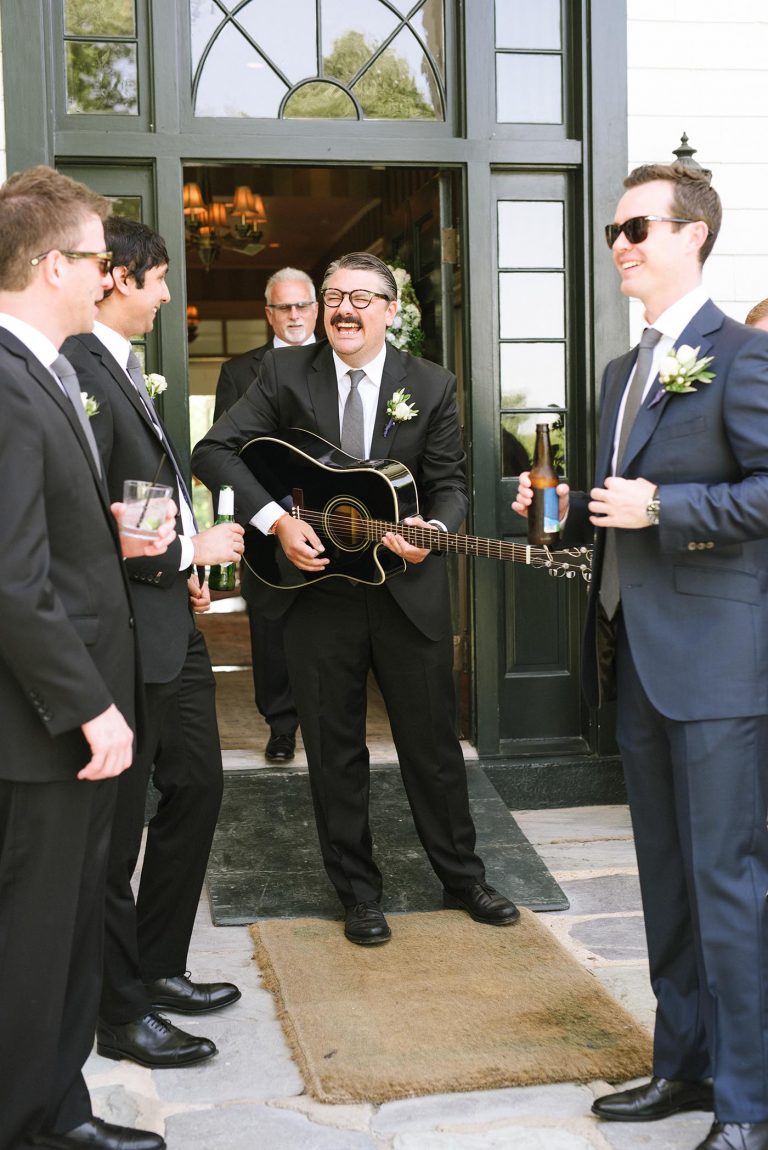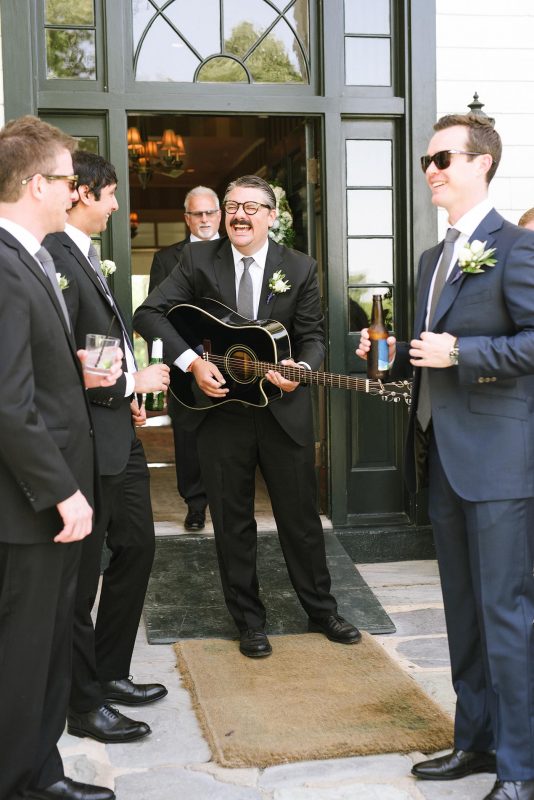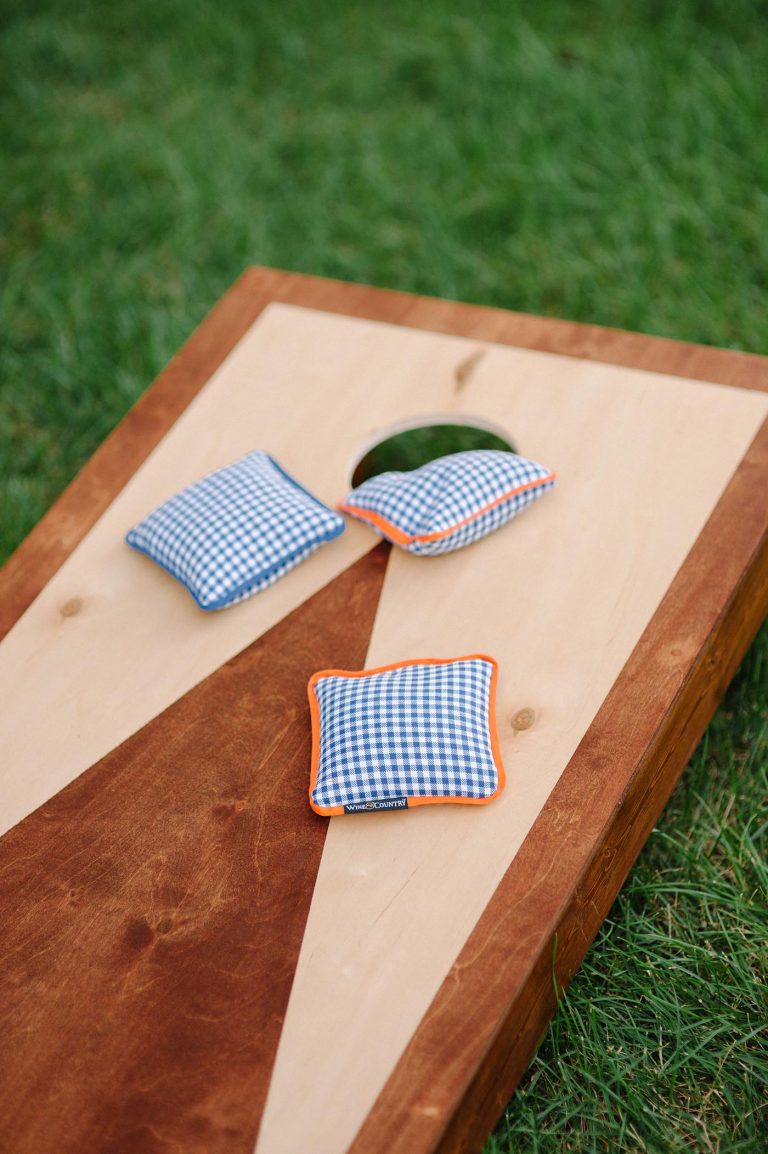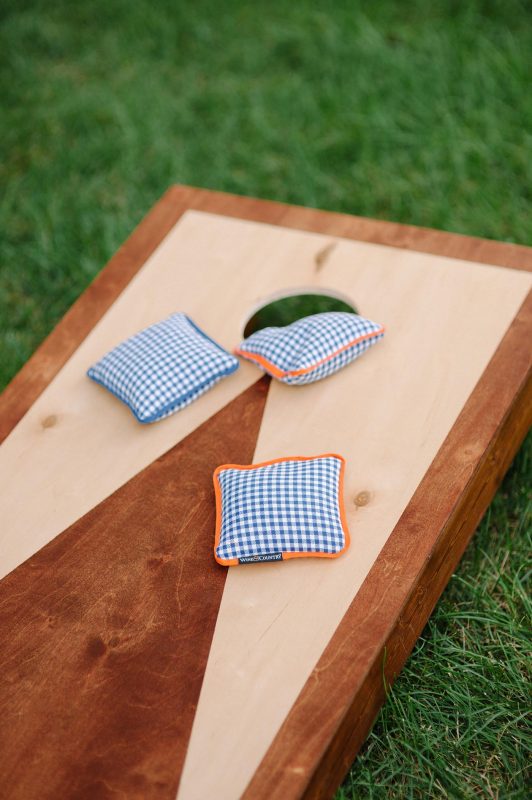 Games & Activities
From cornhole and wine charm stations to giant checkers and jumbo jenga blocks, there are plenty of ways to entertain your guests. For guests with a sweet tooth, roasting marshmallows in outdoor fire pits is a sweet and tasty idea. In the cooler months, include blankets for guests to cozy up outdoors and stay warm. For fun favor idea, the blankets can be customized and match the color palette. A Wine & Country favorite sure to keep all ages entertained is our Artisan Cornhole Set complete with eight, UVA-themed bean bags. 
Complimentary Tasting
If you are hosting your wedding at a Virginia vineyard, ask the vineyard to assist in offering a complimentary tasting for guests where a wine professional can help educate your guests on the winemaking process and how to properly taste wine. If at a Virginia brewery or cidery, consider asking about a beer or cider flight option and hosting a tour of the facilities. Castle Hill Cider, located on 600 acres of rolling Virginia countryside in Keswick, uses an 8,000-year-old fermentation method to create their Virginia hard cider. Guests can tour the qvevri, or terra cotta pots, Castle Hill imported from the Republic of Georgia for this cider-making practice.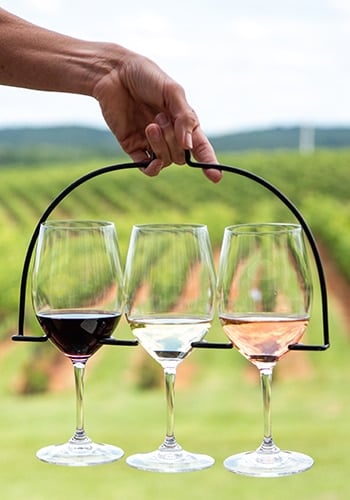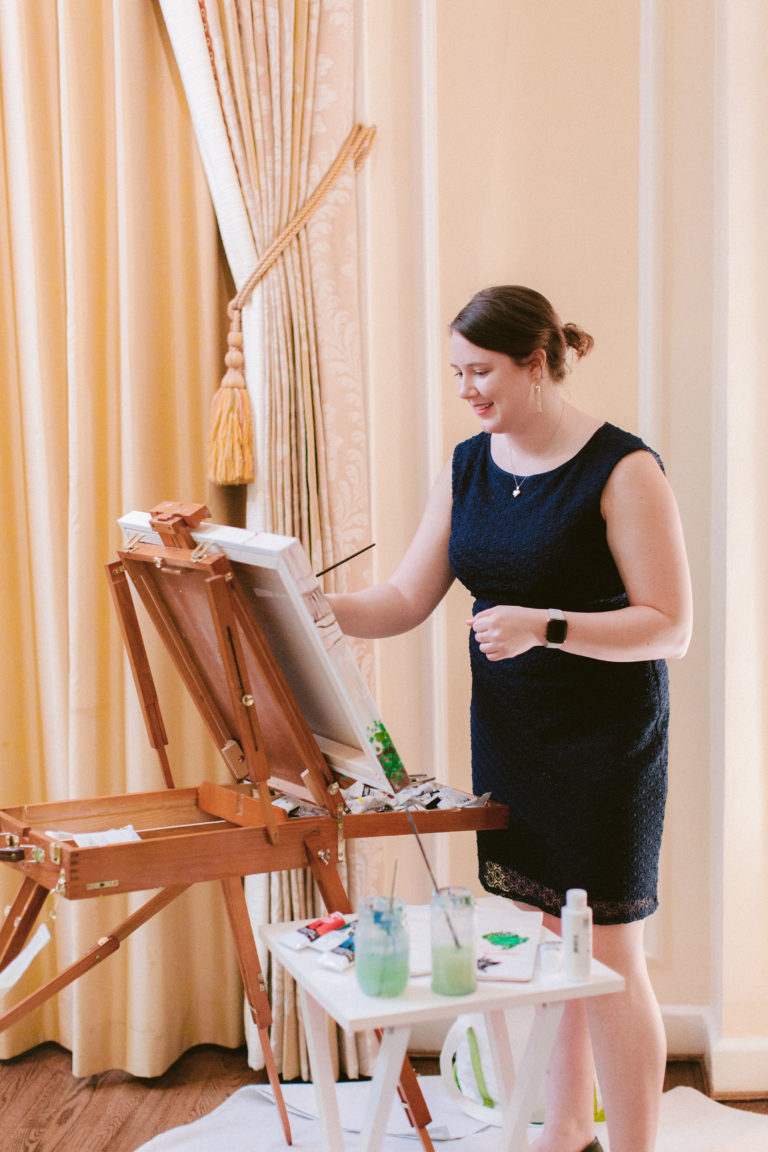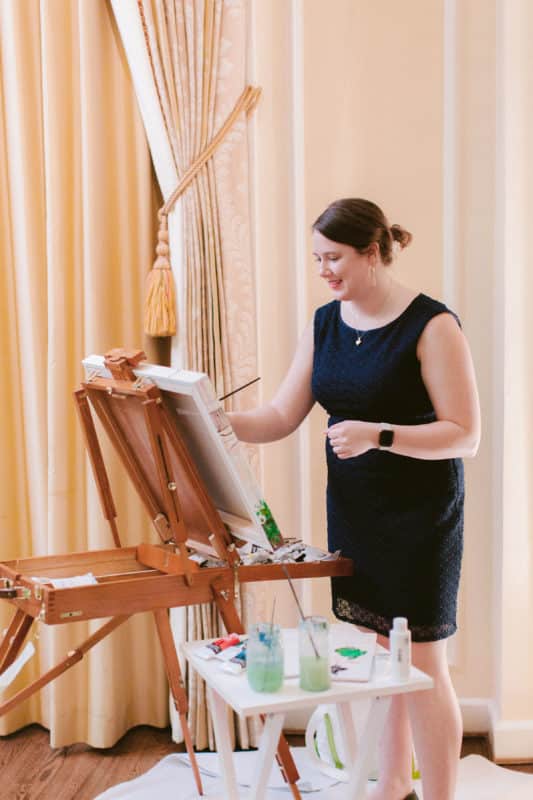 Live Painter
More and more, couples are choosing to host a fully unplugged wedding to encourage guests to be fully present. Instead of a wedding hashtag and phones capturing key moments, we are seeing a trend towards welcoming fine artists to capture key ceremony, cocktail hour or reception moments in a painting. Sincerely Sarah Studios specializes in live wedding painting, customized wedding maps and commission art. 
Creative Guest Books
Cocktail hour is an ideal time for guests to sign the guest book and leave a message for the happy couple. Add a little additional fun to the mix and include a polaroid camera for guests to snap pictures to leave alongside their messages. Other fun ideas can include having your guests sign a wine bottle not yet opened that's designated to be opened on an anniversary, having guests sign the top of a wine barrel you can hang on display in your home, or allowing guests to sign a wine work and then having them add it to a decorative cork collector.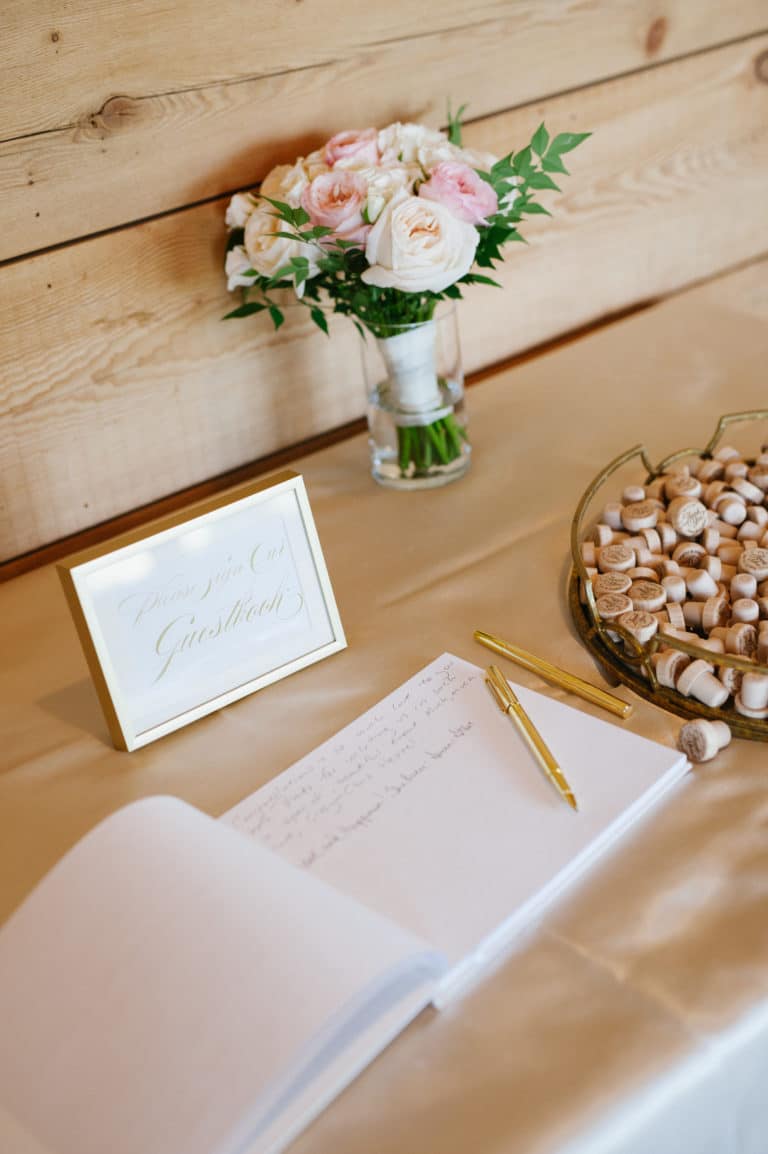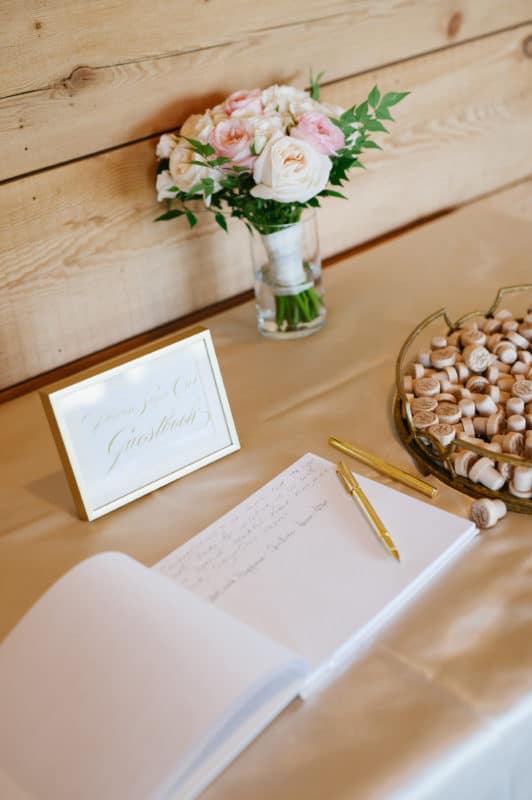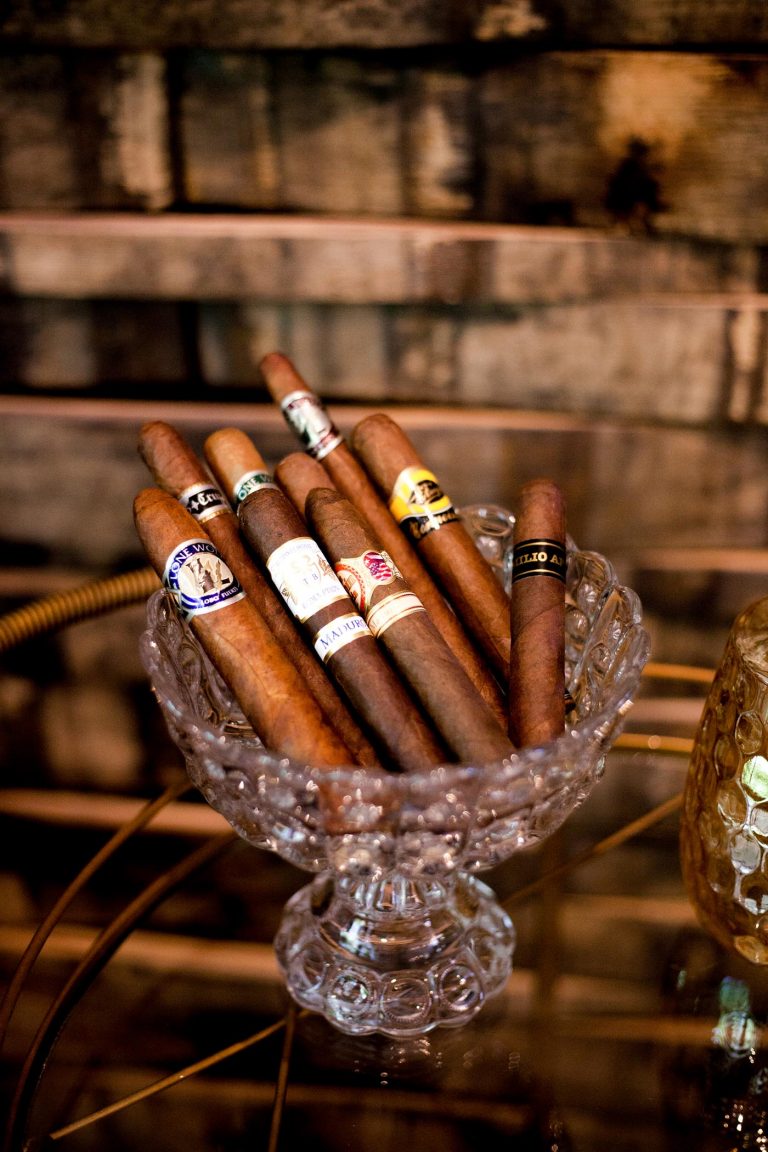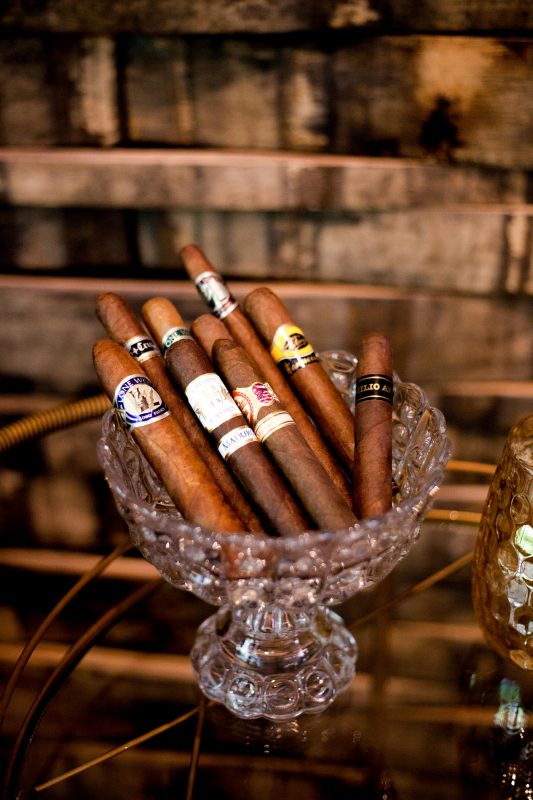 Cigar Bar
A hand-rolled cigar station offers the perfect, sophisticated activity for any wine country cocktail hour. Watch as cigars are personally rolled by an experienced professional who then educated guests on how to properly store and cut them. Guests can watch the hand-rolled cigar process and then enjoy the cigars outside in a secluded area following dinner. Also consider offering a Virginia-made bourbon or whisky for guests to pair with their cigar.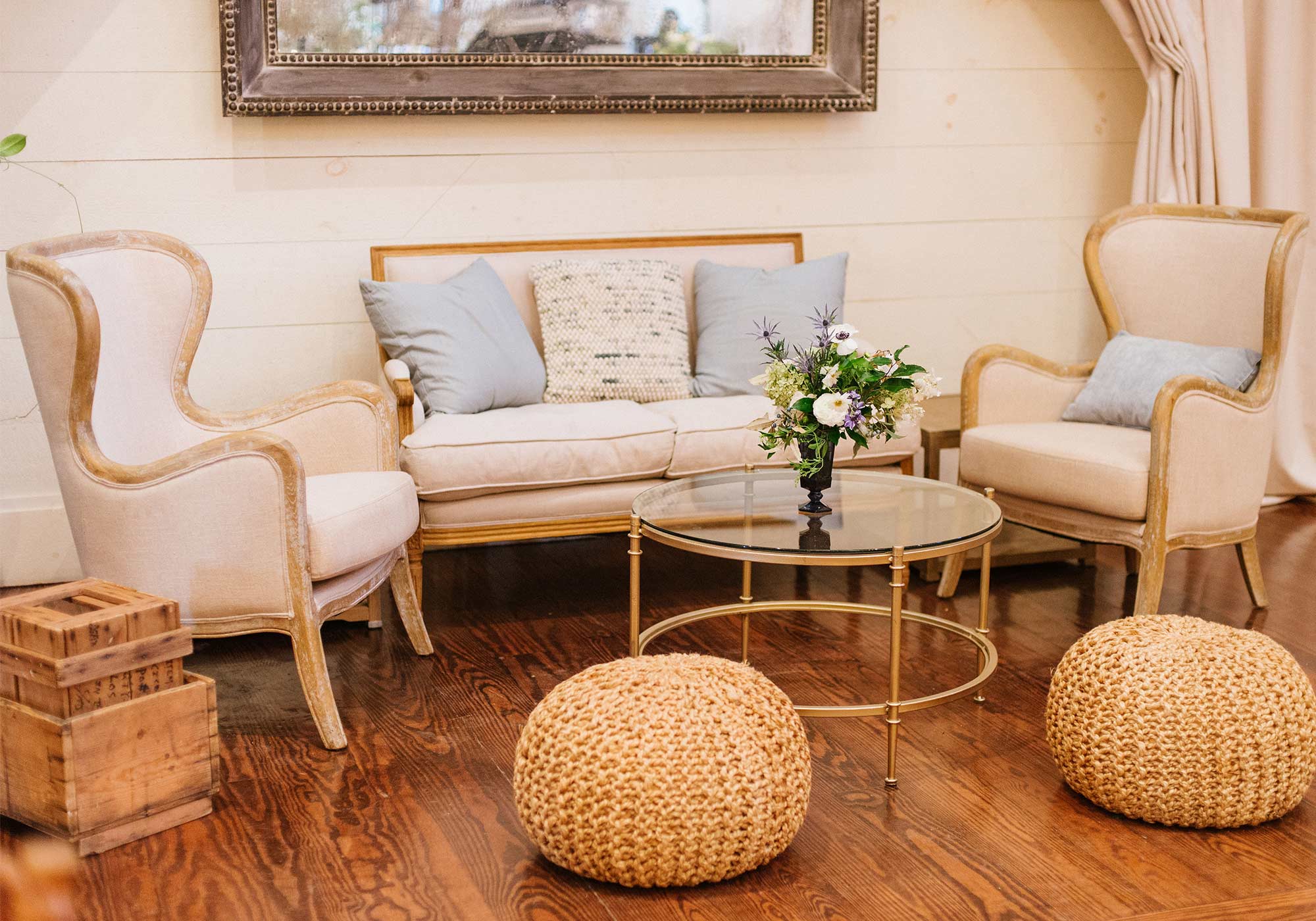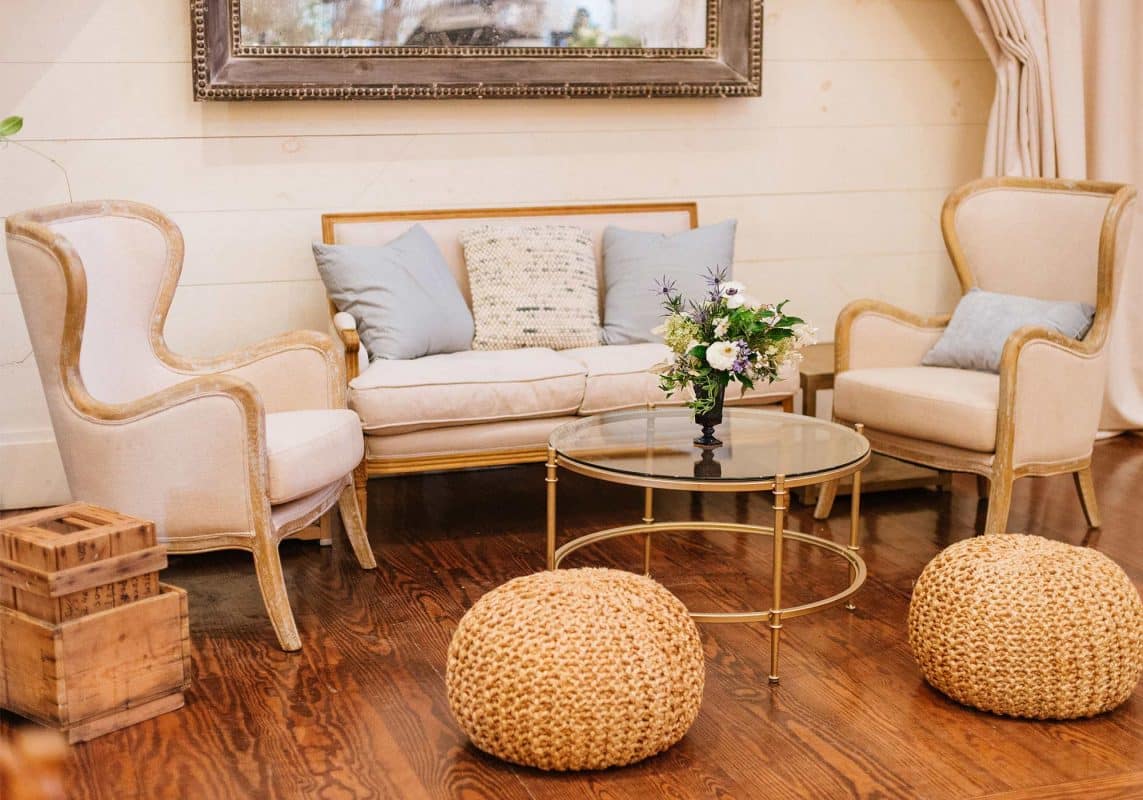 COCKTAIL HOUR DÉCOR IDEAS
No matter where you ultimately decide to host your cocktail hour, it is important to offer a place for guests to sit and converse comfortably. Wedding lounges are growing in popularity and offer an opportunity to provide an extension of your wedding décor. Lounges often include a mix of seating options and tables to easily set down beverages and plates. Wine barrels are the perfect vineyard wedding touch that can serve as small cocktail tables. Add in a few throw pillows and blankets to your chairs and seating area so your guests can enjoy the space all night long. A Wine & Country vendor, Paisley and Jade offers a curated selection of unique furniture and décor pieces sure to create a one-of-a-kind event space.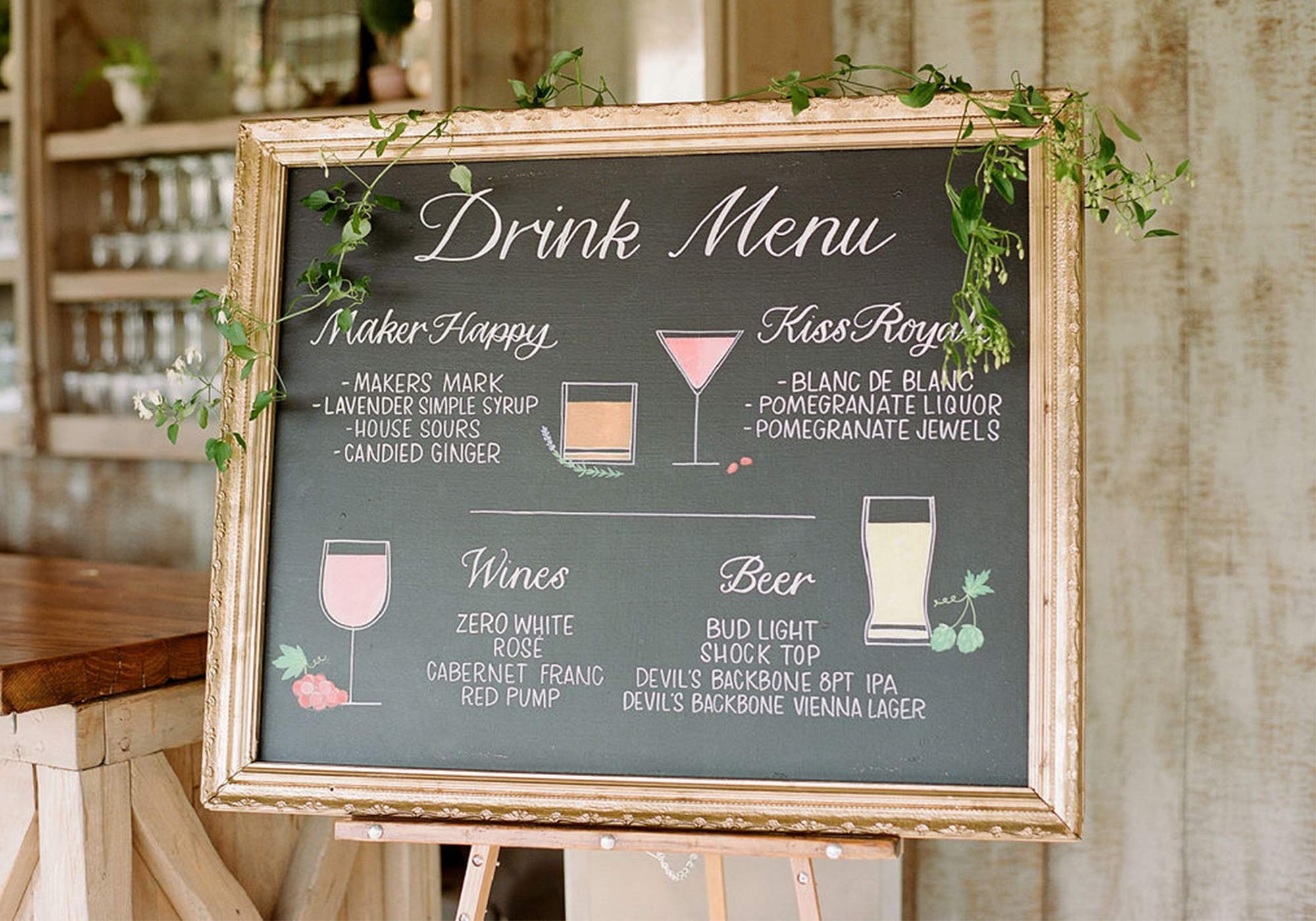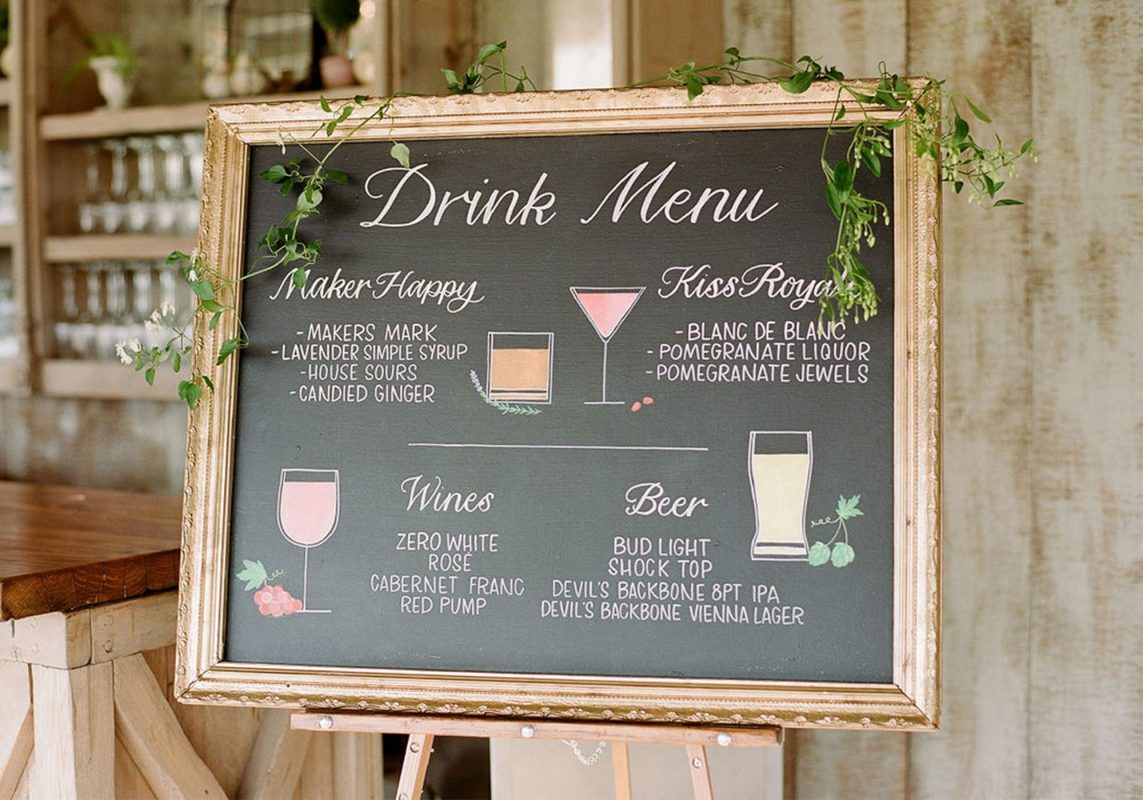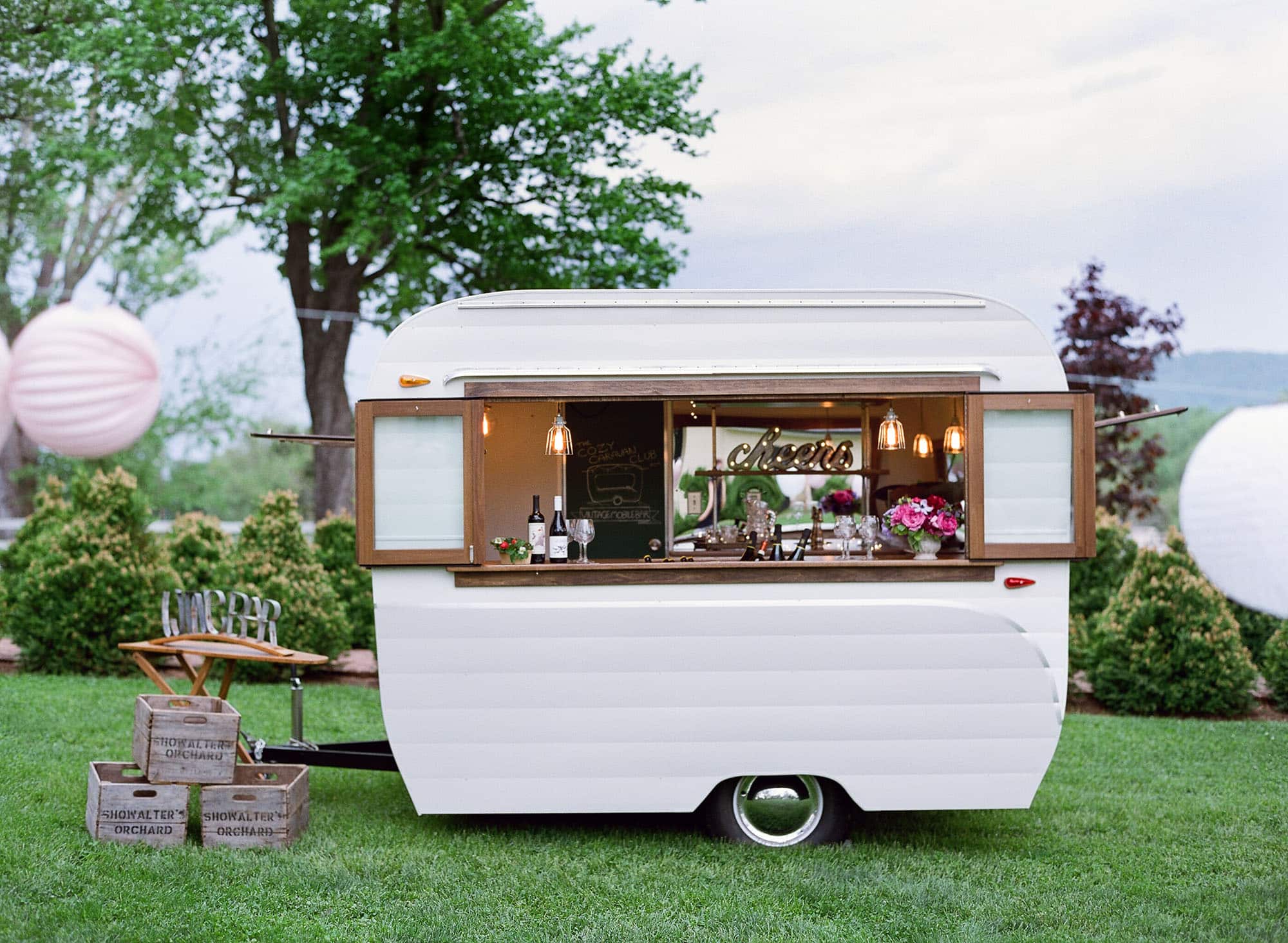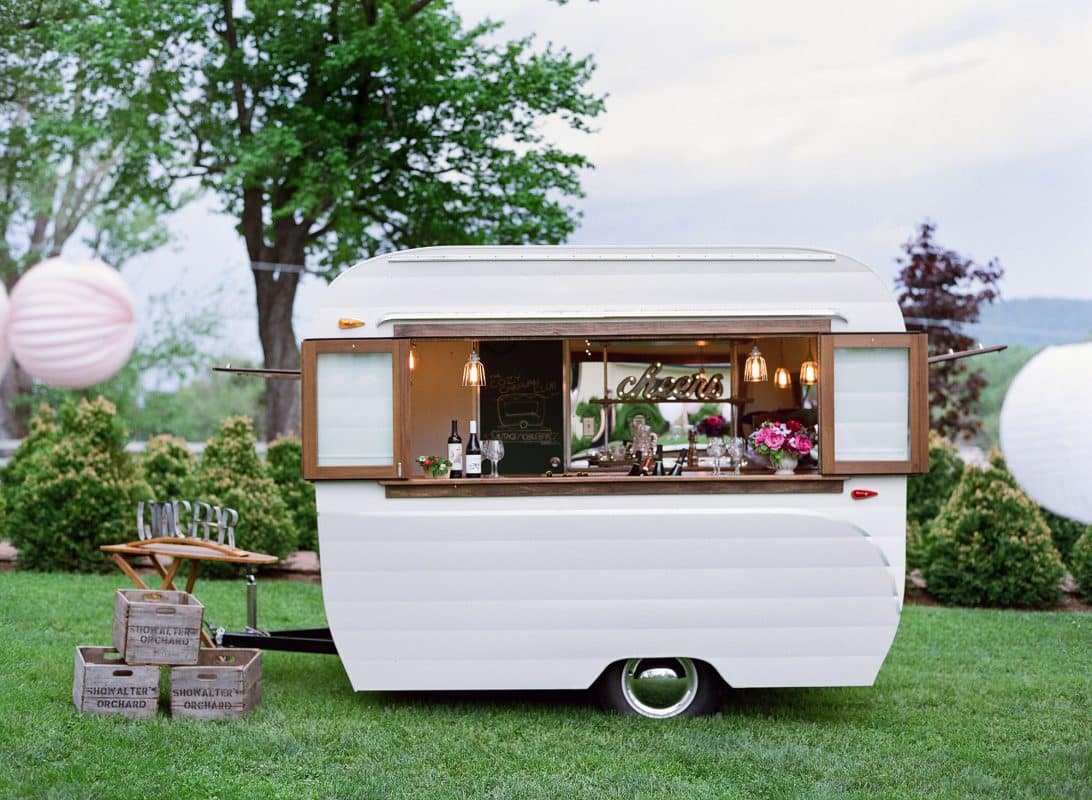 WINE COUNTRY SIGNATURE COCKTAIL IDEAS
A signature cocktail helps to set the tone for the wedding just as much as the décor, music and food. Oftentimes, a signature cocktail is served alongside Virginia wine and beer to offer options that will please everyone's palate. Signature cocktails should be a favorite of the couples, whether it's your go-to drink or one that holds a memory with it. It's also good to stick to drinks that fit the season and your menu. A Wine & Country vendor, Cozy Caravan Club offers an innovative way to serve beverages or even a creative way to display hors d'oeuvres.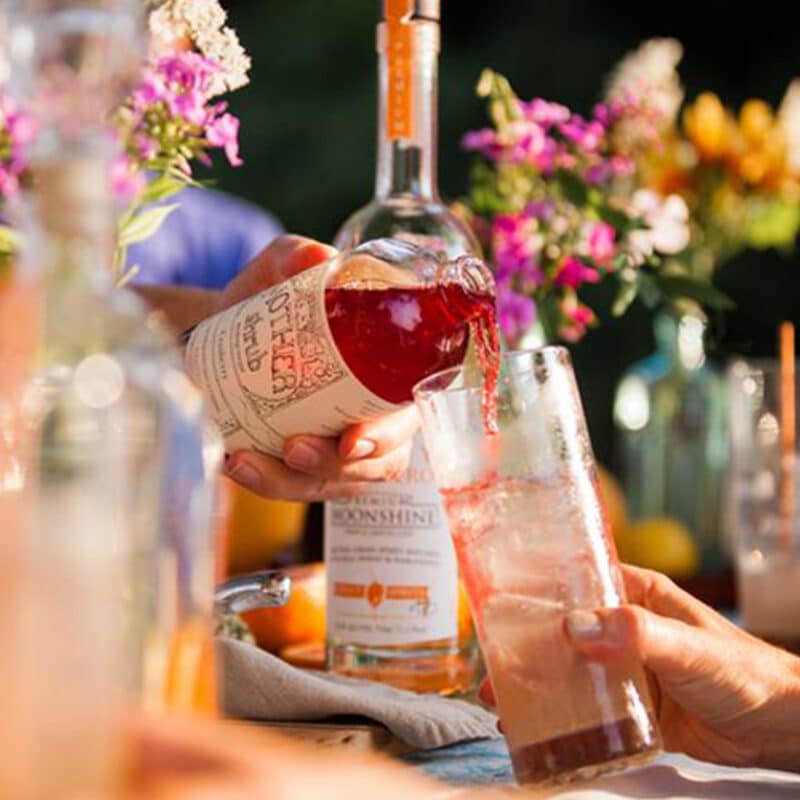 Sunset Shrub Spritzer
A tart and sweet combination splashed in champagne prosecco, hard seltzer, hard cider or sparkling cider, this juice blend is a delightful tangy addition to a variety of drinks. Take 3 oz of Prosecco (Cava or Champagne would work, too!), ½ to 1 oz of MOTHER shrub, (black cherry, cranberry, lime or salted honey), and a generous splash of sparkling water. Pour into a glass over ice, garnish and serve!
Raspberry & Pomegranate Rosé
This refreshing cocktail combines your favorite vineyard Rosé wine with ½ cup of unsweetened pomegranate juice, ¼ cup of pomegranate seeds and 1 cup of fresh raspberries. This concoction is sure to be a crowd pleaser at a summer Virginia wedding.
Piña Colada Shooters
No summertime soirée is complete without a piña colada shooter served with a pineapple wedge. Add a coconut rim to this refreshing beverage for a perfect tropical island escape at your Wine & Country wedding.
Belmont Jewel
Each Triple Crown race has its own speciality drink. The Belmont Jewel, in honor of the Belmont Stakes, is a simple and refreshing mix of lemonade, pomegranate juice and bourbon. This perfect summer-ready beverage can also easily be served by the pitcher for a thirsty crowd.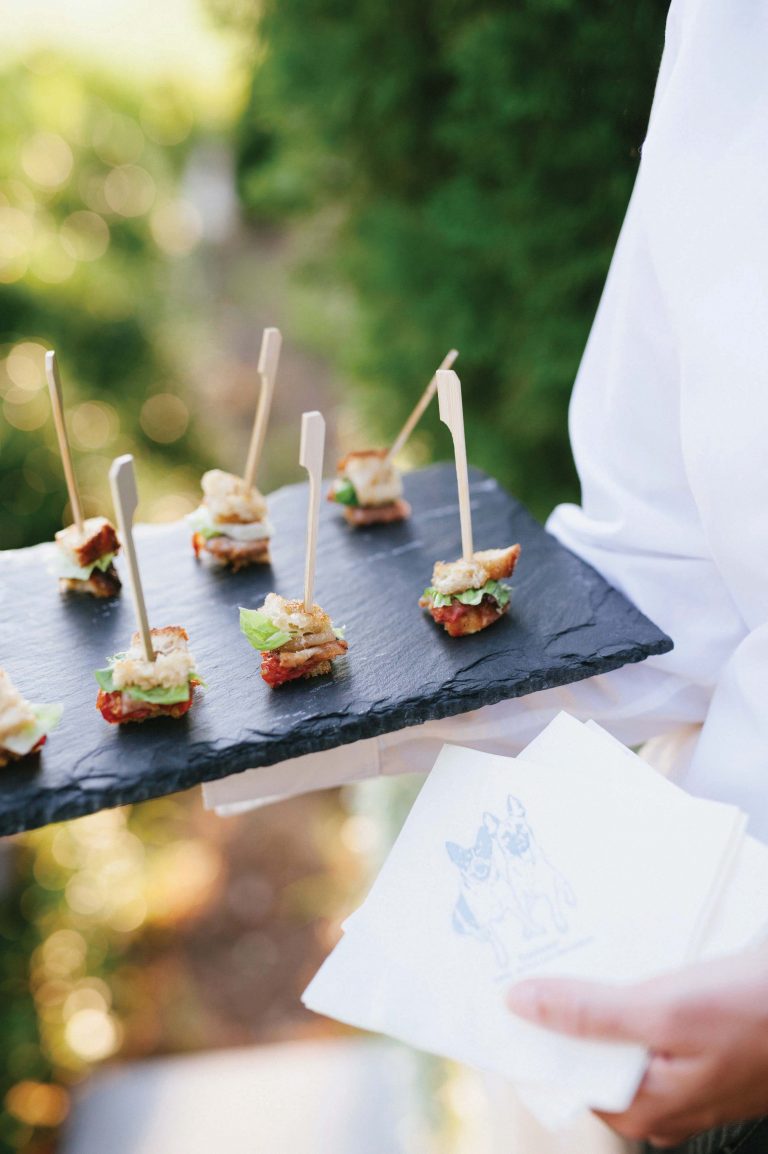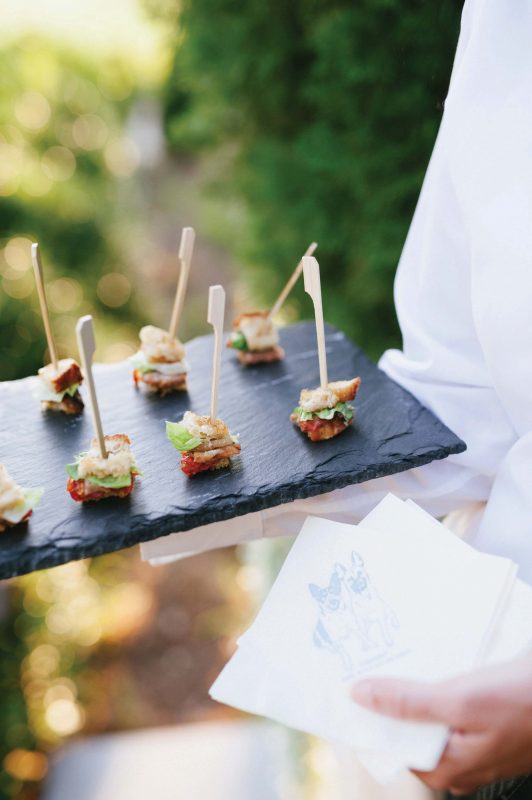 VIRGINIA WEDDING COCKTAIL FOOD IDEAS
Refreshing cocktails are always best served with a tasty snack to accompany them, right? Festive cocktails and hors d'oeuvres are the perfect wedding-approved duo to ensure your guests are comfortable and ready to enjoy the future festivities.
Some of our favorite Wine & Country southern hors d'oeuvres include Virginia ham biscuits, oysters or crab artichoke toasts. Virginia ham biscuits are the perfect combination of salty and buttery with savory ham and fluffy buttermilk biscuits. Oysters on the half-shell can not only provide a delectable snack that pairs beautifully with bubbly but also be incorporated into your wedding décor. Lastly, crab artichoke toasts are another great hors d'oeuvre option that pair beautifully with Champagne or Prosecco. This tasty appetizer combines crab, gruyere & Parmesan cheese, lemon zest and juice, and artichoke hearts served over top toasted baguette slices. 
At the end of the day, the cocktail hour should be a reflection of the newlyweds and incorporate details that are true to their style and story. No matter what you decide, we're certain your Wine & Country Cocktail Hour will be stunning. 
Looking for more guidance and inspiration on planning your dream wedding? Visit our Planning Tips section, see even more Virginia Vendors and follow us on Pinterest.  ~
ERICA SULLIVAN is a Virginia native, was raised in Charlottesville and is currently residing in Northern Virginia. Although she's a Virginia Tech alumna, Erica has a special place in her heart for Charlottesville.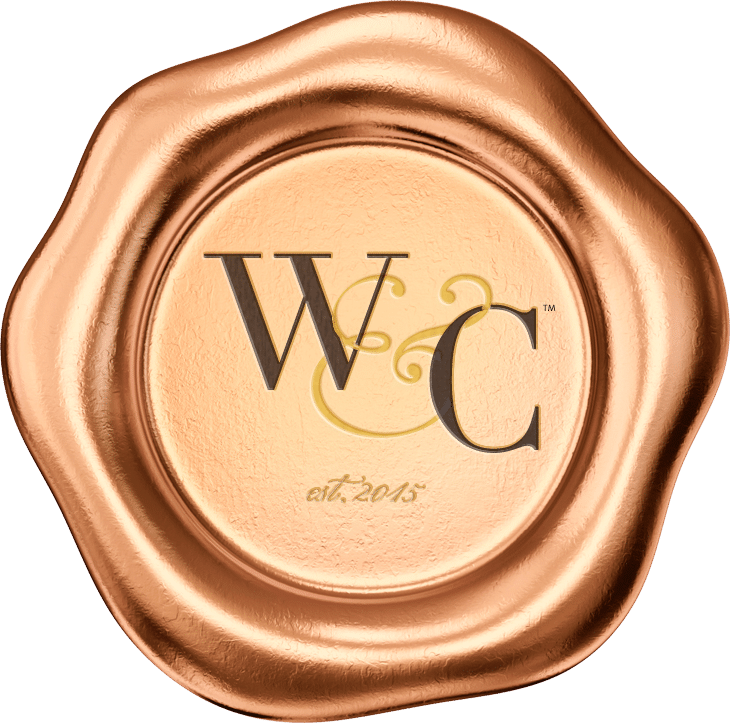 Virginia Wine & Country celebrates elevated living in Virginia Wine Country. Virginia Wine & Country Life is a semi-annual luxury print magazine with a full digital presence. The Virginia Wine & Country Gold Book is an annual guide to the top award-winning wines, wineries and experiences in Virginia Wine Country. The annual Virginia Wine & Country Wedding Planner is an art book of elegant Virginia weddings. The brand includes the Virginia Wine & Country Shop in Ivy, Va. It is a beautiful lifestyle boutique that brings the pages of the magazines to life. Virginia Wine & Country tells the stories of Virginia wineries, the farm-to-table movement, luxury travel, entertaining, art and the elegant country lifestyle. Ivy Life & Style Media also provides branding, web design and PR services for the wine industry.